Why study this course?
This is a top-up version of our Interior Design BA (Hons) degree. A top-up degree is the final year (Level 6) of an undergraduate degree course and is for those who have a foundation degree, Higher National Diploma or equivalent qualification, or those wishing to study the final year of their degree in London.
This degree will introduce you to the latest research as well as industry professionals who will bring their knowledge and experience to the course. Interior design is an exhilarating creative practice responding to the rapid pace of the interiors industry.
You'll work on an exciting range of projects embracing commercial, social and temporary projects such as workspaces, hotels, retail, museums, exhibitions, and health and educational spaces.
Our studios are run by practitioners and experts in their field. We work with well-known businesses, associations, museums and galleries running live projects. This gives you the opportunity to discuss and exhibit your projects, which in turn helps you to develop a range of professional presentation skills.
Also, our interior design courses are ranked third in the UK in the Guardian University Guide 2023. We're also second in the UK for teaching quality and fourth for course satisfaction.
You can find out more about what to expect on the course in this video presentation from our Head of Interiors.
Interstitial memory by Agata Kraska
Lighting Emporium by Annabel Singer
One bedroom flat with integral lighting by Annabel Singer
One bedroom flat by Annabel Singer
Stoke Newington town hall workspace by Annabelle Ronenberg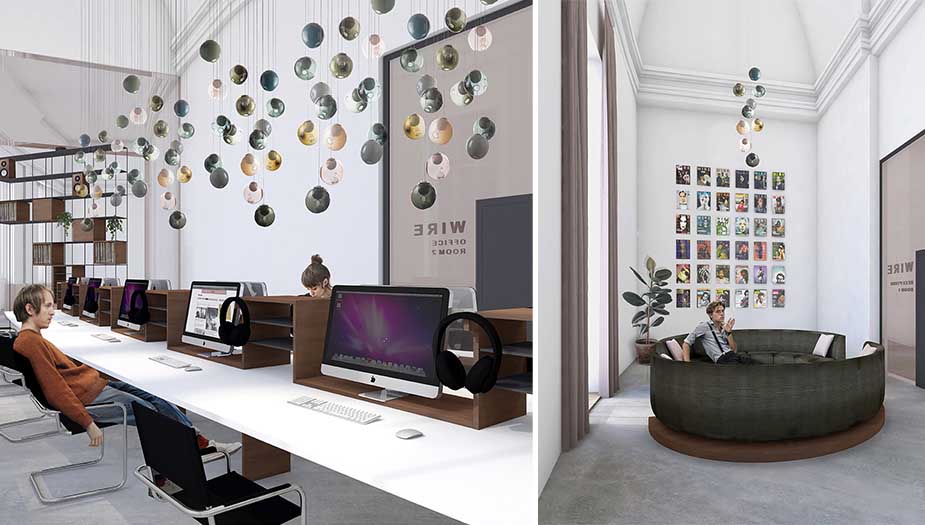 Stoke Newington town hall by Annabelle Ronenberg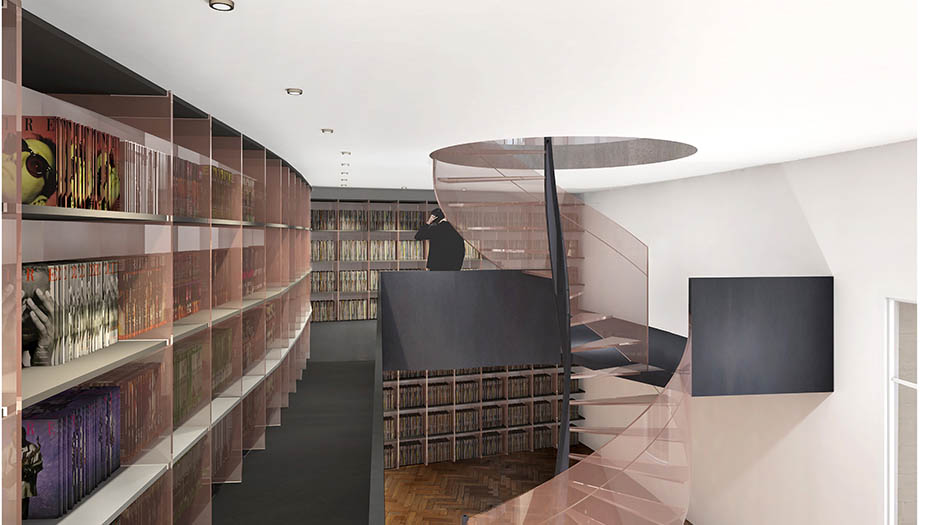 Screen printing visuals by Arianne Erlicher
Middlesex Street Estate by Blandine Carminati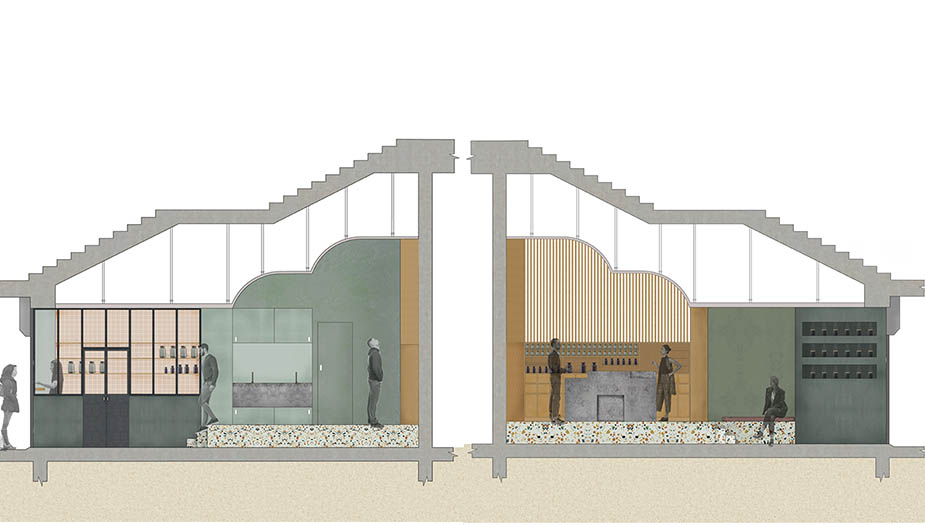 Making materials by Blandine Carminati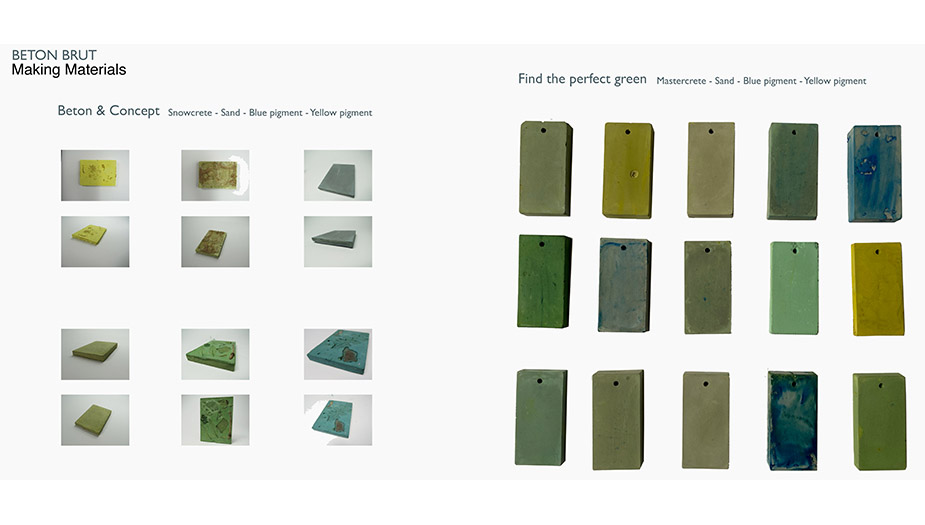 If walls could talk by Carole Mealin Vazquez
Stoke Newington town hall visuals by Catherine Zaluski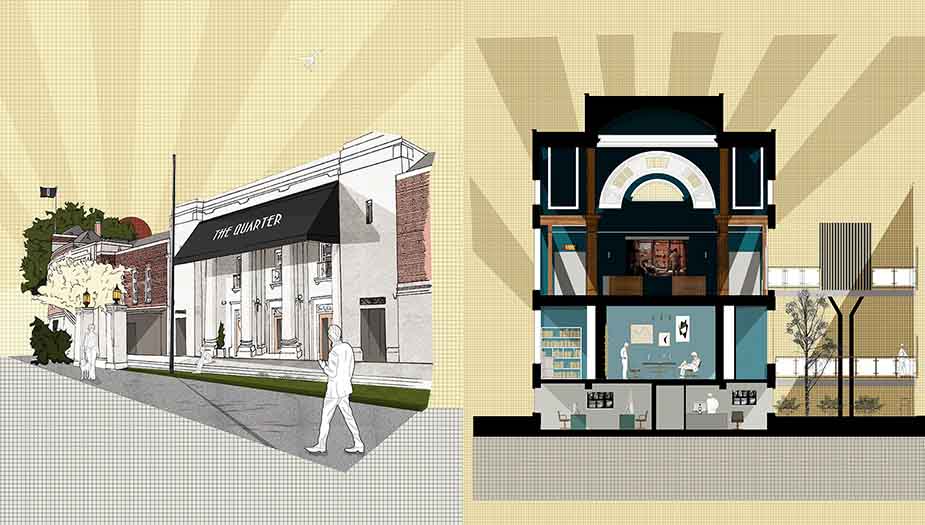 Market Community by Chantelle Oluchi
Victorian child in factory by Charlotte Born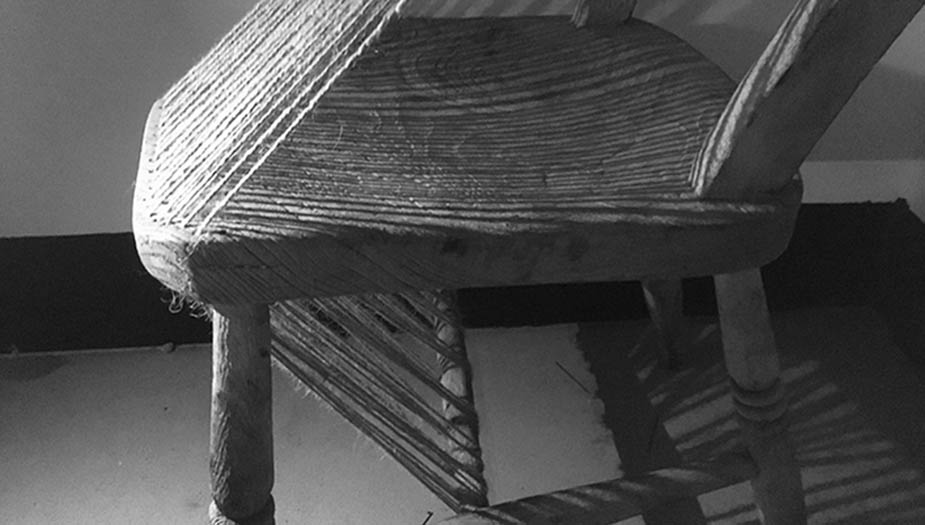 Shop unit by Eleanor Hopwood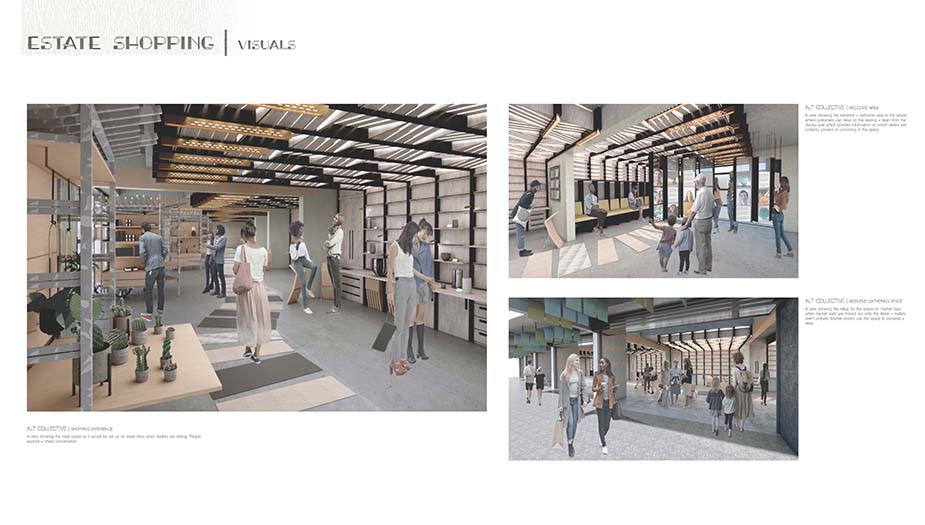 Pathological independent furniture by Eleanor Hopwood
Plan and sections of retail units by Emily Summers
Workshop business area by Emily Summers
Lower Marsh, open walls by Eve Karanikki
Burlington Arcade by Ewelina Ruminska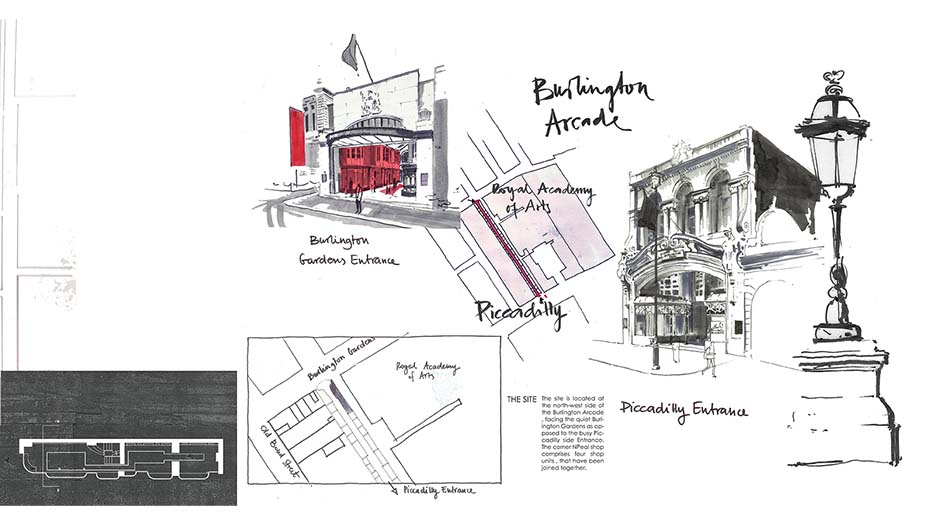 A first year interiors workshop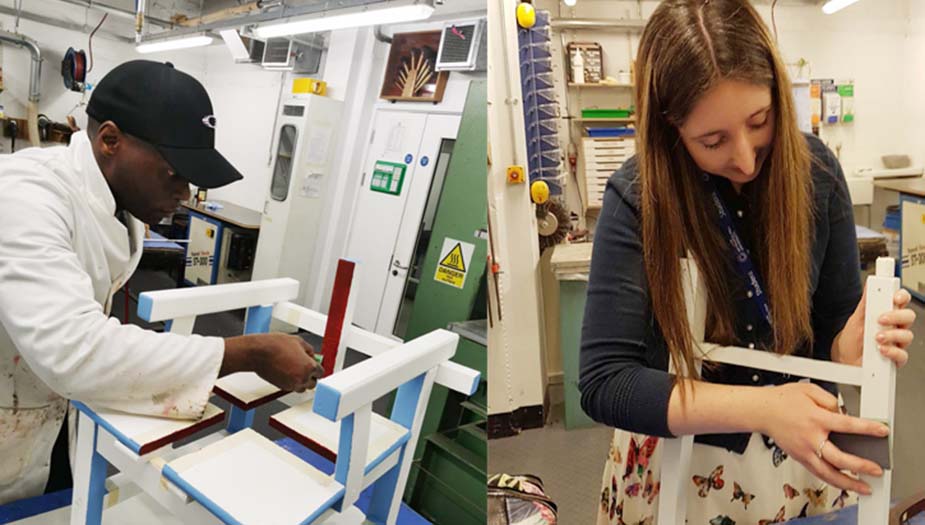 Reducing waste in the retail industry by Jenny Olver
Proposed plan for retail units by Jenny Olver
Model of a new barge for the community by Kate Underdown
Whitechapel gallery contextual collages by Kerry Ann Carter
Whitechapel gallery contextual collages by Kerry Ann Carter
Whitechapel Gallery mapping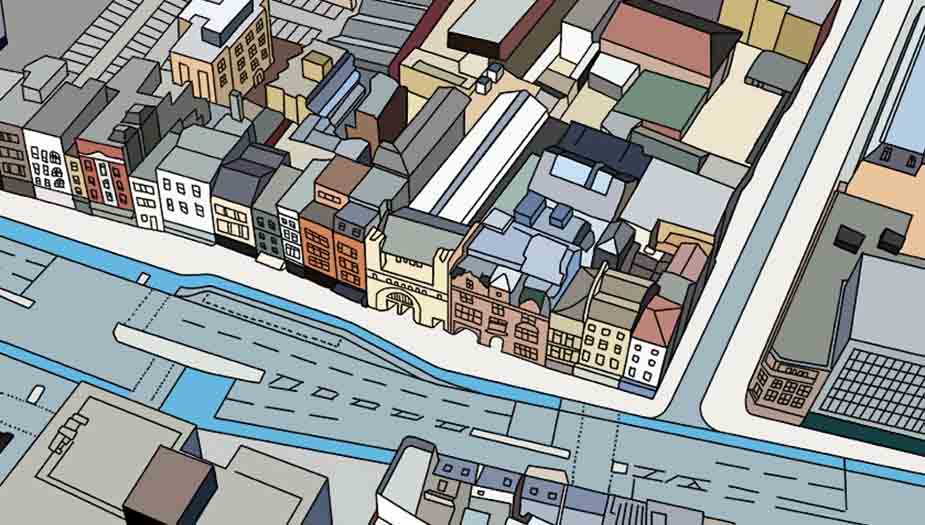 Amplified narratives by Lucy Johnson Squire
Joie de vivre inhabitants by Paula Goebel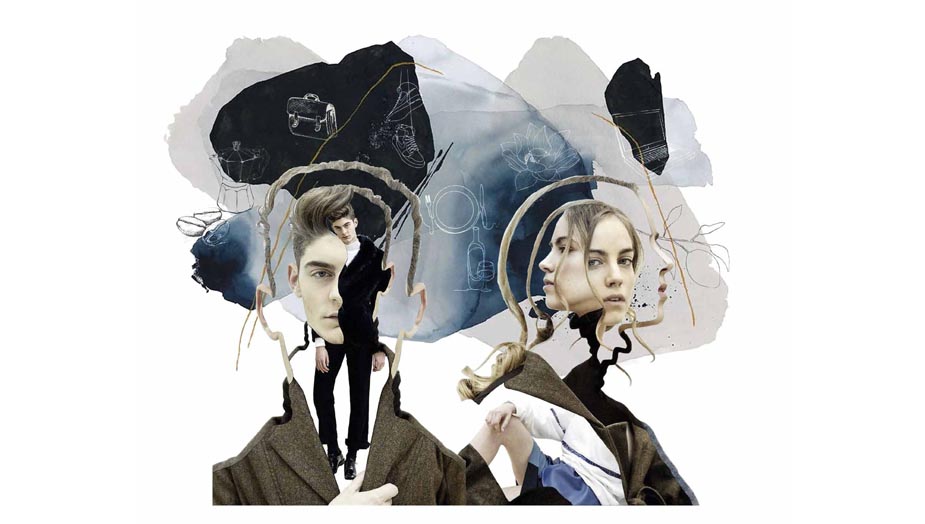 Hospitality space by Paula Hinderer
Cross generational therapy by Ratcha Daengbunma
Cider from Mars by Ratcha Daengbunma
Crossroads concept sketch by Robert Stefanescu
Street furniture by Youngjin Bok
More about this course
The course is based in the heart of London's creative district, which gives you access to an abundance of live projects and industry mentors. You'll be surrounded by the best interior practices in London—from Shoreditch, Clerkenwell and the West End to Mayfair.
You will have the opportunity to explore a topic of your choice in depth for your dissertation. Our dissertation students all belong to a themed dissertation studio that offers a supportive group context for planning and writing your dissertation, with specific academic tutoring about how to manage the project.
Follow @ldnmet_interiors for the latest student work and news from the course.
Assessment
A variety of assessment methods are used throughout the course. These range from formative, summative, diagnostic, peer and self-assessment methods, through to studio based work, workshops, and computer-aided design (CAD) and digital projects and exercises. Feedback is given throughout the course.
Entry requirements
In addition to the University's standard entry requirements, you should have one of the following:
240 credits from a Higher National Diploma (HND), Foundation Degree (FdA/ FdSc) or equivalent international qualification in a relevant subject
240 credits from years 1 and 2 of an undergraduate degree (BA/BSc) in a relevant subject at a different institution
If you live in the UK you will be invited to a portfolio interview. If you live outside of the UK you will be asked to submit a portfolio via email.
Portfolios and interviews
Your portfolio should be selective, but have enough work to show a range of your interests and talents. We are interested in seeing how you develop a project from beginning to end, not only finished work.
If you cannot bring certain pieces of your work to your portfolio interview, please take photographs and include them.
Physical portfolio
If you are coming in person to your interview we strongly suggest bringing a physical portfolio of work.
Things to bring:
Sketchbooks– we love to see your sketchbooks with ideas and notes, even if they are messy.
Examples of the development of a project from start to finish and the final outcome.
Some work that you are really proud of and want to talk about.
Some work that shows you experimenting with different processes.
Digital Portfolio
If you are submitting an online application, please follow these guidelines.
Things to include:
Scans or photographs demonstrating items from the list above.
Storyboarding for motion-based work.
Also include scans of sketchbook pages showing development.
Be sure to check the resolution and overall quality of your image to ensure submissions are not pixelated.
Accreditation of Prior Learning
Any university-level qualifications or relevant experience you gain prior to starting university could count towards your course at London Met. Find out more about applying for Accreditation of Prior Learning (APL).
English language requirements
To study a degree at London Met, you must be able to demonstrate proficiency in the English language. If you require a Student visa you may need to provide the results of a Secure English Language Test (SELT) such as Academic IELTS. This course requires you to meet our standard requirements.
If you need (or wish) to improve your English before starting your degree, the University offers a Pre-sessional Academic English course to help you build your confidence and reach the level of English you require.
Modular structure
The modules listed below are for the academic year 2023/24 and represent the course modules at this time. Modules and module details (including, but not limited to, location and time) are subject to change over time.
Year 3 modules include:
This module currently runs:

all year (September start) - Wednesday afternoon
all year (September start) - Wednesday morning

Critical and Contextual Studies (CCS) in Level 6 offers you an opportunity to understand and explore the historical, social, cultural and economic factors which influence, and provide a context for, the development of architecture, art and design practice. Building on critical and academic skills gained during two years of previous study, the module encourages you to develop an awareness of issues around which there is some debate, uncertainty or contest. Based on this awareness, you will develop a set of research questions which constitute the topic of your study. This topic can be theoretical, historical, or technical and you may, with guidance, decide to engage with an area of scholarly interest outside the territory of your degree course.

You will develop your topic and respond to your research questions in the form of an extended critical study or Dissertation (6,000–7,000 words). Through this study you demonstrate that you can thoroughly research a topic, use appropriate methods of investigation, and work in a methodical and organised way to develop a coherent argument or line of thought. Teaching and Learning on the module is designed to support you in this process through a combination of tutorials and one to one supervision; as well as a series of formative and summative assessments which prepare you for the final submission.

The final form and presentation of your Dissertation can reflect a broad range of approaches to research and writing. It may include visual materials or other non-written forms of presentation as long they support your enquiry and comprise an integral part of the whole. By prior approval at the start of the module, your research can be part practice-based, and include primary research and fieldwork.

The dissertation may, by prior approval at the start of the module from the Head of Subject, be part practice-based and can include fieldwork and primary research in its methods. Its form and approach can reflect a broad range of design-specific approaches based on discussion and agreement with your supervisor.

By virtue of the sustained, independent nature of the learning and substantial final output, the dissertation is also intended to prepare you for possible postgraduate study.

This module currently runs:

all year (September start) - Friday morning

This module provides a link between the completion of your undergraduate studies, and professional interior design practice. It establishes your ability to integrate and document the key areas of design knowledge within the context of your major design project and through this, a readiness for employment within interior design professional practice.

The coursework records and responds to key stages of professional practice delivered through a range of lectures including from specialist contributors. The module aims to enable you to demonstrate a knowledge, understanding of and ability to evaluate the following five areas of study in relation to your major project and that this is effectively and appropriately communicated:

1. cultural context;
2. professional and regulatory requirements;
3. environment and sustainability;
4. construction, materials and specification;
5. communication.

The module aims to provide you with the means to demonstrate, through and in relation to your own design work, the extent of your understanding and evaluation of these key areas of professional interior design knowledge that inform a design project. The employability and professional practice lectures offered will enable you to better understand the industry, allowing you to make informed choices and prepare a career strategy.

This module currently runs:

all year (September start) - Friday afternoon

This Major Project module enables you to prepare for independent practice in the workplace or to progress onto higher studies. It is the opportunity to synthesise your specialist knowledge and skills and effectively communicate these. In this module, you will carry out the project conceived and developed in the parallel Project Design and Development for Interiors module, fully realising it in appropriate form by its conclusion.

You will exercise and display your abilities in selecting, analysing and applying knowledge, skills and understanding to a negotiated and fully researched project in order to properly understand your strengths, interests and position in the field, and the potential for your future professional development.

You will show that you understand the complex and changing nature of problems in the professional sector of interior design and can devise and apply realistic strategies for constructing, applying and managing a process designed to provide solutions for complex situations with competing demands.

A professional standard of realisation, contextualisation and presentation will be expected, providing the elements for a portfolio of practice with which you may enter the fields of employment, self-employment or further studies.

This module currently runs:

all year (September start) - Tuesday afternoon
all year (September start) - Tuesday morning

Together with your Major Project Realisation module, this module is intended to prepare interiors students for independent practice, entry into the professional workplace, or for higher study.

Through synthesis of knowledge of processes and principles, using an appropriate range of intellectual, creative and practical skills, you will research, analyse, design and develop a self-directed project. This will require in-depth investigation of a site, its cultural context, human inhabitation, activity and enterprise through a well-constructed design process involving practical and digital 2D and 3D methods of exploration and communication as a significant body of creative work for public exhibition.

A negotiated and approved proposal will confirm the individual project. Using creative exploration and experimentation, you will undertake research, selection, concept development, material investigation, modelling, prototyping and visualisation. The final outcome will be produced in the Major Project Realisation modules, and will be distinctive to the course in approach, scale, communication and visualisation or making and modelling.

This module will ensure that you review and reflect upon your own work and understand your prospective position in the creative sector. The module emphasises self-direction and personal focus whilst acknowledging external and professional expectations and constraints.
What our students say
"I felt inspired and confident to take part whilst being on my placement mainly because of the things I have learnt so far in uni. The [School of Art, Architecture and Design] has a very good reputation, I only really noticed this as [my employer] spoke highly of [the School]. I wanted to thank you all so much for preparing me for the industry I really appreciate you all and I now understand much better the context of the course in relation to the industry." Chantelle Oluchi, Interior Design BA (Hons) graduate, 2020
"Returning to education after 20 years with limited computer skills was not an easy journey. But London Met, alongside its inspirational teaching, has given me the ability to soar..." Cavell Browne Richardson
"The journey I have made has been immense, significant and challenging, but most of all life-changing. Completing my degree will be the start of a new chapter in my life, built on the foundation of London Met." Beata Piotrzkowska
Where this course can take you
This course will prepare you to work with confidence as a specialist in a design or architectural practice. On entering the workplace you will find your role requires a range of skills and experience beyond the purely creative. The collaborative nature of the projects you'll complete whilst studying are ideal for preparing you for interacting with other professionals and performing construction industry processes.
Recent graduates have been employed by design companies including Gensler, BDP, Turner Bates, Black Sheep, Fitch, AI Architects, Woods Bagot, Foster and Partners, Seen Displays, Areen, My Beautiful City and Avante Garde.
We also have graduates who have chosen to work for set designers, interior design magazines and in museum and gallery curation.
Others have chosen to continue onto postgraduate study. Graduates of this course are well-suited to pursuing further studies in interior design, sustainable design, architecture and environmental design and strategic brand management at postgraduate level. We have a variety of suitable courses at London Met, such as:
Every student who studies on one of our three interiors courses has the opportunity of a work placement at a leading London design practice. We place our students in the top 150 interior and architectural practices in London including Penson, Gensler, turnerbates, Fitch and WeAreYourStudio.
Important information about this course
We're committed to continuously improving our degree courses to ensure our students receive the best possible learning experience. Many of the courses in our School of Art, Architecture and Design are currently under review for 2023-24 entry. We encourage you to apply as outlined in the how to apply section of this page and if there are any changes to your course we will contact you. All universities review their courses regularly and this year we are strengthening our art, architecture and design courses to better reflect the needs of employers and ensure you're well-equipped for your future career.
Additional costs
Please note, in addition to the tuition fee there may be additional costs for things like equipment, materials, printing, textbooks, trips or professional body fees.
Additionally, there may be other activities that are not formally part of your course and not required to complete your course, but which you may find helpful (for example, optional field trips). The costs of these are additional to your tuition fee and the fees set out above and will be notified when the activity is being arranged.
How to apply
If you're a UK applicant wanting to study full-time starting in September, you must apply via UCAS unless otherwise specified. If you're an international applicant wanting to study full-time, you can choose to apply via UCAS or directly to the University.
If you're applying for part-time study, you should apply directly to the University. If you require a Student visa, please be aware that you will not be able to study as a part-time student at undergraduate level.
When to apply
The University and Colleges Admissions Service (UCAS) accepts applications for full-time courses starting in September from one year before the start of the course. Our UCAS institution code is L68.

If you will be applying direct to the University you are advised to apply as early as possible as we will only be able to consider your application if there are places available on the course.

To find out when teaching for this degree will begin, as well as welcome week and any induction activities,

view our academic term dates

.

<!—LinoType Font Tracking Code—>