Why study this course?
The design projects featured on this course investigate private, community, commercial and sustainable interior environments. You will consider the spatial and material relationships within surfaces, furniture, artefacts and textiles. You will develop both graphic and applied decorative making skills to enable the testing, sampling and representation of your ideas.
Using the workshop facilities and expertise, you will work with different materials (hard and soft) and mark-making approaches to experiment and collaborate with other students and experts across a range of related disciplines (including furniture, upholstery, textiles and metals) utilising a breadth of material techniques with traditional and digital workshop processes.
We're in the top 35 unis in the UK for architecture according to the Guardian university league tables 2022.
You can find out more about what to expect on the course in this video presentation from our Head of Interiors.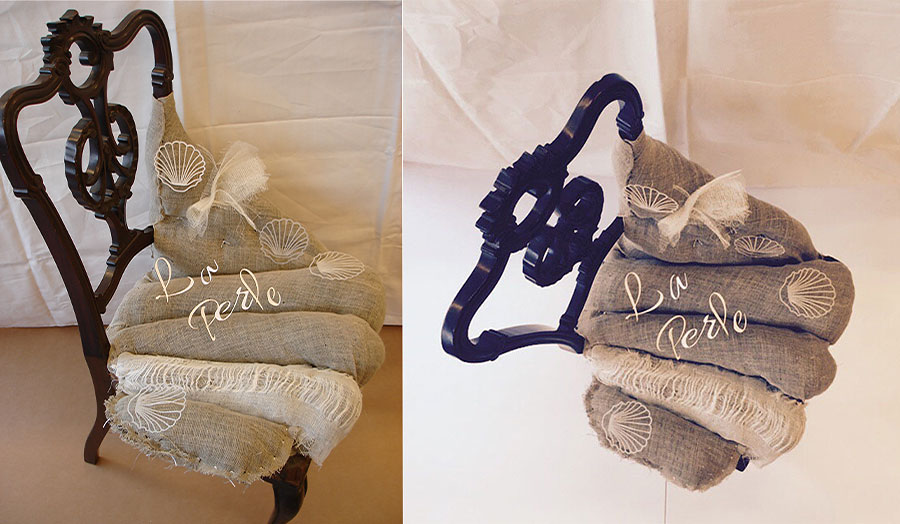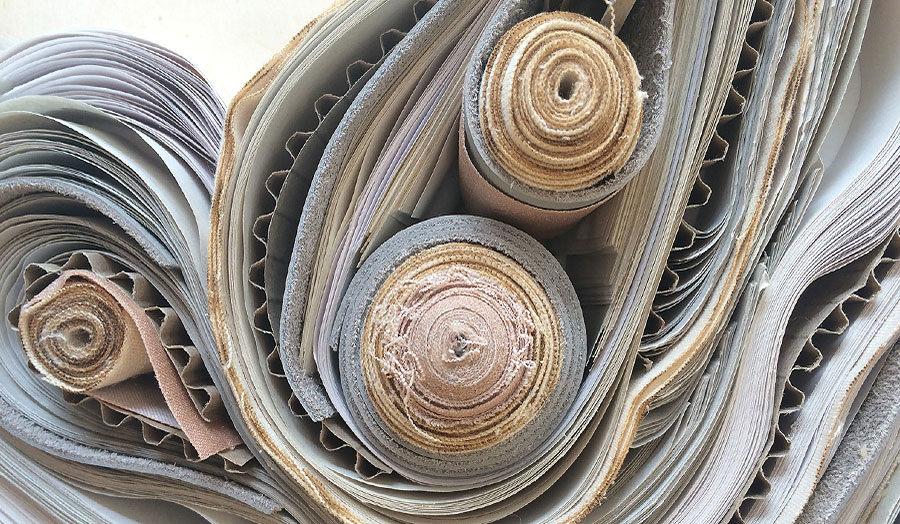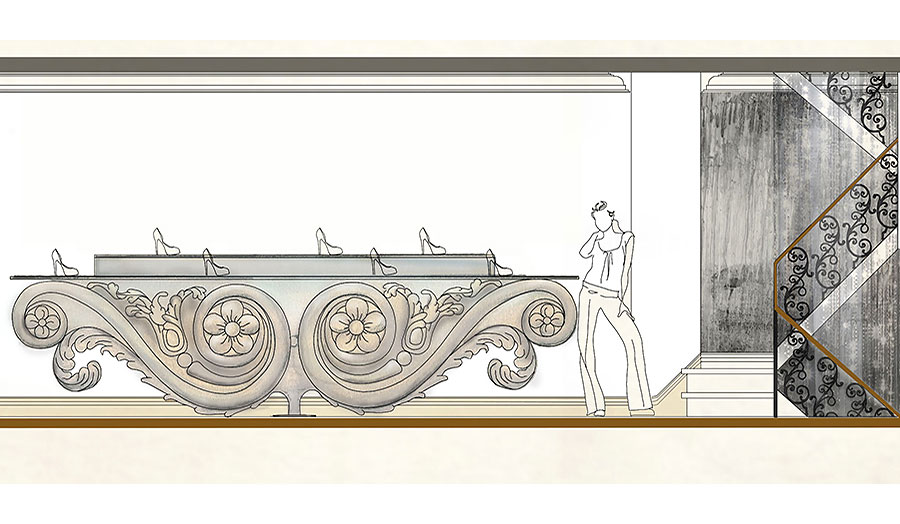 Interior design leitmotif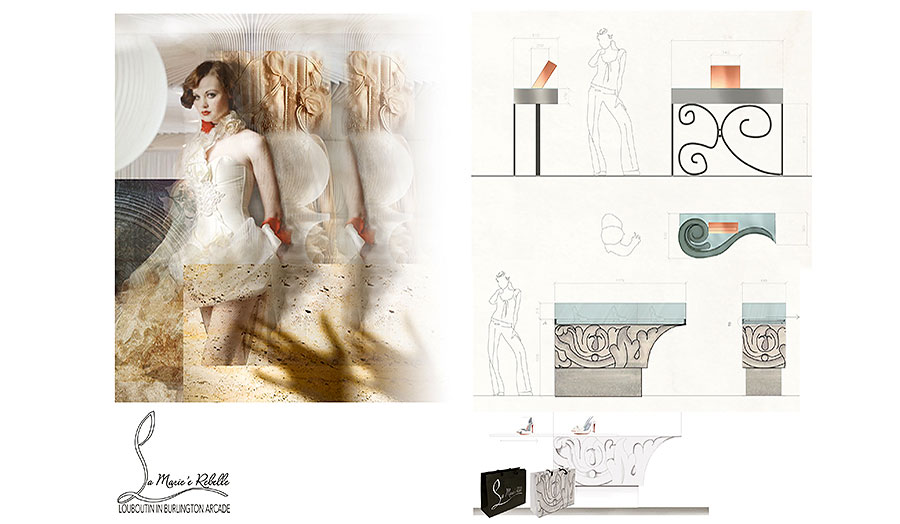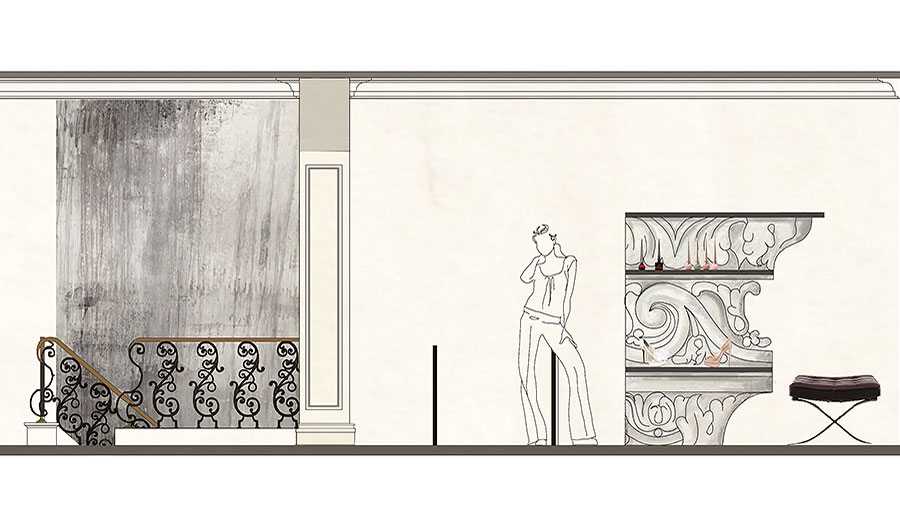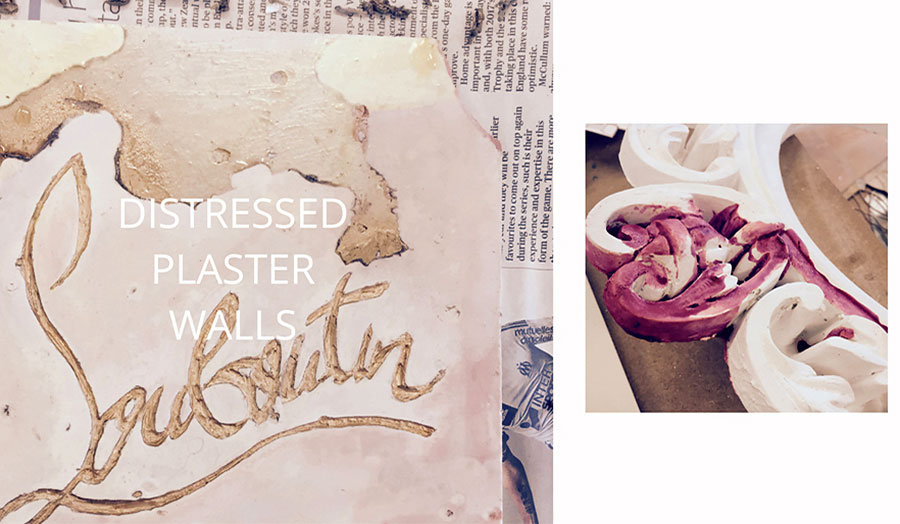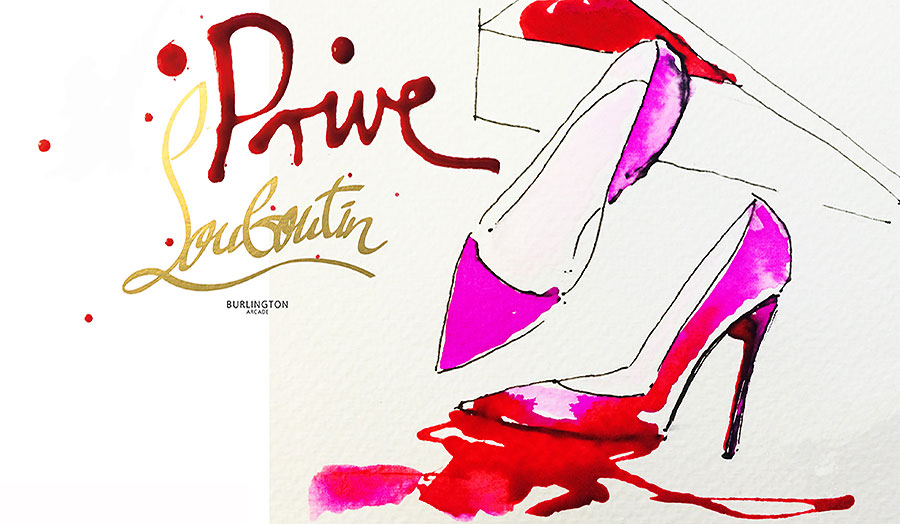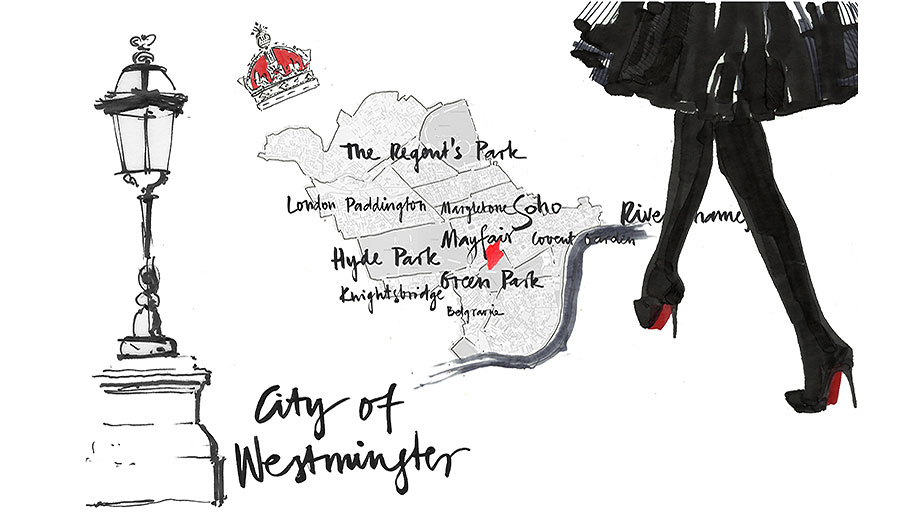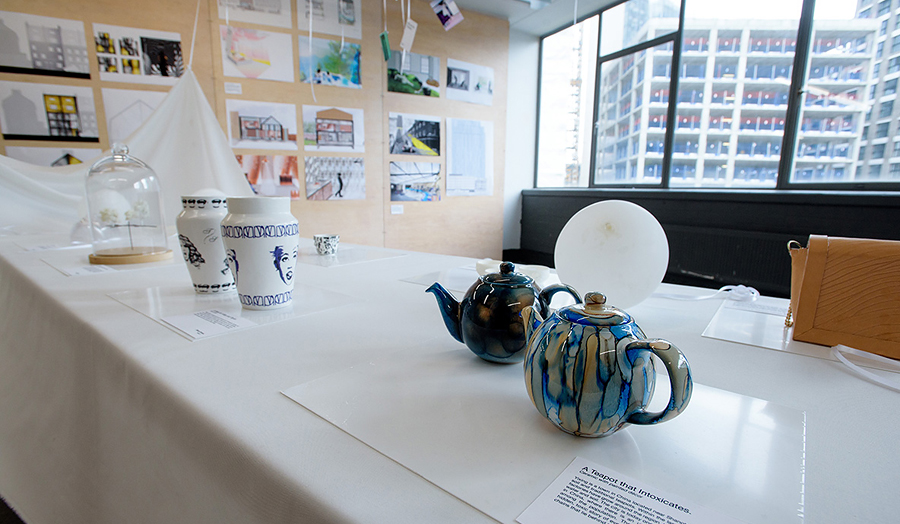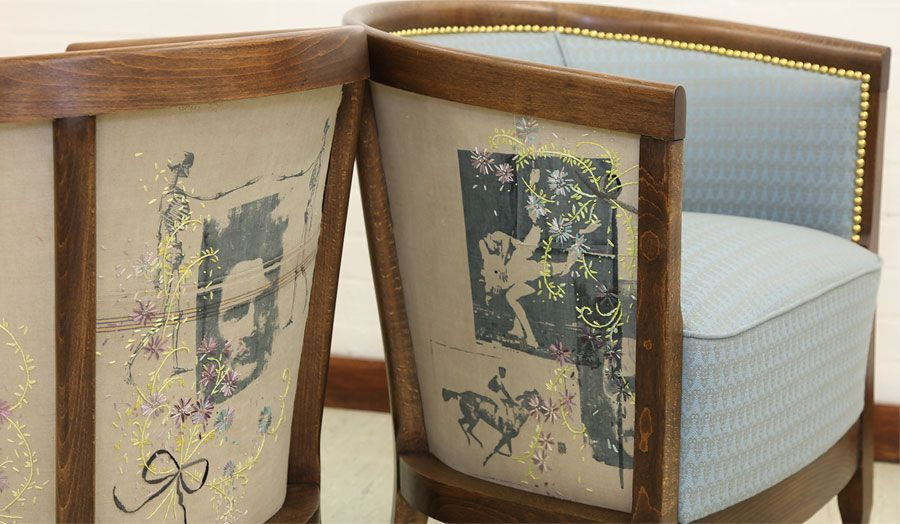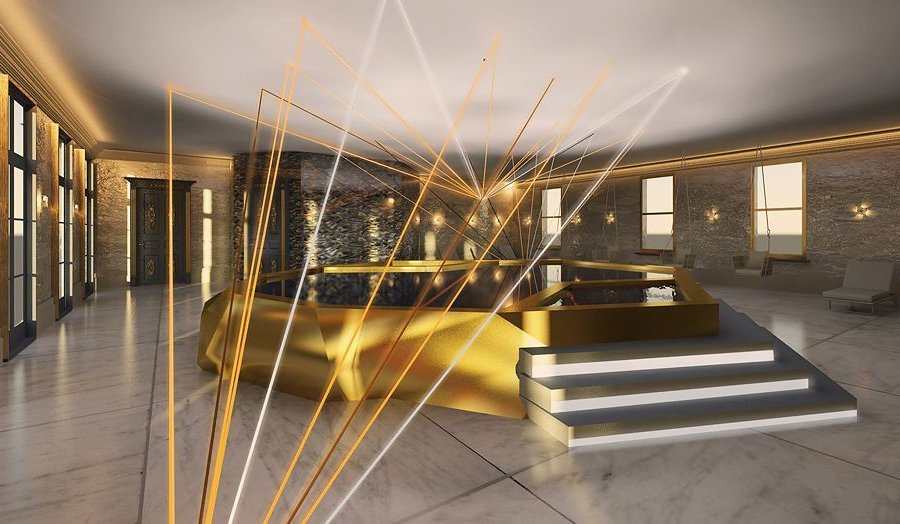 Close-up of Charlotte Born's first year project considering Victorian children working in factories
Stoke Newington Town Hall screen print by Arianne Erlicher
Ragged School design for singer Lana Del Rae's character home by Billie May Ukairo
Making materials samples of green, blue and yellow tones by Blandine Carminati
"If Walls Could Talk" project on structures and shadows, examining gentrification through markets by Carole Mealin Vazquez
Elena Hopwood's first year material and light investigation
Details and annotations on the design for a coworking space in a Middlesex Street Estate business area by Emily Summers
Ewelina Ruminska's Burlington Arcade Louboutin mood board
"If Walls Could Talk" broken chair by Ioana Curuntu
Proposed interiors for Stoke Newington Town Hall with colour palette by Manon Gabet
Amplified Narratives collage by first year Miriam Aggett
Richmond Arts Centre Staircase Elaborate Stucco
Richmond Arts Centre Long Corridor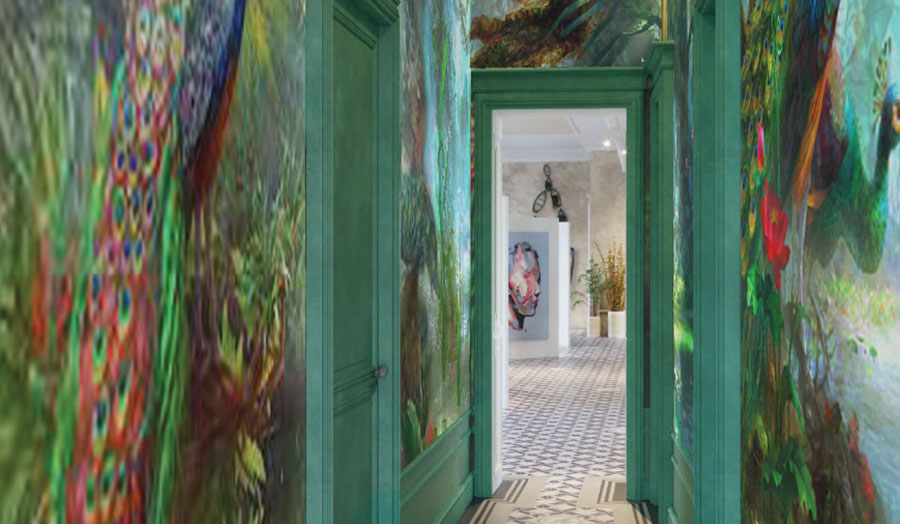 Richmond Arts Centre Corridor Corner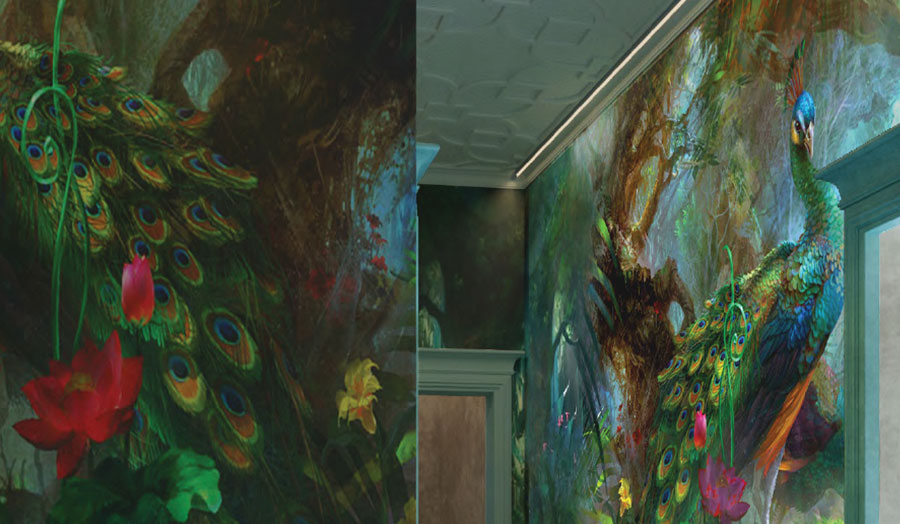 Richmond Art Centre Art Studios
Burlington Arcade Louboutin boutique by Selena Cerami
Street furniture proposal for Middlesex Street Estate by Youngjin Bok
More about this course
The Interior Design and Decoration BA course enables you to embrace material exploration for decorative interior environments. It draws upon the wide range of contexts within the interiors industry, covering domestic settings, retail, exhibition, hotel, leisure and public spaces.
Through the design projects of Year 1 and the studios of Years 2 and 3 you will investigate private, community, commercial and sustainable interior environments, you will consider the spatial and material relationships within a building envelope of surface, furniture, artefacts and textiles. You will develop both graphic and applied decorative making skills to enable the testing, sampling and representation of your ideas.
You will work with different materials (hard and soft) and mark-making approaches to experiment and collaborate with students and experts across a range of related disciplines, including furniture, upholstery, textiles and metals. You'll utilise a breadth of material techniques with traditional and digital workshop processes.
Historically, decorative designers have expressed through their work the latest advances in fashion and technology, in step with vogues and trends that colour our material culture and vernacular history.
Important archives are kept with institutions such as the V&A, Geffrye Museum and Royal Institute of British Architects (RIBA) which allow us to research sources, methods and approaches for contemporary practice.
You will have the opportunity to explore and develop ideas for historic and modern contexts, acquiring knowledge of graphic skills and composition, fabrication techniques, manufacturing processes, mark-making, material exploration and practice for the intimate and private, or public scales of interior decoration. As developing designers you will use this knowledge to develop sensory and aesthetically sophisticated decorative environments that communicate emotionally, culturally, socially and physically with your audience.
Throughout the course you will be asked to consider and position yourself, your skills and your interests in relation to the industry to develop a portfolio that expresses your individual practice. The course operates within a programme of related interior design undergraduate awards, bringing together best practice from related fields. Three cognate BA awards (Interior Architecture and Design, Interior Design, Interior Design and Decoration) enables students to explore the fundamental aspects of design for interiors, through the lens of the built environment, the client, and/or decoration and detailing.
Follow @ldnmet_interiors on Instagram for the latest student work and news from the course!
Assessment
A number of assessment methods will be used throughout the course. These range from formative, summative, diagnostic, peer and self-assessment methods to studio based work, workshops, and CAD and digital projects and exercises.
Entry requirements
In addition to the University's standard entry requirements, you should have:
a minimum of grades BBC in three A levels one of which comes from a relevant subject area such in the arts, humanities or social sciences (or a minimum of 112 UCAS points from an equivalent Level 3 qualification in relevant art and design subjects)
a portfolio review
English Language GCSE at grade C/grade 4 or above
We encourage applications from international/EU students with equivalent qualifications. We also accept mature students with diverse backgrounds and experiences.
Suitable applicants living in the UK will be invited to a portfolio interview. Applicants living outside the UK will be required to submit a portfolio of work via email.
If you don't have traditional qualifications or can't meet the entry requirements for this undergraduate degree, you may still be able to gain entry by completing our Interior Design and Decoration (including foundation year) BA (Hons) or Art and Design (including foundation year) BA (Hons).
Portfolios and interviews
Your portfolio should be selective but contain enough work to show the range of your interests, skills and talents. We are interested in seeing how you develop a project within your sketchbooks from beginning to end, not just your finished work as we will be looking for those who enjoy exploration and experimentation and are able to show us design thinking through a range of media and materials.
Please bring any models, 1:1 sculptures, products or furniture. If these items are too large please bring photographs to the interview. We always want to see traditional drawing whether observational, life or concept generating, so please include this, even if you already have good computer-aided design (CAD) skills.
Finally, be ready to talk about your work and how you see your future as an interior designer. The interview day includes a general introduction to the course and the interiors areas of interests and expertise, a tour of Calcutta House where you you'll have the chance to meet a variety of staff and talk to students.
Accreditation of Prior Learning
Any university-level qualifications or relevant experience you gain prior to starting university could count towards your course at London Met. Find out more about applying for Accreditation of Prior Learning (APL).
English language requirements
To study a degree at London Met, you must be able to demonstrate proficiency in the English language. If you require a Student visa you may need to provide the results of a Secure English Language Test (SELT) such as Academic IELTS. For more information about English qualifications please see our English language requirements.
If you need (or wish) to improve your English before starting your degree, the University offers a Pre-sessional Academic English course to help you build your confidence and reach the level of English you require.
Modular structure
The modules listed below are for the academic year 2021/22 and represent the course modules at this time. Modules and module details (including, but not limited to, location and time) are subject to change over time.
Year 1 modules include:
Year 2 modules include:
Year 3 modules include:
What our students say
"Best teachers ever! Thank you for supporting us through three years it's been an amazing experience!" Lina Danileviciute 2018
"I have the most wonderful memories and I feel emotionally attached to the School. I look up to people like my former lecturers Kaye Newman and Janette Harris; they are strong women who taught me to analyse and think not only about design, but about myself and my surroundings. Awareness is probably the best word to express what I learnt during my studies. Hopefully one day I'll be able to give back what I've learnt and become a lecturer myself. Passion and humility are key words for any designer." Alessia Bucci, co-lead for the design team behind Starbucks's first ever café on Italian soil
"The course has excellent contacts in regards to internships, exhibitions and competitions to take part in, giving us the opportunity to get experience in the real world."
"An engaging course and projects that are highly competitive. Great links to people in the industry up-to-date information about the architecture and design world, and great projects led by real clients."
"Flexible, independent and intellectually stimulating."
"...tutors always help with any difficulties you might have... you have the opportunity to meet wonderful people, a friendly environment and much more..."
"Teachers are very helpful and always there for you, you feel very welcome and there's a very friendly atmosphere."
"The course was excellent."
National Student Survey
Where this course can take you
As an interior decoration specialist, you'll have the skills and expertise to work in all sectors of the interiors industry, from private clients to high-end residential, hotel and retail work. Following graduation, many of our students have gone on to work for some of the best interior design, furniture and architecture practices in London.
Recent graduates have been employed by design companies including Design International, Swarovski, Seen Displays, Turner Bates, Areen, Ayllot van Tromp, Green Room and Lumsden Design. Many graduates have gone on to work in TV and film set design, animation, lighting design, art gallery curation and journalism.
You'll have the opportunity to do a work placement in the 2nd year at some of the best leading design practices in the UK, here are 50 companies that we work closely with:
Your Studios
Andrew Letts
Allidad
Additional costs
Please note, in addition to the tuition fee there may be additional costs for things like equipment, materials, printing, textbooks, trips or professional body fees.
Additionally, there may be other activities that are not formally part of your course and not required to complete your course, but which you may find helpful (for example, optional field trips). The costs of these are additional to your tuition fee and the fees set out above and will be notified when the activity is being arranged.
Discover Uni – key statistics about this course
Discover Uni is an official source of information about university and college courses across the UK. The widget below draws data from the corresponding course on the Discover Uni website, which is compiled from national surveys and data collected from universities and colleges. If a course is taught both full-time and part-time, information for each mode of study will be displayed here.
If you're a UK applicant wanting to study full-time starting in September, you must apply via UCAS unless otherwise specified. If you're an international applicant wanting to study full-time, you can choose to apply via UCAS or directly to the University.
If you're applying for part-time study, you should apply directly to the University. If you require a Student visa, please be aware that you will not be able to study as a part-time student at undergraduate level.
When to apply
The University and Colleges Admissions Service (UCAS) accepts applications for full-time courses starting in September from one year before the start of the course. Our UCAS institution code is L68.
If you will be applying direct to the University you are advised to apply as early as possible as we will only be able to consider your application if there are places available on the course.
To find out when teaching for this degree will begin, as well as welcome week and any induction activities,
view our academic term dates
.