Why study this course?
Our Interior Design (including foundation year) BA (Hons) is the perfect choice if you want to pursue a career in interior design but don't hold traditional qualifications or can't meet the requirements to enter the standard undergraduate degree. You'll graduate with the same award and title as students who study the traditional three-year course.
This four-year course has a built-in foundation year that is both preparatory and diagnostic, meaning we'll help you discover your strengths, find areas of improvement and prepare you for the subsequent three years of study.
Our Interior Design course scored highly for student satisfaction across the board in the National Student Survey (NSS) 2021. It achieved 92% student satisfation for the teaching on the course, 96% satisfaction for learning opportunities, 93% for assessment and feedback, 91% for academic support and and overall satisfaction score of 93%!
We're also in the top 35 unis in the UK for architecture according to the Guardian university league tables 2022.
You can find out more about what to expect on the course in this video presentation from our Head of Interiors.
Interstitial memory by Agata Kraska
One bedroom flat with integral lighting by Annabel Singer
One bedroom flat by Annabel Singer
Lighting Emporium by Annabel Singer
Stoke Newington town hall workspace by Annabelle Ronenberg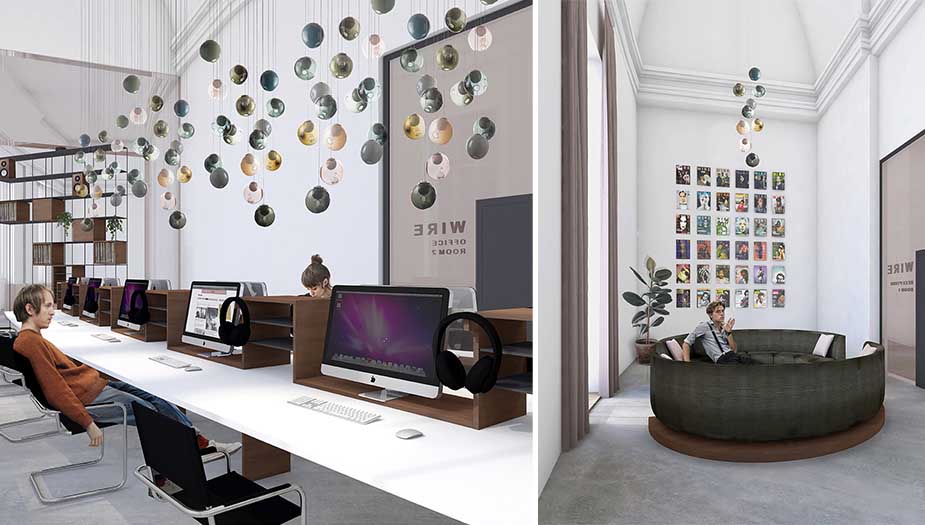 Stoke Newington town hall by Annabelle Ronenberg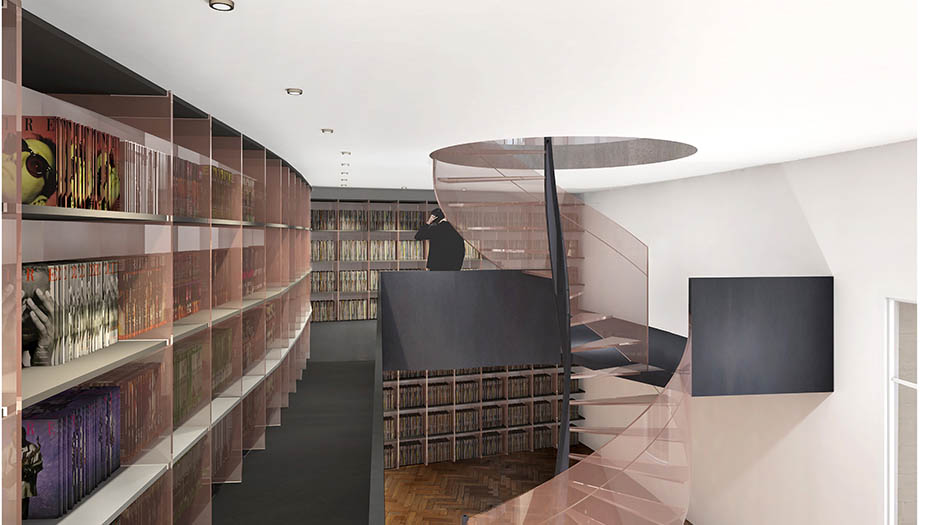 Screen printing visuals by Arianne Erlicher
Middlesex Street Estate by Blandine Carminati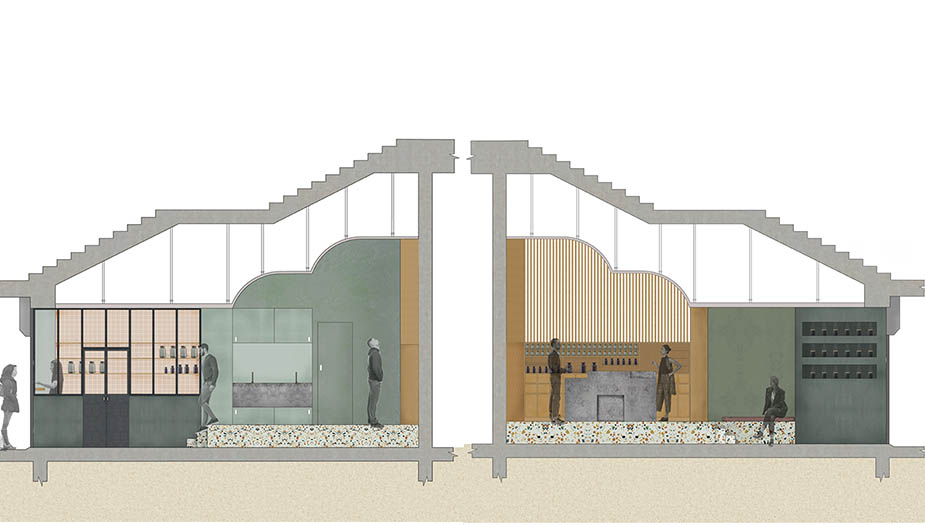 Making materials by Blandine Carminati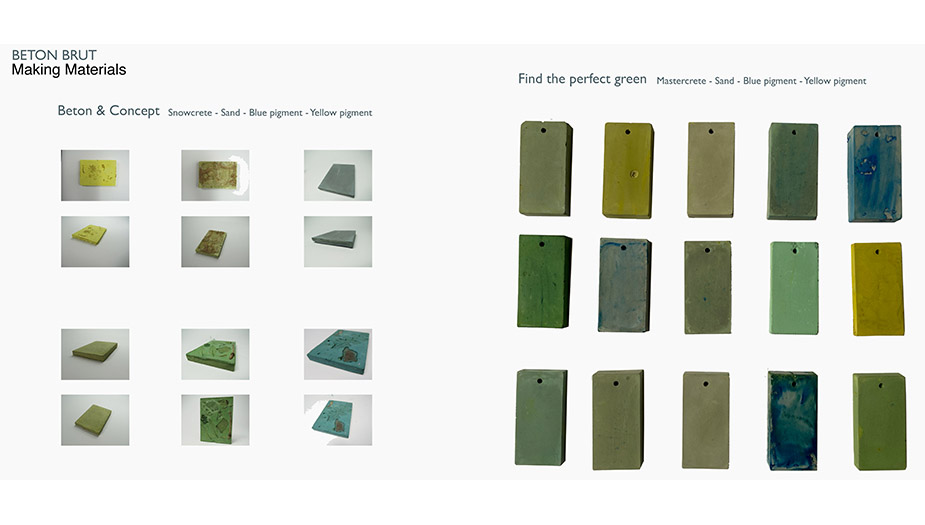 If walls could talk by Carole Mealin Vazquez
Stoke Newington town hall visuals by Catherine Zaluski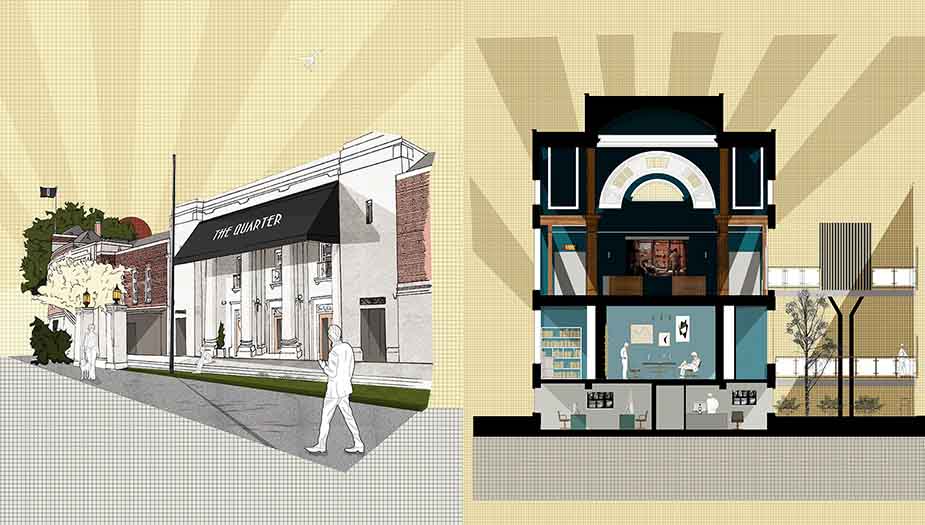 Market Community by Chantelle Oluchi
Victorian child in factory by Charlotte Born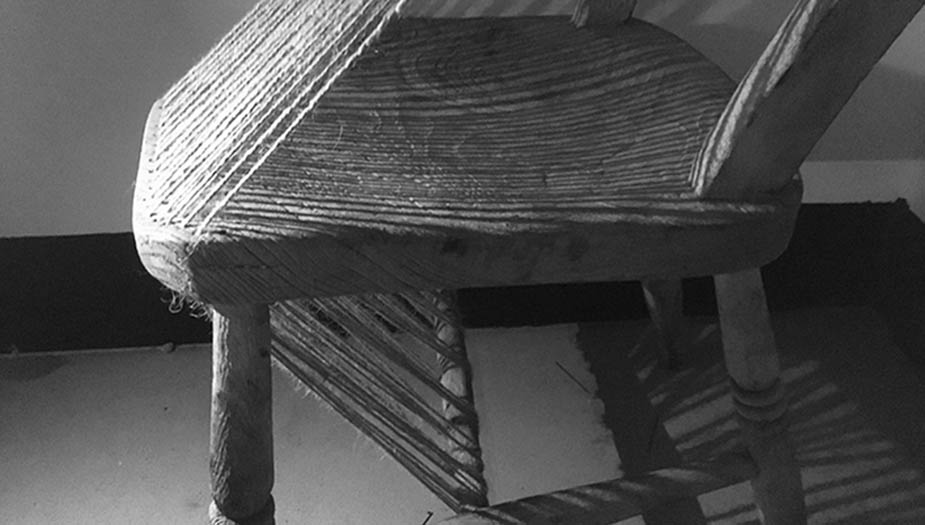 Shop unit by Eleanor Hopwood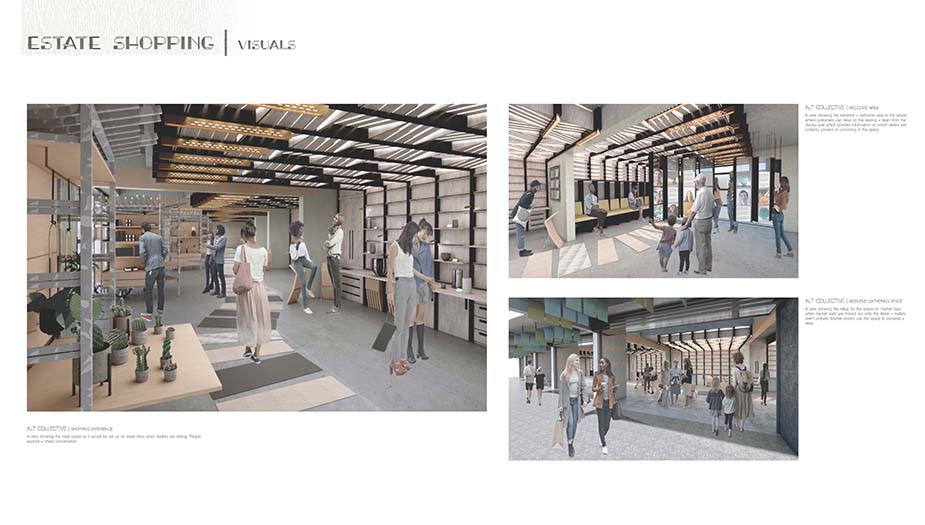 Pathological independent furniture by Eleanor Hopwood
Plan and sections of retail units by Emily Summers
Workshop business area by Emily Summers
Lower Marsh, open walls by Eve Karanikki
Burlington Arcade by Ewelina Ruminska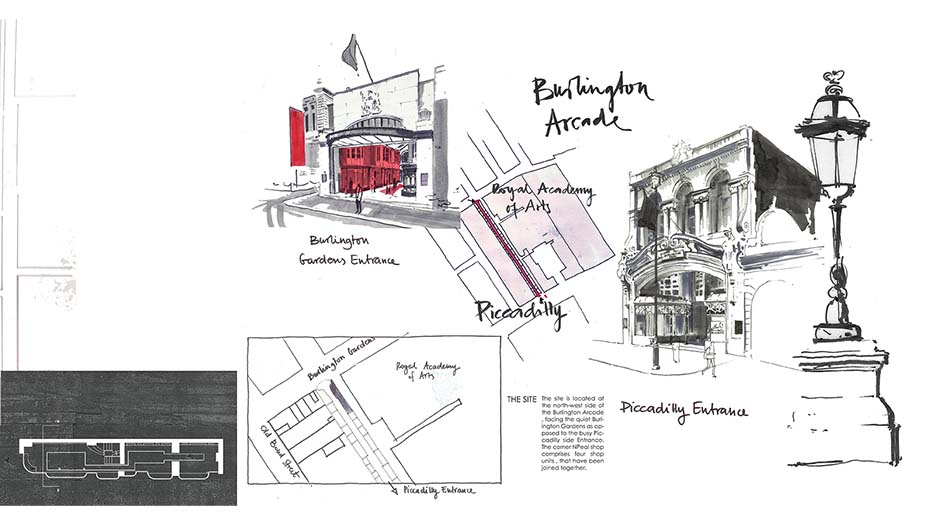 A first year interiors workshop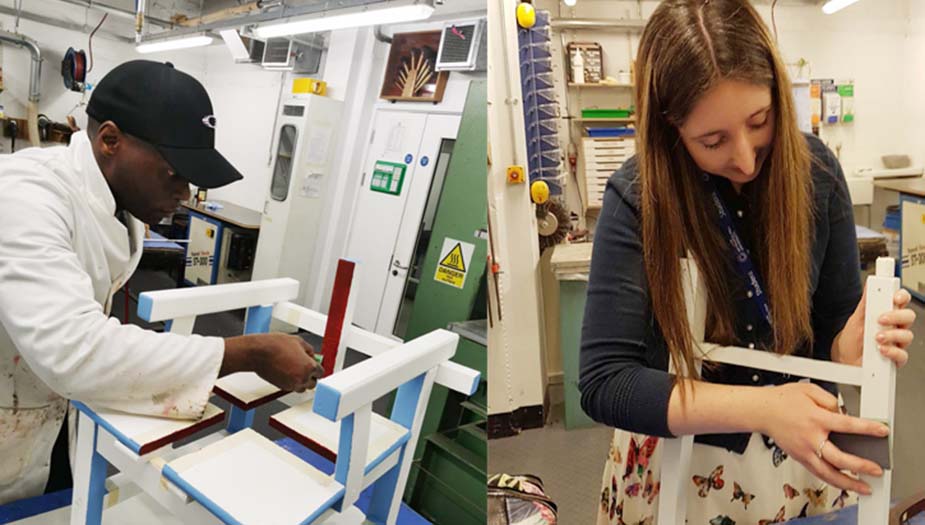 Reducing waste in the retail industry by Jenny Olver
Proposed plan for retail units by Jenny Olver
Model of a new barge for the community by Kate Underdown
Whitechapel gallery contextual collages by Kerry Ann Carter
Whitechapel gallery contextual collages by Kerry Ann Carter
Whitechapel Gallery mapping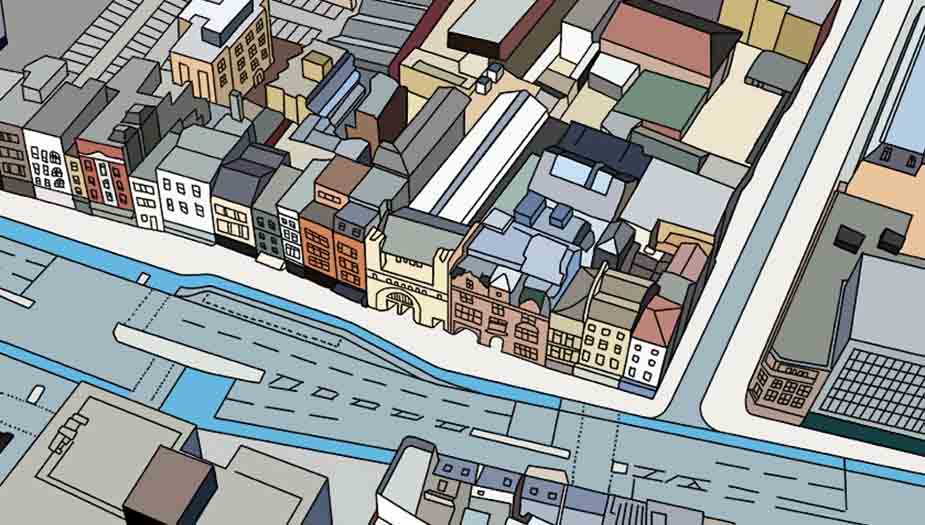 Amplified narratives by Lucy Johnson Squire
Joie de vivre inhabitants by Paula Goebel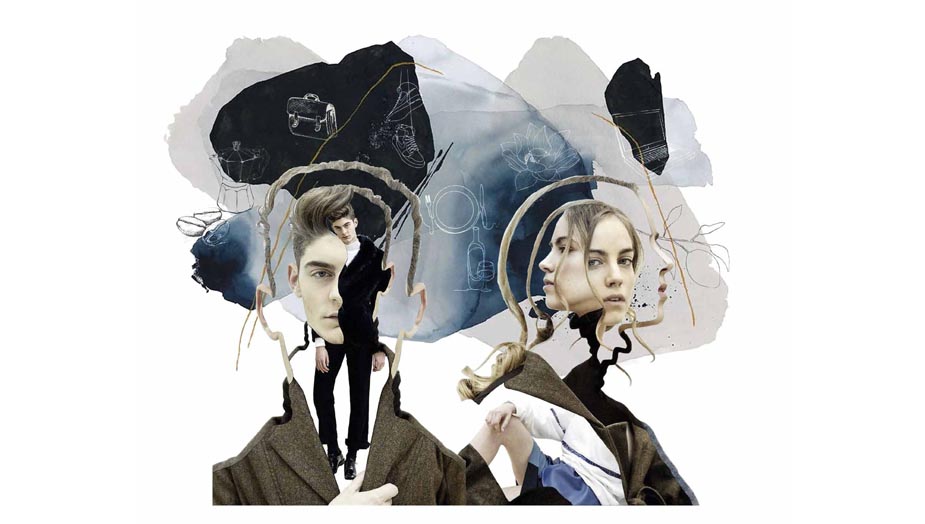 Hospitality space by Paula Hinderer
Cross generational therapy by Ratcha Daengbunma
Cider from Mars by Ratcha Daengbunma
Crossroads concept sketch by Robert Stefanescu
Street furniture by Youngjin Bok
More about this course
Our Interior Design (including foundation year) BA (Hons) involves an exciting range of projects in the cultural, social and commercial fields that will prepare you for a successful career in interior design.
The foundation year will prepare you for academic study by equipping you with skills such as essay writing, reading, research and critical analysis. You'll also be introduced to working in studios and workshops, while completing intensive short-term projects. These will be followed by interpretive and longer projects, which aim to give you a sense of direction and a personal perspective on interior design, as well as on the broader art and design field.
You'll share your foundation year with students from our other foundation year courses, allowing you to gain new perspectives on and ideas for your own work. There will be opportunities to view work from other students and present your own finished and work-in-progress projects. This year will be excellent preparation for the end-of-year exhibition, where you'll present your project to your peers, tutors and the general public.
On completion of the foundation year you'll begin more focused study of interior design, sharing the classroom with students who have started on the traditional three-year course. You'll study the same course content and have the same choice of modules as those students. You can learn more about the subsequent three years of study by visiting the Interior Design BA (Hons) course page.
If towards the end of your foundation year you decide that you'd like to specialise in a different subject area there will be flexibility to do so.
Follow @ldnmet_interiors for the latest student work and news from the course!
Assessment
You will be assessed via project work, essays and an individual portfolio.
Entry requirements
In addition to the University's standard entry requirements, you should have:
at least one A level (or a minimum of 32 UCAS points from an equivalent Level 3 qualification, eg BTEC Subsidiary/National/BTEC Extended Diploma)
English Language GCSE at grade C (grade 4 from 2017) or above or will need to take the University English test
You will need to attend an interview with your portfolio of creative work. We encourage applications from International/EU students with equivalent qualifications. We also accept mature students with diverse backgrounds and experiences.
Suitable applicants living in the UK will be invited to a portfolio interview.
Applicants living outside the UK will be required to submit a small portfolio of work via email.
Accreditation of Prior Learning
Any university-level qualifications or relevant experience you gain prior to starting university could count towards your course at London Met. Find out more about applying for Accreditation of Prior Learning (APL).
English language requirements
To study a degree at London Met, you must be able to demonstrate proficiency in the English language. If you require a Student visa you may need to provide the results of a Secure English Language Test (SELT) such as Academic IELTS. For more information about English qualifications please see our English language requirements.
If you need (or wish) to improve your English before starting your degree, the University offers a Pre-sessional Academic English course to help you build your confidence and reach the level of English you require.
Modular structure
The modules listed below are for the academic year 2021/22 and represent the course modules at this time. Modules and module details (including, but not limited to, location and time) are subject to change over time.
Year 0 modules include:
Year 1 modules include:
Year 2 modules include:
Year 3 modules include:
What our students say
"I felt inspired and confident to take part whilst being on my placement mainly because of the things I have learnt so far in uni. The [School of Art, Architecture and Design] has a very good reputation, I only really noticed this as [my employer] spoke highly of [the School]. I wanted to thank you all so much for preparing me for the industry I really appreciate you all and I now understand much better the context of the course in relation to the industry." Chantelle Oluchi, Interior Design BA (Hons) graduate, 2020
Where this course can take you
This course will prepare you to work with confidence as a specialist in a design or architectural practice. On entering the workplace you will find your role requires a range of skills and experience beyond the purely creative. The collaborative nature of the projects you'll complete whilst studying are ideal for preparing you for interacting with other professionals and performing construction industry processes.
Recent graduates have been employed by design companies including Gensler, BDP, Turner Bates, Black Sheep, Fitch, AI Architects, Woods Bagot, Foster and Partners, Seen Displays, Areen, My Beautiful City and Avante Garde.
We also have graduates who have chosen to work for set designers, interior design magazines and in museum and gallery curation.
Others have chosen to continue onto postgraduate study. Graduates of this course are well-suited to pursuing further studies in interior design, sustainable design, architecture and environmental design and strategic brand management at postgraduate level. We have a variety of suitable courses at London Met, such as:
Every student who studies on one of our three interiors courses has the opportunity of a work placement at a leading London design practice. We place our students in the top 150 interior and architectural practices in London including Penson, Gensler, turnerbates, Fitch and WeAreYourStudio.
What is a degree with a foundation year at the School of Art, Architecture and Design?
This is a four-year degree course with a built-in foundation year (Year 0). A foundation year in our School of Art, Architecture and Design is the starting point for many of our art, architecture and design students and acts as an introduction to the wide range of creative practices explored within the University. You may join us with a clear idea of the subject you intend to study or you may use it as an opportunity to explore a number of different directions or experiment with your creativity. A foundation year degree is also a great choice if you don't meet the necessary entry requirements for the standard undergraduate degree. You'll graduate with a full undergraduate degree with the same title and award as those who studied the three-year course.
Additional costs
Please note, in addition to the tuition fee there may be additional costs for things like equipment, materials, printing, textbooks, trips or professional body fees.
Additionally, there may be other activities that are not formally part of your course and not required to complete your course, but which you may find helpful (for example, optional field trips). The costs of these are additional to your tuition fee and the fees set out above and will be notified when the activity is being arranged.
Discover Uni – key statistics about this course
Discover Uni is an official source of information about university and college courses across the UK. The widget below draws data from the corresponding course on the Discover Uni website, which is compiled from national surveys and data collected from universities and colleges. If a course is taught both full-time and part-time, information for each mode of study will be displayed here.
If you're a UK applicant wanting to study full-time starting in September, you must apply via UCAS unless otherwise specified. If you're an international applicant wanting to study full-time, you can choose to apply via UCAS or directly to the University.
If you're applying for part-time study, you should apply directly to the University. If you require a Student visa, please be aware that you will not be able to study as a part-time student at undergraduate level.
If you're applying for a degree starting in January/February, you can apply directly to the University.
When to apply
The University and Colleges Admissions Service (UCAS) accepts applications for full-time courses starting in September from one year before the start of the course. Our UCAS institution code is L68.
If you will be applying direct to the University you are advised to apply as early as possible as we will only be able to consider your application if there are places available on the course.
To find out when teaching for this degree will begin, as well as welcome week and any induction activities,
view our academic term dates
.