Why study this course?
This research-led Interior Design MA addresses the needs of graduates from interior design and related discipline backgrounds, or those who wish to collaborate with professionals in the field. Our Interior Design MA is one of several postgraduate design courses that co-exist at our School of Art, Architecture and Design, offering rich opportunities for the collaborative multidisciplinary approach that is a feature of the current and future design sector and a requirement for success in the field.
Richmond Art Centre Art Studios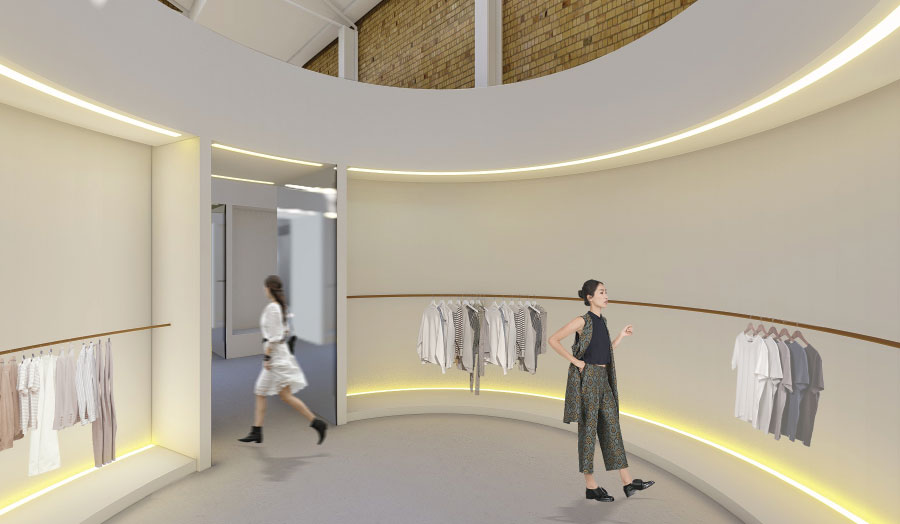 Richmond Arts Centre Long Corridor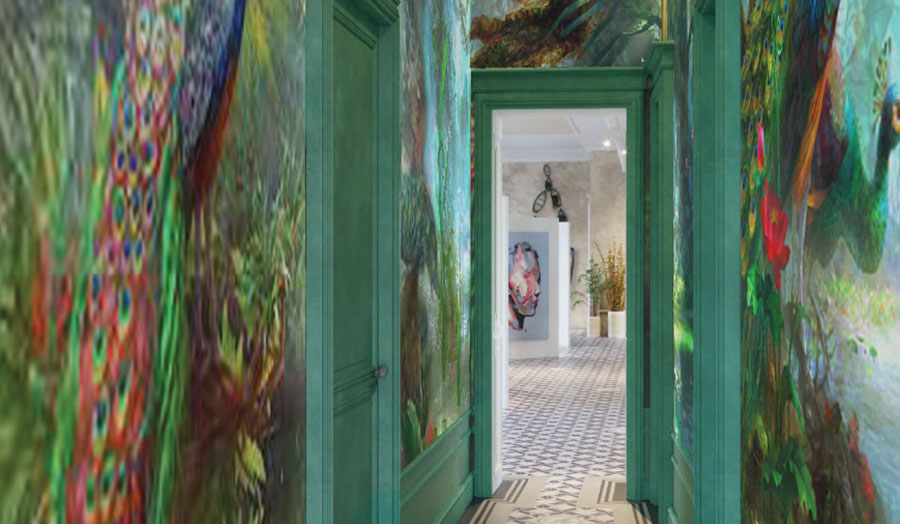 The Teenage Library Within the Rooftop
Richmond Arts Centre Staircase Stucco
Maker Space King Street Workshop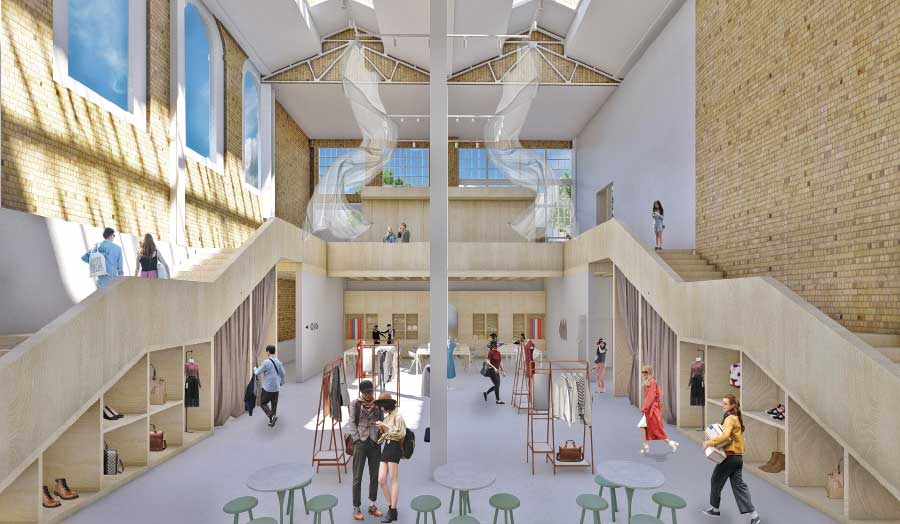 Richmond Arts Centre Staircase Elaborate Stucco
The Teenage Library Rooftop
Richmond Arts Centre Corridor
Maker Space King Street Layered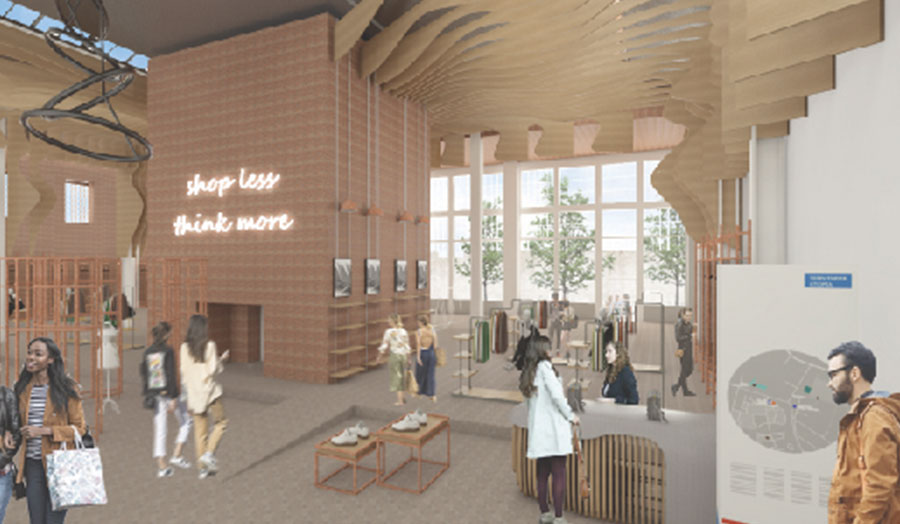 Richmond Arts Centre Corridor Corner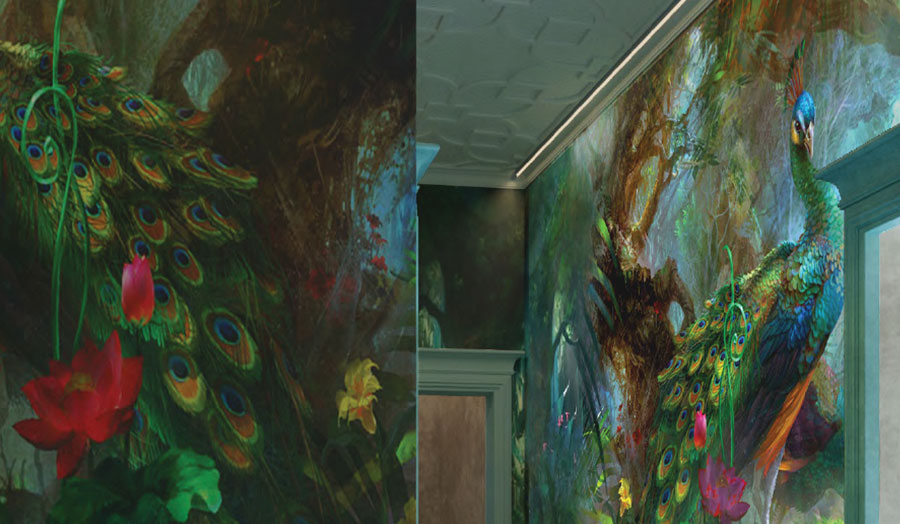 The Teenage Library Revit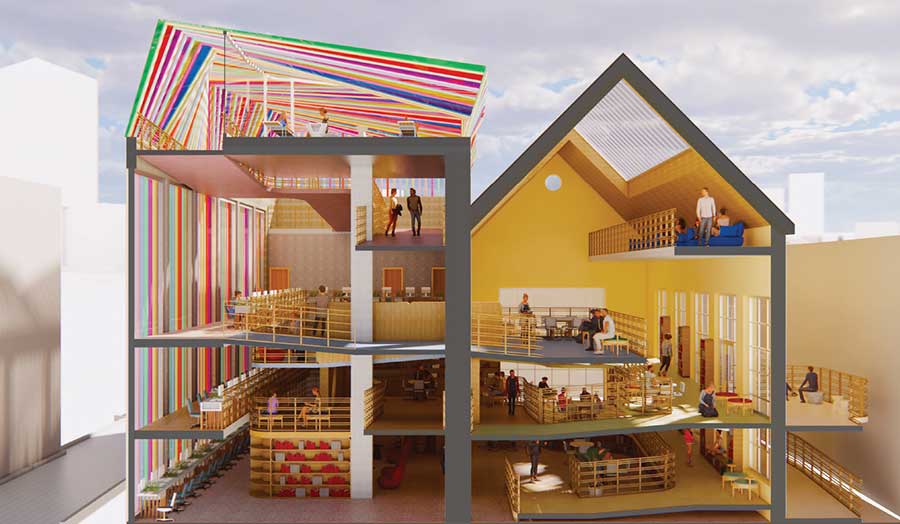 Richmond Art Centre Arts Studio
The Teenage Library Revit #2
More about this course
The overall theme and content of the course is intended to encourage independent design thinking in the field of the interior. In this respect, the curriculum focuses in an advanced and systematic way on aspects of the profession and practice. Design and research for design occupies a large proportion of the course and the process of design is rehearsed through the vehicle of project work. There is an emphasis upon putting you in a real, complex and ambiguous context for project work, with many more parameters that cover social, political and economic contexts as well as the physical context.
Modules and projects are delivered within a design studio unit that sets a theme for your design work over the academic year, which creates a collaborative working model. The studio runs projects in a range of research interests, sites, building types, cultural and theoretical contexts. The School's Interiors cluster shares a commitment to contemporary design and its global and local contexts, a passion for building, and desire to test the premises of the interior, theoretically as well as practically.
The course addresses the needs of graduates from interior, spatial and architectural backgrounds where traditional roles are increasingly blurred and design skills may be needed in a variety of guises. It emphasises generic and transferable skills in design of the built environment, and locates the subject in this broader context to encourage you to seek and create opportunities for the practice of their discipline.
You'll want to imbue your work with meaning, to use it to communicate, to engage emotions and inspire response. Interiors are designed to be attractive and desirable in the marketplace and relevant to consumers, meaning you'll need an exhaustive overview of current and forthcoming furniture products in order to be competitive.
Design and research occupy a large proportion of the course; the research and development process of design is rehearsed through your project work. In parallel with theoretical research, you'll generate, communicate and evaluate all kinds of innovative ideas and concepts for furniture. You'll discover that design research will reveal the widest range of proposals for testing, how best to inform the producer of what you have in mind and how best to evaluate concepts.
Our School of Art, Architecture and Design is a community that shares a commitment to contemporary design and its global and local contexts, a passion for design in all its forms, and desire to test the premises of the field, theoretically as well as practically. We aspire to effect real, meaningful and beneficial change through our design work and MA Interior Design is a part of that vision.
Follow @ldnmet_interiors on Instagram to keep up to date with student work and news from the course!
Alternative core module information
The School maintains a portfolio of alternative core MA (level 7) 20 credit modules, two of which will be core to this course in any particular year. Prior to the start of the course each September, the course team will decide which of the alternative core modules should be the core 20 credit modules for the following academic cycle. This decision is based on the project opportunities arising and the balance of students across the portfolio of MA design courses. Please note, students themselves do not choose which of the alternative core modules to take themselves. See the modular structure section below for more details.
Assessment
You'll be assessed through portfolios of written, research, visual and physical project work, all directly related to the requirements of practice in the field.
The MA is concluded with a major project in which you'll select an area of study, formulate your own argument or theoretical position and produce an independent body of work. The project challenges you to study in a topic that interests you, which will test your creative ambition. This work will be exhibited at the MA graduation show in our central London location.
Entry requirements
You will be required to have:
a first class or strong upper second class degree, or equivalent, in a related subject
Applicants will also be expected to present a portfolio and provide a statement demonstrating their ambition for the subject area and for studying at postgraduate level.
Employment or consultancy within the field can also be considered alongside the portfolio and statement.
Accreditation of Prior Learning
Any university-level qualifications or relevant experience you gain prior to starting university could count towards your course at London Met. Find out more about applying for Accreditation of Prior Learning (APL).
English language requirements
To study a degree at London Met, you must be able to demonstrate proficiency in the English language. If you require a Student visa you may need to provide the results of a Secure English Language Test (SELT) such as Academic IELTS. This course requires you to meet our standard requirements
If you need (or wish) to improve your English before starting your degree, the University offers a Pre-sessional Academic English course to help you build your confidence and reach the level of English you require.
Modular structure
The modules listed below are for the academic year 2022/23 and represent the course modules at this time. Modules and module details (including, but not limited to, location and time) are subject to change over time.
Year 1 modules include:
This module currently runs:

all year (September start) - Thursday afternoon
all year (September start) - Thursday morning

This module, carried out within the context of a design studio, advances discipline-specific design research, development and management skills in the context of a self-directed project development exercise. Students will test in applied practice, research methods considered in the Design Research for Practice module. Its purpose is to facilitate effective planning and development of an appropriate masters design major project under relevant subject-specialist supervision.

Through investigatory practice, students will test, select, assemble and apply design and design research methods through which an individual approach to design process can be constructed, and from which innovation can arise. Opportunities arising from emerging social, economic and technological contexts will be sought, and worthwhile and defensible projects will be identified and framed. Students will be encouraged to engage in both speculative and discursive enquiry and rigorous and valid research programmes. Students will be expected to build a comprehensive knowledge of the current state of the context of their interests and practice and be able to position their concepts and proposals as significant interventions.

Students will refine developmental work into coherent and articulate designs, which are capable of convincing clients, community or peers of the potential success and value of the proposed outcome.

The module aims to:
• develop capacity to plan, undertake, present and evaluate complex professional design projects in response to set and self-set briefs, in preparation for a Master's major/ thesis project;
• extend students' ability to position design projects in professional, social, technological, ethical, theoretical and conceptual contexts;
• guide students to a fully integrated synthesis of research and design development in their working processes;
• ensure students equip themselves with a working understanding of the essential requirements of practice and legislation concerning such issues as intellectual property rights, health and safety, product liability, ethical practice and consumer law;
• consolidate students' ability to work independently as critical professional practitioners, able to accept and address complex and unstable problems and partial solutions;
• use strategies for problem finding, idea generation, inter-disciplinary working, lateral thinking, integrated research methods and process experimentation to drive innovation.

This module currently runs:

all year (September start) - Monday morning

This module, carried out within the context of a design studio, develops abilities to identify, evaluate for suitability, synthesise and apply design research methods in support of practice. It supports the acquisition of a body of research knowledge and abilities that can be adapted and applied to design challenges (within the course and beyond into professional practice) according to a set brief and future demands. It provides the creative, intellectual and technical vocabulary necessary to validate design experimentation, development and realisation. Students will examine key principles and methods in design research essential for undertaking postgraduate study and advanced research practice.

Through research allied to studio practice, students will explore new opportunities emerging in the field of design and production, applied to set and self-set briefs. Students will be introduced to a selection of design research tools and methods through which innovative approaches to design are explored. They will consider contexts and constraints as they affect practice, related to the production, distribution and consumption of designed artefacts and environments, and their ethical, sociological or cultural, environmental and technological aspects, and test and critique existing and developing research skills and methods within a defined discipline- related context.

Lectures on the fundamentals of research methods will help to identify connections to design research interests that will underpin studio practice. As students become more secure and rigorous in their handling of research methods, they will become increasingly self-directed in their modes of practice, consolidating the theoretical and methodological approaches employed in design.

The module aims to:
• equip students for postgraduate level study in design through the development of knowledge, understanding and ability in design research and the application of research to practice;
• raise awareness of the beneficial impact of rigorous design research by demonstrating how the quality of the design process and outcomes can be enhanced through the application of valid research methods;
• strengthen students' ability to work independently as critical researchers and practitioners;
• enable students to critically select and assemble appropriate research methods into well-constructed design research programmes;
• enable the achievement of original findings and proposals through the application of design research methods to design development and practice.

This module currently runs:

summer studies - Thursday morning
summer studies - Thursday afternoon

This module completes students' Master's projects, enabling students to balance creative and intellectual ambition with the rigours of professional expectations and academic research requirements. The module moves beyond the context of the collaborative design studio, building upon and extending skills and knowledge developed through design research and project development. Students will complete and deliver an approved self-set design project, applied to and tested against a defined research and professional context.

Comprised of a significant project of independent research practice, produced under supervision, the purpose of the project is to demonstrate applied learning through a sustained, independently devised period of design research, development and production. The project marks the summation of the programme of studies and demonstrates the students' ambition for their future in their discipline and professional sector.

This module aims to:
• support students in the design, management and delivery of design projects at an advanced, postgraduate creative and professional level;
• encourage and facilitate, through provision of supervisory guidance and structured feedback, evidence of highly developed design research and development capabilities through the completion of the major project;
• prove students' abilities successfully to negotiate highly complex problems and situations, to engage in both speculative and well-grounded design processes, and to generate valid, applicable and innovative outcomes;
• enable students to communicate their individual approach as a designer, their discipline-specific abilities and their professional attributes in an appropriate and convincing manner, in order to enhance career opportunities.

This module currently runs:

autumn semester - Monday afternoon

This module engages students with fundamental and seemingly contradictory human impulses towards 'luxury' and 'democracy', as these are expressed in designed artefacts and environments. Hardly any products are marketed or understood as having the characteristics of neither of these properties; their apparent incompatibility is often understood as problematic in the design and production of goods. The concepts have different meanings for varied people and communities; these will be explored as students develop a personal position in relation to the concepts of luxury and democracy.

Progress in knowledge and technology has the capacity to advance and improve the human condition, including health and wellbeing, happiness and equality. Students will investigate how designers can harness knowledge and technology to make artefacts and products that enrich peoples' lives by making those products more widely accessible, and in doing so, discover if they can provide themselves with opportunities as designers. Market relevance is crucial: no benefit to designer, consumer or society can come from a design that nobody wants.

There are rich opportunities for designers in this field - the demographic of the luxury consumer is broadening. In developing economies, young consumers demand 'luxury' products (often not the same products sold to the traditional luxury goods buyer); in some cases, factors such as superior ethical and environmental values have become luxury signifiers. Corporate ethical policies and environmental targets have begun to address this; however, more democratic access to luxury products would deny the fundamentally aspirational nature and image of luxury brands. Luxury brands cannot be 'democratic', but perhaps luxury itself can be.

This module aims to:
• examine historic and emergent notions of 'luxury' and the design of artefacts in relation to these factors;
• formulate the student's personal position on definitions, relevance and concepts of 'luxury' and 'democracy' as applied to designed artefacts;
• scope and analyse current and emerging technology and products, market conditions and drivers; and the ethical, social and economic factors informing them;
• enable students to design and fabricate proposals and/or otherwise present ideas that represent, challenge or synthesise these issues.

This module currently runs:

spring semester - Monday afternoon

Design for Change focuses on the interaction of people with the designed environment and material culture, and the design characteristics that create meaningful relationships and affect thinking and behaviour. The title of the module recognises that a working definition of what a designer does is, fundamentally, to effect change.

People, objects and environments mutually influence each other, the purpose of this module is to create scenarios through which strategies for understanding these dynamics, and testing and refining design that enhances these experiential relationships can be developed.

When change is deliberately intended or accidentally effected on people in any way, the responsibility to act with care, sensitivity and secure knowledge and information and within an ethical framework is clear. Therefore, the projects undertaken in this module will be founded in deep and rich research into the impact of design on users. Students will research the numerous ways, obvious, subtle and covert, in which designed artefacts and environments affect human thinking, behaviour, emotions, relationships and wellbeing. Students will adopt well-established research methods, and where appropriate, construct or synthesise their own. Data will be evaluated and analysed before becoming the foundation for a design process that will be collaborative and consultative at its core. People, whether they are clients, consumers or members of society in general, do not necessarily have the means to express, understand, safely and ethically design or construct the answer to their needs. The role of the designer is to expertly mediate between all the parties, conflicting objectives, needs and desires at play in any given project and ensure the best possible outcome through all the constraints imposed on the project.

Different projects might seek to allow, enhance or transform thinking, behaviour or experience. Whatever the brief, students will be expected to research, model and test their design development, always seeking to design while holding the interests of the various parties involved in an ethical balance. Innovation is expected, as is the creation of an individual approach to design. This will arise through a personalised application of sector-specific industry standard research methods to the briefs set. The challenge will be to fulfil the task set while expressing creative identity in solutions for complex and sometimes ambiguous situations.

The module aims to:

• enable students to identify and understand the cognitive, sensory, psychological, ethical and social factors that are entailed in relationships with objects and environments;
• engage students with theories about human/ environmental relationships;
• equip students to research and analyse the impact of existing or proposed designs on people and communities;
• provide students with the opportunity to design a collaborative, human-centred design research process;
• test understanding of the issues and abilities in design research in practice and present process and outcomes convincingly.

The module analyses and reflects upon the interaction of people, space and things that is at the root of interior design. This module explores ways to analyse, contextualise and interpret their relationship in relation to a specific interior.
To achieve this there are three aspects to the module; first the drawn analysis of the space; second the reading and responding to texts, films and other media that help establish a contextual perspective; and third through the combination of these approaches, the production of an interpretative narrative that offers a new visual and textual reading of the space.
The module aims to develop students' ability to synthesize the spatially analytic understanding of an interior space with the contexts in which it was produced and has subsequently developed. Through this, students should extend and refine a range of representational skills to describe the composition of an interior.

This module explores process-led design development through alternative routes to the traditional linear or iterative design processes, with the materials of designed products as the genesis of investigation, invention and discovery. Taking material and the processes, techniques, and tools or equipment through which it is manipulated as the starting point, students will work to expand the understanding of what is possible with traditional, rediscovered, new and emerging material and process technology.

Students will seek solutions to both defined and flexible briefs, but at all times be open to the unexpected possibilities revealed by the outcomes of experimentation, the realisations of opportunities maximised by collaborative working and pooling of knowledge, skills and expertise. The brief may be for example to find a solution for a particular problem, using a defined material or process – often because for the individual, company or community in question, it is the resource they have available, and no other. Designers may be asked to attempt to develop an entirely new material or process. Alternatively, a designer may be asked to discover and propose an innovative new use for a particular material or process that has no current viable use. There are numerous examples of materials acting as the starting point of a design research process, whether it is Spain and Portugal seeking new uses for cork following the widespread adoption of synthetic corking for wine, or the development of solar powered sintering of sand for desertified countries with very limited resources for conventional manufacture, or livery companies looking for contemporary uses for their ancient materials and processes, as the Worshipful Company of Horners currently are.

In these cases, the need to be addressed is counter to the normal one of market demand or user need; it is of material, processes and clients seeking a new opportunity or vehicle for their resource.

As developed economies continue their rapid maturation beyond what experience allows to be predicted; and as developing countries realise that following in the footsteps of developed economies' economic trajectories will lead to the very same problems they now experience, the need for intelligent and sustainable exploitation of known and existing materials and processes will be just as important to the future of societies and economies as the invention of completely new ones.


The module aims to:
• enable students to develop and articulate their personal position on the ethical and environmental issues surrounding the exploitation of material resources;
• advance students' knowledge and understanding of current and emergent material resources in their discipline;
• encourage innovation through cross-disciplinary exchange and working;
• enrich students' design skills through the critical and intelligent selection and use of materials in a detailed proposal or prototyping of a product;
• establish the commercial, environmental and technical parameters through which a material, process and/ or product can be assessed.

By the end of the module, students will have discovered a personal approach to designing and problem solving through material research, investigation and manipulation. They will have a thorough understanding of the whole range of material and process opportunities in their field, and a highly detailed knowledge of a field of particular personal interest. Students will know how the stay abreast of the very latest developments and be able to exploit collaborative and networking opportunities to help discover both problems and solutions. They will be able to self-initiate material research programmes and propose designs or products to a selected audience as well as responding to externally set briefs. Students will have developed a personal position on the ethical and environmental issues surrounding the exploitation of material resources and be able to state this and represent it in their work convincingly.
What our students say
"I chose London Met because I liked the aims of the modules related to sustainability and social-focused projects. After considering other options, I felt that at this University I was going to get support and advice from the teachers and a close relationship with them. In addition, I like to study in an institution where art, architecture and design degrees are together and where they have great workshops and facilities, which we've always been encouraged to use."
Paz Moreno Mirallas, Interior Design MA graduate. Read our interview with Paz.
Where this course can take you
Recent studies show that globally, the growth of creative and cultural industries is more than twice the rate of the world economy. The creative industry in the UK is huge and about half of all those involved in the design sector work in London. London supports one of the highest concentrations of designers and design related businesses in the world and our unique location offers many opportunities for students and professionals to showcase cutting-edge design.
Typical career opportunities include work as design consultants, design directors in interior design or architectural practitioner as spatial designers.
Our alumni work internationally for all sectors of design, such as branding, retail design, exhibition design, residential design, digital design and environmental design. We have alumni who have gone on to work at Norman Foster and Partners, Bill Dunster Architects, Orbit Architects, Orange and United Designers. Career paths in the cultural industries, design journalism, education and marketing are also open on completion of the course.
Important information about this course
We're committed to continuously improving our degree courses to ensure our students receive the best possible learning experience. Many of the courses in our School of Art, Architecture and Design are currently under review for 2023-24 entry. We encourage you to apply as outlined in the how to apply section of this page and if there are any changes to your course we will contact you. All universities review their courses regularly and this year we are strengthening our social sciences and professions courses to better reflect the needs of employers and ensure you're well-equipped for your future career.
Additional costs
Please note, in addition to the tuition fee there may be additional costs for things like equipment, materials, printing, textbooks, trips or professional body fees.
Additionally, there may be other activities that are not formally part of your course and not required to complete your course, but which you may find helpful (for example, optional field trips). The costs of these are additional to your tuition fee and the fees set out above and will be notified when the activity is being arranged.
Important information for international applicants
Due to unprecedented demand for our courses for the autumn 2023 intake, international admissions are now closed for this postgraduate course. Please check back at a later date to view future available intakes.
How to apply
Use the apply button to begin your application.
If you require a Student visa and wish to study a postgraduate course on a part-time basis, please read our how to apply information for international students to ensure you have all the details you need about the application process.
When to apply
You are advised to apply as early as possible as applications will only be considered if there are places available on the course.
To find out when teaching for this degree will begin, as well as welcome week and any induction activities,
view our academic term dates
.