Why study this course?
Our Interior Design and Decoration (including foundation year) BA (Hons) degree course includes an intensive preparatory year that provides an alternative route into an undergraduate degree.
This design and decoration course is the ideal choice if you want to explore your potential and work towards establishing an individual direction. It is also a gateway into an undergraduate degree if you don't meet the necessary requirements for the standard three-year course.
Also, our interior design courses are ranked third in the UK in the Guardian University Guide 2023. We're also second in the UK for teaching quality and fourth for course satisfaction.
You can find out more about what to expect on the course in this video presentation from our Head of Interiors.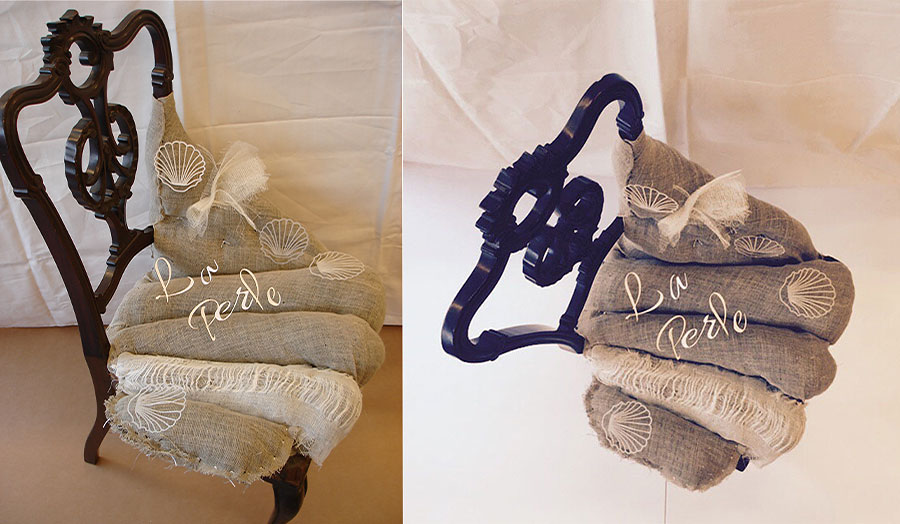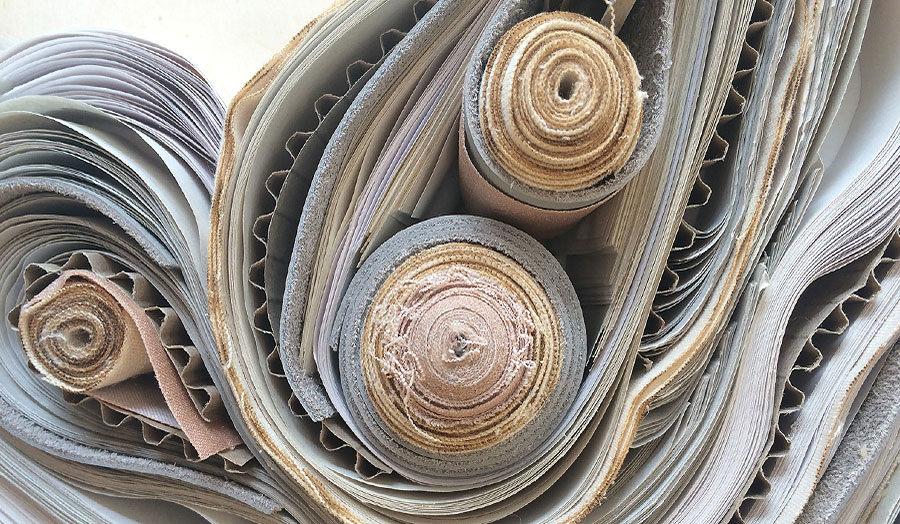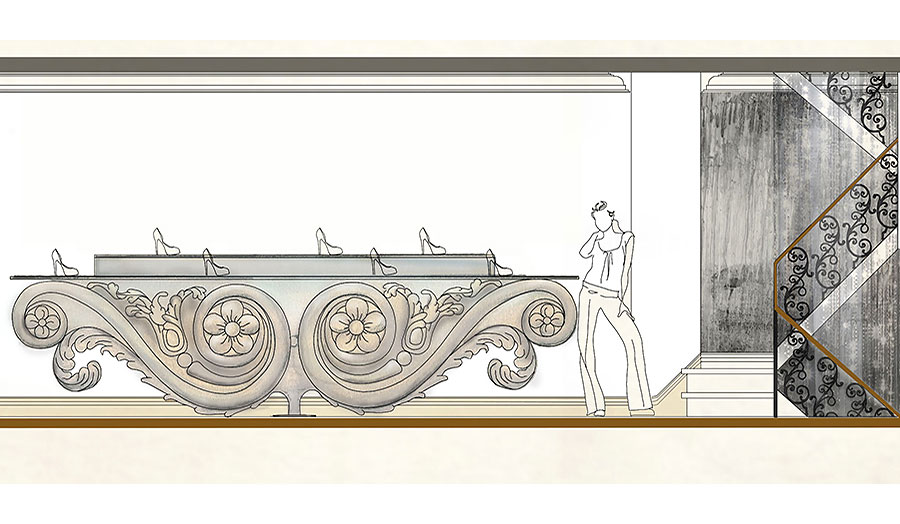 Interior design leitmotif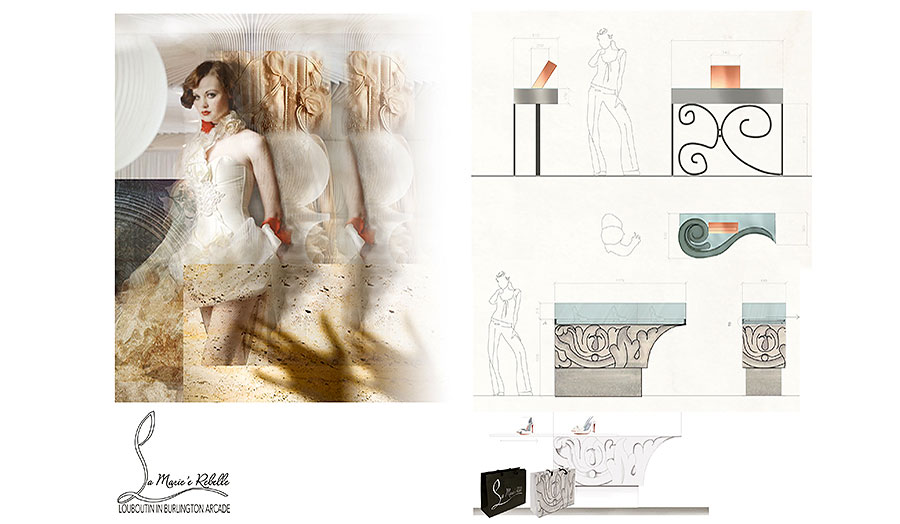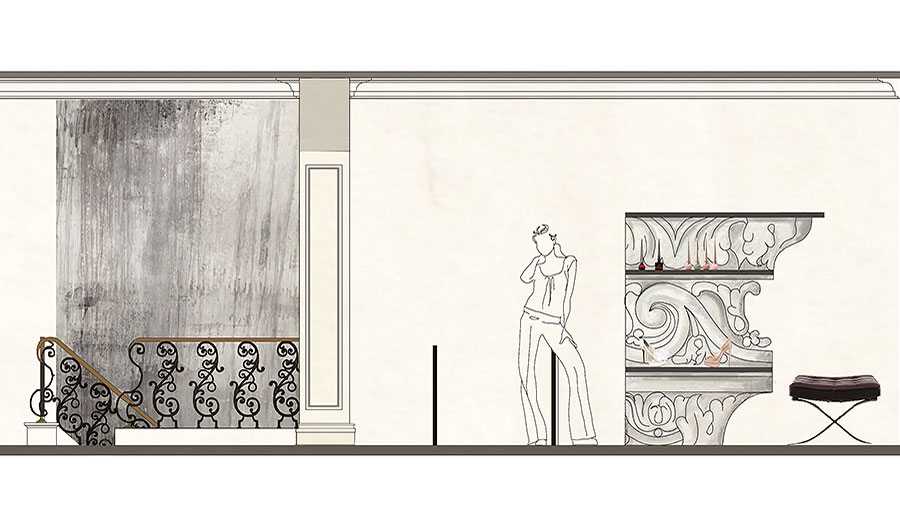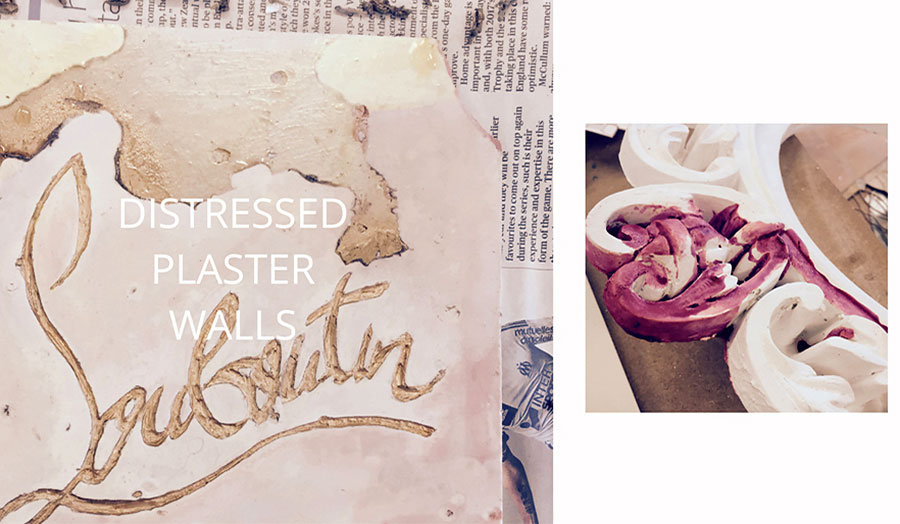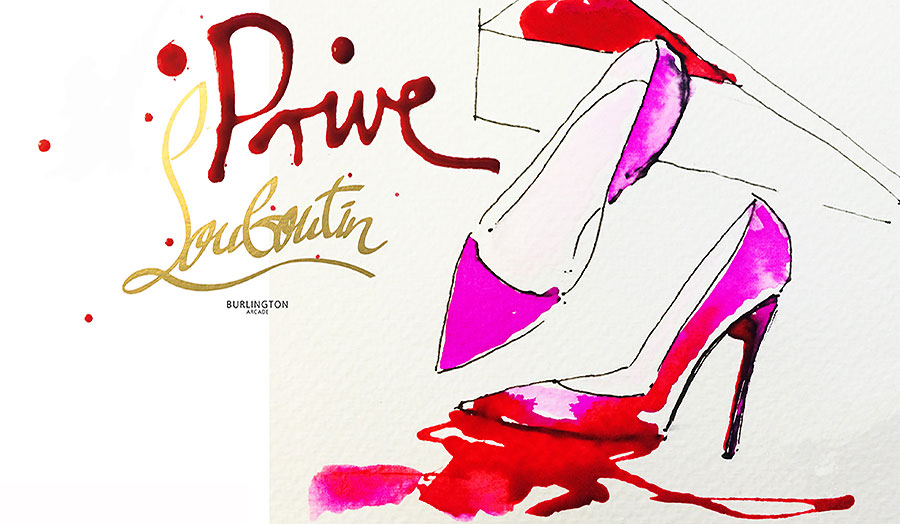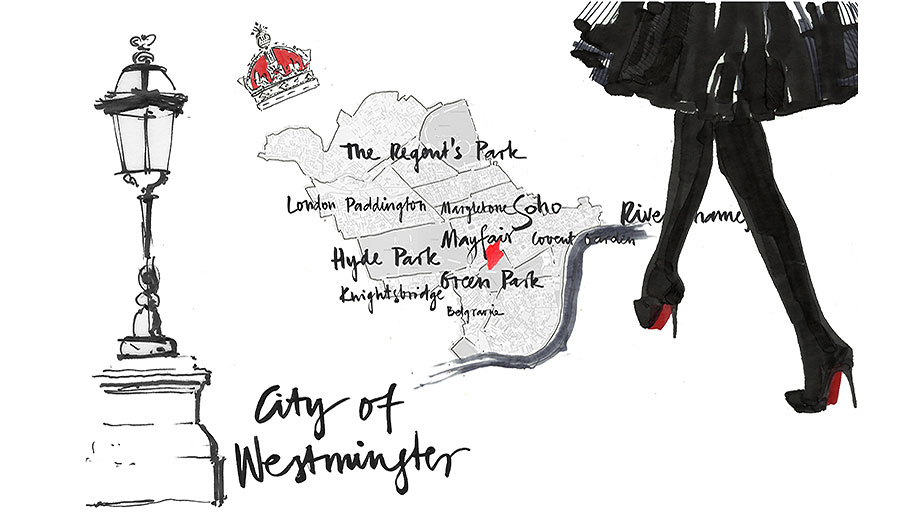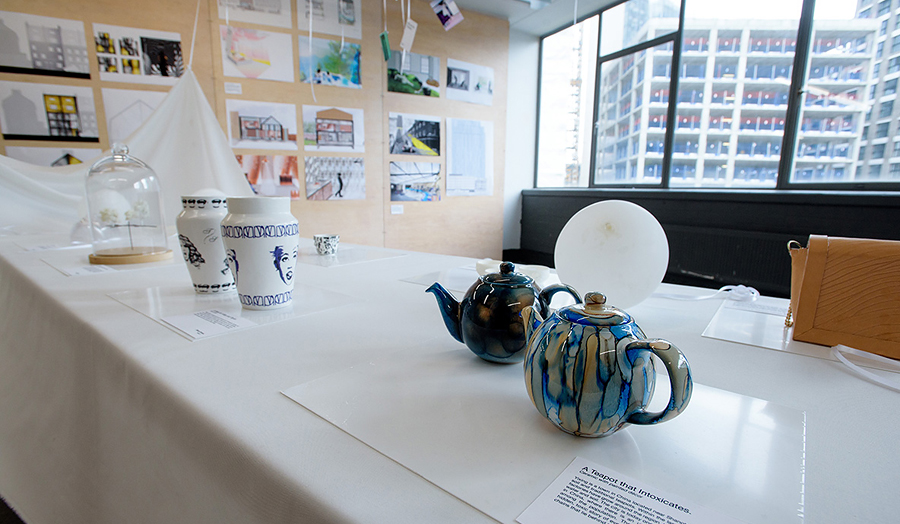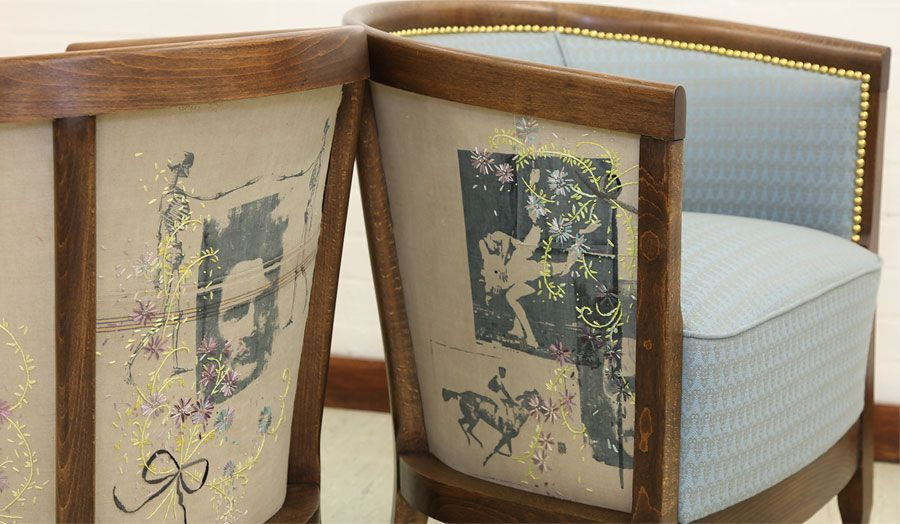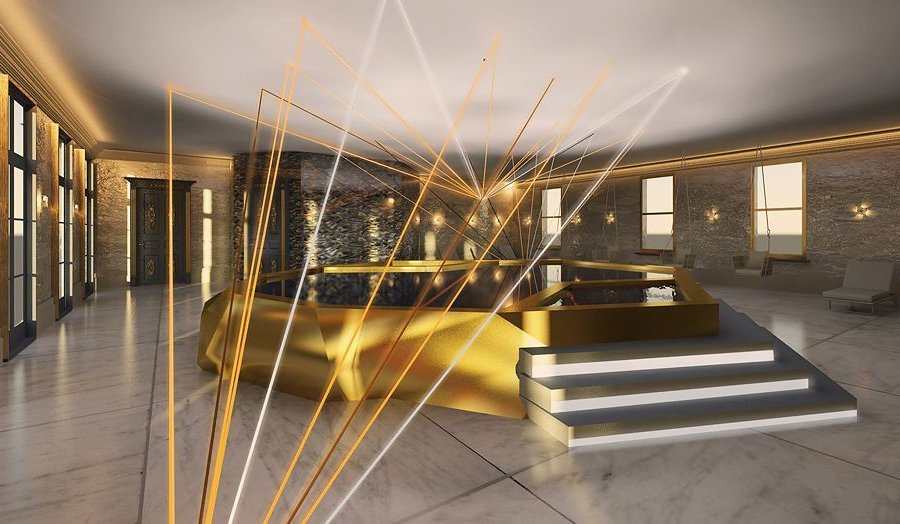 Close-up of Charlotte Born's first year project considering Victorian children working in factories
Stoke Newington Town Hall screen print by Arianne Erlicher
Ragged School design for singer Lana Del Rae's character home by Billie May Ukairo
Making materials samples of green, blue and yellow tones by Blandine Carminati
"If Walls Could Talk" project on structures and shadows, examining gentrification through markets by Carole Mealin Vazquez
Elena Hopwood's first year material and light investigation
Details and annotations on the design for a coworking space in a Middlesex Street Estate business area by Emily Summers
Ewelina Ruminska's Burlington Arcade Louboutin mood board
"If Walls Could Talk" broken chair by Ioana Curuntu
Proposed interiors for Stoke Newington Town Hall with colour palette by Manon Gabet
Amplified Narratives collage by first year Miriam Aggett
Richmond Arts Centre Staircase Elaborate Stucco
Richmond Arts Centre Long Corridor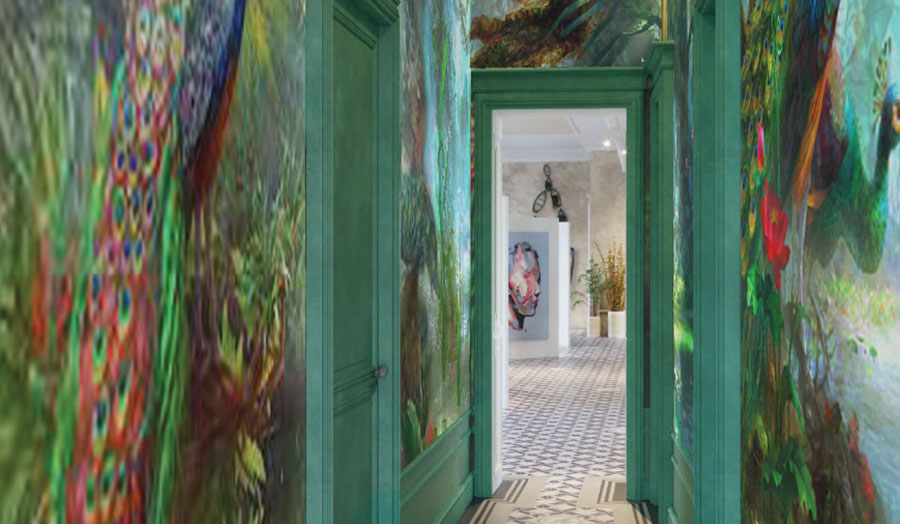 Richmond Arts Centre Corridor Corner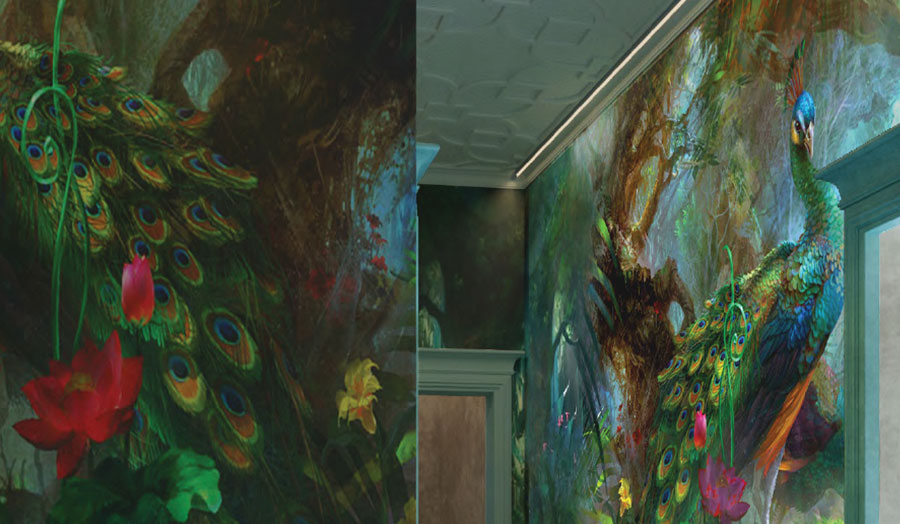 Richmond Art Centre Art Studios
Burlington Arcade Louboutin boutique by Selena Cerami
Street furniture proposal for Middlesex Street Estate by Youngjin Bok
More about this course
The foundation year is an intensive year that will help you progress to the bachelor's part of our Interior Design and Decoration (including foundation year) BA (Hons) degree. In the subsequent three years of your course you'll focus more on the discipline of interior design and decoration, during which you'll get to explore projects spanning private, commercial and community interiors.
The foundation year will help you make sure that you choose the right specialism and prepare you for study at undergraduate level. It will help you to build a portfolio of work, as well as develop knowledge and skills related to a range of specialist undergraduate degree programmes in our School of Art, Architecture and Design.
You'll share the foundation year with others studying a degree with a foundation year in the School. The shared curriculum will introduce you to techniques used by architects, artists and interior designers through a variety of intensive studio projects – from 2D and 3D composition drawing to workshop techniques.
After the foundation year you'll join students on our Interior Design and Decoration BA (Hons) and you'll study the same content and have the same choice of modules as them. On graduation you'll also gain the same award and title.
If practising different areas of art and design sparks your interest in a specialism that is not interior design and decoration, there will be flexibility to allow you to change your specialism.
Follow @ldnmet_interiors on Instagram for the latest student work and news from the course!
Assessment
To assess your performance we will employ a range of formative, summative and diagnostic methods to help you excel in your studies. You'll be assessed via studio based work, workshops, as well as CAD (computer aided design) and digital projects and exercises.
Entry requirements
In addition to the University's standard entry requirements, you should have:
at least one A level (or a minimum of 32 UCAS points from an equivalent Level 3 qualification, eg BTEC Subsidiary/National/BTEC Extended Diploma)
English Language GCSE at grade C/4 or above (or equivalent)
You will need to attend an interview with your portfolio of creative work. If you live outside of the UK, you will be required to submit a small portfolio of work via email.
Accreditation of Prior Learning
Any university-level qualifications or relevant experience you gain prior to starting university could count towards your course at London Met. Find out more about applying for Accreditation of Prior Learning (APL).
English language requirements
To study a degree at London Met, you must be able to demonstrate proficiency in the English language. If you require a Student visa you may need to provide the results of a Secure English Language Test (SELT) such as Academic IELTS. This course requires you to meet our standard requirements.
If you need (or wish) to improve your English before starting your degree, the University offers a Pre-sessional Academic English course to help you build your confidence and reach the level of English you require.
Modular structure
The modules listed below are for the academic year 2023/24 and represent the course modules at this time. Modules and module details (including, but not limited to, location and time) are subject to change over time.
Year 0 modules include:
This module currently runs:

all year (September start) - Wednesday morning

The Critical and Contextual Studies module introduces a range of cultural and contextual practices and is diagnostic in helping students to identify areas of reading, writing, information gathering and research in relation to their abilities, needs and aspirations. The intention is to prepare students for critical and theoretical work in Higher Education.

The focus of the Critical and Contextual Studies module is on the ability to ask questions and find answers; specifically, those bearing on Art, Architecture and Design and Media in the broad sense and to the conventional means to present these. The experience of the module is structured by a sequence of three submissions: an initial patchwork assignment that includes a Learning Reflection element, an analysis of the works of a particular creative practitioner and a final submission is a self-directed essay.

The contents include answers to questions that range from practical or theoretical 'how to' or 'what is' exercises; to simple 'what do you think?' form of analysis or reflection; to complex structured responses in the form of the essay.

The module is constructed around two core blocks of intensive study. Each block has a thematic structure to allow the exploration of different topics and approaches, for example: 'Contexts', 'Connections', 'Themes in creative practice'. The first assessment includes the Learning Reflection element.

The module aims to motivate and aid the student to find out about and engage in the practice and culture of Art, Architecture and Design and Media. The module should help inform the student about their future direction of study as well as providing useful insights into their potential and abilities. Students learn how to ask and begin to answer questions about the discipline they are interested in and its broader context. They should acquire a portfolio of methodological and critical writing and communication skills that enable them and know how to apply themselves to the various forms of study and assessment ahead following progression to the next level in Higher Education.

This module currently runs:

all year (September start) - Wednesday afternoon

The module addresses what is fundamental to creative practices across all disciplines; colour, composition, the fabrication, discussion and development of ideas, visual narratives, collaborative practice, documentation, presentation, curation, critique and exhibition of creative work.

You will work in both digital and analogue formats to explore a range of materials, methods and presentation formats, e.g. sketchbooks, drawings, watercolour, photography, collage, AI and digital platforms.

The module aims to validate and build upon student's existing creative practice. There is an emphasis on the process of learning from self-evaluation and critical reflection of intuitive making and testing. Throughout the module you will students work both individually and as part of a team to share, discuss and critique creative work in order to extend their capacity to confidently develop, articulate and presenting work. The module encourages peer-to-peer learning via teamwork and the required presentation of collaborative outcomes. The module aims to expand subject-area knowledge and introduce practical strategies for the formation and growth of student's nascent creative practice.

This module currently runs:

all year (September start) - Monday morning
all year (September start) - Friday morning
all year (September start) - Thursday morning
all year (September start) - Tuesday morning

The Project module provides a broad, varied, stimulating experience of a range of creative practices that allows for self-assessment of individual interests and aptitudes towards developing a specialism. It enables the development of a productive, disciplined and critical approach to visual and practical enquiry; and to individual independent thinking, making and communicating. It develops the individual's portfolio of work in a distinctive and ambitious way as evidence of a personal creative practice in the context of a specific subject area. Assignments and study trips will open up London as a source of limitless research potential and creativity.

A project develops ideas through conceptual and material processes towards outcomes that can be evaluated in relation to the initial idea; and other related contexts that may arise during the timeframe of the project. The Project module is an introduction to the project as a key feature of creative practice. The projects in the Project module vary considerably in aim, structure and duration to reflect their application in a wide range of creative practices. The definition, implementation, development and outcome of the projects is transferred from tutor to student as the course develops. The projects are inherently student-centred with course demands satisfied by nurturing the student's independent inquiry, discovery & production.

Practical elements of project-work are built-up by a close relation with the Techniques module. Critical reflection and self-evaluation encourage the development of self-organisation and effective time-management.

This module currently runs:

all year (September start) - Tuesday afternoon
all year (September start) - Thursday afternoon
all year (September start) - Monday afternoon
all year (September start) - Friday afternoon

The Techniques module introduces a wide range of materials, methods, techniques and processes to produce work in a broad sense. It is closely aligned with the Project module to develop a working knowledge of the potential and limitations of selected media, materials and techniques in the development of project work. Responsible attitudes aligned to ethical and professional contexts are applied and considered in relation to imaginative experimentation and exploitation for innovation.

Techniques explores approaches to the skills-based, technical aspects of creative practice in relation having, developing and resolving ideas through processes towards media/material outcomes. It concerns the quality of making, considerations of care, appropriateness and endeavour. It encourages recognition of the intrinsic formal and structural qualities of different media as essential elements in visual/aural communication. The module involves a series of learning experiences that introduce and develop many of the key skills and techniques needed for a range of making practices across various subject areas; the outcomes are in the context of and further developed in close relation with the Project module.

The Techniques module links the analysis and evaluation of technical quantitative properties with qualitative aesthetic discernment and judgment and introduces a common vocabulary, technical/professional language, core skills and reference models.

It introduces safe and appropriate studio/workshop/site practice.
Year 1 modules include:
This module currently runs:

all year (September start) - Tuesday afternoon
all year (January start) - Thursday afternoon

The module aims to orient and critically engage you in the history and theory of your discipline, to examine its scope, conventions, and broader social and material context in culture and practice. The overarching purpose of this is to enable a greater ability to think through and develop your studio practice, enriching it with knowledge and ideas gained from study of the contexts in which it is framed. You will be encouraged to explore issues relevant to your own background and identity.

The module will help you to reflect on what you see and experience, and to find connections between different ideas that have shaped your discipline. In particular, the module investigates how ideas about practice in your field might be framed, for example in relation to history, the economy, cultures, society and the environment, through both theory and practice. You will be encouraged to question received ideas and to broaden your thinking and understanding of the global and previously marginalised contexts and histories of your discipline. The current and historic practice, impacts and implications of your discipline in relation to matters of sustainability, equity and accessibility will also be a focus of your studies.

The module will begin to introduce you to a range of academic skills needed to produce a graduate level study (a dissertation) in your final year. It will help you to develop and define your own interests, and to reflect on and take responsibility for the development of your own learning.

This module currently runs:

all year (September start) - Monday afternoon
all year (September start) - Monday morning
all year (January start) - Wednesday morning
all year (January start) - Wednesday afternoon

Successful design outcomes are reliant on sound design development and principles. These design principles inform and create opportunities for you to apply your creativity to the conception, development and eventual realisation of effective design solutions through an iterative process testing of concepts in the context of a rapidly changing contemporary culture with ever-developing needs and problems. In this way, by engaging with materials, media and processes, interior designers become agents of change, engaging their personal and creative identity and cultural capital in the design process.

Design is concerned with bringing about change, impacting on human experience. This module introduces a range of contemporary and traditional discipline-related design approaches and processes, some of which will be tested in design exercises and some of which may be realised in studios and projects carried across other modules.

You will be introduced to systems and methods of research, observation and analysis, ranging from human behaviors, experience and cultural context to site, building and materials. The module will develop an understanding of spatial awareness linked to design and the organisation of space, interventions and added elements.

Design concepts will be tested through the application of exercises, workshop and studio methods through a range of drawing techniques, modelling and making.
Materials, processes and technologies are introduced, developing creative outcomes relevant to the possibilities and constraints of the context, the needs of the client and users, and industry conventions and regulations, with consideration to sustainable approaches.

This module currently runs:

all year (September start) - Tuesday morning
all year (January start) - Thursday morning

This module introduces the idea of communication through drawing. You will become familiar with what are commonly termed the 'industry conventions' for describing architectural details, including those for heritage and conservation sites. You will be taken through a series of workshops relating to your studio project to identify the differing and diverse types of drawings, diagrams, and related regulations that you would encounter within the design process and how these are used to communicate to varying audiences. You will also gain an understanding of how to devise and communicate sustainable and environmental approaches and will explore inclusive design methods and principles, investigating the historic and contemporary contexts in which a building is located and its social, cultural community connections.

Through a series of set tasks and lectures you will acquire key knowledge and understanding of scale, proportion, anthropometrics and ergonomics and principles of geometry, materials, colour and light linked to requirements for design. You will learn orthographic drawing methods, analysing building construction, for exterior and interior contexts. The module will use a range of learning and teaching methods to establish this knowledge, including site visits and surveys, case studies, hand and digital drawing workshops, including developing vital CAD skills.

This module currently runs:

all year (September start) - Thursday afternoon
all year (September start) - Thursday morning
all year (January start) - Friday morning
all year (January start) - Friday afternoon

This module introduces you to the 'spatial journey', a critical term used throughout the field of interior design, describing the spatial programming and planning that leads to the realisation of a concept for an entire and complex space.

The module encourages you to explore and manipulate the spatial qualities of interiors by applying design principles relating to, for example, the rhythm, pattern and differentiation of architectural and environmental elements in their contexts, which are often termed the 'spatial journey' in the interior design sector.

It considers human responses, both ergonomic and anthropometric, to commercial and community spaces and environments, and the specific impact of these spaces on people. You will consider the physical and emotional values of spaces and learn how to relate these spaces to their purposes. Examples of existing spatial environments will be surveyed and documented, using industry standard recording and publishing techniques and tools.

You will develop and present proposals relating to a spatial journey, exploring ways to manipulate spatial choices and realising your ideas through drawings, models and visualisation techniques. You will be introduced to sector-specific traditional and digital design modelling techniques, and the visualisation and presentation skills necessary for the practicing designer. This module supports the generation and development of design proposals, and will facilitate the realisation of concepts and projects generated in other modules.
Year 2 modules include:
This module currently runs:

all year (September start) - Thursday morning

Critical and Contextual Studies 2 continues to orient and critically engage you in the history and theory of your discipline, its extent and conventions, and its broader social and material context in culture and contemporary practice. It builds on studies undertaken in Level 4 and prepares you as independent thinkers to be capable of selecting an appropriate topic and producing a sustained piece of independent study in the form of a dissertation in Level 6.

The module continues the process of constructing and questioning knowledge about your discipline, its history, contexts, and professional and ethical dimensions. It introduces and rehearses the analytical and discursive skills you need to become critically aware of the authorities, objects and practices in your field and able to express and debate the issues attaching to them. You will consider the roles and responsibilities of professionals in your field and examine the ethical questions relevant to the discipline, becoming conversant with current debates in the subject. You will consider the priorities and points of view of the industry, the client, the designer, the consumer or user, the critic and wider society.

You are encouraged to think critically and creatively and to take responsibility for the development of your own learning. The module recognises that you are an active contributor to the process of learning: what you as a student bring to the construction and evaluation of knowledge matters – and how effectively you construct and evaluate that knowledge depends on how well you understand the field of your discipline as outlined above.

Critical and Contextual Studies for second year students is structured in order to foster confidence, through applying analytical skills to a growing body of knowledge and expressing this through debate, discussion and public presentation. Dialogue and exchange between students and tutors takes place in informal in-class settings and ensures that student experience and cultural and social capital is expressed and valued.

This module currently runs:

all year (September start) - Friday morning

Materiality, form and structure, colour and light, surface and texture affects meaning and value in all design. This module requires your critical evaluation of subtle and implicit design details, resulting in sustainable and environmental design proposals expressed through materials and construction, considering how material selection and manipulation provides the interior space or the artefact with qualities and values expressed as the spatial experience.

You will explore and experiment with both physical and virtual material representation, drawing on concepts and ideas originally generated within the studio. Outcomes will be developed through material and/ or constructional experimentation including scaled interventions or working models. Through in-depth practice-led research, you will consider the sustainable, social, functional and environmental impacts of material choices and the performance of these upon designed-spaces or objects. You will realise relevant design solutions for studio briefs, in response to specific users and/or sites.

You will work towards a professional standard of presentation, developing a logical and creative approach to design problem solving, appropriate to the needs of users and clients. You will build upon your employability skills, understanding the relevance of your project work within the various industry sectors and work towards confidently presenting your project proposal.

This module currently runs:

all year (September start) - Wednesday afternoon
all year (September start) - Wednesday morning

As humans, we live in a continuous and ongoing relationship with our environment This module aims to show how our understanding of the human body (its scale, proportions and movement) together with awareness of sociological and physiological human behaviour are key aspects to successful design.

This module will examine how humans live, work and spend time together and through the analysis of contemporary and historical precedents will study performance, interaction and customs and in relation to economic, political and environmental conditions and how this fosters new practice.

Close observation of the interaction between the behaviours of people within the immediate environment will be at the core of this area of study. It will show how analysis of the human being, at a range of scales, is vital to relevant, safe and ethical, innovative design that responds to physical and sensory needs. Environmental observation and reflection will be documented through a range of media, analysed to support the generation of concepts and design ideas.

Informed selection and application of material processes are an intrinsic part of the design and production of both objects and the made environment. Workshop activities will explore and test ideas, resolving design issues through modelling in traditional and digital materials and technologies. Material experimentation and knowledge will enhance both the concept and its communication.


This module currently runs:

all year (September start) - Thursday afternoon

This module develops and applies the knowledge and skills established in DN4018 Interior Design Communication and Techniques, and prepares you for DN6029, Integrated Design Practice, at Level 6. The module will develop your understanding and confidence in approaching the analysis and production of interior spaces through strategic and detailed design processes.

The module focuses in detail, through analytical building studies and reflective precedents, on how different aspects of context and history, and of material, construction, services and environmental design, interact in large or complex interiors and buildings. The module will provide a progressively more detailed knowledge of the interior from structure through interior organisation, to construction details of fixings, fittings and finishes. The module introduces methods, terms and techniques that can be used to evaluate and describe the range of different relationships that exist within interiors. It examines how and why professional practice standards are relevant as well as the remit for research, analysis and knowledge of construction and detail.

The main component focuses on the development and production of a range of drawn information, such as analytical and illustrative diagrams, and orthographic drawings, with written information used to establish an understanding of professional standards in design communication and the individual's capacity to represent ideas and decisions precisely.

The module will use different learning and teaching methods to establish an understanding of professional practice through the analysis of spatial conditions, including site visits, surveys, case studies, introduction to regulatory guidelines and supportive lectures. The module will enhance development of CAD skills and increase knowledge of construction and detailing.

In addition, the module features a work placement component adding practical, relevant, insightful experience to the curriculum where a strategic and informed approach to the workplace can start to develop, this is embedded and developed through a CV, and reflective journal.
Year 3 modules include:
This module currently runs:

all year (September start) - Wednesday afternoon
all year (September start) - Wednesday morning

Critical and Contextual Studies (CCS) in Level 6 offers you an opportunity to understand and explore the historical, social, cultural and economic factors which influence, and provide a context for, the development of architecture, art and design practice. Building on critical and academic skills gained during two years of previous study, the module encourages you to develop an awareness of issues around which there is some debate, uncertainty or contest. Based on this awareness, you will develop a set of research questions which constitute the topic of your study. This topic can be theoretical, historical, or technical and you may, with guidance, decide to engage with an area of scholarly interest outside the territory of your degree course.

You will develop your topic and respond to your research questions in the form of an extended critical study or Dissertation (6,000–7,000 words). Through this study you demonstrate that you can thoroughly research a topic, use appropriate methods of investigation, and work in a methodical and organised way to develop a coherent argument or line of thought. Teaching and Learning on the module is designed to support you in this process through a combination of tutorials and one to one supervision; as well as a series of formative and summative assessments which prepare you for the final submission.

The final form and presentation of your Dissertation can reflect a broad range of approaches to research and writing. It may include visual materials or other non-written forms of presentation as long they support your enquiry and comprise an integral part of the whole. By prior approval at the start of the module, your research can be part practice-based, and include primary research and fieldwork.

The dissertation may, by prior approval at the start of the module from the Head of Subject, be part practice-based and can include fieldwork and primary research in its methods. Its form and approach can reflect a broad range of design-specific approaches based on discussion and agreement with your supervisor.

By virtue of the sustained, independent nature of the learning and substantial final output, the dissertation is also intended to prepare you for possible postgraduate study.

This module currently runs:

all year (September start) - Friday morning

This module provides a link between the completion of your undergraduate studies, and professional interior design practice. It establishes your ability to integrate and document the key areas of design knowledge within the context of your major design project and through this, a readiness for employment within interior design professional practice.

The coursework records and responds to key stages of professional practice delivered through a range of lectures including from specialist contributors. The module aims to enable you to demonstrate a knowledge, understanding of and ability to evaluate the following five areas of study in relation to your major project and that this is effectively and appropriately communicated:

1. cultural context;
2. professional and regulatory requirements;
3. environment and sustainability;
4. construction, materials and specification;
5. communication.

The module aims to provide you with the means to demonstrate, through and in relation to your own design work, the extent of your understanding and evaluation of these key areas of professional interior design knowledge that inform a design project. The employability and professional practice lectures offered will enable you to better understand the industry, allowing you to make informed choices and prepare a career strategy.

This module currently runs:

all year (September start) - Friday afternoon

This Major Project module enables you to prepare for independent practice in the workplace or to progress onto higher studies. It is the opportunity to synthesise your specialist knowledge and skills and effectively communicate these. In this module, you will carry out the project conceived and developed in the parallel Project Design and Development for Interiors module, fully realising it in appropriate form by its conclusion.

You will exercise and display your abilities in selecting, analysing and applying knowledge, skills and understanding to a negotiated and fully researched project in order to properly understand your strengths, interests and position in the field, and the potential for your future professional development.

You will show that you understand the complex and changing nature of problems in the professional sector of interior design and can devise and apply realistic strategies for constructing, applying and managing a process designed to provide solutions for complex situations with competing demands.

A professional standard of realisation, contextualisation and presentation will be expected, providing the elements for a portfolio of practice with which you may enter the fields of employment, self-employment or further studies.

This module currently runs:

all year (September start) - Tuesday afternoon
all year (September start) - Tuesday morning

Together with your Major Project Realisation module, this module is intended to prepare interiors students for independent practice, entry into the professional workplace, or for higher study.

Through synthesis of knowledge of processes and principles, using an appropriate range of intellectual, creative and practical skills, you will research, analyse, design and develop a self-directed project. This will require in-depth investigation of a site, its cultural context, human inhabitation, activity and enterprise through a well-constructed design process involving practical and digital 2D and 3D methods of exploration and communication as a significant body of creative work for public exhibition.

A negotiated and approved proposal will confirm the individual project. Using creative exploration and experimentation, you will undertake research, selection, concept development, material investigation, modelling, prototyping and visualisation. The final outcome will be produced in the Major Project Realisation modules, and will be distinctive to the course in approach, scale, communication and visualisation or making and modelling.

This module will ensure that you review and reflect upon your own work and understand your prospective position in the creative sector. The module emphasises self-direction and personal focus whilst acknowledging external and professional expectations and constraints.
Where this course can take you
On graduation you'll become an interior design and decoration specialist, equipped with knowledge, skills and work experience to make you competitive within the creative practices sector.
Important information about this course
We're committed to continuously improving our degree courses to ensure our students receive the best possible learning experience. Many of the courses in our School of Art, Architecture and Design are currently under review for 2023-24 entry. We encourage you to apply as outlined in the how to apply section of this page and if there are any changes to your course we will contact you. All universities review their courses regularly and this year we are strengthening our art, architecture and design courses to better reflect the needs of employers and ensure you're well-equipped for your future career.
What is a degree with a foundation year at the School of Art, Architecture and Design?
This is a four-year degree course with a built-in foundation year (Year 0). A foundation year in our School of Art, Architecture and Design is the starting point for many of our art, architecture and design students and acts as an introduction to the wide range of creative practices explored within the University. You may join us with a clear idea of the subject you intend to study or you may use it as an opportunity to explore a number of different directions or experiment with your creativity. A foundation year degree is also a great choice if you don't meet the necessary entry requirements for the standard undergraduate degree. You'll graduate with a full undergraduate degree with the same title and award as those who studied the three-year course.
Additional costs
Please note, in addition to the tuition fee there may be additional costs for things like equipment, materials, printing, textbooks, trips or professional body fees.
Additionally, there may be other activities that are not formally part of your course and not required to complete your course, but which you may find helpful (for example, optional field trips). The costs of these are additional to your tuition fee and the fees set out above and will be notified when the activity is being arranged.
Discover Uni – key statistics about this course
Discover Uni is an official source of information about university and college courses across the UK. The widget below draws data from the corresponding course on the Discover Uni website, which is compiled from national surveys and data collected from universities and colleges. If a course is taught both full-time and part-time, information for each mode of study will be displayed here.
How to apply
If you're a UK applicant wanting to study full-time starting in September, you must apply via UCAS unless otherwise specified. If you're an international applicant wanting to study full-time, you can choose to apply via UCAS or directly to the University.
If you're applying for part-time study, you should apply directly to the University. If you require a Student visa, please be aware that you will not be able to study as a part-time student at undergraduate level.
When to apply
The University and Colleges Admissions Service (UCAS) accepts applications for full-time courses starting in September from one year before the start of the course. Our UCAS institution code is L68.

If you will be applying direct to the University you are advised to apply as early as possible as we will only be able to consider your application if there are places available on the course.

To find out when teaching for this degree will begin, as well as welcome week and any induction activities,

view our academic term dates

.

<!—LinoType Font Tracking Code—>