At each of our graduation ceremonies, we mark and recognise the professional achievements of specially selected individuals with the award of an honorary degree. Honorary degrees are awarded to individuals who have achieved something outstanding in their field.
London Metropolitan University is proud to have honorary graduates from all walks of life, from artists, actors, filmmakers and writers to politicians, philanthropists and scientists, including notable figures such as Mike Leigh, Gilbert and George, Tracey Emin, Dame Stella Rimington DCB, Archbishop John Sentamu and Professor Terry Wilkins.
The individuals attend our graduation ceremonies and give a brief speech to the gathered students and guests. A number of the profiles below include videos of the honorary graduates at the graduation ceremony.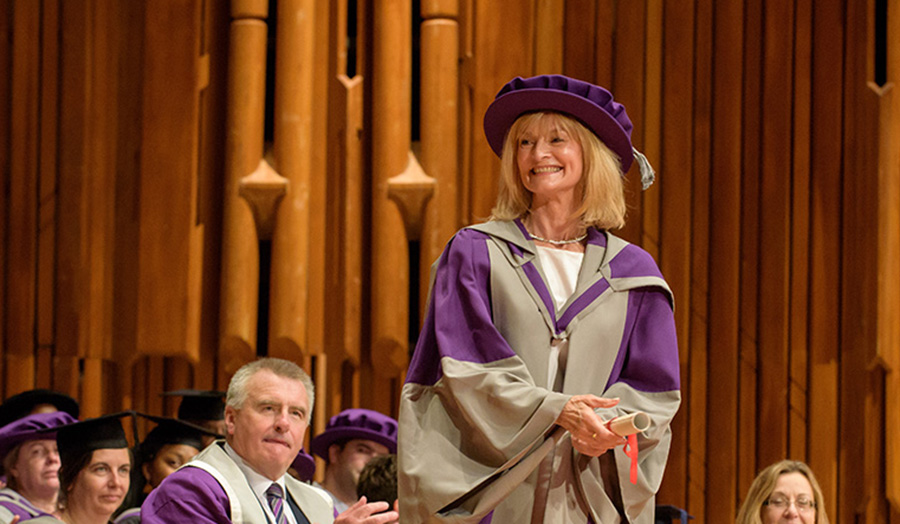 "I'm enormously privileged to be associated with London Met because it is known for being progressive, and because of its diversity and commitment to social justice. It makes me enormously proud."
Ann Duke, founder of the charity Walk Tall
Honorary graduate profiles
We don't have full profile information for all of our honorary graduates, but the names of many of them can be found below:
Awards conferred in 2019
Dr Tanya Byron
Dianne Marie Willcocks CBE, DL
Ann Minogue
Tony Millns
Grace Olugbodi
Rashada Harry
Raymond Stevenson
Awards conferred in 2018
Professor Terence A Wilkins
Rob Hull
Alison Kriel
Kate Tempest
Awards conferred in 2017
Clive Jones CBE
Bharat Mehta OBE, CBE
Dr Mike Short CBE FREng FIET
Richard Wilson OBE
Awards conferred in 2016
Noel Clarke
The Rt Hon Lord Smith of Finsbury (Chris Smith)
Clive Stafford Smith
Armando Cabral
Ann Duke
Phil Frampton
Mahamed Hashi
Sir William Castell
Awards conferred in 2015
Rob Dickins CBE
Shaun Wallace
Paul Cummins MBE
Amol Rajan
Christine Coates MA MCLIP
Professor John Marshall MBE
Ian Cook
Fergal Keane OBE
Professor Mark Rümmeli
Greg Dyke
Rodney Bickerstaffe
Awards conferred in 2014
Brian Dive
Dr Michael Hopkins
Ray Davies CBE
Dr David Adebimpe
No honorary awards conferred between 2010 and 2013
Awards conferred in 2009
Baroness Diana Warwick
François Duvergé
Andrew Tinker
Antony Mark David Gormley OBE RA
Cyrus Todiwala MBE DL
Dawn Gibbins MBE
Khalid Hameed CBE DL
Susie Orbach
Michael Thomas Brace CBE OBE
Lord Victor Olufemi Adebowale CBE
Gill Hicks MBE
Helen Bamber OBE
Judith Pamela Kelly OBE
Awards conferred in 2008
Robert Veenstra
Sir Christopher Frayling
Karan Bilimoria CBE DL
Kenneth Friar OBE
David Michael
Camila Batmanghelidjh
Marianna V Vardinoyannis
Christopher Robinson
Victor Thompson
Lord Robert Walker of Gestingthorpe
Alexander Amosu
Eva Jiricna
Gilbert and George
James Roderick Moir
RT Hon Baroness Pola Manzila Uddin
Raj Joshi
Awards conferred in 2007
Professor Deyan Sudjic OBE
Philip Lane
Jagdish Khattar
Baron Stevens of Kirkwhelpington
Baroness Margaret Prosser
Sir Stuart Lipton
Professor Wang Junhao
Lord Colin Moynihan
Sir John Carter
Jahangir Khan
James Maher
Manny Lewis
Margot Sunderland
Tracey Emin
Awards conferred in 2006
Archbishop John Sentamu
Paul Brickell
Peta Levi MBE
Roy Sawh
Ed Mayo
Carlos Acosta
Dawn Austwick OBE
Otumfuo Osei Tutu II, Asantehene
Professor Tetsuya Noda
Bo Lerenius CBE
Sir Christopher Hum KCMG
Ekow Eshun
John Sorrell CBE
Kanya King MBE
Awards conferred in 2005
David R Varney
Robert G Cotton OBE
Edna O'Brien
Jennifer S Murray OBE
Victoria Thornton
John H Ritblat
Mende Nazer
Professor Rigas Doganis
Dr Simon J Thurley
Jyoti Bose
Yvonne Thompson CBE
Alderman David Brewer
HE Dr Maleeha Lodhi
Mike Leigh OBE
Awards conferred in 2004
Daniel Libeskind BArch MA BDA
Michael J E Frye CBE BSc MIES FRAES FRSA CCIBSE
Dr Pehr Gyllenhammar
William Thomson
Rabinder Singh
Dr Rodolfo Alarcon
Dame Stella Rimington DCB
Professor Roman Strongin
Sir John Bond
Dr Ahdaf Soueif
Professor Jeanette Allsopp
Frances Cairncross
Sister Frances Dominica
Awards conferred in 2003
Prof Richard Hoggart LittD
Iwona Blazwick
Harley Sherlock
Andrew Mawson OBE
Robert Kee CBE
Eric Froment
Junshi Chen
Sir Anthony Cleaver MA FBCS
Zandra Rhodes CBE RDI DESRCA FCSD
Prof David Rhind CBE FRS FBA
Torquil Norman CBE
John Grieve LLB QPM CBE
Dame Judith Mayhew OBE LLM
Awards conferred in 2002
Sue MacGregor CBE
Tony Benn
Richard Coldwell
Professor Norman Girvan
Dr Joseph Caputo
Lord Rea of Eskdale
Sir Edward George CBE
Nick Hornby
Bahram Bekhradnia
Baroness Pitkeathley OBE
William Atkinson
Professor Richard Hoggart
Awards conferred before 2002
The University's predecessor institutions also awarded many honorary degrees and fellowships – recipients have included:
architect Lord Richard Rogers
guitarist Julian Bream CBE
economist and former Governor of the Bank of England Mervyn King
actor and theatre director Mark Rylance
businessman Gulam K Noon MBE
TV news presenters George Alagiah and Trevor Phillips
acclaimed chef and food writer Prue Leith OBE
writers Professor Anita Desai and Benjamin Zephaniah
three-time world heavyweight champion Lennox Lewis MBE
ex-professional footballer and TV sports pundit Ian Wright MBE
film director Ken Loach
"I'm enormously privileged to be associated with London Met because it is known for being progressive; it is known for its culture of diversity and its commitment to social justice. That makes me enormously proud to have received a doctorate from this University."

Ann Duke, founder of the charity Walk Tall, and recipient of an Honorary Doctorate in Philosophy