Why study this course?
Our Fine Art BA (including foundation year) BA (Hons) is a four-year degree with an in-built foundation year that will give you the chance to explore a range of artistic directions before going on to specialise specifically in areas of fine art during your subsequent years of study.
Our foundation year course is a great route into a fine art degree, especially if you don't meet the necessary requirements to enter a three-year undergraduate degree in fine art or painting.
Our School of Art, Architecture and Design, where our Fine Art (including foundation year) BA degree is taught, has an excellent reputation for its courses. We're ranked seventh in the UK for art in the Guardian's university league tables 2020.
91% of students say that lecturers on our Fine Art BA course are good at explaining things and that they make the subject interesting (National Student Survey 2020).
Installation by M Peltonen and photography by K Sobolciakova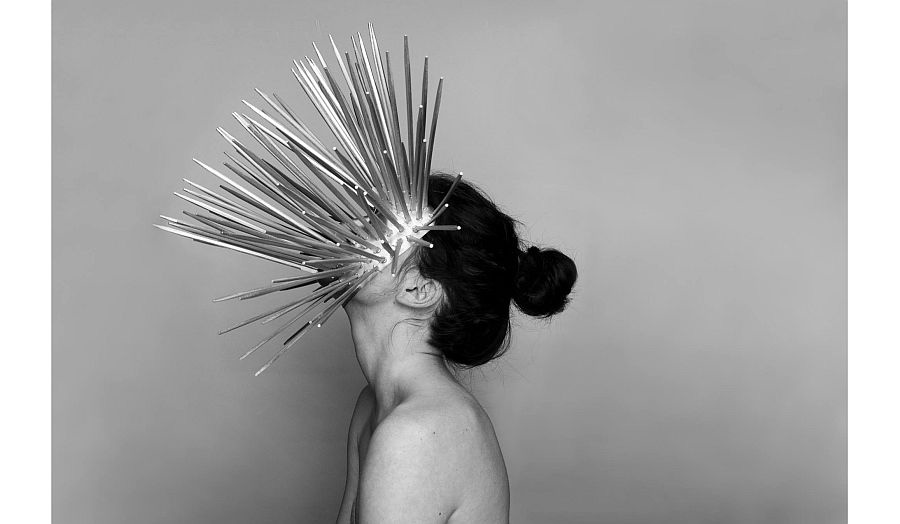 Acrylic Paint on Stretcher
Sculpture by Paul James Johnston
Installation by Kimberly Hang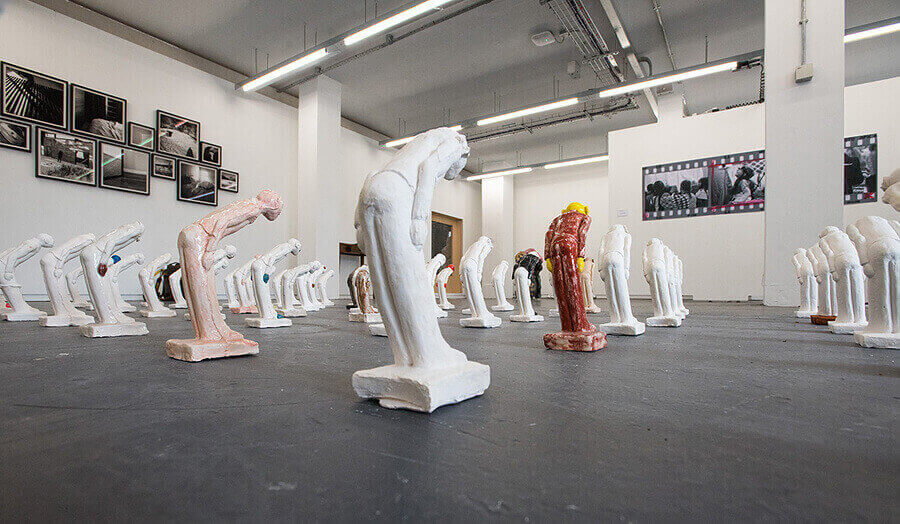 Installation by Alison Baptiste
Mixed media by Paulina Glimas
Ceramics by Guy Marshall-Brown
More about this course
In your foundation year you'll undertake intensive studio workshops that will allow you to develop a range of skills and techniques that you will be able to take with you into the following years of your fine art degree.
During these workshops you'll have the opportunity to explore observational drawing, creative drawing, painting, conceptual modelling, practical making, performance, colour, materials, process, collage, composition curating, exhibiting and more. You'll also work on interpretative projects that will enable you to establish your own artistic style and forge a clear direction.
Your tutors will introduce you to the skills and work ethic you'll need to study fine art at undergraduate level and also encourage you to be experimental in your approach to fine art projects.
Towards the end of your foundation year, you'll work on subject-specific projects that will strengthen your independence as an artist and allow you to further show off your creativity. You'll also attend a series of lectures and seminars that frame creative practice within historical, contemporary, conceptual and cultural contexts.
As part of the course, you'll have regular opportunities to present your work – both as works in progress and finished projects – to your peers and tutors. This will allow you to gain feedback on your work, hone in on your individual objectives and develop your own creative style as you progress through the course.
After your foundation year (year 0), you will study the same modules and content as students on our Fine Art BA (Hons) degree.
Fine art is a hugely broad and popular area of the arts but should you decide you want to specialise in a more specific subject following your foundation year, we will be able to facilitate this.
Visit our Fine Art BA online degree show to see what our students have achieved over the past year and celebrate their successes with us!
Assessment
You will be assessed through project work, essays and an individual portfolio.
Entry requirements
In addition to the University's standard entry requirements, you should have:
at least one A level (or a minimum of 32 UCAS points from an equivalent Level 3 qualification, eg BTEC Subsidiary/National/BTEC Extended Diploma)
English Language GCSE at grade C/4 or above or will need to take the University English test
You will need to attend an interview with your portfolio of creative work. We encourage applications from international/EU students with equivalent qualifications. We also accept mature students with diverse backgrounds and experiences.
If you live in the UK, you will be invited to a portfolio interview. If you live outside the UK you will be required to submit a small portfolio of work via email.
Accreditation of Prior Learning
Any university-level qualifications or relevant experience you gain prior to starting university could count towards your course at London Met. Find out more about applying for Accreditation of Prior Learning (APL).
English language requirements
To study a degree at London Met, you must be able to demonstrate proficiency in the English language. If you require a Student visa you may need to provide the results of a Secure English Language Test (SELT) such as Academic IELTS. For more information about English qualifications please see our English language requirements.
If you need (or wish) to improve your English before starting your degree, the University offers a Pre-sessional Academic English course to help you build your confidence and reach the level of English you require.
Modular structure
The modules listed below are for the academic year 2021/22 and represent the course modules at this time. Modules and module details (including, but not limited to, location and time) are subject to change over time.
Year 0 modules include:
Year 1 modules include:
Year 2 modules include:
Year 3 modules include:
What our students say
"I chose London Met because it was one of the few universities with a good diagnostic foundation year. The course is demanding but well worth the effort. There is strong support from the teaching team and excellent technical support."
National Student Survey
Where this course can take you
Our Fine Art BA (including foundation year) BA degree is the ideal course if you're planning a career in the cultural or creative industries.
The opportunities for careers are extensive, with London's creative industries representing an estimated £42 billion of the capital's economy.
Roles specific to fine art include artists, artists' assistants, art technicians, exhibition and museum curators, and teachers, but a fine art degree can also open up creative roles in marketing, journalism and events management.
What is a degree with foundation year?
This is a four-year degree course with a built-in foundation year (Year 0). A foundation year at our School of Art, Architecture and Design is the starting point for many of our art, architecture and design students and acts as an introduction to the wide range of creative practices explored within the University. You may join us with a clear idea of the subject you intend to study or you may use it as an opportunity to explore a number of different directions or experiment with your creativity. A foundation year degree is also a great choice if you don't meet the necessary entry requirements for the standard undergraduate degree. You'll graduate with a full undergraduate degree with the same title and award as those who studied the three-year course.
Additional costs
Please note, in addition to the tuition fee there may be additional costs for things like equipment, materials, printing, textbooks, trips or professional body fees.
Additionally, there may be other activities that are not formally part of your course and not required to complete your course, but which you may find helpful (for example, optional field trips). The costs of these are additional to your tuition fee and the fees set out above and will be notified when the activity is being arranged.
Stay up to date
Treat yourself to snaps of our latest students' work and news from the course by following us on Instagram @metartlondon.
You can also follow our School of Art, Architecture and Design on Twitter, Facebook and Instagram to stay up to date with everything that's happening in our creative community.
Discover Uni – key statistics about this course
Discover Uni is an official source of information about university and college courses across the UK. The widget below draws data from the corresponding course on the Discover Uni website, which is compiled from national surveys and data collected from universities and colleges. If a course is taught both full-time and part-time, information for each mode of study will be displayed here.
If you're a UK applicant wanting to study full-time starting in September, you must apply via UCAS unless otherwise specified. If you're an international applicant wanting to study full-time, you can choose to apply via UCAS or directly to the University.
If you're applying for part-time study, you should apply directly to the University. If you require a Student visa, please be aware that you will not be able to study as a part-time student at undergraduate level.
If you're applying for a degree starting in January/February, you can apply directly to the University.
When to apply
The University and Colleges Admissions Service (UCAS) accepts applications for full-time courses starting in September from one year before the start of the course. Our UCAS institution code is L68.
If you will be applying direct to the University you are advised to apply as early as possible as we will only be able to consider your application if there are places available on the course.
To find out when teaching for this degree will begin, as well as welcome week and any induction activities,
view our academic term dates
.