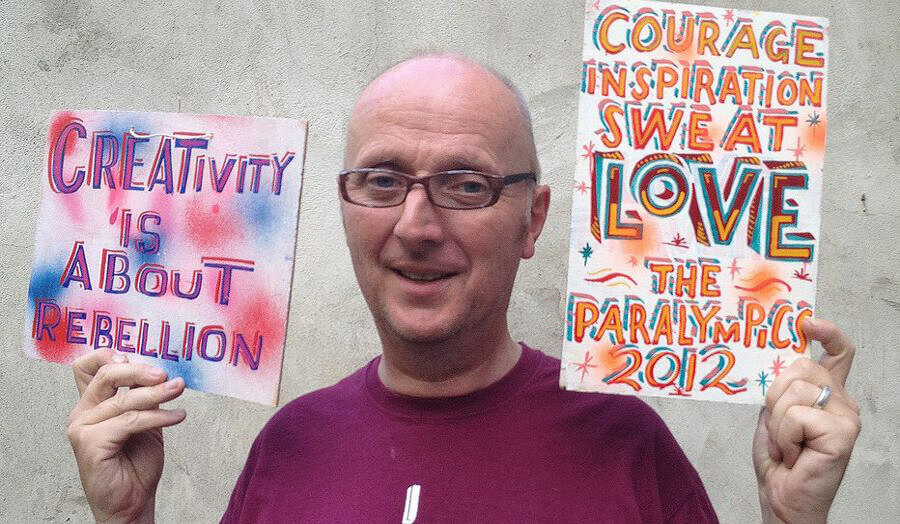 Patrick Brill
Patrick Brill OBE RA (born 1963), better known by his pseudonym Bob and Roberta Smith, is a British contemporary artist, writer, author, musician, art education advocate and keynote speaker. He is known for his "slogan" art, is an Associate Professor at the School of Art, Architecture and Design at London Met and has been curator of public art projects, like "Art U Need".
He was curator for the 2013 Art Party to promote contemporary art and advocacy. His works have been exhibited and are in collections in Europe and the United States. Brill co-founded "The Ken Ardley Playboys", and the "Apathy Band" and hosts the "Make Your Own Damn Music" radio show on Resonance FM. Patrick is a 'contributer' to the Guardian Newspaper, a trustee of Art UK and a patron of the Big Draw and the NSEAD.He has made films for BBC 4 including "Bob and Roberta's big protest adventure" (2016). In 2014, Bob and Roberta Smith were invited to make a one person show "Art Amnesty" at MOMAPS1 New York. Their Book "You Are and Artist" was published by Thames and Hudson in 2020. In 2021 they will present a one person exhibition at the Harris Museum, Preston and complete a residency at Thamesmead Housing Estate resulting in major new work at the Tate Modern. Bob and Roberta Smith were a Trustee of the Tate from 2009 to 2013.
In 2022, Quarto publishing will produce a new publication by Bob and Roberta Smith entitled Art Makes People Powerful.
Patrick's research interests involve working with text, public art and music and broadcast production.
In 2013 Patrick instigated the Art Party, a project concerned with campaigning and sharing political thought in and through contemporary art, opening up art practice and creating a vibrant visual language for political thinking, bringing the art world and the public realm into an alliance and questioning the position of artistic output in relation to public debate.
The Art Party was launched in New York with a month long exhibition and performances commissioned by the Peirogi Gallery, followed by a related solo exhibition at Hales Gallery. The Art Party Conference 2013 in North Yorkshire at Crescent Arts supported by The Arts Council combined art practice and political theory to bring together a diverse coalition of artists, organisations and supporters to engage in a 'conference as artwork'. Attended by over 2,000 artists, students, teachers, writers and interested public it was a two day-long event involving performances, talks, music and was both a celebration of creativity and a critique of the current proposals for school level art education. The event was reviewed by Adrian Searle in The Guardian, featured on the BBC website and was reviewed by Mark Hudson in the Telegraph.
Patrick's research and practice based on his artist persona Bob and Roberta Smith proposes and tests approaches to the artist as a public space with the central provocation that campaigning can be reimagined as art. His work results in gallery based installations as well as public works and events that involve sculpture, large sign painted works as well as performance and video.
Patrick is a highly active and established artist regularly showing his work in important group and solo exhibitions nationally and internationally. In the last two years he has had solo shows at the Hales Gallery, London and Pieroggi, New York as well as at The Butler Gallery for Kilkenny Arts, Northern Ireland.
He is an artist member of the Tate Board and was on the selection panel for the UK Museum of the Year in 2013. He has been a keynote speaker at numerous conferences and symposia with recent talks giving a focus on events associated with advocacy for the arts and art education.

Expertise areas
Painting
Sculpture
Film
Printmaking
Art and politics
Art and social engagement
Performance art
Art and archives
Art and social space
Text-based art
Art and sound
Art performance and broadcasting
Art and teacher education
Bob and Roberta Smith
Patrick Brill teaches across the Fine Art BA and MA courses with a special interest in "General Fine Art" (how all art forms talk to each other).
You are An Artist... Bob and Roberta Smith, Thames and Hudson
Art Makes People Powerful, Quarto
The secret to a good life, Royal Academy Publications
I Should be in Charge, Black Dog Press
Art U Need, Black Dog Press
Make Your Own Damn Art, Black Dog Press
He is an occasional contributor to the Guardian, writing about the arts. He has also appeared as a reviewer for Radio 4's Saturday Review.
Portfolio
"All schools should be art schools"