Ben Cain is a British artist who trained at Manchester Metropolitan University and Maastricht. He teaches on undergraduate and postgraduate Fine Art courses at the School of Art, Architecture and Design.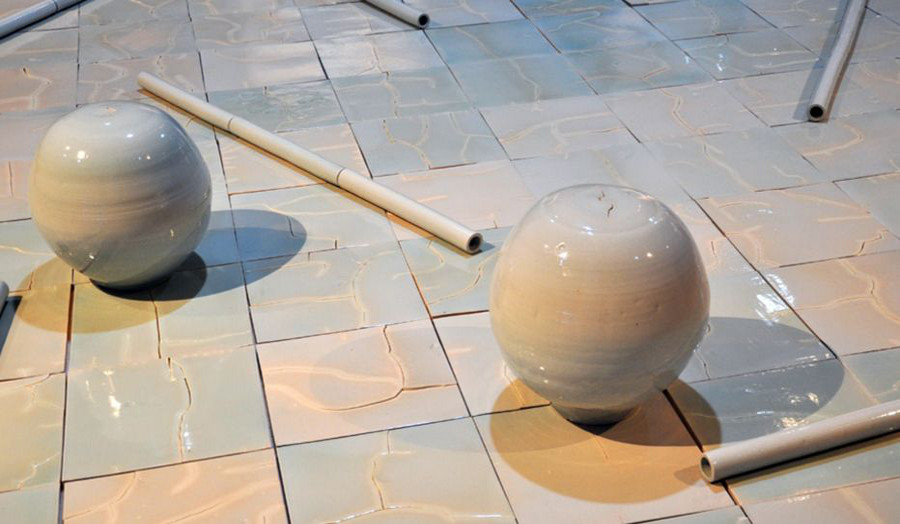 Ben Cain
Ben Cain is a British artist who trained at Manchester Metropolitan University and Maastricht. He has shown in London at the ICA and Associates Gallery, as well as in Amsterdam, Graz, Dubrovnik, Maribor, Ljubljana, Zagreb, Puerto Rico, Brussels and Bremen. He organises an annual Anglo-Croatian exchange field trip for art students, involving the School of Art, Architecture and Design and Zagreb Academy of Arts.

Ben has taught at Leeds University, Goldsmiths and Zagreb Academy. At the School, Ben taught in the Neo-process and Action studio in 2012-13. He currently teaches in the Materiality/Immateriality studio.
Ben (b.1975 Leeds) lives and works in London and Zagreb. He is primarily involved in the production of installations, vinyl records, performances and printed matter, which deal with the convergence of theatre and documentary information, with a particular interest in facilitating and highlighting the viewers' role in the emergence of a subject. The work tends to be formed through interplay of saying and doing, of production and description; where specific outcomes remain unstable and illusive. Recent work has increasingly focussed on sight and speech in the process of developing work that oscillates between the visible and non-visible, the physical and the imagined. He has recently exhibiied in various locations, including Manifesta9, Genk, Belgium; Brukenthal Museum, Sibiu, Romania; Wiels, Brussels; the ICA, London; and Busan Biennale, Korea.
Education
01.09.98 - 15.08.00, MA Jan van Eyck Akademie. Post Graduate Centre for Art, Design and Theory. Maastricht, NL.
09.09.94 - 20.07.97, BA Interactive arts (First Class Hons.) Manchester Metropolitan University, UK. Inc. research on Arts Education in UK.
10.01.96 - 01.05.96, Fine Art. Barcelona School of Art, Spain.
09.09.94 - 10.02.95, Fine Art. Cardiff Institute of Art and Design, Wales.
Artist's statement
The work enacts the interplay of saying and doing, action and imagination, and language and bodily movement in the process of developing work that oscillates between the visible and the non-visible, the physical and the virtual. I work with sculpture and installation, foregrounding processes of production and posing questions about how and why such processes are initiated and evolve. In a situation where divisions between production and consumption are collapsing, each term becoming more difficult to define, questions about how or where work takes place, and by whom its being done become increasingly pressing. Overlapping crafted objects with industrial manufacture, and the tool or machine with the art object, the work is characterised by use-value and uselessness. The objects stand both as artefacts and exercises, records of and catalysts for production, in turns they are both active and inert.
The work develops spaces of open exploration, discursive environments in which the viewer's role, immaterial production, Post-Fordism, and the dematerialization of the art object are offered as possible starting points, but are dressed up in such a way as to become afterthoughts while the primary encounter with the work might seem to focus rather upon colour, pattern, hypnotic sound; the genealogy and material qualities of carefully crafted objects, and the visual paraphernalia of institutions, unions, and collectives. The work focuses upon the combination of a primary physiological or sensory experience of space and objects, alongside a cerebral experience which involves the viewer having to construct images, spaces and objects from given material such as text, objects, 'raw material'. So viewers are offered material for processes of making which are yet to begin, or they are presented with spaces that serve as platforms for their constructive engagement with the work.
Whilst sometimes addressing the idea that art might engender communal experience and thereby realise collective action, the centrality of the viewer's constitutive role in the production of a subject is a recurring theme. Addressing the reader as one who might belong to a potentially effective group, gently urging the consideration of the implications of their status as members of 'the public' is a theme that's often present in work made for public space, but is also a theme which frequently emerges elsewhere. Nevertheless the work remains sceptical about the rhetoric's of the term 'participatory practice'. Making and doing are key components of the work, but these processes are still thought to be the property of the viewer as much as of the artist.
After the legacy of Conceptual Art, the 'experience economy' and the virtual, how will and how can the viewer respond to modes of work in which the context of creativity is to be found no longer in the work, but in the way of working? This question suggests the prominence of processes, services, exchange, histories, cultures, in short networks of production above products.
"Our relationship to objects, oscillating between consumers and producers. Information and communication as tools of control. Enforced production, or incessant production as an imperative."
Recent exhibitions
06.2013: The Pleasure Centre. Great Central, Leicester, UK. Curated Eric Rosoman. (Commission)
05.2013: Sound Spill. Zabludowicz Times square, New York, USA. Curated by Thom O'nions and Richard Sides.
03.2013: Platform : In the Making. Site Gallery, Sheffield, UK.
03.2013: Words to be Spoken Aloud, Turner Contemporary, Margate, UK.
02.2013: YEAR 2013. Artist's contribution (with Vincent Honoré) to publication. Published in Brussels by Komplot.
02.2013: Missing Image (with Sinisa Ilić and Tina Gverović). Fordham Gallery, London.
11.2012: Duration. Apt Gallery, London, UK. Curated by Rose Lejeune.
10.2012: House of Leaves (parts 2 and 3), David Roberts Foundation, London, UK. New Commission.
09.2012: It's Moving from I to It. Brukenthal Museum, Sibiu, Romania. Curated by FormContent.
09.2012: Book Launch for artist's book entitled By-Product. Designed and Conceived by the artist. Wiels, Brussels.
09.2012: Garden of Learning, Busan Biennale, South Korea. Roger M. Buergel, Artistic Director. New commission.
05.2012: The Deep of the Modern, Manifesta9, Genk, Belgium. New commission.
11.2011: Insert for Baston Blanco magazine, edited by Olivia Flecha.
11.2011: The Anti-Library. Space gallery, London.
10.2011: 'Life in the Forest' (with Tina Gverovic and Sinisa Ilic), Bialystok, Poland. (Catalogue)
10.2011: Commission for site-specific in-store works across Europe, for company 'EXKI'. Brussels.
10.2011: 20 Yrs Later. Kotor, Montenegro.
09.2011: Residency / Presentation. Hordaland Art Centre, Bergen, Norway.
07.2011: Two new performances for Festivela,Gallery Vela, London.
06.2011: Space, Time, Effort. Gallery Vela, London.
04.2011: Work, Doing, Done, Work, Doing, Done. Supplement Gallery, London.
04.2011: Electra. Performance (with Sam Dowd [artist/director]). National Portrait Gallery, London. (catalogue)
04.2011: Celluloid Brushes. An Anthology of the Filmic Perception of the Artist from 1267 till today. Etablissement d'en Face. Brussels.
03.2011: The Other Workshop. New commission. Herbert Read Gallery, Canterbury.


Areas of expertise
Material labour
Installation
Sculpture and materiality
Portfolio