London Met sees Venice Biennale success
Two current students join the 2023 Venice Architecture Biennale as Fellows at the British Pavilion 'Dancing Before the Moon', which was curated by a team including London Met alumni
Date: 24 May 2023
Jayden Ali and Joseph Henry, both architecture alumni from the London Met School of Art, Architecture and Design, are among the curatorial team representing the UK at the 18th International Architecture Exhibition at la Biennale di Venezia 2023.
Responding to the wider themes of this year's Biennale Architettura - The Laboratory of the Future – the curators, who also include Meneesha Kellay and Sumitra Upham, have created 'Dancing Before the Moon' which aims to inspire debate that will challenge and influence the future of British architecture. Through its installations of new work, and a film and soundscape, it promotes the idea that everyday rituals (from growing food and cooking to playing games and dancing) are forms of spatial practice for diasporic communities and present new ways of thinking about architecture and the built environment.
Amy Young, fourth year MA Architecture student, and Amanni Hassan, third year BA Fine Art student, will also attend the Biennale as Fellows over the Summer. They will develop their research proposals that they submitted as part of the British Council's selection process: Amy will be researching into Korean food experiences in New Malden, London, and searching for similar stories from Venice, and Amanni will be researching Arabian culture in Venice, through merchant sea-faring communities.
Other London Metropolitan University engagements that will take place throughout the Biennale will be: "Afropolitan Architecture", a series of 'dialogues' developed by Matthew Barac between the School's CUBE research centre in partnerships with the Africa Centre (26, 27, and 30 May); The "Women Life Freedom" symposium, supported by an academic at the school (2 - 4 October); a preview of the new 'project space' at the Fondazione Marta Czok with Jacek Ludwig Scarso (19 May); and ongoing Venice preview site-specific installations are 'BelMondo Tracks', in Venice since 19 April, by Rita Adamo (Associate Lecturer and alumna), Sandra Denicke Polcher and Jane McAllister.
The British Pavilion curatorial team include Jayden Ali, who graduated from Architecture in 2015 and is the Founding Director of interdisciplinary practice JA Projects and a Senior Lecturer at Central Saint Martins; and Joseph Henry who graduated from Architecture in 2016 and Spatial Planning and Urban Design in 2017, who is a designer and urbanist, co-founder of platform Sound Advice and works as part of the Culture and Creative Industries Team at the Greater London Authority.
The School of Art, Architecture and Design has a long association with the Venice Biennale. In 2018 Stirling prize-winning architect and London Met Professor Peter St John's practice, Caruso St John Architects, was commissioned with artist Marcus Taylor by the British Council to design the British Pavilion entry with the outcome of 'Island', and with students from the school have been participating as Fellows for a number of years.
Anne Markey, Dean of the School of Art, Architecture and Design said, "I am delighted to see the school so well represented at the Biennale Architettura 2023 by alumni, students, and staff. As a School that believes in the importance of socially engaged practice and which strives to educate our students to be 'agents of change,' it was important to us that we participated fully and wholeheartedly in this year's Biennale."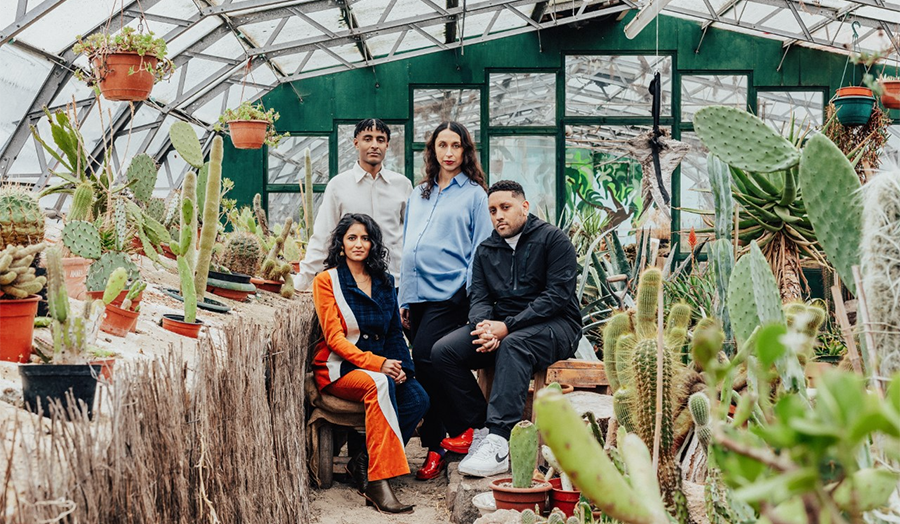 Image: British Pavilion curators - Meneesha Kellay, Jayden Ali, Sumitra Upham, Joseph Henry - taken at Black Rootz community garden in North London © British Council Photography, Taran Wilkhu