London Met students redesign early years teaching rooms
As part of a second-year internship, London Met's Interior Design course students redesigned the rooms to support modern teaching methods.
Date: 7 June 2021
Two of London Met's teaching rooms have undergone a transformation, thanks to the work of second-year Interior Design students.
As part of the work experience aspect of the course, a number of students were commissioned by London Met's Estates Department to redesign the classrooms in the University's School of Social Professions to support modern teaching methods.
One of those students, Jade Clarke, explained how they approached the task. She said, "my design process started with lots of research and precedents as I was completely unfamiliar with the modern teaching methods. In the town where I grew up, a school moved premises, and I took much inspiration from this site and saw what was needed spatially.
"After researching and visiting the site, I knew I wanted light colours to avoid overwhelming and distracting rooms, especially as they had minimal natural light. I made sure that the science room was the one with the window for added ventilation from the chemicals and smoke in case of an accident.
"It was exhilarating to work on this project, especially as it was my first design commission. Through this project, I learnt that when designing a space, such as a classroom, specific measures must be made to ensure the room is not distracting or overwhelming to students. The design challenges faced were to ensure that furnishes were cost-efficient, suitable for young people and had aesthetic values while adhering to the chosen colour palette."
Asked about the importance of gaining real-life work experience alongside their courses, she added, "I think students must get practical work experience alongside their degrees. I like how London Met provided students with an internship. Many students from low socioeconomic backgrounds cannot partake in summer work experiences. We have to choose paid work instead, so I am very thankful London Met provided this.
"Working on this project will help my future career. I learned many things about designing for a specific demographic and always having health and safety in my mind when planning. It gave me valuable insight into how professional projects work."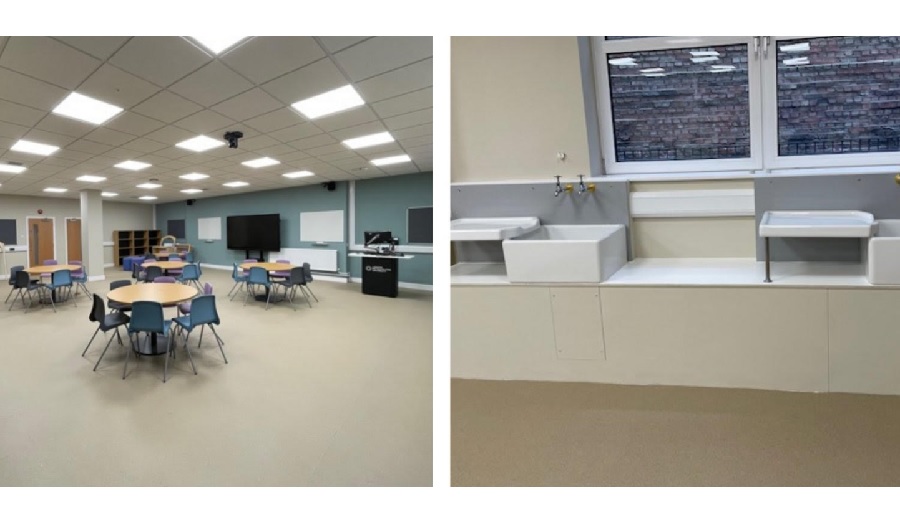 Pictured: a classroom following its redesign