Art, Architecture and Design Sessions 2020/21
Hosted by CREATURE (Centre for Creative Arts, Cultures and Engagement) and CUBE (Centre for Urban and Built Ecologies)
AAD Sessions are a series of public conversations that bring together researchers and practitioners from The School of Art, Architecture and Design and the wider world, to present their research for review amongst peers. The seminars are a forum in which researchers – both traditional and practice-based – can test and present their ideas in conversation with peers and a broader audience. The sessions seek cross-fertilisation of ideas and between disciplines.
Follow us on Twitter for the latest information @Research_LMArts.
Please sign up for tickets for the online seminars by clicking the registration link below. All are welcome at our AAD Sessions, both from inside and outside London Met's School of Art, Architecture and Design.
AAD Sessions 2020/21
| Seminar | Date/time | Book now |
| --- | --- | --- |
| CREATURE: Ruth Fazakerley "Revisiting counter-monuments" | Thursday 21 January, 1.00pm | Registration ended |
| CUBE: Takero Shimazaki "Subjectivity of Language in Metropolitan Architecture" | Thursday 28 January, 5.30pm | Registration ended |
| CREATURE: Margaret Gold and John Gold "Festival Cities", AAD Books | Thursday 4 February, 5.30pm | Registration ended |
| CREATURE: Luke Jones and Trevor Norris "Creativity, Indeterminacy and Representation" | Thursday 11 February, 5.30pm | Registration ended |
| CUBE: Emma Cheatle and Catalina Mejia-Moreno "Collaborating Care – Otherwise" | Thursday 18 February, 5.30pm | Postponed |
| Research Centre Launch | Thursday 25 February, 5.30pm-7.30pm | Registration ended |
| CREATURE: Mechtild Widrich and Francesca Filatondi "Performative Monuments" | Thursday 4 March, 5.30pm | Registration ended |
| CUBE: Jane Clossick and Nick Temple "Depth and Vision" | Thursday 11 March, 5.30pm | Registration ended |
| CREATURE: Galia and Pil Kollectiv "Kitchen Table Monumentalism" | Thursday 18 March, 1.00pm | Registration ended |
| CUBE: Johanna Hallsten and Sonic Acts of Noticing "Sonic Environments" | Thursday 25 March, 5.30pm | Registration ended |
| CUBE: Tony Fretton and Irina Davidovici "One and Three Buildings" | Thursday 15 April, 5.30pm | Registration ended |
| CREATURE: Tanja Schult "Monuments and Democracy" | Thursday 22 April, 1.00pm | Registration ended |
| CREATURE: John Keefe and Knut Ove Arntzen "Staging and Recycling", AAD Books | Thursday 29 April, 1.00pm | Registration ended |
| CUBE: Torange Khonsari and the Urban Commons Research Group "On the Commons" | Thursday 13 May, 5.30pm | Registration ended |
| CUBE: Pierre d'Avoine "Dwelling on the Future", AAD Books | Tuesday 22 June, 5.00pm | Registration ended |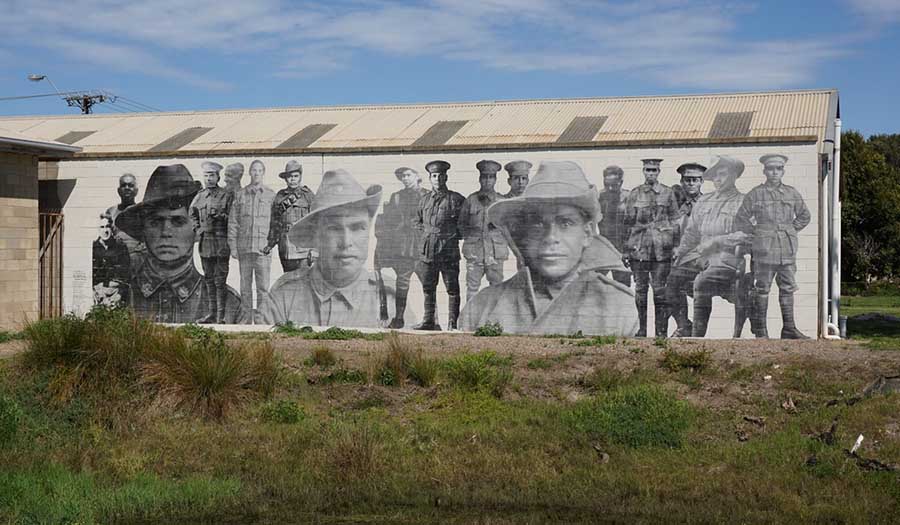 Image: Black ANZACS mural by Hego (2015) in Meningie, South Australia, photograph by Ruth Fazakerley
Details
The School of Art, Architecture and Design Sessions
Art, Architecture and Design Research Seminar series