Online: One and Three Buildings
An Art, Architecture and Design Session hosted by CUBE.
About this event
Hosted by London Met's Centre for Urban and Built Ecologies (CUBE), Tony Fretton and Irina Davidovici will discuss architecture as experienced, as photographed, and as verbalised through two presentations on Designing and Writing and One and Three Buildings.
Prof. Tony Fretton: Designing and Writing
My study of the relationship between designing and writing originated in my polite refusal to Adrian Forty to give a short exposition on 'the wall' to his MA students at the Bartlett School in London. I did not think I could speak in abstract about something that I thought of as experiential. Subsequently reading Adrian's book Words and Buildings, I became keenly aware of how differently architectural writers and designers use words, concepts and arguments.
For writers, words, concepts and arguments need to be rigorous in order to bear scrutiny in a lecture or on a page. For designers, they need to be slack so that issues of power, ideology, ethics and cultural norms can be fitted together with the designer's own architectural formation, and the project to be presented to clients in understandable terms. Design thinking is associative and its arguments operate between reason and rhetoric. Design thinking is a form of knowledge in itself, a state of being for dealing with the material world, and a technique for producing things that other people can use and enjoy. The material world is my natural habitat. I find configurations of buildings and spaces there that, often unintentionally, are surprising, appealing in the basic ranges of pleasure and with political dimensions that can be experienced bodily. I can use these to make new buildings and initiate creative explorations. Encompassing the material world is the natural world, always surprising and with forces that are immeasurably larger and less knowable than a designer can deploy.
Prof. Tony Fretton teaches postgraduate Architecture at the School of Art, Architecture and Design, London Met and has been the leader of Unit 2 for the postgraduate Architecture RIBA 2 – MArch since 2013. He's also Principal of his award winning practice, Tony Fretton Architects London, which he established in 1982.
Dr. Irina Davidovici: One and Three Buildings
In his artwork One and Three Chairs (1965), American conceptual artist Joseph Kosuth presented three iterations of a chair: a manufactured, standardised chair from the gallery, a frontal, full size photograph of it hanging from the wall, and an enlarged copy of the word "chair" as a dictionary entry. He thus confronted the viewer with the tension between actual and reflected, between the object, its textual, and its visual representations. Taking its cue from Kosuth, Irina Davidovici's talk will discuss the tensions between architecture as experienced, as photographed and as verbalised. Her talk will rely on examples from the recent and contemporary architecture in Switzerland, assessing the impact of the theoretical writings and projects of Marcel Meili and Roger Diener on younger Swiss practices. Like Diener & Diener's projects in Basel, those of Meili & Peter Architekten in Zurich indicate a point where architecture's urbanity deflects attention from itself and projects it outwards onto the city. Both confirm the continuity of an ethical attitude. In the context of the construction boom that has propelled young practices into full production mode, the lessons of the more reflective actors of the previous generation need to be re-examined, re-assimilated and eventually updated.
Dr. Irina Davidovici is Senior Lecturer and Researcher at the gta Institute, ETH Zurich, where she leads the Doctoral Programme in History and Theory of Architecture, as well as guest professor at EPFL Lausanne. Davidovici is the author of Forms of Practice. German-Swiss Architecture 1980–2000 (2012 and 2018) and editor of Colquhounery. Alan Colquhoun, from Bricolage to Myth (2015). In 2020, she obtained her Habilitation at ETH with the thesis Collective Grounds: Housing Estates in the European City, 1865–1934. Her research straddles urban housing studies, commons theory, and architectural history and criticism.
Image: One and Three Chairs. Gautier Poupeau, CC BY 2.0 , via Wikimedia Commons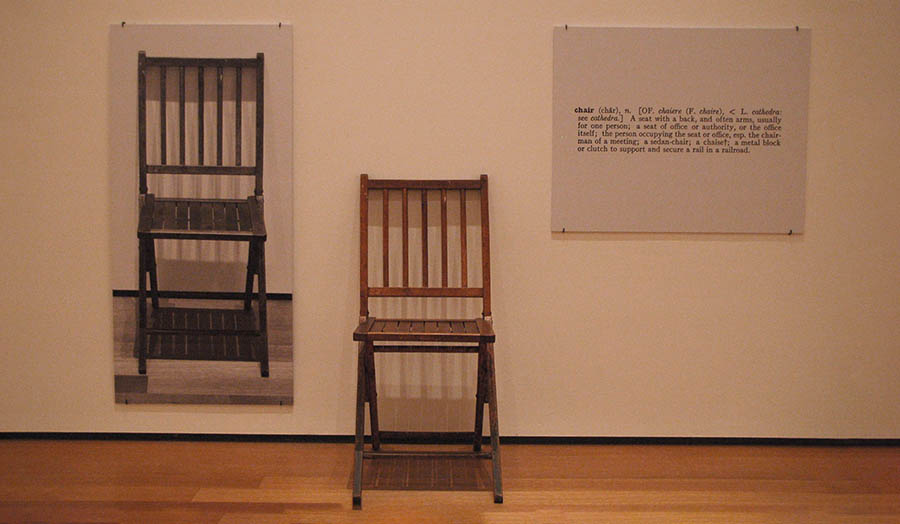 The School of Art, Architecture and Design Sessions