Online: Dwelling on the Future
An Art, Architecture and Design Session hosted by CUBE.
About this event
Hosted by the Centre for Urban and Built Ecologies (CUBE), Pierre d'Avoine discusses recently published Dwelling on the Future (2020) as part of the AAD Books series.
Dwelling on the Future focuses on the design of dwellings and their varied environments, and questions how an architect responds to the challenge of providing humane places in which to live for a growing, multifarious population in an increasingly divided world. The issue is never just housing. People – individuals, groups and societies – can and do have different goals and aspirations. Is it possible to imagine and implement a world in which a level of comfort and stability is available for even the poorest members of societies?
Pierre d'Avoine covers a wide range of examples, including proposals for luxury housing and designs for low-cost dwellings, which all address the needs and desires of their potential inhabitants. He explores an inclusive approach to the design of settlements – and not just in cities – that recognises difference, an approach that demands a fresh political vision to resolve humanity's increasing inequality, for the benefit of all. D'Avoine asks if we can respond with optimism to the Kabakovs' mordantly titled installation Not Everyone Will Be Taken Into the Future (2001). While this was perhaps a statement of fact in Russia and elsewhere in the Soviet Union during the Cold War, it is implicit, and ever more so, in the West today.
Author:
Pierre d'Avoine is an architect and teacher based in London. He set up Pierre d'Avoine Architects in 1979 and studioDA with Pereen d'Avoine and Nilesh Shah in 2017. Pierre practices, teaches and exhibits internationally. Pierre teaches MArch Unit 14 at London Met's School of Art, Architecture and Design and has also taught at Bath School of Architecture and at the AA. Pierre has been Visiting Professor at the Welsh School of Architecture and at the Royal Danish Academy of Fine Arts, Copenhagen.
Chair:
Dr Matthew Barac is Reader in Architecture at London Metropolitan University, and a UK-registered architect. His research, which concerns the interface of formal and informal orders of urban change in the global south, has won plaudits including the RIBA President's Award for Research and the International Bauhaus Award. Honorary positions have included editorial board roles for the journals Architecture and Culture and Architectural Review, jury membership for the Global Architectural Graduate Awards and RIBA Research Awards, and chairing the board of charity Architecture Sans Frontières-UK.
Interlocutors:
Andrew Houlton graduated from the Royal College of Art, co-founded Houlton Taylor Architects with Stephen Taylor in 1994 and subsequently established a new practice Houlton Architects in 2002. Houlton has taught and lectured at many schools of architecture, including Oxford School of Architecture, Kingston School of Architecture and Landscape and was Unit Master at the AA from 2000 to 2003 and at London Metropolitan University from 2005 to 2007.
Gleb Sobolev is a practicing architect and member of the Moscow Union of Architects. He teaches at the Moscow Architectural Institute (MArchI) and taught at the Moscow Architectural School (MARCH). He graduated from MArchI and studied at the Architectural Association School of Architecture in London. Gleb has for more than four years curated his own international educational projects "Ruralities" and "Architecture and Context".
Jos Bosman is emeritus professor in architectural design at Eindhoven University of Technology where he was curator of CASA Vertigo. In the 1980s he worked for the National Monuments Care Agency and subsequently worked as a researcher at the Institut für Geschichte und Theorie der Architektur (GTA) of the ETH Zurich.
Image: View from living room of communal gardens with cottage terrace in background, Andrew Power and Amy Glover.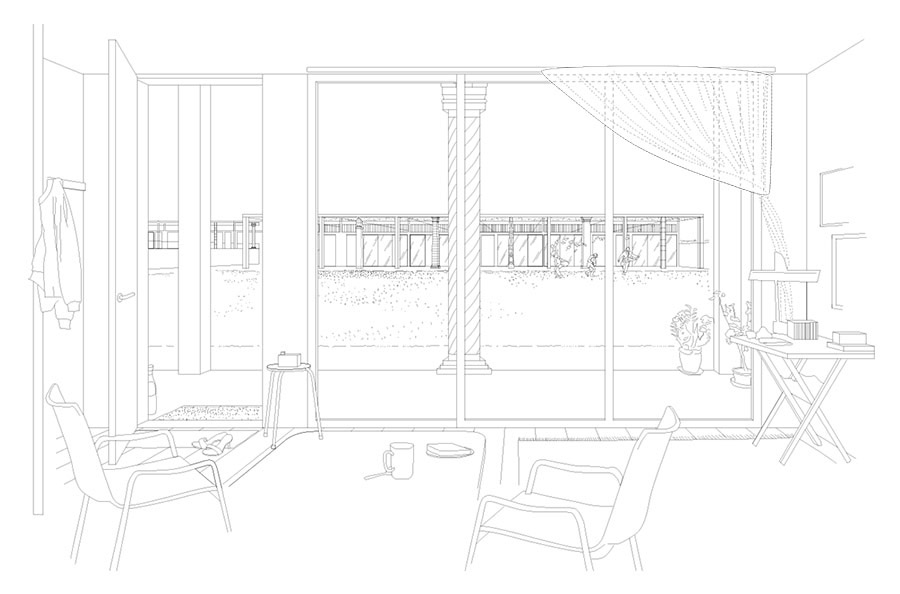 Dwelling on the Future
Hosted by the Centre for Urban and Built Ecologies (CUBE), Pierre d'Avoine discusses recently published 'Dwelling on the Future' (2020) as part of the AAD books series.
The School of Art, Architecture and Design Sessions