About this event
John Keefe and Knut Ove Arntzen discuss recently published 'Staging and Re-cycling: Retrieving, Reflecting and Re-framing the Archive' (2020) as part of the AAD Books series.
In Staging and Re-cycling, John Keefe and Knut Ove Arntzen re-visit and reappraise a selection of their work to explore how the retrieval, re-approaching and re-framing of material can offer pathways for new work and new thinking.
The book includes a collection of reprinted and first-published textual material interspersed with editorial material – reflective essays from John and Knut and original essays from invited scholars that explore the theme of repetition and re-cycling. The project has a number of aims: to suggest how the status of 'new' with regard to academic and staged dramaturgical materials may be reframed; to re-examine these through certain lenses and concepts (re-cycling; re-working; the spectator; landscape, post- and other dramaturgies); to explore the possibilities of critique offered by particular modes of juxtaposition, dialogue and dialectic; to offer further provocations to received ideas; and to retrieve and re-approach material that becomes 'lost' in archives or on library shelves. Staging and Re-cycling suggests a new form of dialogue between work, authors and readers, and draws out threads that extend back into the past and potentially forward into the future.
Book Authors and Editors:
John Keefe is a Senior Lecturer in the AAD School, London Metropolitan University. He has worked as a lecturer in theatre-film-performance, theatre director, performance dramaturg and researcher since 1979 across the UK, Lithuania and Germany. Research and publications are centred on the notion of 'dramaturgies': of the physical in theatres; of spectatorships; of ethics and theatres; of re-cycling; of the embodied mind that informs theatre-making and viewing. On this subject and its reach, he was awarded a PhD by Prior Publication and Commentary (2013) under the title A Spectatorial Dramaturgy: Ethical Principles of Re-Cycling, Habitus and Estrangement.
Knut Ove Arntzen, 1950, professor of theatre studies at the University of Bergen, Norway. Freelance theatre critic and consultant to the Bergen International Theatre as well as to Les 20 Jours du Théâtre in Montreal. Other teaching includes the State Theatre Academy in Oslo, the Theatre Academy, Helsinki and visiting professor to Vytautas Magnus University, Kaunas. Publications include Det marginale teater, Bergen 2007, and co-editor to Performance Art by Baktruppen, Oslo 2009. Residencies include Forsøgsstationen, Copenhagen, 2014/2015, where he co-organized seminars and workshops on dramaturgy. He is currently part of a research group on Greenlandic theatre history.
Book Contributors:
Richard Cuming
Stefanie Sachsenmaier
André Eiermann
Jacek Ludwig Scarso
Gian Carlo Rossi
Annelis Kuhlmann
Image: Staging and Re-cycling Book Cover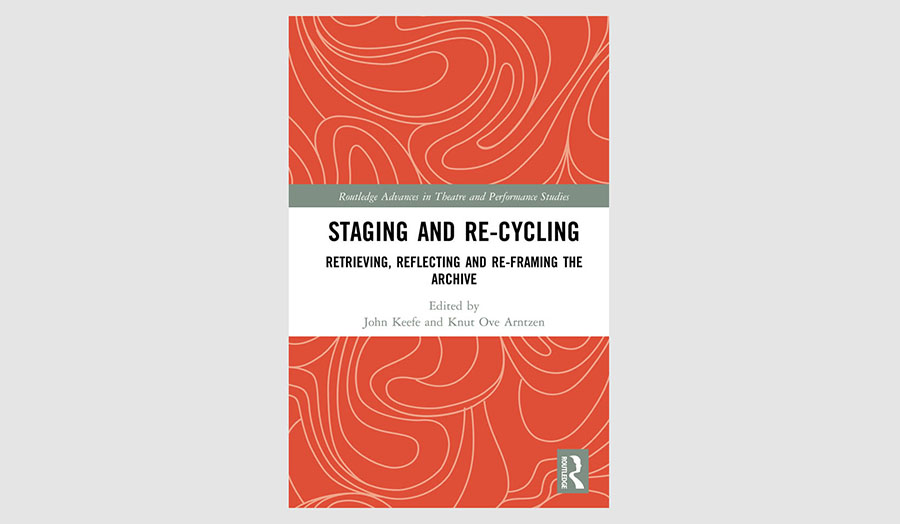 Staging and Re-cycling
Hosted by the Centre for Creative Arts, Cultures and Engagement (CREATURE) John Keefe, Knut Ove Arntzen discuss recently published 'Staging and Re-cycling: Retrieving, Reflecting and Re-framing the Archive' (2020) as part of the AAD Books series.
The School of Art, Architecture and Design Sessions