Online: Collaborating Care – Otherwise
An AAD Session hosted by CUBE.
About this event
Hosted by the Centre for Urban and Built Ecologies (CUBE), Dr Catalina Mejía Moreno and Dr Emma Cheatle will both revisit several collaborative projects undertaken around ideas of care, and think about their future manifestation. The event will be chaired by Beatrice De Carli.
In this seminar we revisit two of a series of collaborative projects that emphasise the necessities of care in architectural humanities and pedagogy, and speculate on our future collaborations. The first project was a collaboration with US based intersectional feminist research group Feminist Art and Architecture Collaborative (FAAC) which resulted in the essay and "call to arms" 'To Manifest' (Harvard Design Magazine No.46, FW 2018). We subsequently "re-performed" the essay at UCU's 2019 strike outside the Bartlett, UCL, and at a Feminist Teachout in March 2020 in Sheffield. The second project is a paper 'Collectivity and Care', which examines notions and responsibilities of care in university, first given at the AHRA conference in Dundee 2019, now in the process of being rewritten for publication.
Discussing the theoretical roles of temporality, slowness, dialogue and listening in these two projects, we will also reflect upon the role of care itself when collaborating, and on how care moves beyond a theorised research intent and comes to the fore as a communicative, nuanced and restorative method in the collaborative research process, and importantly, as a vocal, compassionate call towards one another that acknowledges the layers of support and vulnerability that it entails.
Dr Catalina Mejía Moreno is Lecturer in Architectural Humanities at Sheffield University. She is trained as an architect at Universidad de los Andes in Colombia, where she also spent some years in practice before arriving in the UK. She completed an MA in Architectural History at the Bartlett School of Architecture (UCL) and a PhD in Architectural Theory and Criticism at Newcastle University. Her current research and teaching explores creative and critical practices to decolonise, re-energise and re-examine architectural history and theory teaching and pedagogies. Part of her work is featured in the SSoA Feminist Library. She is also part of the Feminist School of Architecture, an initiative based at SSoA, as well as part of the Athena Swan and the Equality, Diversity and Inclusivity Committee.
Dr Emma Cheatle is Senior Lecturer Architecture at Sheffield University. She trained as an architect in the UK and has a PhD in architectural design and theory from the Bartlett, UCL. Her research is interdisciplinary and aims to examine the political, cultural and social implications of architecture, art and urban space, with a particular interest in addressing issues of inequality, whether through gender, race or disability. She is part of several feminist projects including The Feminist School of Architecture; The SSoA Feminist Library; and, in collaboration with Hélène Frichot, University of Melbourne, a major retrospective on the feminist theorist Jennifer Bloomer for the Journal of Architecture. She is an active member of the Equality, Diversity and Inclusivity committee and the Athena Swan team, and UK Editor for the Bloomsbury Global Encyclopaedia of Women in Architecture 1960–2015 (2021).
Chair: Dr Beatrice De Carli is a Senior Lecturer in Urban Design at the School of Art, Architecture and Design at London Met. An architect by training, Beatrice's work employs a collaborative, design-based approach to address issues of diversity and social justice in the production of urban space. Integral to her academic commitments is Dr Beatrice De Carli's work as a volunteer associate and general manager of non-profit design organisation Architecture Sans Frontières – UK, where she has led research and capacity building projects in Quito, Cape Town, Freetown and London. In 2018 Beatrice was selected for a RIBA Ethel Day Award as one of 130 influential Women in Architecture from around the world.
Image: Performing 'To Manifest', 2 December 2019, outside the Bartlett School of Architecture, UCL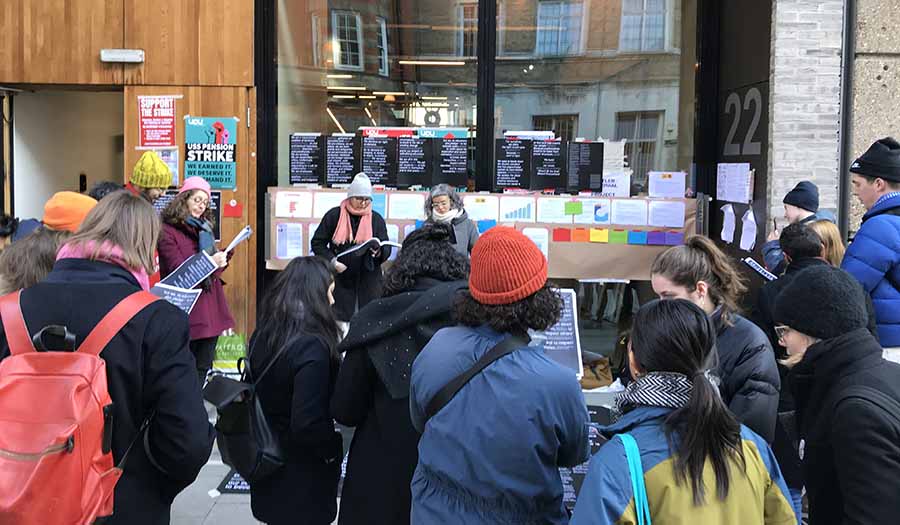 The School of Art, Architecture and Design Sessions