Online: Imagination, Form, Fiction
Sunny Singh and Aleks Catina will speak about the relationship between architectural space and fiction, chaired by Trevor Norris.
About this event
Writing as a mode of conceiving of architectural space has a long tradition in literature. Today, this discipline is often described as fiction. But what is the relationship of make-believe to the real, and by what means does one shape our understanding of the other? Professor of Creative Writing and Inclusion in the Arts Sunny Singh talks about her 2015 novel Hotel Arcadia and Aleks Catina explores ideas around irony-work in architecture.
Sunny Singh: Hotel Arcadia
Fiction, architecture and Hotel Arcadia: How does fiction draw on literary texts, history and architecture for world-building that not only serves as setting but as socio-political critique and semiotic signposting? How does the novel's structure incorporate mythical, historical, semiotic and real-world architecture? Sunny's talk focusses on her 2015 novel, Hotel Arcadia, and discusses the multiple layers of historical architectures that overlap the imaginative hotel that serves as the setting for the book.
Sunny Singh is a globally acclaimed, critically renowned novelist and internationally reputed academic of the arts and social sciences. Author of five books and numerous essays, book chapters, and reports, she locates her research interests and pedagogy in a unique, multidisciplinary approach that draws on multiple theoretical frameworks and diverse academic traditions. Her professional output transcends academia and extends into public discourse and advocacy and she is recognised as a pre-eminent decolonial public intellectual. By embracing a pathbreaking, compassionate and transgressive academic practice, she is today one of the UK's leading champions for inclusion across all aspects of society.
Aleks Catina: Irony-works
What happens when architectural symbolism is appropriated for the expression of otherwise unrepresented aspects of socio-political realities? Aleks' talk touches on instances where dominant architectural practices of cultural production are challenged or subverted, in ways relevant to the establishment of conceptual definitions of 'irony-work'. He will be focusing on the relation between stories, histories and form.
Aleks Catina teaches on the History, Research and Writing MA at London Metropolitan University. He has recently joined the PhD programme at the Architecture, Space and Society Centre (ASSC), Birkbeck, University of London. His forthcoming book, The Pillars of Uncertainty, represents an attempt in architectural fiction writing.
Chair: Trevor Norris is the course leader of the undergraduate programme in Creative Writing and English Literature at London Met. His research interests lie in the crossover of ecophilosophy, ecopoetics and nature writing.
Image: Map of Hell, bay Sandro Boticelli (c 1485), as part of an illustrated manuscript of Dante's Divine Comedy (source: Sandro Botticelli – La Carte de l'Enfer)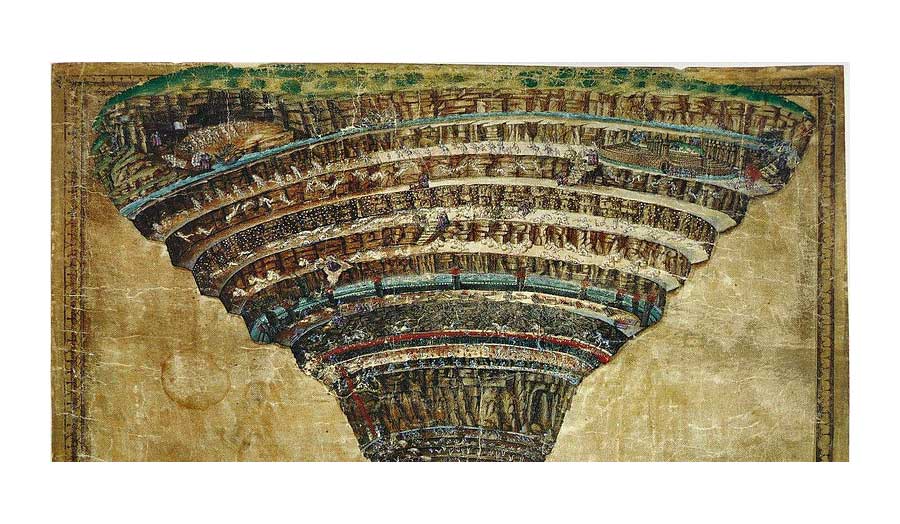 Art, Architecture and Design Research Seminar series 2020-21