Online: Joint-Launch of CREATURE and CUBE Research Centres
About this event
Join us for the Launch of the School of Art, Architecture and Design's two new Research Centres:
The Centre for Creative Arts, Cultures and Engagement (CREATURE) brings together interdisciplinary research in the creative arts, its practice, cultural impact and societal engagement.
The Centre for Urban and Built Ecologies (CUBE) brings together architects, urbanists, artists and designers with collective research interests in environmental, social and cultural ecologies of cities.
Programme for the Launch Event:
Welcome:
Anne Markey (Head of the School of Art, Architecture and Design)
London Metropolitan University Research Environment:
Prof. Don MacRaild (Pro-Vice Chancellor for Research and Knowledge Exchange)
Empowering London:
Sophie Cloutterbuck (Director of London Engagement)
Showcasing Our Research Centres:
Prof. Wessie Ling (Director of CREATURE)
Prof. Nicholas Temple (Director of CUBE)
Invited Speakers:
Dr Nydia Swaby ICA (Institute of Contemporary Art)
Prof. Renata Tyszczuk Sheffield University
Centre Websites:
Hannah Parr (Research Assistant)
Closing Statement:
(Director of CREATURE)
(Director of CUBE)
Invited Speakers:
Dr Nydia A. Swaby is a black feminist researcher, writer, and curator working at the intersection of archives, ethnography and visual culture. Her practice builds on theories of racial, gendered, and diasporic formation, black feminism and black studies. Nydia is Curator of Learning at the Institute of Contemporary Arts. She has a PhD in Gender Studies from SOAS University of London.
Becoming with the archive: from ethnographer to a/r/tographer
In the wind that blows through Lucea and across the Caribbean Sea. 'Me in the place, and the place in me'. I am the daughter of diaspora. In the wind that blows across the Volta River and through the Aburi bamboo trees. 'Me in the place, and the place in me'. I am the daughter of diaspora. Drawing on excerpts from my monograph, Becoming, with the archive, Blackness, gender, diaspora, this performance lecture considers how my work has shifted from the use of ethnography as a black feminist archival practice, to using a/r/tography as a mode of inquiry in which audio/visual, written,and ritual acts become a living practice of researching and art-making. Through an assemblage of still and moving images, text and sound collected during family trips to Ghana and Jamaica, I show how personal, emotional and embodied ways of knowing inform how I research and theorise the black diasporic experience.
Professor Renata Tyszczuk holds the Chair in Architectural Humanities at the University of Sheffield UK. She is an academic and artist whose work explores questions concerning global environmental change and provisionality. She has been awarded a British Academy Mid-Career Fellowship (2013 – 2014) for work in this area, which led to the monograph Provisional Cities: Cautionary Tales for the Anthropocene (Routledge, 2018). For her current research project on Collective Scenarios she has been awarded a Leverhulme Trust Major Research Fellowship (2019 – 2022). She convenes Culture and Climate Change, a framework for projects and initiatives that explore the cultural dimensions of climate change.
Times of urgencies: What if?
These are times of runaway climate disorder, of mass extinctions, of wildfires, rising sea levels, devastating pandemics, toxic residues, cascading social inequalities, insurrectionary politics and doomscrolling. These are catastrophic times of multiplying urgencies where the future is at stake. In conditions of everything changing and intertwined crises how is it possible to care for, imagine and make liveable futures in dialogue with others? How is it possible to think and practice the future otherwise? Scenarios are a way of getting a better grip on the future, especially when the future is understood to be in crisis. They are configured around the question: what if? Yet their ubiquity in diverse fields from climate science through urban design and planning, economics, insurance, energy, ecosystem and pandemic management gives the impression that envisaging futures, and with this, adequate preparedness for all kinds of trouble is possible. But what if scenarios are explored instead as transformative stories where the outcomes are unpredictable? Scenarios are reconsidered in their potential as 'rehearsal spaces' for speculative, improvised and collaborative modes of thinking and practicing uncertain climate futures. What if?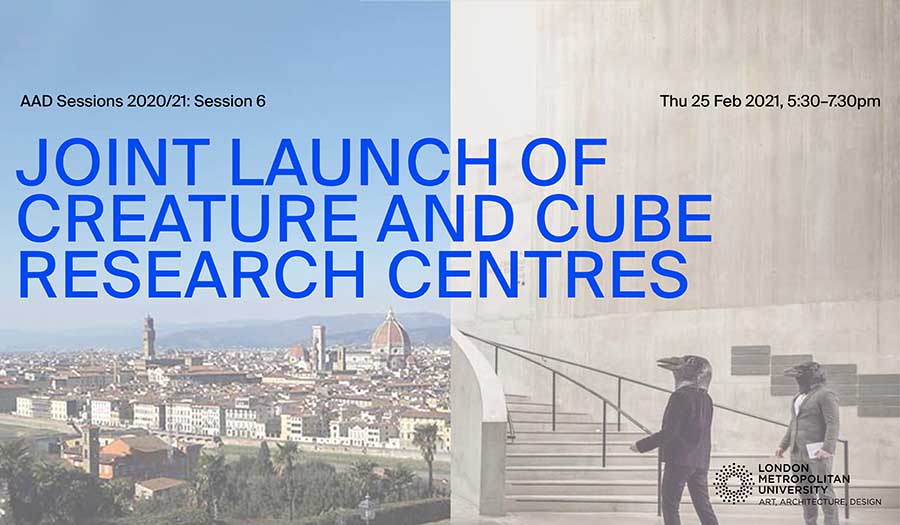 The School of Art, Architecture and Design Sessions