(Re)constructing Musics of the Harp
Two presentations by Mike Baldwin and Lewis Jones.
Mike Baldwin (harp researcher and 2018 PhD graduate) and Lewis Jones (supervisor of music-related and material culture research) will discuss museum, archival and iconographical research centred on the harp and music making in the eighteenth and nineteenth centuries.
Mike will introduce their project to investigate and make a working replica of the earliest kind of pedal harp (the pitch of whose strings can be raised by depressing several small pedals), developed by Jakob Hochbrucker in Bavaria at the end of the seventeenth century, and played and promoted by members of his family during the eighteenth. He will report on their recent examination of the second earliest extant pedal harp (1728), in the Musée de la musique, Paris.
Lewis will consider the musical use of Hochbrucker's harp, drawing on printed music, and documentary and pictorial sources, and the prospect of using the reconstructed harp in contemporary practice. He will then compare mid-eighteenth century use of the harp with domestic harp and guitar playing by women at Lacock Abbey, Wiltshire, represented in the earliest photographs ever taken of music making (c1840), by William Henry Fox Talbot.
Image: Horatia playing Amelina's harp (neg, reversed) from the Science Museum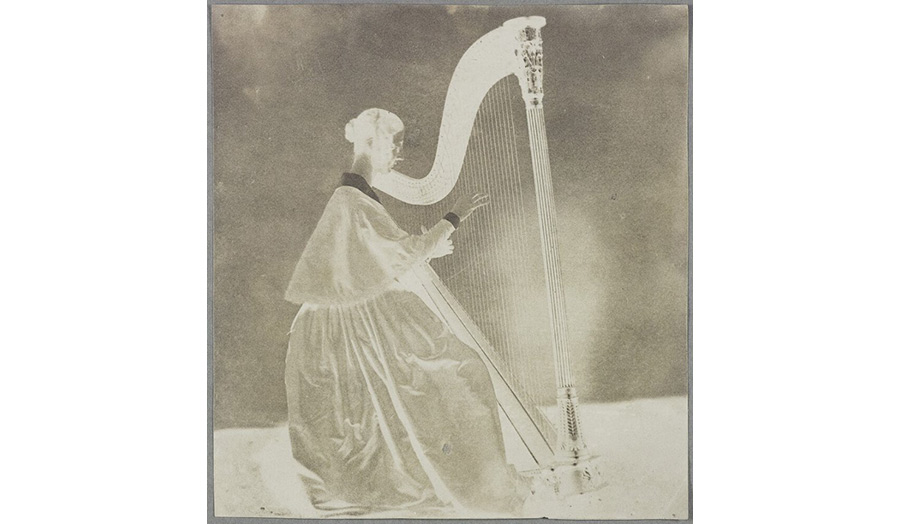 Cass Research Seminar 2019-20