Why study this course?
Welcome to textiles at London Met, a course where your creative energy meets its match. This undergraduate degree will see you learn technical skills as you explore a a variety of processes that encompass textile design for interiors, fashion, community work and wellbeing, fine art and accessories, spanning hand-worked traditional skills to digital industry software.
Throughout the course you'll have opportunities to produce collections of textiles and surface techniques, all of which will be showcased in a professional setting in your final year.
You'll have numerous opportunities to enter local and international competitions, along with the chance to exhibit your work through the University. What's more, all your projects will be delivered with real-world industry partners, giving you invaluable work experience for when you transition into the world of work. Our previous students have undertaken work placements with (and some have even gone on to work for) revered companies including Julien McDonald, Edward Crutchley, Mark Fast, Toogood, Mary Katrantzou, Alexander McQueen, ASOS, Timberland, The British Museum, Camira Fabrics, Toynbee Hall and Tissage handmade rugs.
Our design studies courses are second in London for overall student satisfaction according to the National Student Survey 2022.
We're fourth in the country for fashion and textiles according to the Guardian university league tables 2022.
Afternoon Tea by Lizeth Gallegos, 2021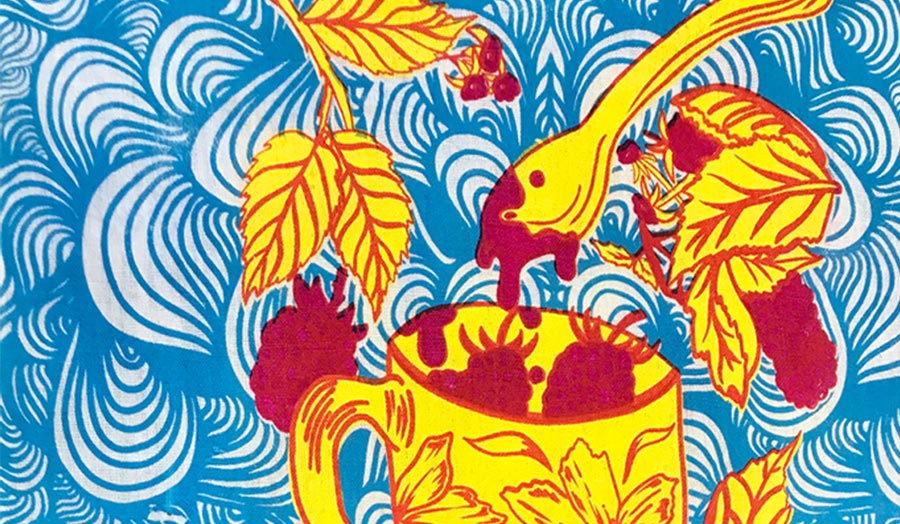 Turkish Memories by Loraine Feldman, 2020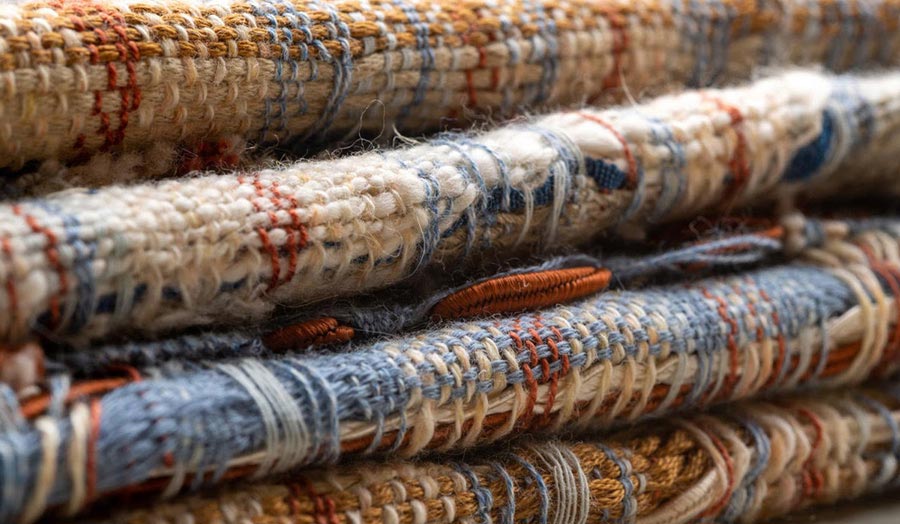 The print room at London Met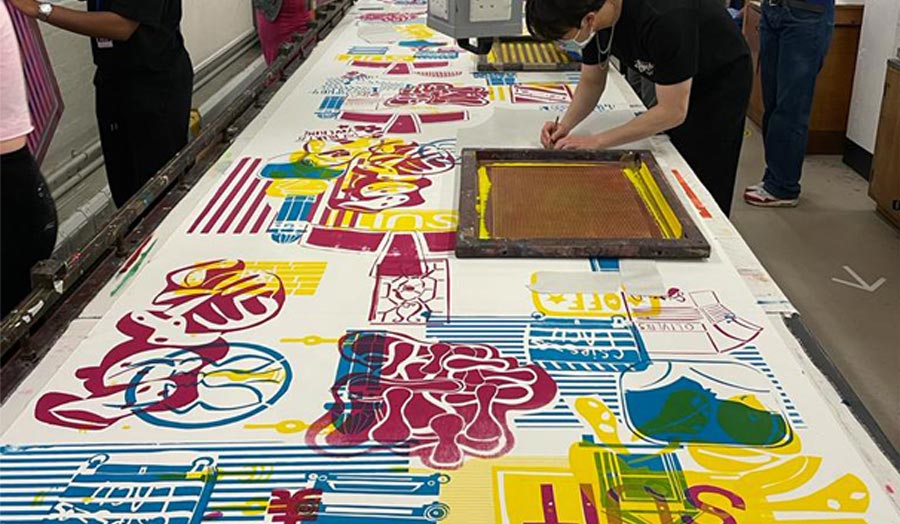 Fossils by Gill Self, 2020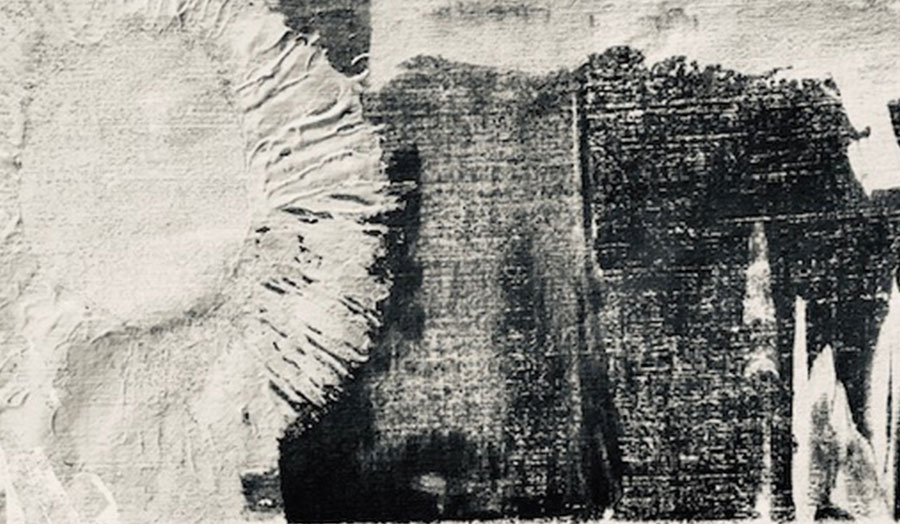 Plates of Memories by Katrina Walker, 2020
Tools without functions by Jeanne Izard, 2020
Petticoat Lane, Syeda Rahman, 2021
Brutalist weave by Rachel Strachan, 2020
More about this course
We're proud to be home to a supportive and enthusiastic learning community. As a student of the School of Art, Architecture and Design you'll become part of a strong network of learners and educators, where engaged professional practitioners facilitate and enrich your learning experience. You'll also find encouragement and inspiration in your own student cohort, itself composed of a unique and inclusive variety of artists and designers. We recognise each student as an individual creative person with their own unique vision and personality.
Thanks to the collaborative, cross-disciplinary nature of the School, you'll benefit from a wide range of workshop facilities and equipment in addition to those specific to textiles. After undertaking practicals in print, weave, knit and mixed media you'll go on to pursue specific interests and material specialisation through both studio and contextual study.

During your studies you will have the opportunity to explore and experiment with the rug gun, dyeing, natural and chemical techniques, embroidery techniques from hand to computer, a variety of screen printing processes, and jacquard design software for weave.
As you progress, you'll gain an understanding of commercial, ethical and industry standards, undertaking projects and work placements to develop professionalism and establish networks to further your career. All second and third year projects are delivered in collaboration with live projects and industry partners, ensuring your awareness of the diversity of employment directions. You'll also have the option to partake in relevant textile industry trips, including London, Bradford, Paris and Florence.
We work with you to ensure you have the confidence and self-knowledge to enter the professional arena of textiles, with pride in who you are as a creative force. We're proud to have industry links and live projects with multinational companies such as Adidas, Gainsborough Silk Weaving Co, Edward Crutchly, Lyle & Scott, The Print Archivist, furniture retailers Heal's and Ligne Roset, Thornback Peel and Tissage rugs. Successful graduate designers include Majeda Clarke, Vicky Cowin, Stephanie Witts, Lisa Bloomer and Claire Whelan.
Visit @textiles_ldnmetarts to take a look at work from our current students and graduates.
Assessment
Assessment is inclusive and based upon practical work, reflective practice, presentations and written formats. You'll be given regular feedback on your project and participation throughout the course.
Entry requirements
In addition to the University's standard entry requirements, you should have:
a minimum grade of BBC in three A levels in relevant art and design subjects (or a minimum of 112 UCAS points from an equivalent Level 3 qualification, eg BTEC National, OCR Diploma or Advanced Diploma)
English Language GCSE at grade C/grade 4 or above (or equivalent)
a portfolio that contains a range of drawings, practical making, sketchbooks and work that provides a window into your creative interests and engagement
a portfolio interview
If you don't have traditional qualifications or can't meet the entry requirements for this undergraduate degree, you may still be able to gain entry by completing our Textiles (including foundation year) BA (Hons) or the Art and Design (including foundation year) BA (Hons).
If you don't meet the entry requirements but have a strong portfolio and work experience, you may be considered for the traditional BA course.
We encourage applications from international/EU students with equivalent qualifications. We also accept mature students with diverse backgrounds and experiences.
Accreditation of Prior Learning
Any university-level qualifications or relevant experience you gain prior to starting university could count towards your course at London Met. Find out more about applying for Accreditation of Prior Learning (APL).
English language requirements
To study a degree at London Met, you must be able to demonstrate proficiency in the English language. If you require a Student visa you may need to provide the results of a Secure English Language Test (SELT) such as Academic IELTS. This course requires you to meet our standard requirements
If you need (or wish) to improve your English before starting your degree, the University offers a Pre-sessional Academic English course to help you build your confidence and reach the level of English you require.
Modular structure
The modules listed below are for the academic year 2022/23 and represent the course modules at this time. Modules and module details (including, but not limited to, location and time) are subject to change over time.
Year 1 modules include:
This module currently runs:

all year (September start) - Monday morning
all year (September start) - Thursday afternoon
all year (September start) - Thursday morning
all year (September start) - Monday afternoon

Module summary
Successful 3D design outcomes are reliant on sound 3D design principles. These principles inform and create opportunities for students to apply their creativity to the conception, development and eventual realisation of effective 3D design solutions.

This module will introduce students to a range of contemporary and traditional discipline-related design approaches and processes, some of which will be tested in design exercises and some of which may be realised in studios and projects carried across other modules. Processes experienced will involve research, documentation and analysis, alongside experiment and discovery.

Design concepts will be tested through the application of workshop and studio methods. Materials, processes and technologies will be discipline-specific, developing creative outcomes relevant to the possibilities and constraints of the context intended.

Students will be encouraged to develop a critically informed and personal approach to the process of design. Studios and projects will encourage understanding of practice and engagement with materials, media and, processes in the context of a rapidly changing contemporary culture with ever-developing needs and problems.

This module currently runs:

all year (September start) - Monday morning
all year (September start) - Thursday afternoon
all year (September start) - Thursday morning
all year (September start) - Monday afternoon

This module introduces and develops a range of knowledge, skills and approaches in the research, sketching and communication of information and ideas for 3D disciplines and artefacts in visual form.
The ability to draw and communicate visually for research, as well as design development, is critical to the success of a designer in any 3D discipline. This module intends to make development of subject specialist skills in these fields a central component of the courses that it serves.
Students will take part in a range of studio sessions, workshops and lectures that introduce a wide range of traditional and contemporary drawing, visual research and communication media, methods and practices to help them explore, record, select from, analyse and interpret their environment and the world of images, spaces and artefacts for a range of purposes.
Through the regular practice of a wide range of drawing methods, whether for the recording and communication of information, the generation of concepts and design or the expression of ideas, students will develop confidence and a key resource to support their practice.
Discipline-specific projects will explore the recording and expression of line, colour, form, structure, light, space and perspective, texture, detail and context appropriate to the requirements of the field in a range of media and formats.

This module currently runs:

all year (September start) - Tuesday morning

Critical and Contextual Studies 1 is an inter-disciplinary module taught across all disciplines in the AAD 3D subject area, including Design Studio Practice, Fashion, Fashion Accessories, Jewellery, Furniture and Product Design, and Textile Design. The module aims to orient and critically engage students in the history and theory of their respective disciplines, their scope, conventions, and broader social and material context in culture and contemporary practice.

The module helps students to reflect on what they see, and to read connections between different ideas that have shaped their discipline. In particular, the module investigates how thinking and articulating ideas about practice in their field might be framed – for example in relation to history, the economy, society and the environment, or through theory and practice.

The module introduces students to a range of academic skills needed to produce a graduate-level study in their final year. It helps students to develop their own interests, and to reflect on and take responsibility for the development of their own learning. This includes surveys in the history of their discipline, research and writing workshops, seminars, library sessions, visits and tours in addition to guided independent learning.

This module currently runs:

all year (September start) - Monday morning
all year (September start) - Thursday afternoon
all year (September start) - Thursday morning
all year (September start) - Monday afternoon

Good design and high quality artefacts are informed by knowledge of the potential and the limitations of relevant technologies and techniques, materials and processes. The focus of this module is on the development of understanding and ability in a range of key practical skills and an understanding of material and process through experience, experimentation and direct observation.
The module will introduce students to some of the key methods and principles of achieving high-quality outcomes, whether crafted, manufactured or constructed. It will develop capacity for informed decision-making about material experimentation and process investigation through the exploration of why particular choices of material, technique, process and technology are made in relation to factors such as aesthetics, function, scale and ethical considerations.
The module is taught within disciplinary specific studios, includes a range of relevant exercises and will aid realisation of designs and projects originated in other modules. The module will establish this knowledge through research into current practice, making and drawing workshops, as well as lectures, seminars and the utilisation of a wide variety of published sources.

Module aims
This module aims to introduce key designer making skills and practical understanding of material, process and related issues, such as health and safety for workshop and other production contexts. Students will develop an appropriate level of competence in practical realisation through experience, experimentation and practice through exploration of material, processes, techniques and technologies. Through taught classes and this experience they will learn constructional requirements, scales, material values, economies of production, functional and aesthetic design constraints.
The module will enable students to recognise, and understand ethical issues surrounding the choice and use of material and production choices in the context of their discipline.
Year 2 modules include:
This module currently runs:

all year (September start) - Friday morning
all year (September start) - Tuesday afternoon
all year (September start) - Tuesday morning
all year (September start) - Friday afternoon

This module aims to develop designs in the context of our complex relationship with the designed world. Through selection and application of materials and processes students will problem solve with an understanding of human needs, physical, psychological, individual and/or collective. Responses may include conceptual, functional and questioning design methods that respond to user-centric needs including those that are imperfectly understood.

Students will be expected to demonstrate that design work and its outcomes are the result of credible research, and how it relates to users, (both principal and incidental), in practice. Workshop activities will explore and test ideas, resolving design issues and proposing solutions through modelling in traditional and/or digital materials and technologies. Material experimentation and knowledge will enhance both the concept and its communication.

Students will normally select from a range of studio projects, working with contemporary ideas and practising designers, mentored by professional practitioners as appropriate to the project. Responses to findings through design will demonstrate clear concept and purpose related to people, whether conceptual, narrative, ergonomic, ethical or other.

Students' confidence will build and evolve a personal and distinctive approach to design through research and interpretation of findings together with professional communication and presentation skills.

This module currently runs:

all year (September start) - Thursday morning

Critical and Contextual Studies 2 is an inter-disciplinary module taught across all disciplines in the AAD 3D subject area, including Design Studio Practice, Fashion, Fashion Accessories, Jewellery, Furniture and Product Design, and Textile Design. It continues to orient and critically engage students in the history and theory of their discipline, its scope and conventions, and its broader social and material context in culture and contemporary practice. It builds on studies undertaken in Level 4 and prepares students as independent thinkers, capable of selecting an appropriate topic and producing a sustained piece of independent study in the form of a dissertation in Level 6.

The module continues to situate the student within the process of constructing knowledge about their discipline, its history, context, and its professional and ethical dimension. It rehearses the analytical and discursive skills students need to become knowledgeable about the theorists, objects and methods in their field; to understand the roles, locations and responsibilities of important authorities while examining the broader ethical questions relevant to their discipline; and to become conversant with current debates across the subject area. This process may be approached from the point of view of the producer or consumer, the critic or the professional, the academic or the practitioner.

Students are encouraged to think creatively and to take responsibility for the development of their own learning. The module recognises that the student is also an active contributor in the process: what students bring to the construction of knowledge counts – and how effectively they construct this knowledge depends on how well they understand the field of their discipline.

This module currently runs:

all year (September start) - Friday morning
all year (September start) - Tuesday afternoon
all year (September start) - Tuesday morning
all year (September start) - Friday afternoon

3D Design Resolution ensures confident realisation of design concepts through consideration and manipulation of the materiality (form, colour, surface and texture) that affects meaning and value in all design. This module requires critical attention to context, aesthetics and construction and intelligent choices of process and production to consider and express how material and making methods can be tested through models, prototypes and final outcomes. Students will realise relevant design solutions to studio briefs in response to end users and/or sites, learning to work to a high level of professional presentation.

Through in-depth practice-led research, students will consider the social, functional and environmental impacts of products, samples, material choices and the performance of these upon designed outcomes and their users.
Through the development of their design approaches they will discover a logical and creative method to problem solve, appropriate to the needs of users and clients. Students will engage in responsible design with awareness of relevant social obligations as well as the end-user's personal, physical and sensory wellbeing.

This module currently runs:

all year (September start) - Thursday afternoon
all year (September start) - Friday morning

This module enables the student to discover and examine the current professional environments for design, manufacture and production available within the discipline

Students will bring together their knowledge and experience of materials and making and re-examine them in the light of industry and real world needs. Students will develop and understand approaches to design, production and manufacture and to the introduction of efficient and industry relevant development and making practice.

The module introduces specialist methods, terms and approaches that are used to communicate technical specifications and visual form with precision and clarity. Students will further establish critical and evaluative processes to expand knowledge and understanding of materials, manufacture and the professional requirements underpinning ethical and sustainable values and responsibilities relevant to three-dimensional design. Students will discover how craft, design, technology, manufacturing and emerging material and process technologies can apply to contemporary practice and begin to recognise their place in the designed and made world.

Through specialist industry contact and specific tasks, students will experience critical debate, commercial response and career relevant development while identifying the commercial and professional context
The presentation and communication of all aspects of this module are key to the fulfilment of an understanding of industry practice vital for professional approaches to designing and making at level 6. Students will deliver presentations in appropriate disciplinary forms gaining confidence in presentation, collaboration and decision making including team working.
Year 3 modules include:
This module currently runs:

all year (September start) - Friday morning
all year (September start) - Tuesday afternoon
all year (September start) - Tuesday morning
all year (September start) - Friday afternoon

Together with the Major Project Realisation module, this module is intended to prepare 3D Design students for independent practice, entry into the professional work-place, or for higher studies.

Through synthesis of knowledge of processes and principles, using an appropriate range of intellectual, creative and practical skills, students will design and develop self-directed projects. These will require negotiated and approved project proposals. Students will undertake in-depth research, well constructed design and making strategies and the exercise of thinking skills resulting in a significant body of creative work for exhibition. Using creative exploration and experimentation, students will undertake research, idea generation, concept development, material investigation, sampling, modelling or prototyping and visualisations that lead towards the project proposals.

The module will require students to critique and reflect upon their own work, adopt the professional standards of their disciplines and their positions in their creative sectors. The module emphasises self-direction and personal focus whilst acknowledging external and professional expectations and constraints.
Through the projects students will affirm their creative identities as they prepare to enter their professional fields and evidence their understanding of their future direction and position including in the context of professional responsibility and ethics.

This module currently runs:

all year (September start) - Wednesday afternoon
all year (September start) - Wednesday morning

Critical and Contextual Studies (CCS) Level 6 results in an independent dissertation. It builds on two years of undergraduate study that critically engages students in the history and theory of their discipline, its extent and conventions, and its broader social and material context in culture and contemporary practice.

Students undertake an enquiry into a topic of their own choice and, based on this enquiry, develop a sustained critical study building on techniques and knowledge developed in previous years. This study demonstrates the student's ability to research a topic thoroughly, use appropriate methods of investigation, and work in a methodical and organised way to develop a coherent argument. It affords a sophisticated instrument for interrogating, testing and presenting ideas, and encourages the student to deploy and develop a variety of skills to show how well they can conduct and present a critical investigation.

The module rewards criticality and innovation and provides a platform for ambitious, independent work. To this end, it offers individual supervision designed to support the student's learning. The subject-matter of the dissertation can be theoretical, technical, or historical. In terms of format, the dissertation may be envisaged in different ways and can include visual, technical or other non-written material which may form the subject of the enquiry and comprise an integral part of the whole.

The dissertation may be practice-based and include field-work and primary research in its methodology; or it might be theoretical in its outlook and draw predominantly on secondary sources. Its form and approach can reflect a broad range of discipline-specific approaches based on discussion and agreement with the supervisor and/or course leader.

This module currently runs:

all year (September start) - Friday morning
all year (September start) - Tuesday afternoon
all year (September start) - Tuesday morning
all year (September start) - Friday afternoon

This Major Project module enables textile design students to prepare for independent practice in the workplace or to progress onto higher studies. It is the opportunity to syn-thesise specialist knowledge and skills and effectively communicate these.

Students will exercise and communicate their abilities in selecting, analysing and ap-plying knowledge, skills and understanding to a fully researched project in order to properly understand their strengths, interests and position in their field, and their poten-tial for future professional development. A negotiated and approved proposal will con-firm individual projects and direction.

Students will show an understanding of, and ability to negotiate the complex and changing nature of problems in the professional sector and will devise and apply real-istic strategies for constructing, applying and managing a process designed to provide solutions.

A professional standard of realisation, contextualisation and presentation will be ex-pected, providing the elements for a portfolio of practice with which students may enter the field of employment, self-employment or further studies.

This module currently runs:

all year (September start) - Wednesday afternoon
all year (September start) - Friday afternoon

This module requires students to develop the skills and knowledge required to undertake a researched, targeted exhibition or competition entry, or competitive submission for a commission, presenting the work they have developed within the major project in a professional manner. Students will apply understanding of the codes and conventions of competition, exhibition or commissioned work, contemporary curatorial practice, editorial and competitor approaches within a public exhibition. This will represent their independent critical position in relation to academic learning and professional practices.

The module demands a creative and disciplined approach to collaboration with relevant stakeholders and external partners. Within the module, students will experience work-related learning through live exhibition set up and realisation, submission for commission, competition or placement. Students will refine a range of transferable skills in communication, management, research and analysis and are encouraged to reflect and report on the work-relevant skills they develop throughout. Action planning, contribution to professional meetings, goal setting, negotiating, networking, project management, self-appraisal, team working are core to this module.
In the realisation of the exhibition/competition/commission students will develop and provide personal self-promotion outcomes to a professional standard, while negotiating the research aims of the brief and demonstrating mature creative practice.
The submission should reflect professional, creative and intellectual identity in preparation for entry to the workplace.
What our students say
"The staff are excellent at providing the right amount of challenge and support and they are always available to help when you really need it."
Lorraine Feldman, textiles graduate, 2021
"I feel secure and confident in my own design aesthetic."
Jodie Barnacle Best, textiles graduate, 2020
"We all help each other by giving advice about our work and I've grown confident to speak about my practice. My tutors and peers have supported me to be what I am."
Chris Kaewhin, textiles graduate
Where this course can take you
Whether you aspire to be a craftsperson or a designer for the design industry, perhaps working for a huge high street brand or a couture house, our Textiles BA (Hons) will prepare you for a bright and exciting career.
Upon graduating, you can enter the professional design sectors in rich and varied ways. Our alumni have pursued successful careers, including in:
education, as teachers at all levels
providing studio design work
managing small design studios (either their own or as employees)
Some graduates even set up their own successful businesses, in the UK as well as across Europe and Africa. These include:
Additional costs
Please note, in addition to the tuition fee there may be additional costs for things like equipment, materials, printing, textbooks, trips or professional body fees.
Additionally, there may be other activities that are not formally part of your course and not required to complete your course, but which you may find helpful (for example, optional field trips). The costs of these are additional to your tuition fee and the fees set out above and will be notified when the activity is being arranged.
Stay up to date
Get a first-hand look at what our students are up at @textiles_ldnmetarts. You can also follow our School of Art, Architecture and Design on Twitter, Facebook and Instagram to stay up to date with everything that's happening in our creative community.
Discover Uni – key statistics about this course
Discover Uni is an official source of information about university and college courses across the UK. The widget below draws data from the corresponding course on the Discover Uni website, which is compiled from national surveys and data collected from universities and colleges. If a course is taught both full-time and part-time, information for each mode of study will be displayed here.
How to apply
Applying for January 2023
Please note, international admissions are now closed for the majority of our courses starting in January 2023.
Applying for September 2023
If you're a UK applicant wanting to study full-time starting in September, you must apply via UCAS unless otherwise specified. If you're an international applicant wanting to study full-time, you can choose to apply via UCAS or directly to the University.
If you're applying for part-time study, you should apply directly to the University. If you require a Student visa, please be aware that you will not be able to study as a part-time student at undergraduate level.
If you're applying for a degree starting in January/February, you can apply directly to the University.
When to apply
The University and Colleges Admissions Service (UCAS) accepts applications for full-time courses starting in September from one year before the start of the course. Our UCAS institution code is L68.
If you will be applying direct to the University you are advised to apply as early as possible as we will only be able to consider your application if there are places available on the course.
To find out when teaching for this degree will begin, as well as welcome week and any induction activities,
view our academic term dates
.