Why study this course?
This is a top-up version of our Textiles BA (Hons) degree. A top-up degree is the final year (Level 6) of an undergraduate degree course and is for those who have a foundation degree, Higher National Diploma or equivalent qualification, or those wishing to study the final year of their degree in London.
On the Textiles (Top-up) BA course you'll learn technical skills through exploring a variety of subject areas including textile design for interiors and fashion and accessories. There will be opportunities to produce collections of textiles, surface techniques and garments and to showcase in a professional setting.
You'll have opportunities to enter local and international competitions, to exhibit your work and to visit industry and trade shows in London, Paris and Florence.
Our design studies courses are second in London for overall student satisfaction according to the National Student Survey 2022.
We're fourth in the country for fashion and textiles according to the Guardian university league tables 2022.
Afternoon Tea by Lizeth Gallegos, 2021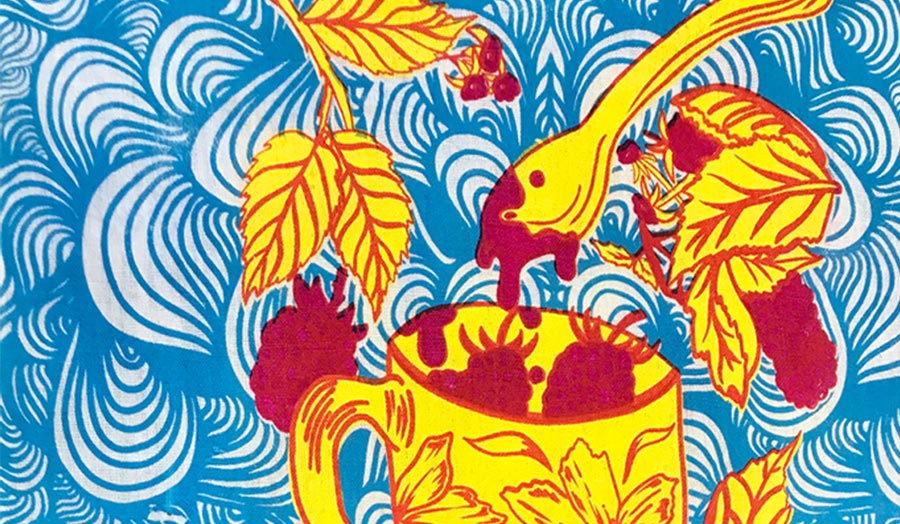 Turkish Memories by Loraine Feldman, 2020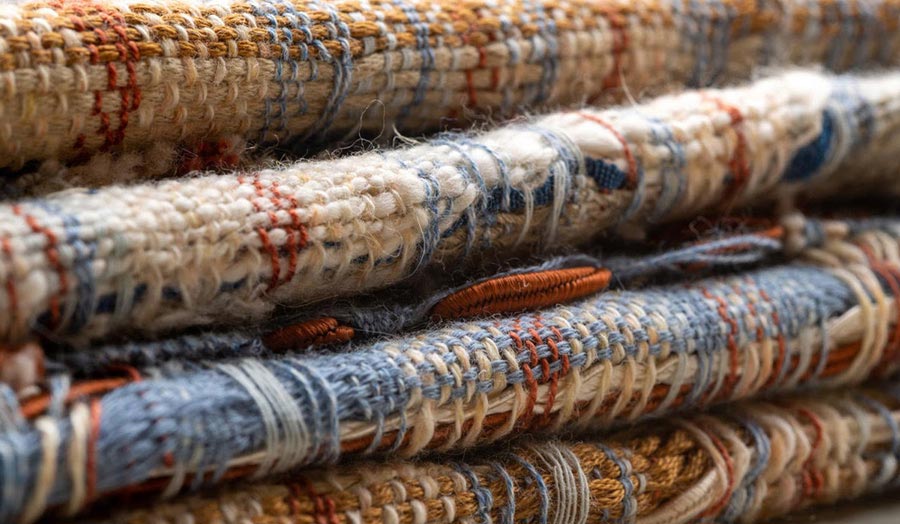 The print room at London Met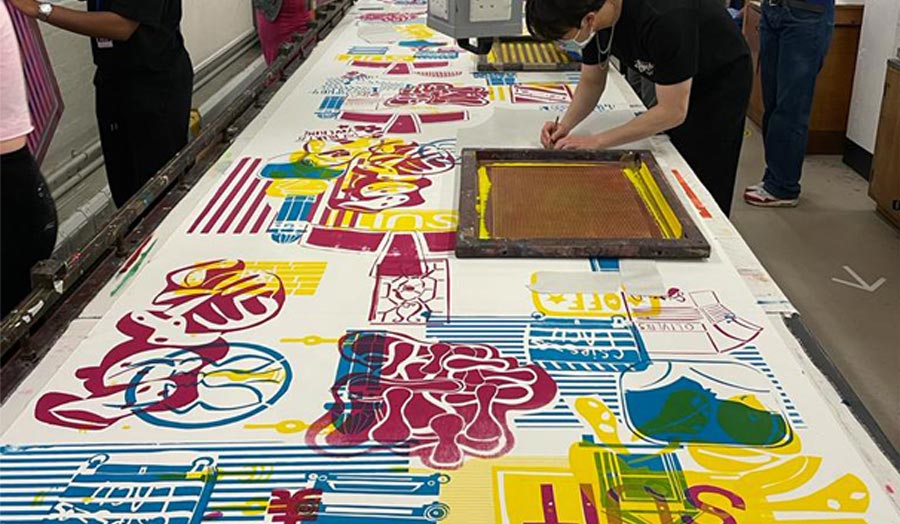 Fossils by Gill Self, 2020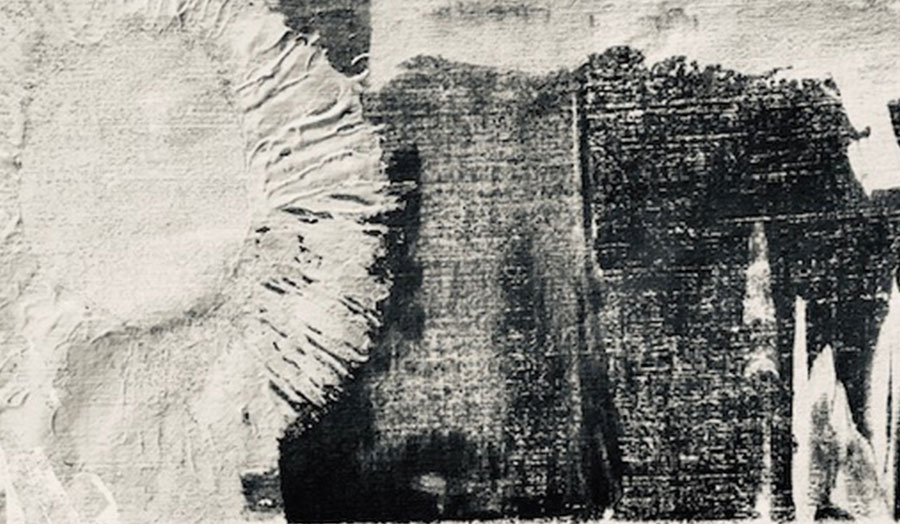 Plates of Memories by Katrina Walker, 2020
Tools without functions by Jeanne Izard, 2020
Petticoat Lane, Syeda Rahman, 2021
Brutalist weave by Rachel Strachan, 2020
More about this course
The course is taught by a team of experts that includes professional textile artists, practitioners and designers, as well product designers in fashion and interior.
You'll be provided with regular feedback through tutorials to support you in your creative development and individual voice. You'll also gain current and relevant knowledge of working in the design industry to prepare you for your specialism.
You'll have opportunities to take part in a number of workshops on subjects such as dyeing, rug making and computer-aided design (CAD). You will also have chances to collaborate with your students on our jewellery design and fashion degrees.
We're proud to have industry links and live projects with multinational companies such as Adidas, Gainsborough Silk Weaving Co, Edward Crutchley, Lyle & Scott, The Print Archivist, furniture retailers Heal's and Ligne Roset, Thornback Peel and Tissage rugs.
Visit our Instagram page to view work created by our graduates and students.
Assessment
You'll be assessed via project work and essays, individual and group design practice and a final major show and dissertation.
Entry requirements
In addition to the University's standard entry requirements, you should have one of the following:
240 credits from a relevant Higher National Diploma (HND), Foundation Degree (FdA/FdSc) or equivalent international qualification in a relevant subject
240 credits from years 1 and 2 of an undergraduate degree (BA/BSc) in a relevant subject at a different institution
a portfolio interview
We encourage applications from international/EU students with equivalent qualifications. We also accept mature students with diverse backgrounds and experiences.
Portfolios and interviews
Your portfolio should be selective, but have enough work to show a range of your interests and talents. We are interested in seeing how you develop a project from beginning to end, not only finished work.
If you cannot bring certain pieces of your work to your portfolio interview, please take photographs and include them.
Physical portfolio
If you are coming in person to your interview we strongly suggest bringing a physical portfolio of work.
Things to bring:
Sketchbooks – we love to see your sketchbooks with ideas and notes, even if they are messy.
Examples of the development of a project from start to finish and the final outcome.
Some work that you are really proud of and want to talk about.
Some work that shows you experimenting with different processes.
Digital Portfolio
If you are submitting an online application, please follow these guidelines.
Things to include:
Scans or photographs demonstrating items from the list above.
Storyboarding for motion-based work.
Also include scans of sketchbook pages showing development.
Be sure to check the resolution and overall quality of your image to ensure submissions are not pixelated.
Accreditation of Prior Learning
Any university-level qualifications or relevant experience you gain prior to starting university could count towards your course at London Met. Find out more about applying for Accreditation of Prior Learning (APL).
English language requirements
To study a degree at London Met, you must be able to demonstrate proficiency in the English language. If you require a Student visa you may need to provide the results of a Secure English Language Test (SELT) such as Academic IELTS. This course requires you to meet our standard requirements
If you need (or wish) to improve your English before starting your degree, the University offers a Pre-sessional Academic English course to help you build your confidence and reach the level of English you require.
Modular structure
The modules listed below are for the academic year 2022/23 and represent the course modules at this time. Modules and module details (including, but not limited to, location and time) are subject to change over time.
Year 3 modules include:
This module currently runs:

all year (September start) - Friday morning
all year (September start) - Tuesday afternoon
all year (September start) - Tuesday morning
all year (September start) - Friday afternoon

Together with the Major Project Realisation module, this module is intended to prepare 3D Design students for independent practice, entry into the professional work-place, or for higher studies.

Through synthesis of knowledge of processes and principles, using an appropriate range of intellectual, creative and practical skills, students will design and develop self-directed projects. These will require negotiated and approved project proposals. Students will undertake in-depth research, well constructed design and making strategies and the exercise of thinking skills resulting in a significant body of creative work for exhibition. Using creative exploration and experimentation, students will undertake research, idea generation, concept development, material investigation, sampling, modelling or prototyping and visualisations that lead towards the project proposals.

The module will require students to critique and reflect upon their own work, adopt the professional standards of their disciplines and their positions in their creative sectors. The module emphasises self-direction and personal focus whilst acknowledging external and professional expectations and constraints.
Through the projects students will affirm their creative identities as they prepare to enter their professional fields and evidence their understanding of their future direction and position including in the context of professional responsibility and ethics.

This module currently runs:

all year (September start) - Wednesday afternoon
all year (September start) - Wednesday morning

Critical and Contextual Studies (CCS) Level 6 results in an independent dissertation. It builds on two years of undergraduate study that critically engages students in the history and theory of their discipline, its extent and conventions, and its broader social and material context in culture and contemporary practice.

Students undertake an enquiry into a topic of their own choice and, based on this enquiry, develop a sustained critical study building on techniques and knowledge developed in previous years. This study demonstrates the student's ability to research a topic thoroughly, use appropriate methods of investigation, and work in a methodical and organised way to develop a coherent argument. It affords a sophisticated instrument for interrogating, testing and presenting ideas, and encourages the student to deploy and develop a variety of skills to show how well they can conduct and present a critical investigation.

The module rewards criticality and innovation and provides a platform for ambitious, independent work. To this end, it offers individual supervision designed to support the student's learning. The subject-matter of the dissertation can be theoretical, technical, or historical. In terms of format, the dissertation may be envisaged in different ways and can include visual, technical or other non-written material which may form the subject of the enquiry and comprise an integral part of the whole.

The dissertation may be practice-based and include field-work and primary research in its methodology; or it might be theoretical in its outlook and draw predominantly on secondary sources. Its form and approach can reflect a broad range of discipline-specific approaches based on discussion and agreement with the supervisor and/or course leader.

This module currently runs:

all year (September start) - Friday morning
all year (September start) - Tuesday afternoon
all year (September start) - Tuesday morning
all year (September start) - Friday afternoon

This Major Project module enables textile design students to prepare for independent practice in the workplace or to progress onto higher studies. It is the opportunity to syn-thesise specialist knowledge and skills and effectively communicate these.

Students will exercise and communicate their abilities in selecting, analysing and ap-plying knowledge, skills and understanding to a fully researched project in order to properly understand their strengths, interests and position in their field, and their poten-tial for future professional development. A negotiated and approved proposal will con-firm individual projects and direction.

Students will show an understanding of, and ability to negotiate the complex and changing nature of problems in the professional sector and will devise and apply real-istic strategies for constructing, applying and managing a process designed to provide solutions.

A professional standard of realisation, contextualisation and presentation will be ex-pected, providing the elements for a portfolio of practice with which students may enter the field of employment, self-employment or further studies.

This module currently runs:

all year (September start) - Wednesday afternoon
all year (September start) - Friday afternoon

This module requires students to develop the skills and knowledge required to undertake a researched, targeted exhibition or competition entry, or competitive submission for a commission, presenting the work they have developed within the major project in a professional manner. Students will apply understanding of the codes and conventions of competition, exhibition or commissioned work, contemporary curatorial practice, editorial and competitor approaches within a public exhibition. This will represent their independent critical position in relation to academic learning and professional practices.

The module demands a creative and disciplined approach to collaboration with relevant stakeholders and external partners. Within the module, students will experience work-related learning through live exhibition set up and realisation, submission for commission, competition or placement. Students will refine a range of transferable skills in communication, management, research and analysis and are encouraged to reflect and report on the work-relevant skills they develop throughout. Action planning, contribution to professional meetings, goal setting, negotiating, networking, project management, self-appraisal, team working are core to this module.
In the realisation of the exhibition/competition/commission students will develop and provide personal self-promotion outcomes to a professional standard, while negotiating the research aims of the brief and demonstrating mature creative practice.
The submission should reflect professional, creative and intellectual identity in preparation for entry to the workplace.
What our students say
"The difference between London Met and many other universities is the focus on post-graduation employment. There is a great emphasis on practical skills for the workplace and the importance of workshops and hands-on experience."
National Student Survey
"Studio culture has transformed the experience for me. I really appreciate the chance to explore what my practice may be when I graduate. Teaching staff have been excellent, giving me just enough freedom to explore, but not so much that I get lost! Excellent facilities. Excellent technicians."
National Student Survey
"My time at London Met on the textile design course was brilliant! I was so stimulated and enriched by the projects and seminars. It not only taught me in-depth textile knowledge but also key life skills and a lot about myself. The teachers are open minded and supportive, always looking for new ways to help you achieve your potential and bring out your creativity."
National Student Survey
"The best thing for me was the variety of subjects you could study. I even tried my hand at textile jewellery designing which I loved! I enjoyed my time and experiences at London Met so much that I applied to do a postgraduate course there!"
National Student Survey
Where this course can take you
Upon completion of the degree you could enter textile, fashion or interior design roles including designer-maker, industry designer, buyer, technologist, stylist and design journalist, or progress on to a master's course.
Our graduates have gone on to work at companies including Timberland, Harrods, the Fashion Model Directory and River Island.
Successful graduate designer makers include Vicky Cowin, Stephanie Witts, Lisa Bloomer and Claire Whelan.
Textiles student Majeda Clarke was shortlisted for a Bemz Design Award and went on to create her collection with UNESCO.
Important information about this course
We're committed to continuously improving our degree courses to ensure our students receive the best possible learning experience. Many of the courses in our School of Art, Architecture and Design are currently under review for 2023-24 entry. We encourage you to apply as outlined in the how to apply section of this page and if there are any changes to your course we will contact you. All universities review their courses regularly and this year we are strengthening our social sciences and professions courses to better reflect the needs of employers and ensure you're well-equipped for your future career.
Additional costs
Please note, in addition to the tuition fee there may be additional costs for things like equipment, materials, printing, textbooks, trips or professional body fees.
Additionally, there may be other activities that are not formally part of your course and not required to complete your course, but which you may find helpful (for example, optional field trips). The costs of these are additional to your tuition fee and the fees set out above and will be notified when the activity is being arranged.
If you're a UK applicant wanting to study full-time starting in September, you must apply via UCAS unless otherwise specified. If you're an international applicant wanting to study full-time, you can choose to apply via UCAS or directly to the University.
If you're applying for part-time study, you should apply directly to the University. If you require a Student visa, please be aware that you will not be able to study as a part-time student at undergraduate level.
When to apply
The University and Colleges Admissions Service (UCAS) accepts applications for full-time courses starting in September from one year before the start of the course. Our UCAS institution code is L68.
If you will be applying direct to the University you are advised to apply as early as possible as we will only be able to consider your application if there are places available on the course.
To find out when teaching for this degree will begin, as well as welcome week and any induction activities,
view our academic term dates
.