Why study this course?
Are you driven by design innovation? Looking to put your creative vision at the heart of your future career? Our Fashion Textiles BA (Hons) course is the perfect route for you to explore and expand on your drawing and design concepts as you complete your own samples and products. You'll find your modules are focused on developing and refining your practical skills in textile design and making.
As a student of our School of Art, Architecture and Design you'll be studying in the creative heart of East London, and your education will be enriched by the various neighbouring industries and your own diverse and inclusive learning cohort. Then there's your teaching staff: engaged and approachable, they put their own professional experience to use to provide our students with invaluable support and guidance. We pride ourselves on the supportive and enthusiastic learning community we build between our staff and students. On top of all of this, you'll deliver your projects to real-world industry partners!
Our textiles courses saw high results across the board for student satisfaction in the National Student Survey (NSS) 2021. They received scores of 95% for the teaching, 93% for learning opportunities, 93% for assessment and feedback, 97% for academic support and 90% for organisation and management.
We're fourth in the country for fashion and textiles according to the Guardian university league tables 2022.
In the print room at London Met
Nanci Lynch's live project for Edward Crutchley, 2021
Students working in the print room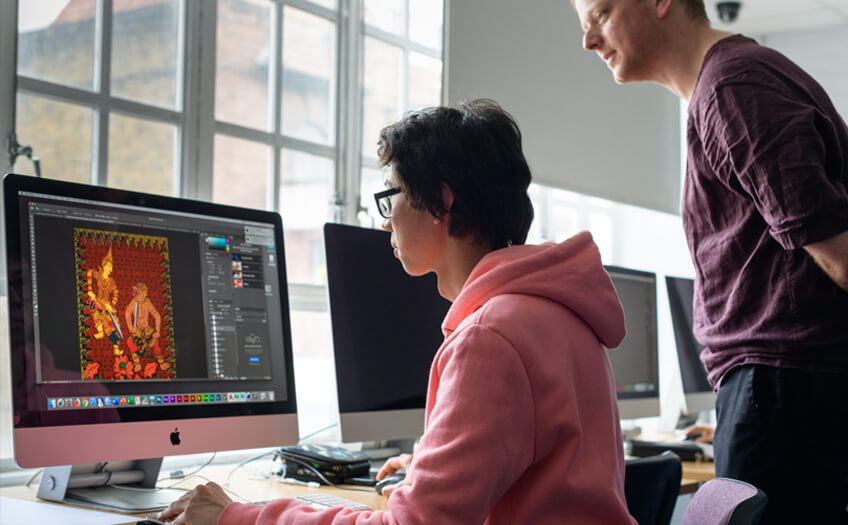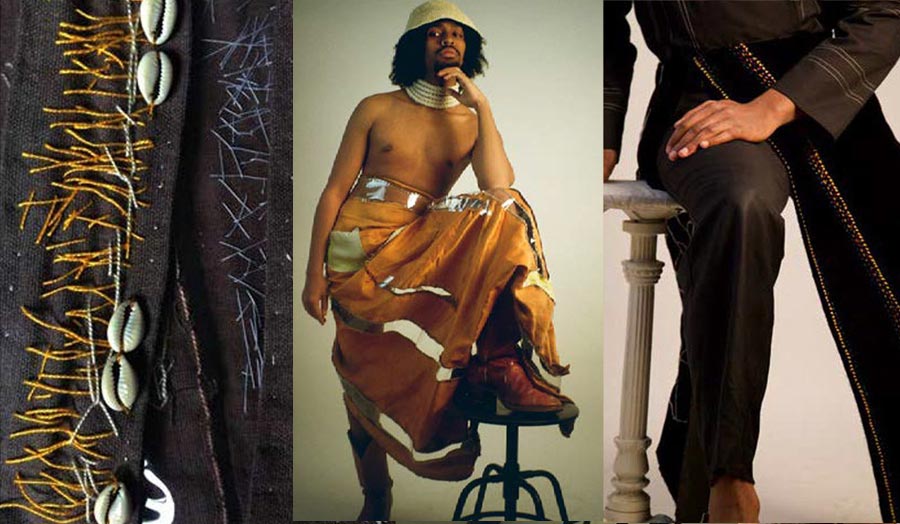 Barbican project by Arianna Walters, 2020
Mythology, by Chris Kaewhin, 2020
Imperfections, joint project by Syeda Rahman and Lizeth Gallegos
Recycle, Reduce, Rethink, by Amber Jibb, 2020
Naga Mask project, by Chris Kaehwin, 2020
WGSN live project, by Arianna Walters, 2020
More about this course
Study fashion textiles for your undergraduate degree and you'll graduate ready to take on a career in textile design for apparel. As a textile designer for fashion products you could find yourself creating and experimenting for fashion brands and houses, design studios, textile manufacturers or as an independent practitioner. This sector offers a very large and diverse field for creative work, bursting with exciting opportunities for talented graduates.
When you join the School of Art, Architecture and Design at London Met you'll become part of a rich learning community. Our students aren't only encouraged to keep a finger on the pulse of the art and design world, but to stake their claims in driving these developments. We recognise each student as an individual creative person with their own unique vision and personality. We work to ensure they have the confidence and self-knowledge to enter the professional arena of textiles, with pride in their identity as a creative force. You'll therefore find that once you join the course you'll have generous access to workshops and equipment from across the School. Think ceramics, woodworking and silversmithing alongside your sewing, screenprinting and weaving facilities.
As well as ensuring your creative learning experience is as rich and exciting as possible, we also keep your future in mind, and work to ensure you graduate with relevant experience. All second and third year projects are delivered in collaboration with industry partners, ensuring an awareness of the diversity of employment directions, and all second and third year students have the option to take part in relevant fashion textile industry group trips. Destinations have previously included London, Bradford, Paris and Florence.
Textiles for fashion offers an ever-fertile environment for creativity and change. This course will train you in the traditions of the craft and process, with broad studies in materials, manufacture, colour and textural design, whilst saving plenty of space for the highly innovative individual and personal responses to the ever-changing fashion environment.
You'll also learn about the increasing research into and adaptation of historic materials and processes for textile design, enabling you to reflect on the value of different approaches adapted to current contexts and the global fashion environment. These approaches include striving for more local procurement, slower and more careful design and fabrication and greater consideration for the longevity and durability of designed products.
Visit @textiles_ldnmetarts to take a look at work from our current students and graduates.
Assessment
Assessment is inclusive and based upon practical work, reflective practice, presentations and written formats. You'll be given regular feedback on your project and participation throughout the course.
Entry requirements
In addition to the University's standard entry requirements, you should have:
a minimum of grades BBC in three A levels in relevant subjects (or a minimum of 112 UCAS points from an equivalent Level 3 qualification, eg BTEC National, OCR Diploma or Advanced Diploma)
a portfolio review
English Language GCSE at grade C/4 or above (or equivalent)
If you don't have traditional qualifications or can't meet the entry requirements for this undergraduate degree, you may still be able to gain entry by completing our Textiles (including foundation year) BA (Hons), Fashion (including foundation year) BA (Hons) or Art and Design (including foundation year) BA (Hons) degree.
We encourage applications from international/EU students with equivalent qualifications. If you live in the UK, you will be invited to a portfolio interview. If you live outside the UK you will be required to submit a small portfolio of work via email.
Accreditation of Prior Learning
Any university-level qualifications or relevant experience you gain prior to starting university could count towards your course at London Met. Find out more about applying for Accreditation of Prior Learning (APL).
English language requirements
To study a degree at London Met, you must be able to demonstrate proficiency in the English language. If you require a Student visa you may need to provide the results of a Secure English Language Test (SELT) such as Academic IELTS. For more information about English qualifications please see our English language requirements.
If you need (or wish) to improve your English before starting your degree, the University offers a Pre-sessional Academic English course to help you build your confidence and reach the level of English you require.
Modular structure
The modules listed below are for the academic year 2021/22 and represent the course modules at this time. Modules and module details (including, but not limited to, location and time) are subject to change over time.
Year 1 modules include:
Year 2 modules include:
Year 3 modules include:
What our students say
"The staff are excellent at providing the right amount of challenge and support and they are always available to help when you really need it."
Lorraine Feldman, textiles graduate, 2021
"I feel secure and confident in my own design aesthetic."
Jodie Barnacle Best, textiles graduate, 2020
"We all help each other by giving advice about our work and I've grown confident to speak about my practice. My tutors and peers have supported me to be what I am."
Chris Kaewhin, textiles graduate
Where this course can take you
Whether you aspire to be a craftsperson or a designer for the fashion industry working for a huge high street brand or a couture house, our Fashion Textiles BA (Hons) will prepare you for a bright and exciting career.
Upon graduating, you can enter the professional design and fashion design sectors in a variety of ways. Our alumni have pursued successful careers, including in:
print and knitwear design
editorial
model casting
teaching at all levels
providing studio design work
managing small design studios (either their own or as employees)
their own businesses, including Iyanu and Georgia Farrell Design (working alongside established brands including Victoria Beckham, Timberland, Tommy Hilfiger Harrods, River Island and Zinc Design Studio)
Additional costs
Please note, in addition to the tuition fee there may be additional costs for things like equipment, materials, printing, textbooks, trips or professional body fees.
Additionally, there may be other activities that are not formally part of your course and not required to complete your course, but which you may find helpful (for example, optional field trips). The costs of these are additional to your tuition fee and the fees set out above and will be notified when the activity is being arranged.
Stay up to date
Find out what our students are up to at @textiles_ldnmetarts on Instagram. You can also follow our School of Art, Architecture and Design on Twitter, Facebook and Instagram to stay up to date with everything that's happening in our creative community.
Contact the course leader
Have questions related to the course content and what you can expect when you get here? Feel free to email James Hunting, Fashion Textiles BA (Hons) course leader. 
Discover Uni – key statistics about this course
Discover Uni is an official source of information about university and college courses across the UK. The widget below draws data from the corresponding course on the Discover Uni website, which is compiled from national surveys and data collected from universities and colleges. If a course is taught both full-time and part-time, information for each mode of study will be displayed here.
If you're a UK applicant wanting to study full-time starting in September, you must apply via UCAS unless otherwise specified. If you're an international applicant wanting to study full-time, you can choose to apply via UCAS or directly to the University.
If you're applying for part-time study, you should apply directly to the University. If you require a Student visa, please be aware that you will not be able to study as a part-time student at undergraduate level.
If you're applying for a degree starting in January/February, you can apply directly to the University.
When to apply
The University and Colleges Admissions Service (UCAS) accepts applications for full-time courses starting in September from one year before the start of the course. Our UCAS institution code is L68.
If you will be applying direct to the University you are advised to apply as early as possible as we will only be able to consider your application if there are places available on the course.
To find out when teaching for this degree will begin, as well as welcome week and any induction activities,
view our academic term dates
.