Designs by London Met Textiles students set to adorn historic Petticoat Lane Market
Vote now for your favourite designs to be installed at the Market.
Date: 15 March 2021
Designs by London Met Textiles BA students are set to be installed at Petticoat Lane Market, in the form of banners hanging along the lampposts of Wentworth Street and Middlesex Street.
This comes as part of wider community efforts to improve the Market led by the City of London, with local people asked to contribute their experiences and memories of the market.
The students have produced designs that were inspired by community workshops held with local primary schools, residents, and workers from the area. These designs were presented to the public during the Aldgate in Winter online festival by Course Leader James Hunting in December.
Each student has provided 3 designs for the public to choose from, displayed on the Petticoat Lane Give My View website. A neighbouring gallery, The Leyden Gallery is providing designs, also developed with local communities, for lampposts on Middlesex Street.
All are now invited to vote for their favourite designs by 16 April. The 16 most popular designs will be installed at Petticoat Lane's Markets in time for its re-opening in late spring.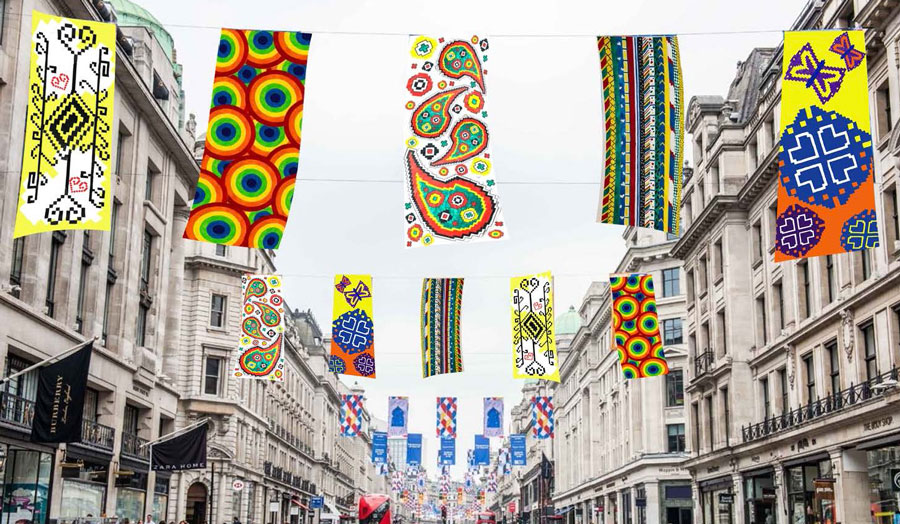 Image credit: Katy Thomas (BA Textiles)