Why study this course?
Biology is the study of life. Taught in our state-of-the-art Science Centre, you'll learn that life processes result from a series of complex interactions at a molecular, cellular and whole organism level. You'll develop hands-on skills that employers look for, as well as a detailed understanding of everything from biological systems at molecular level to ecosystems.
We're ranked in the top 30 universities in the UK for biosciences according to the Guardian university league tables 2022.
London Met's state-of-the-art Superlab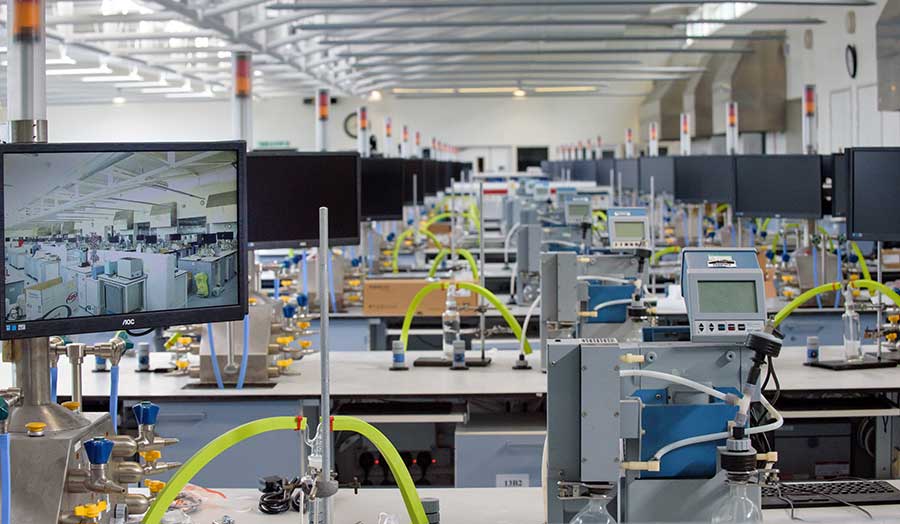 More about this course
Biology is the study of life. All life processes are the result of a series of complex interactions at a molecular, cellular and whole organism level. Through this course, you'll investigate these systems in all their fascinating detail, and develop your academic and practical skills, enabling you to interpret and analyse biological data and evaluate your own work.
The Biological Science BSc (Hons) degree encompasses a broad scope of topics designed to interest the enquiring mind. During the first year you will acquire a solid foundation in cell biology, biochemistry, molecular biology, genetics, microbiology, chemistry, human anatomy and data analysis. You'll begin to understand how macromolecules drive cellular processes and you'll be introduced to essential data handling and laboratory skills.
In the second year you'll start to specialise, and will explore state-of-the-art research techniques such as gene cloning, amplification of DNA and microbiological techniques.
Your third year will include a year-long research project on the topic of your choosing. You can choose to specialise or to follow a more varied pathway.
Biological scientists play a key role in identifying diseases, monitoring treatment and conducting research into infectious diseases and other pathologies. You'll graduate from this course ready to join the field, with a sound knowledge base and a high standard of cognitive, practical and transferable skills.
Assessment
Your skills are assessed by essays, group reports, poster presentations, seminar presentations, data analysis and interpretation exercises, and the production and maintenance of a personal profile and curriculum vitae.
Professional accreditation
On graduation, you'll be eligible to apply for Graduate or Associate Membership of the Royal Society of Biology, depending on your degree classification.
Entry requirements
In addition to the University's standard entry requirements, you should have:
a minimum of 112 points from A levels including a C in Biology or Human Biology(or a minimum of 112 UCAS points from an equivalent Level 3 qualification, eg BTEC Level 3 Extended Diploma/Diploma; or Advanced Diploma; or Progression Diploma; or Access to HE Diploma of 60 credits)
English Language and Mathematics GCSE at grade C/grade 4 or above (or equivalent)
If you don't have traditional qualifications or can't meet the entry requirements for this undergraduate degree, you may still be able to gain entry by completing our Biological Science (including foundation year) BSc (Hons).
Applicants with relevant professional qualifications or extensive professional experience will also be considered on a case by case basis.
Accelerated study
If you have relevant qualifications or credit from a similar course it may be possible to enter this course at an advanced stage rather than beginning in the first year. Please note, advanced entry is only available for September start. See our information for students applying for advanced entry.
Accreditation of Prior Learning
Any university-level qualifications or relevant experience you gain prior to starting university could count towards your course at London Met. Find out more about applying for Accreditation of Prior Learning (APL).
English language requirements
To study a degree at London Met, you must be able to demonstrate proficiency in the English language. If you require a Student visa you may need to provide the results of a Secure English Language Test (SELT) such as Academic IELTS. For more information about English qualifications please see our English language requirements.
If you need (or wish) to improve your English before starting your degree, the University offers a Pre-sessional Academic English course to help you build your confidence and reach the level of English you require.
Modular structure
The modules listed below are for the academic year 2021/22 and represent the course modules at this time. Modules and module details (including, but not limited to, location and time) are subject to change over time.
Year 1 modules include:
Year 2 modules include:
Year 3 modules include:
What our students say
"Years spent at university are not only about gaining knowledge, but also about developing yourself as an individual. That's why London Met is a great university to go to – it's so multicultural that you get immersed in different cultures right away, which makes you more aware and tolerant, and encourages you to see situations from other perspectives. The environment at London Met is very supportive when it comes to extracurricular activities; you're encouraged to take up volunteering or take part in the Science Society's activities."
Where this course can take you
Biological Science graduates go on to careers in the areas of biomedical science, education, genetics and bioinformatics.
As a biological science graduate your acquired research and analytical skills, problem-solving and organisational skills allow for entry to many other possible careers utilising these transferable skills. These include accountancy, science journalism, marketing and teaching.
This course provides an entry point into graduate studies at MSc or PhD level, either studying at London Met or at other educational establishments or research institutes.
University research
The School's research follows four main strands: biomedical sciences and applied biology, dietetics and nutrition, pharmaceutical science, and sports science and therapy.
Many of the course staff are members of the molecular systems research group, which falls under biomedical sciences. The members of this group collectively have expertise in a wide range of disciplines, such as molecular biology and genetics, chemistry, phytochemistry, and pharmacology, and their research includes such topics as complex disease, metals in health and nanotoxicology.
Additional costs
Please note, in addition to the tuition fee there may be additional costs for things like equipment, materials, printing, textbooks, trips or professional body fees.
Additionally, there may be other activities that are not formally part of your course and not required to complete your course, but which you may find helpful (for example, optional field trips). The costs of these are additional to your tuition fee and the fees set out above and will be notified when the activity is being arranged.
Discover Uni – key statistics about this course
Discover Uni is an official source of information about university and college courses across the UK. The widget below draws data from the corresponding course on the Discover Uni website, which is compiled from national surveys and data collected from universities and colleges. If a course is taught both full-time and part-time, information for each mode of study will be displayed here.
If you're a UK applicant wanting to study full-time starting in September, you must apply via UCAS unless otherwise specified. If you're an international applicant wanting to study full-time, you can choose to apply via UCAS or directly to the University.
If you're applying for part-time study, you should apply directly to the University. If you require a Student visa, please be aware that you will not be able to study as a part-time student at undergraduate level.
When to apply
The University and Colleges Admissions Service (UCAS) accepts applications for full-time courses starting in September from one year before the start of the course. Our UCAS institution code is L68.
If you will be applying direct to the University you are advised to apply as early as possible as we will only be able to consider your application if there are places available on the course.
To find out when teaching for this degree will begin, as well as welcome week and any induction activities,
view our academic term dates
.