Dr Eirini Meimaridou is a Reader in Molecular Mechanisms of Disease at the School of Human Sciences. She teaches on modules from foundation year throughout to postgraduate level. Dr Meimaridou is acting Postgraduate Research Coordinator for the school, overseeing the admission, induction, training and monitoring the progress of the PhD candidates.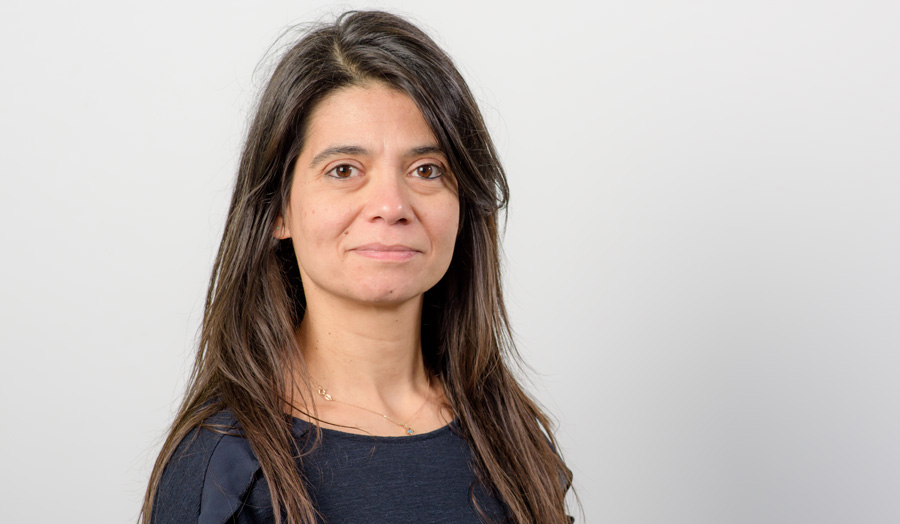 Dr Eirini Meimaridou
Eirini Meimaridou graduated from UMIST, the University of Manchester with a degree in Biochemistry and Applied Molecular Biology. During her undergraduate and master's degree (MPhil, UMIST) she developed an interest in the cellular and molecular mechanisms involved in human diseases. Her postgraduate studies focused on the effect of oxidative stress in the development of kidney stones and she was awarded a PhD from University College London.
Dr Meimaridou then worked in the Institute of Psychiatry, Psychology and Neuroscience, Kings College London, studying the role of proteins involved in insulin pathway in the pathogenesis of Alzheimer's disease. In 2007, she joined the Centre for Endocrinology at Queen Mary University of London and her research interests focused on protein misfolding, oxidative stress in endocrine diseases such as obesity and glucocorticoid deficiency.
Eirini's research interests lie in endocrinology and specifically in adrenal redox homeostasis. Adrenal gland provides the link between the disciplines of endocrinology, immunology and inflammation, neuroscience and metabolism. It is the most highly vascularised organ and has the highest content in antioxidants in the human body. Therefore, it is important to understand how redox imbalance impacts on adrenal function and how these pathophysiological perturbations are linked to metabolic syndrome diseases.
Dr Meimaridou teaches at all levels on the Applied Bioscience and Biomedical Science degrees. She is the module leader for Metabolism (BE5058) Biochemical Pathology (BE6005) and Toxicology (BE6057), Metabolism (BE5058) and Metabolic Biochemistry for Nutrition (NU5050) and Dietitians (DT5060) and for Methods of Bioanalytical Analysis (BC5051). She also convenes the postgraduate module of Integrated Pathology (BM7002).
Jack L Williams, Anju Paudyal, Sherine Awad, James Nicholson, Dominika Grzesik, Joaquin Botta, Eirini Meimaridou, Avinaash V Maharaj, Michelle Stewart, Andrew Tinker, Roger D Cox, and Lou A Metherell. Mylk3 null C57BL/6N mice develop cardiomyopathy, whereas Nnt null C57BL/6J mice do not. Life Sci Alliance. 2020; April 3(4):e201900593.
Davies K, Meimaridou E (2020) Biological basis of child health 1: Understanding the cell and genetics. Nursing Children and Young People. doi: 10.7748/ncyp.2020.e1047. Published online: 09 March 2020.
Avinaash Maharaj*, Federica Buonocore,* Eirini Meimaridou, Gerard Ruiz-Babot, Leonardo Guasti,Hwei-Ming Peng, Cameron P Capper, Rathi Prasad, Claire R Hughes, Ashwini Maudhoo, Elizabeth Crowne, Timothy D Cheetham, Caroline E Brain, Jenifer P Suntharalingham, Niccolò Striglioni, BilginYuksel, Fatih Gurbuz, Sangay Gupta, Robert Lindsay, Robert Couch, Helen A Spoudeas, Tulay Guran, Stephanie Johnson, Dallas J Fowler, Louise S Conwell, Aideen M McInerney-Leo, Delphine Drui, Bertrand Cariou, Juan P Lopez Siguero, Mark Harris, Emma L Duncan, Peter C Hindmarsh, Richard J Auchus, Malcolm D Donaldson, John C Achermann, Louise A Metherell. Predicted Benign and Synonymous variants in CYP11A1 Causes Primary Adrenal Insufficiency through Missplicing. Journal of Endocrine Society 2018 Oct 30; 3(1): 201-221.
Chortis V, Taylor AE, Doig CL, Walsh MD, Meimaridou E, Jenkinson C, Rodriguez-Blanco G, Ronchi CL, Jafri A, Metherell LA, Hebenstreit D, Dunn WB, Arlt W, Foster PA. Nicotinamide Nucleotide Transhydrogenase as a novel treatment target in adrenocortical carcinoma. Endocrinology 2018 Aug;159 (8): 2836-2849.
Meimaridou E1, Goldsworthy M, Chortis V, Fragouli E, Foster PA, Arlt W, Cox R, Metherell LA. RNAseq reveals NNT is a key regulator of adrenal redox homeostasis and steroidogenesis in mice. Journal for Endocrinology 2018 Jan; 236 (1): 13-28.
Rathi Prasad, Irene Hadjidemetriou, Avinaash Maharaj, Eirini Meimaridou, Paul van Veldhoven, Federica Buonocore, Moin Saleem, Jenny Hurcombe, Eliana Barbagelata, Ignacio Bergadá, Hamilton Cassinelli, Urmi Das, GOSgene, Ruth Krone, Bulent Hacihamdioglu, Erkan Sari, Ediz Yesilkaya, Helen L Storr, Maria Clemente, Monica Fernandez-Cancio, Nuria Camats, Nanik Ram, John C Achermann, Leonardo Guasti, Debora Braslavsky, Tulay Guran, L.A. Metherell. SGPL1 mutations cause adrenal insufficiency and steroid resistant nephrotic syndrome. J Clin Invest 2017 Mar 1;127(3):942-953
Prasad R, Kowalczyk JC, Meimaridou E, StorrHL, Metherell LA. Oxidative stress and adrenocortical insufficiency. J Endocrinol. 2014 Jun;221(3): R63-73
Yates R, Katugampola H, Cavlan D, Cogger K, Meimaridou E, Hughes C, Metherell L, Guasti L, King P. Adrenocortical development, maintenance, and disease. Curr Top Dev Biol. 2013; 106:239-312
Josep Agulleiro M, Cortés R, Fernández-Durán B, Navarro S, Guillot R, Meimaridou E, Clark AJ, Cerdá-Reverter JM. Melanocortin 4 receptor becomes an ACTH receptor by coexpression of melanocortin receptor accessory protein 2. Mol Endocrinol. 2013 Nov;27(11):1934-45.
E.Meimaridou, J. Kowalczyk, L. Guasti, C.R. Hughes, F.Wagner, P. Frommolt, P. Nürnberg, N.P. Mann, R. Banerjee, H.N. Saka, J.P.Chapple, P.J.King, A.J.L.Clark, L.A.Metherell. Mutations in Nicotinamide Nucleotide Transhydrogenase (NNT) are associated with adrenal insufficiency implicating oxidative stress as a pathogenetic mechanism. Nature Genetics. 2012: May 27; 44(7):740-2.
Outstanding mid-career researcher (London Met). Staff Award, London Metropolitan University (2020).

Early Career Research Fund, Life Science Initiative-QMUL – Redox imbalances and its effect on metabolic syndrome related diseases (2016).

17th Adrenal Cortex conference (Boston). New Investigator oral communication award (2016).

Early Career Grant, Society for Endocrinology- Redox homeostasis in the control of energy balance in the adrenal (2016).

British Society for Endocrinology (BES) Annual Meeting (Edinburgh). Invited to compete to Early Career Endocrinologist's oral communication award and has been awarded as highly commended (2015).

Endo 2015-The Endocrine Society's Annual Meeting (San-Diego). Invited to compete in the Endocrine Society's Presidential Poster Competition for a first-authored top-scoring abstract for presentation at the Annual Meeting & Expo (2015).
Funding
Rescaling Fund, London Metropolitan University: £5,000 for a project identifying novel signalling pathways reliant on adrenal gland EVs and their functional linkage with obesity and diabetes.
Honorary Lecturer in The Centre for Endocrinology, Queen Mary University of London.

STEM Ambassador encouraging young people to progress further in Science, Technology, Engineering and Mathematics (STEM) subjects.

Dr Meimaridou holds memberships with the British Endocrine Society, Biochemical Society and the Society for Free Radical Research.