Why study this course?
The Biomedical Science BSc degree is designed to help you play a key role in identifying diseases, monitoring treatment and undertaking research into infectious diseases and other pathologies. This course gives you the academic competencies required by the Health and Care Professions Council (HCPC) and is accredited by the Institute of Biomedical Science (IBMS).
A one-year sandwich placement or two single-semester work placement modules can be undertaken to give you valuable work experience.
This course received a 95% overall student satisfaction rate in the 2018 National Student Survey.
We're ranked in the top 30 universities in the UK for biosciences according to the Guardian university league tables 2022.
London Met's state-of-the-art Superlab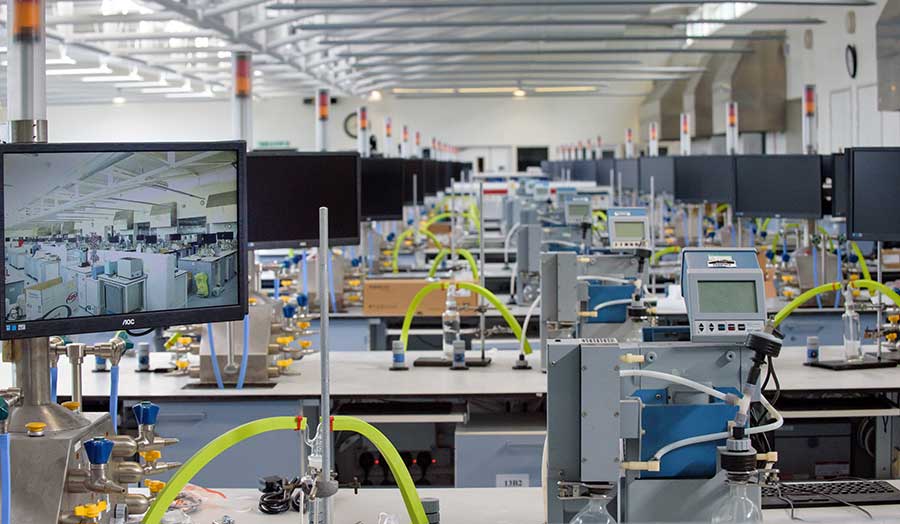 More about this course
Biomedical science transforms our understanding of health and disease. This course will put you at the cutting edge of science as you study everything from healthcare issues to research-based science, learning how disease is caused, identified and treated.
The subjects covered during the course are similar to the pre-clinical components of a medical degree, with topics including the structure and function of biological fluids, cells and tissues, and the relationship between bodily systems and health, disease and the environment.
Your study programme is designed so that core modules are delivered over two whole days per week, enabling you to juggle lectures with study and other responsibilities. Your first year will include an introduction to the key principles of biomedical science and place a heavy focus on developing the necessary laboratory skills and data manipulations. In Year 2, you'll look at core discipline areas such as blood science, infection and tissue science. You'll also get plenty of hands-on experience in a wide range of research techniques, such as spectrophotometry, polymerase chain reaction (PCR), electrophoresis and enzyme-linked immunosorbent assay (ELISA).
Your third year will comprise more in-depth study of the major disciplines of biomedical science and you'll have the opportunity to specialise with an independent research project on a topic of your choosing.
Throughout the course, you'll take practical classes in our £30 million Science Centre in London, which is equipped with 280 workstations and is one of the largest of its kind in Europe. You'll also benefit from the guidance of our knowledgeable academic staff – many of whom are active researchers – as well as a range of external speakers working in the pathology industry who will keep you up to date with the latest biomedical developments and laboratory practices.
Assessment
You'll be assessed through self-diagnostic testing, debates, group work, essays and cumulative exams.
Your practical skills will be assessed through coursework assignments, including those in the final project module.
Your data handling skills will be assessed through practical reports, problem-solving exercises, information abstracting and reviewing exercises, poster presentations, exams and seminar presentations.
Professional accreditation
While studying this course, you can become an eStudent of the Institute of Biomedical Science. On graduation, you'll be eligible to apply for Licentiate Membership.
Entry requirements
In addition to the University's standard entry requirements, you should have:
a minimum of 112 points from 3 A levels including a B in Biology or Human Biology
or a minimum of 112 UCAS points from an equivalent Level 3 qualification eg BTEC Level 3 Extended Diploma/Diploma, Advanced Diploma, Progression Diploma or Access to HE Diploma with 60 credits
If you don't have traditional qualifications or can't meet the entry requirements for this undergraduate degree, you may still be able to gain entry by completing our Biomedical Science (including foundation year) BSc (Hons).
Accelerated study
If you have relevant qualifications or credit from a similar course it may be possible to enter this course at an advanced stage rather than beginning in the first year. Please note, advanced entry is only available for September start. See our information for students applying for advanced entry.
Accreditation of Prior Learning
Any university-level qualifications or relevant experience you gain prior to starting university could count towards your course at London Met. Find out more about applying for Accreditation of Prior Learning (APL).
English language requirements
To study a degree at London Met, you must be able to demonstrate proficiency in the English language. If you require a Student visa you may need to provide the results of a Secure English Language Test (SELT) such as Academic IELTS. For more information about English qualifications please see our English language requirements.
If you need (or wish) to improve your English before starting your degree, the University offers a Pre-sessional Academic English course to help you build your confidence and reach the level of English you require.
Modular structure
The modules listed below are for the academic year 2021/22 and represent the course modules at this time. Modules and module details (including, but not limited to, location and time) are subject to change over time.
Year 1 modules include:
Year 2 modules include:
Year 3 modules include:
Where this course can take you
Many graduates go on to careers in hospital and private medical laboratories as healthcare assistants, phlebotomists and biomedical scientists. Previous students have found work with companies such as NHS pathology laboratories and The Doctors Laboratory.
Other possible career paths include management, medical research, education and specialised laboratory work. The skills you'll learn are also applicable to public health (water, foodstuffs, disease surveillance etc), veterinary laboratories, blood banks, forensics, and pharmaceuticals development.
You can also use this course as an entry point into the competitive world of graduate medical studies and go on to MSc and PhD studies here at London Met or at other educational institutions. Together with further studies, this course serves as a great entry point to the newly emerging role of physician associate.
Additional costs
Please note, in addition to the tuition fee there may be additional costs for things such as equipment, materials, printing, textbooks, trips or professional body fees.
Additionally, there may be other activities that are not formally part of your course and not required to complete your course, but which you may find helpful (for example, optional field trips). The costs of these are additional to your tuition fee and the fees set out above and will be notified when the activity is being arranged.
Discover Uni – key statistics about this course
Discover Uni is an official source of information about university and college courses across the UK. The widget below draws data from the corresponding course on the Discover Uni website, which is compiled from national surveys and data collected from universities and colleges. If a course is taught both full-time and part-time, information for each mode of study will be displayed here.
If you're a UK applicant wanting to study full-time starting in September, you must apply via UCAS unless otherwise specified. If you're an international applicant wanting to study full-time, you can choose to apply via UCAS or directly to the University.
If you're applying for part-time study, you should apply directly to the University. If you require a Student visa, please be aware that you will not be able to study as a part-time student at undergraduate level.
When to apply
The University and Colleges Admissions Service (UCAS) accepts applications for full-time courses starting in September from one year before the start of the course. Our UCAS institution code is L68.
If you will be applying direct to the University you are advised to apply as early as possible as we will only be able to consider your application if there are places available on the course.
To find out when teaching for this degree will begin, as well as welcome week and any induction activities,
view our academic term dates
.