Why study this course?
This undergraduate degree is taught in our £30 million Science Centre and offers an array of study options including bioinformatics and molecular modelling, systems pathology and virology. This gives you a deep understanding of the scientific basis of health and disease. With medical bioscientists in great demand, the course equips you for a career in areas such as medical and allied research institutes, health agency laboratories, bio-analytical forensic units and the pharmaceutical industry. You also have the option undertake a 15-week work placement as part of the degree course.
We're ranked in the top 30 universities in the UK for biosciences according to the Guardian university league tables 2022.
London Met's state-of-the-art Superlab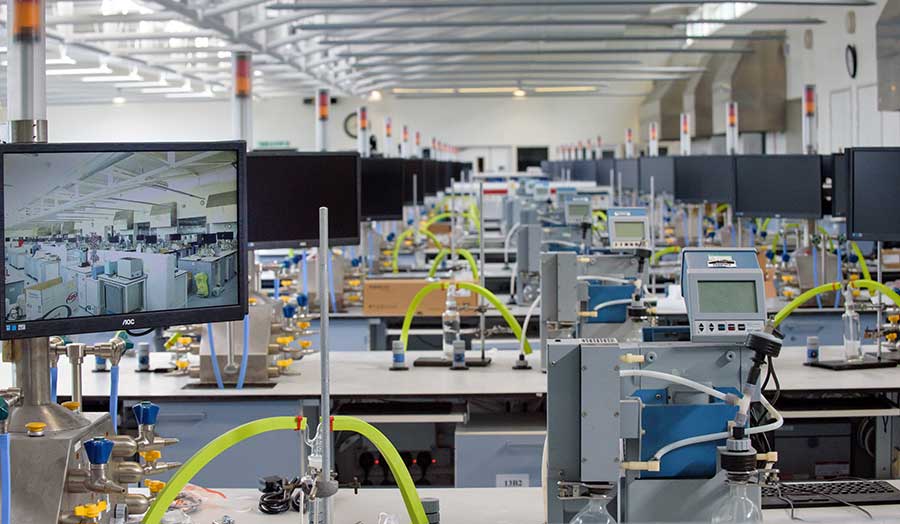 More about this course
On your journey to becoming a medical bioscientist, you'll study both medicine and biology to gain a better understanding of human health. Subjects such as molecular modelling and pharmacology will allow you to explore the ways your theoretical knowledge can be put to practice to fight sickness and disease.
In your first year you'll gain a broad knowledge of all relevant scientific principles including anatomy, biology, biochemistry and physiology. As you progress through the course, you'll have the opportunity to specialise, with fascinating modules such as bioinformatics – developing software to analyse biological data – and medical genetics, the study of hereditary disorders, on offer.
As well as developing a strong understanding of scientific theory, you'll get hands-on experience in our state-of-the-art Science Centre, which is equipped with 280 workstations. You'll also have the opportunity to complete a 15-week work placement in your final year, during which you'll be exposed to the industry and gain valuable experience for your CV.
Assessment
Your practical skills will be assessed through coursework assignments, including those in the project module. Your data handling skills will be assessed through practical reports, problem-solving exercises, information abstracting and reviewing exercises, poster presentations and seminar presentations.
You'll receive regular, supportive feedback throughout the course.
Professional accreditation
On graduation, you'll be eligible to apply for Associate Membership of the Royal Society of Biology (AMRSB).
Entry requirements
In addition to the University's standard entry requirements, you should have:
a minimum of 112 points from A levels including a C in Biology or Human Biology (or a minimum of 112 UCAS points from an equivalent Level 3 qualification eg BTEC Level 3 Extended Diploma/Diploma, Advanced Diploma, Progression Diploma or Access to HE Diploma with 60 credits)
English Language and Mathematics GCSE at grade C/grade 4 or above (or equivalent)
Entry from appropriate foundation and access courses will also be considered.
If you don't have traditional qualifications or can't meet the entry requirements for this undergraduate degree, you may still be able to gain entry by completing our Medical Bioscience (including foundation year) BSc (Hons).
Accelerated study
If you have relevant qualifications or credit from a similar course it may be possible to enter this course at an advanced stage rather than beginning in the first year. Please note, advanced entry is only available for September start. See our information for students applying for advanced entry.
Accreditation of Prior Learning
Any university-level qualifications or relevant experience you gain prior to starting university could count towards your course at London Met. Find out more about applying for Accreditation of Prior Learning (APL).
English language requirements
To study a degree at London Met, you must be able to demonstrate proficiency in the English language. If you require a Student visa you may need to provide the results of a Secure English Language Test (SELT) such as Academic IELTS. For more information about English qualifications please see our English language requirements.
If you need (or wish) to improve your English before starting your degree, the University offers a Pre-sessional Academic English course to help you build your confidence and reach the level of English you require.
Modular structure
The modules listed below are for the academic year 2021/22 and represent the course modules at this time. Modules and module details (including, but not limited to, location and time) are subject to change over time.
Year 1 modules include:
Year 2 modules include:
Year 3 modules include:
What our students say
"The best thing about the course is that it was so interesting. Because the degree was fun, it was much easier and more enjoyable to learn new skills and information. The lecturers were very professional. They were all intelligent and great teachers, with their own individual styles; some of them were extraordinary."
National Student Survey
Where this course can take you
Medical bioscience graduates go on to careers in the areas of biomedical science, education, pharmaceutical science, genetics and bioinformatics.
As a medical bioscience graduate your acquired research and analytical skills, problem-solving and organisational skills allow for entry to many other possible careers utilising these transferable skills. These include accountancy, science journalism, marketing and teaching.
This course provides an entry point into graduate studies at MSc or PhD level, either studying at London Met or at other educational establishments or research institutes.
Additional costs
Please note, in addition to the tuition fee there may be additional costs for things like equipment, materials, printing, textbooks, trips or professional body fees.
Additionally, there may be other activities that are not formally part of your course and not required to complete your course, but which you may find helpful (for example, optional field trips). The costs of these are additional to your tuition fee and the fees set out above and will be notified when the activity is being arranged.
Discover Uni – key statistics about this course
Discover Uni is an official source of information about university and college courses across the UK. The widget below draws data from the corresponding course on the Discover Uni website, which is compiled from national surveys and data collected from universities and colleges. If a course is taught both full-time and part-time, information for each mode of study will be displayed here.
If you're a UK applicant wanting to study full-time starting in September, you must apply via UCAS unless otherwise specified. If you're an international applicant wanting to study full-time, you can choose to apply via UCAS or directly to the University.
If you're applying for part-time study, you should apply directly to the University. If you require a Student visa, please be aware that you will not be able to study as a part-time student at undergraduate level.
When to apply
The University and Colleges Admissions Service (UCAS) accepts applications for full-time courses starting in September from one year before the start of the course. Our UCAS institution code is L68.
If you will be applying direct to the University you are advised to apply as early as possible as we will only be able to consider your application if there are places available on the course.
To find out when teaching for this degree will begin, as well as welcome week and any induction activities,
view our academic term dates
.