Why study this course?
More than an introduction to the fundamentals of chemistry, this degree provides intensive basic training that is designed to give you the core laboratory, IT and performance skills to succeed in your chosen career.
The course is accredited by the Royal Society of Chemistry and provides partial exemption from the academic requirements for Chartered Chemist status.
You'll be taught in our £30 million Science Centre, which has more than 280 cutting-edge work stations, and gain hands-on practical experience alongside analytical techniques such as UV and infrared spectroscopy.
Our lecturers are often industry experts or active researchers and there are opportunities for on-the-job experience through our work placement scheme.
London Met's state-of-the-art Superlab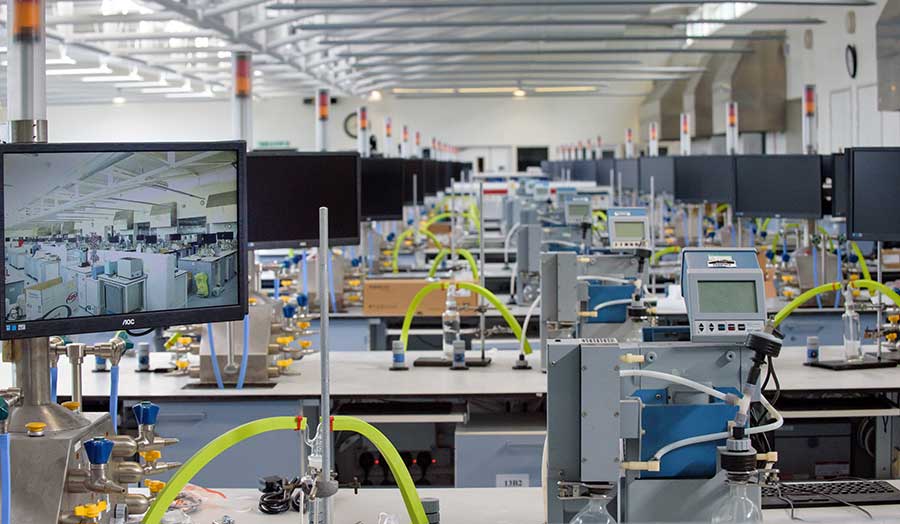 More about this course
With access to 280 workstations and specialist labs, you'll get the chance to explore electrochemical analysis, gas and liquid chromatography, infrared and nuclear magnetic resonance (NMR) spectrometry and many other modern techniques used in the industry today.
Your first year will cover the fundamentals of physical, inorganic and organic chemistry to prepare you for the study of forensic, pharmaceutical, medical and analytical science. As the course progresses, you'll have the chance to explore the practical and technical aspects of chemistry at a more in-depth level as well as having the opportunity to specialise in areas that interest you such as forensic chemistry or bioanalytical science.
In your final year, you'll undertake a year-long research project on a topic of your choosing within the chemistry sector. You'll also have the option to undertake an on-the-job placement as part of your degree, giving you valuable hands-on experience and exposure to the industry.
Assessment
You'll be assessed through mini-tests, practical reports, posters, presentations, essays, short-answer tests and examinations.
Professional accreditation
The course is accredited by the Royal Society of Chemistry (RSC) to give partial exemption from the requirements for Chartered Chemist status.
Entry requirements
In addition to the University's standard entry requirements, you should have:
a minimum of 112 points from A levels including a C in Chemistry, or a minimum of 112 UCAS points from an equivalent Level 3 qualification, eg BTEC Level 3 Extended Diploma/Diploma, Advanced Diploma, Progression Diploma or Access to HE Diploma with 60 credits
English Language and Mathematics GCSE at grade C/grade 4 or above (or equivalent)
If you don't have traditional qualifications or can't meet the entry requirements for this undergraduate degree, you may still be able to gain entry by completing our Chemistry (including foundation year) BSc (Hons) or Sciences (including foundation year) BSc (Hons) degree.
Applicants with relevant professional qualifications or extensive professional experience will also be considered on a case by case basis.
Accelerated study
If you have relevant qualifications or credit from a similar course it may be possible to enter this course at an advanced stage rather than beginning in the first year. Please note, advanced entry is only available for September start. See our information for students applying for advanced entry.
Accreditation of Prior Learning
Any university-level qualifications or relevant experience you gain prior to starting university could count towards your course at London Met. Find out more about applying for Accreditation of Prior Learning (APL).
English language requirements
To study a degree at London Met, you must be able to demonstrate proficiency in the English language. If you require a Student visa you may need to provide the results of a Secure English Language Test (SELT) such as Academic IELTS. For more information about English qualifications please see our English language requirements.
If you need (or wish) to improve your English before starting your degree, the University offers a Pre-sessional Academic English course to help you build your confidence and reach the level of English you require.
Modular structure
The modules listed below are for the academic year 2021/22 and represent the course modules at this time. Modules and module details (including, but not limited to, location and time) are subject to change over time.
Year 1 modules include:
Year 2 modules include:
Year 3 modules include:
What our students say
"What surprised me the most is the amount of extra help students can receive during their studies at London Met. Not only during lectures and tutorials but also all the workshops and drop-in sessions with either lecturers or success coaches. If you feel too shy to ask questions during classes, you can always seek individual support. I know this is not the case at every institution. That's what made me appreciate my time at the University."
Martyna Ostrowska, Chemistry BSc graduate. You can read more about her experience at London Met here.
Where this course can take you
You'll leave this course ready to pursue a career in the high-technology, science-based industries. You could choose to work in sectors such as education or healthcare, with roles such as developer, lab technician and researcher on offer.
Many of our previous graduates are now employed by companies such as Mundipharma Research. Others have gone on to postgraduate study.
You'll also develop the IT, research and analytical skills that are valued by employers in many different industries such as finance and commerce.
Collaborative and international links
The School has links with universities in other countries in Europe, India and China.
Additional costs
Please note, in addition to the tuition fee there may be additional costs for things like equipment, materials, printing, textbooks, trips or professional body fees.
Additionally, there may be other activities that are not formally part of your course and not required to complete your course, but which you may find helpful (for example, optional field trips). The costs of these are additional to your tuition fee and the fees set out above and will be notified when the activity is being arranged.
Discover Uni – key statistics about this course
Discover Uni is an official source of information about university and college courses across the UK. The widget below draws data from the corresponding course on the Discover Uni website, which is compiled from national surveys and data collected from universities and colleges. If a course is taught both full-time and part-time, information for each mode of study will be displayed here.
If you're a UK applicant wanting to study full-time starting in September, you must apply via UCAS unless otherwise specified. If you're an international applicant wanting to study full-time, you can choose to apply via UCAS or directly to the University.
If you're applying for part-time study, you should apply directly to the University. If you require a Student visa, please be aware that you will not be able to study as a part-time student at undergraduate level.
When to apply
The University and Colleges Admissions Service (UCAS) accepts applications for full-time courses starting in September from one year before the start of the course. Our UCAS institution code is L68.
If you will be applying direct to the University you are advised to apply as early as possible as we will only be able to consider your application if there are places available on the course.
To find out when teaching for this degree will begin, as well as welcome week and any induction activities,
view our academic term dates
.