Katherine is currently lecturing in the School of Human Sciences across Level 3, undergraduate, postgraduate and PhD supervision levels, as well as undertaking research projects.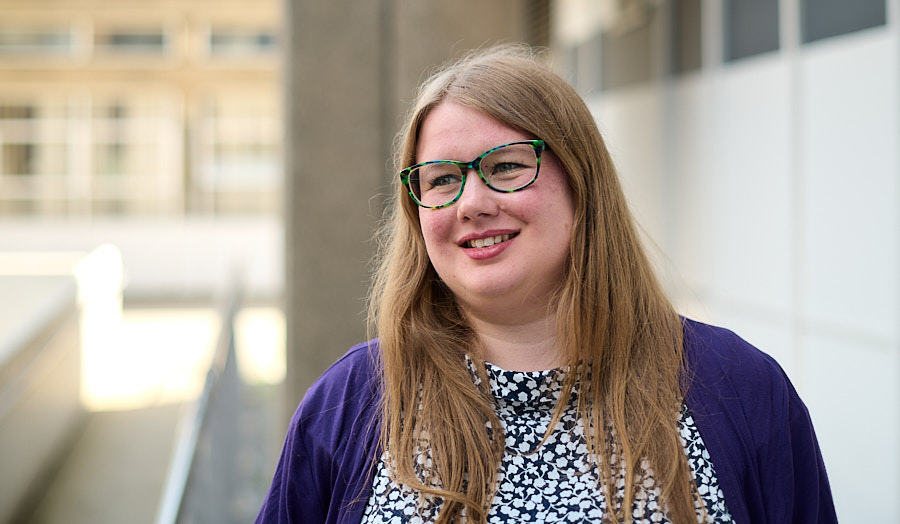 More about Dr. Katherine Fisher
Katherine previously worked as a postdoctoral researcher in the group of Professor Lena Daumann at the Ludwig Maximillian University in Munich, Germany. While in Germany she worked on the European Research Council (ERC) funded LANTHANOPHOR project, offering expertise in lanthanide chemistry, electron paramagnetic resonance (EPR) spectroscopy and quantum mechanics (QM) simulations. She was also responsible for the departmental training for the EPR spectrometer.
Katherine successfully completed her DPhil in Inorganic Chemistry at the University of Oxford in September 2020, where she also attained her MChem first-class honours degree in 2015.
She was also successful in attaining the Engineering and Physical Sciences Research Council (EPSRC) and Medical Research Council (MRC) funding and was part of the Biomedical Imaging Centre for Doctoral Training. Her DPhil project was supervised by Professor Stephen Faulkner and her DPhil research involved lanthanide and metallodrug chemistry, with application to the field of medical imaging using analytical techniques such as nuclear magnetic resonance (NMR), luminescence spectroscopy and EPR spectroscopy.
Katherine has previously undertaken research in the area of dynamic nuclear polarisation magnetic resonance imaging (DNP MRI). Her current research interests include lanthanide chemistry, EPR spectroscopy and computational chemistry.
Katherine's primary role is to teach physics and physical chemistry modules and topics at all levels. She teaches students on London Met's chemical and pharmaceutical science courses at undergraduate and postgraduate levels, as well as on the foundation year programmes. She's responsible for teaching courses on physical chemistry, physics and general chemistry.
Katherine particularly enjoys teaching areas such as thermodynamics, quantum mechanics and electrochemistry. Her favourite topic to lecture on is EPR spectroscopy. As well as giving lectures on this topic here at London Met, she's also given workshops and lectures on this at Ludwig Maximillian University in Munich, Germany.
She's able to teach chemistry in a large number of areas and has also previously taught biophysical chemistry at various colleges at the University of Oxford. She was even a non-stipendiary lecturer at St Anne's College, University of Oxford for a number years, teaching organic chemistry to students whilst undertaking her DPhil.
Mesoionic Carbenes in Low- to High-Valent Vanadium Chemistry Neururer, F; Liu, S; Leitner, D; Baltrun, M; Fisher, K; Kopacka, H; Wurst, K; Daumann, L; Munz, D; Hohloch, S. Inorg. Chem., 2021 September 2021
Quinol-Containing Ligands Enable High Superoxide Dismutase Activity by Modulating Coordination Number, Charge, Oxidation States and Stability of Manganese Complexes throughout Redox Cycling Senft, L; Moore, J; Franke, A; Fisher, K; Scheitler, A; Zahl, A; Puchta, R; Fehn, D; Ison, S; Sader, S; Ivanović- Burmazović, I; Goldsmith, C. Chem. Sci., 2021, 12, 10483 July 2021
PQQ-Aza-Crown Ether Complexes as Biomimetics for Lanthanide and Calcium Dependent Alcohol Dehydrogenases Vetsova, V A; Fisher, K R; Lumpe, H; Schäfer, A; Schneider, E K; Weis, P; Daumann, L J. Chemistry: A European Journal, 2021, 27, 10087– 10098 April 2021
Devising New Biomedical Imaging Applications for Metallodrugs Based on an Improved Understanding of Their Electronic and Magnetic Properties. Fisher, K R. Doctoral Thesis September 2020
13C Pyruvate Transport Across the Blood-Brain Barrier in Preclinical Hyperpolarised MRI Miller, J J; Grist, J T; Serres, S; Larkin, J R; Lau, A Z; Ray, K; Fisher, K R; Hansen, E; Tougaard, R S; Nielsen, P M; Lindhardt, J; Laustsen, C; Gallagher, F A; Tyler, D J; Sibson, N. Nature Scientific Reports (2018) 8:15082 October 2018
EPR of Lanthanide Complexes: exploring the consequences of ligand induced anisotropy Fisher, K; Moise, G; Bowen, A; Timmel, C; Faulkner, S; Kenwright, A. Proceedings of the 255th American Chemical Society National Meeting and Exposition. New Orleans, USA. (2018) 255:988 March 2018
Transport across the blood-brain-barrier may be limiting for hyperpolarized [1- 13C] pyruvate neuro-oncology studies Miller, J J; Larkin, J; Fisher, K; Ball, V; Ray, K; Serres, S; Tyler, D J; Lau, A Z; Sibson, N R. In Proc. Intl. Soc. Magn. Res. Med. 2017 April 2017
Dr Katherine Fisher
Lecturer in Physical Chemistry
Email Katherine