Rhiannon has experience in teaching a variety of physical and analytical chemistry topics to undergraduate, postgraduate and secondary school students.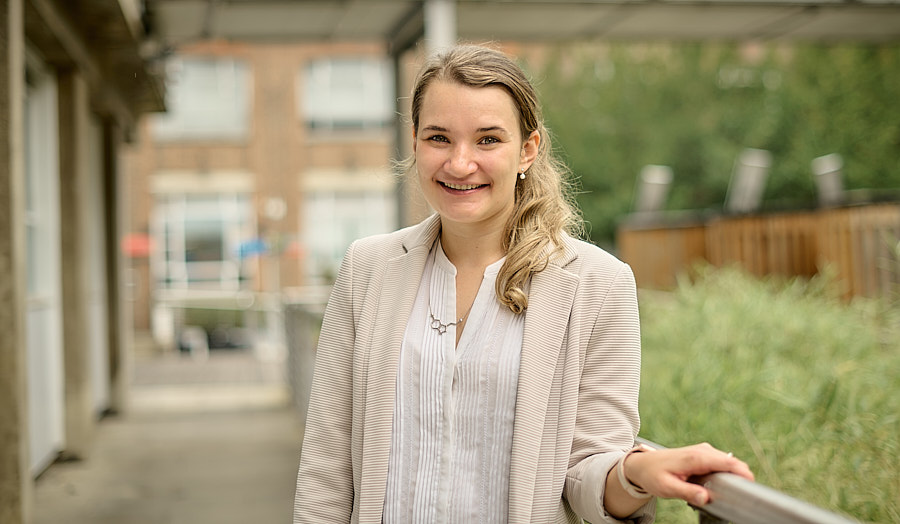 More about Dr. Rhiannon Brooks
Rhiannon completed her Chemsitry with Medicinal Chemistry MChem (Hons) at the University of Warwick, before joining the Molecular Analytical Science Centre for Doctoral Training, also at Warwick. Here, she completed a one-year master's in Analytical Science, followed by a four-year PhD supervised by Dr Ann Dixon.
Rhiannon was subsequently awarded a competitive research fellowship by the Institute of Advanced Study at the University of Warwick, which she undertook for 6 months. During this time she worked as an associate lecturer at London Metropolitan University before moving into her current position.
Rhiannon's research interests include the application of solution-state nuclear magnetic resonance, alongside other spectroscopic techniques, to the analysis of membrane-active peptides and in the design and characterisation of membrane-curvature responsive peptides for applications in drug delivery and diagnostics.
She's also passionate about science communication, outreach and widening participation.
Rhiannon teaches on the following courses:
Natural Sciences (Chemistry) BSc (Hons)
Natural Sciences (Chemistry) BSc (Hons) (including foundation year)
E. S. Jayawant, J. Hutchinson, D. Gasparíková, C. Lockey, L. Pruñonosa Lara, C. Guy, R. L. Brooks and A. M. Dixon, Chembiochem, 2021, 22, 2430-2439.
R. L. Brooks, C. S. Mistry and A. M. Dixon, Sci. Rep., 2021, 11, 6326.
R. L. Brooks and A. M. Dixon, Biochim. Biophys. Acta, Biomembr., 2020, 1862, 183160.
F. M. Maddar, D. Perry, R. Brooks, A. Page and P. R. Unwin, Anal. Chem., 2019, 91, 4632-4639.
E. Breeze, N. Dzimitrowicz, V. Kriechbaumer, R. Brooks, S. W. Botchway, J. P. Brady, C. Hawes, A. M. Dixon, J. R. Schnell, M. D. Fricker and L. Frigerio, Proc. Natl. Acad. Sci. U.S.A., 2016, 113, 10902-10907.
Dr Rhiannon Brooks
Lecturer in Chemistry and Pharmaceutical Science
Email Rhiannon