Dr. Daniel Sykes is the course leader for Chemistry BSc (Hons) and a Senior Lecturer in Inorganic Chemistry.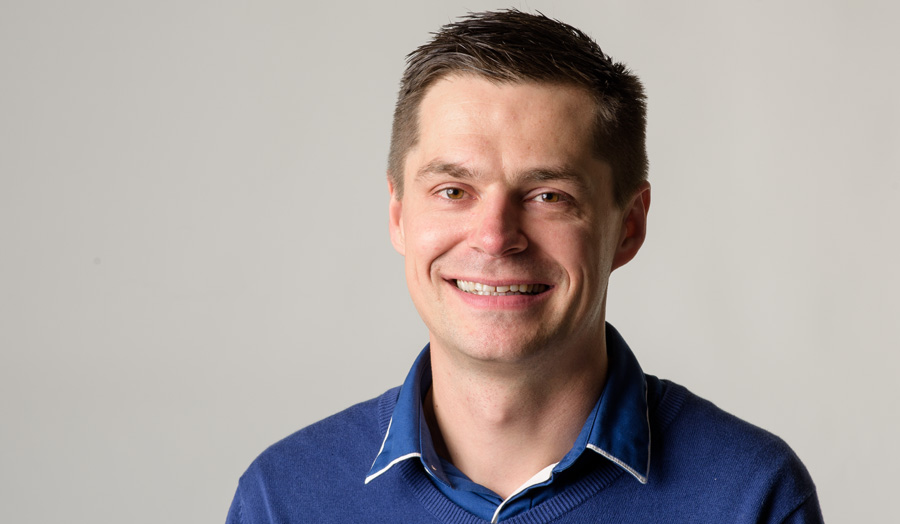 Dr Daniel Sykes
Biography
Dr Daniel Sykes gained an MChem (Hons) with year in industry from the University of Manchester. He remained in Manchester to study for a PhD under the supervision of Professor Stephen Faulkner. Following postdoctoral work at the University of Manchester, the University of Oxford and the University of Sheffield he relocated to London Metropolitan University and is now a Senior Lecturer in Inorganic Chemistry. He is currently course leader for Chemistry BSc (Hons) and Chemistry (including in foundation year) - BSc (Hons) course leader. He is also an academic tutor and recruitment coordinator for the Chemical and Pharmaceutical Sciences cluster.
Research interests
Dr Sykes' research interests lie within photophysical measurements of metal complexes, namely iridium and f-block metals including the energy transfer processes between them. This has led more recent work to focus on cell imaging and using complexes as emissive probes for diagnostic application. He has extensive experience in the synthesis and characterisation of said complexes. This work has led to numerous publications in peer reviewed journals and poster presentations/conference talks. His work has been cited over 1000 times.
Teaching
Dr Sykes' teaching responsibilities are around inorganic and practical chemistry (CY4001, CY4005, CY5009, CY6010) and project supervision of BSc, MSc and PhD students. He is extremely passionate about increasing the practical skills of his students.
He is a Fellow of Advance HE (previously the Higher Education Academy)
from completing the PGCert in Higher Education. He is also the Sandwich placement tutor.
Publications
Cell imaging using multi-photon excitation of dual emissive d-f hybrids, Elizabeth Baggeley, DK Cao, Daniel Sykes, Stanley Botchway, Julia A. Weinstein and Michael D. Ward.Chem Eur. J., 2014, 20 (29), 8898-890323.

Sensitisation of Eu(III) and Tb(III)-based luminescence by Ir(III) units in Ir/lanthanide dyads: evidence for energy transfer and electron transfer based mechanisms operating in parallel, Daniel Sykes, Ahmet J. Cankut, Noorshia Ali, Andrew Stephenson, Steven J. Spall, Simon C. Parker, Julia A. Weinstein and Michael D. Ward, Dalton Trans., 2014, 43, 6414-6428

Using remote substituents to control solution structure and anion binding in lanthanide complexes, Manuel Tropiano, Octavia A. Blackburn, James A. Tilney, Leila R. Hill, Matteo P. Placidi, Rebecca J. Aarons, Daniel Sykes, Michael W. Jones, Alan M. Kenwright, John S. Snaith, Thomas Just Sorenson and Stephen Faulkner, Chem. Eur. J., 2013, 19, 49, 16566-16571 –cover article and highlighted in Chemistry Views.

d-f Energy transfer in Ir(III)/ Eu(III) Dyads: Use of a Naphthyl Spacer as a Spatial and Energetic "Stepping Stone", Daniel Sykes, Simon Parker, Igor V. Sazanovich, Andrew Stephenson, Julia A. Weinstein and Michael D. Ward,Inorg. Chem., 2013, 52(18), 10500-10511.

Cu12and Cd16coordination cages and their Cu3and Cd3 subcomponents, and the role of inter-ligand stacking in π-stabilising cage complexes, Andrew Stephenson, Daniel Sykes, Michael D. Ward,Dalton Trans., 2013, 42, 6756-676719.

Preparation of Fluorescent Tubulin Binders, Elena Riva, Martin Mattarella, Stella Borrelli, Michael S. Christodoulou, Daniele Cartelli, Marcus Main, Stephen Faulkner, Daniel Sykes, Graziella Cappelletti, John S. Snaith and Daniele Passarella, ChemPlusChem, 2012, 77, 1-6.

Combined two-photon excitation and d-f energy-transfer in Ir/lanthanide dyads with time-gated selection from a two-component emission spectrum, Robert M. Edkins, Daniel Sykes, Andrew Beeby and Michael D. Ward, Chem. Commun., 2012, 48, 9977-997917.

Lanthanide complexes DOTA monoamide derivatives bearing an isophthalate pendent arm, Emma J. Shiells, Louise S. Natrajan, Daniel Sykes, Manuel Tropiano, Paul Cooper, Alan M. Kenwright and Stephen Faulkner, Dalton Trans.,2011, 40, 11451-11457. Funding body; EPSRC.

d-f energy transfer in a series of Ir(III)/Eu(III) dyads: energy transfer mechanisms and white light emission, Daniel Sykes, Ian S Tidmarsh, Andrea Barbieri, Igor V. Sazanovich, Julia A. Weinstein and Michael D. Ward, Inorg. Chem.,2011, 50(22), 11323-11339. Funding body; EPSRC.

Visible-light sensitisation of Tb(III) luminescence using a blue-emitting Ir(III) complex as energy-donor, Daniel Sykes and Michael D. Ward, Chem. Commun., 2011, 47, 2279. Funding body; EPSRC.
Professional activities
Dr Sykes also runs an NMR consultancy from the University. He is also an ad hoc reviewer for
Dalton Transactions and Royal Society of Chemistry Advances
. He is also a member of the 'London Met Lab: Empowering London Social Wealth' working group and coordinates the CPS groups efforts around widening participation and outreach events. Recent events have included hosting
Salter's Festivals
for year 8 students and summer schools for college students.
Contact Dr Sykes