Why study this course?
Accredited by the Institute of Biomedical Science (IBMS), this postgraduate master's course is designed for biology, medicine, biomedical and life sciences graduates who are keen to develop their knowledge in this field. Studying in London, which is renowned for its medical institutions, presents you with ample opportunity for career development.
London Met's state-of-the-art Superlab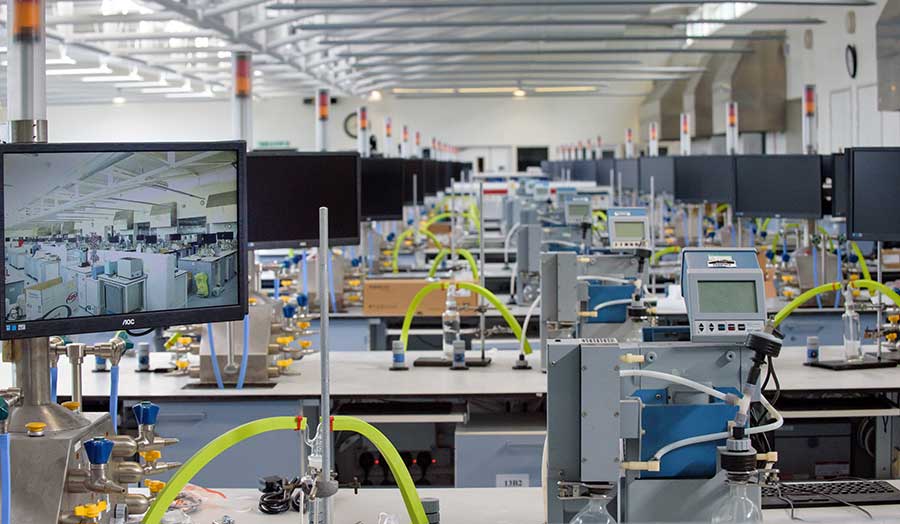 More about this course
On the Biomedical Science MSc, you'll carry out studies on biomedical science, develop a high level of scientific knowledge and understanding of disease processes and enhance your intellectual development through research projects.
By learning these advanced scientific concepts and improving your understanding of disease processes, you'll develop an informed and critical appreciation of recent scientific developments in relation to diagnostic laboratory pathology.
Where options are available, we will also help you gain additional specialist knowledge in areas such as ageing, epidemiology and medical genetics.
The research project and dissertation will present you with an opportunity to focus and enhance your intellectual development to a high standard, worthy of the IBMS accreditation.
The London Met team delivering the course have an exceptional research profile, particularly in oncology, molecular medicine, immunology and virology. Specialist guest lecturers will add their own enlightenment and passion to this fascinating subject.
Overall, the Biomedical Science MSc will provide you with an advanced study of biomedical science that will underpin your professional development and progression.
Assessment
You'll undertake a variety of assessment methods including case studies, literature evaluations, self diagnostic testing, debates, group work, presentations, coursework, essays and cumulative exams.
Data handling skills are assessed by, practical reports, problem solving exercises, information abstracting and reviewing exercises, poster presentations, exams and seminar presentations.
Practical skills are summatively assessed through the coursework assignments, including those in the final Research Project module.
Professional accreditation
This course is accredited by the IBMS, the leading professional body of biomedical scientists with over 20,000 members in over 30 countries.
Successfully passing the course will also make you eligible to sit the IBMS Higher Specialist Diploma, which in turn allows you to upgrade and become a Fellow of the IBMS, a level of membership reserved for those working at the highest level of their profession.
Entry requirements
You will be required to have:
a 2.2 UK undergraduate degree in biomedical science, although applications are welcome from other related subjects and will be considered on an individual basis
Accreditation of Prior Learning
Any university-level qualifications or relevant experience you gain prior to starting university could count towards your course at London Met. Find out more about applying for Accreditation of Prior Learning (APL).
English language requirements
To study a degree at London Met, you must be able to demonstrate proficiency in the English language. If you require a Student visa you may need to provide the results of a Secure English Language Test (SELT) such as Academic IELTS. For more information about English qualifications please see our English language requirements.
If you need (or wish) to improve your English before starting your degree, the University offers a Pre-sessional Academic English course to help you build your confidence and reach the level of English you require.
Modular structure
The modules listed below are for the academic year 2021/22 and represent the course modules at this time. Modules and module details (including, but not limited to, location and time) are subject to change over time.
Year 1 modules include:
What our students say
"The content is up-to-date with the latest advancements in science and technology, and therefore the material provided by lecturers is new. The academics don't hold my hand throughout the degree, and they have high expectations of my capabilities and I truly respect them for that. This also provides me with confidence that is applicable to the real world where I would be set a task and expected to complete it with my own initiative."
National Student Survey
"Lecturers have drop in hours every week, while module information is clearly listed and very useful. With the biggest lab in Europe, London Met was very well suited to delivering my course with its equipment and lab technicians. Events with guest lecturers and fairs are available. There was always an availability of computers and printers and a vast amount of help overall."
National Student Survey
Additional costs
Please note, in addition to the tuition fee there may be additional costs for things like equipment, materials, printing, textbooks, trips or professional body fees.
Additionally, there may be other activities that are not formally part of your course and not required to complete your course, but which you may find helpful (for example, optional field trips). The costs of these are additional to your tuition fee and the fees set out above and will be notified when the activity is being arranged.
Use the apply button to begin your application.
If you require a Student visa and wish to study a postgraduate course on a part-time basis, please read our how to apply information for international students to ensure you have all the details you need about the application process.
When to apply
You are advised to apply as early as possible as applications will only be considered if there are places available on the course.
To find out when teaching for this degree will begin, as well as welcome week and any induction activities,
view our academic term dates
.