Why study this course?
Are you fascinated by distinct materials and the objects they form, both decorative and functional? Are you drawn in by the effect of items that 'just sit'? Challenge yourself to think harder about your work and where it belongs in the wider world.
This course will train you to harness more sophisticated design and research skills, which will serve as a starting point for you to develop your design language and truly engage with meaning and context. You'll find that experimentation and radical thinking are central to learning at this level. Live projects will drive your ambitions and you'll deepen and strengthen your practice with social and collaborative interactions.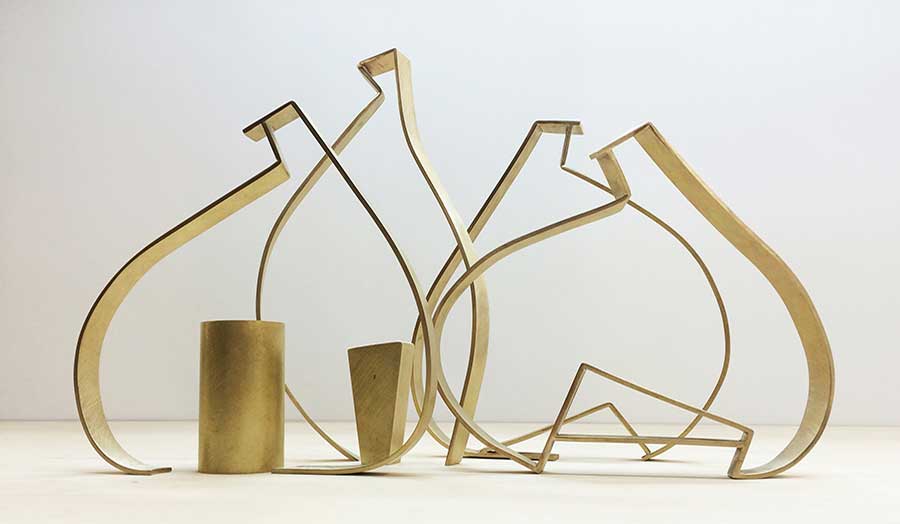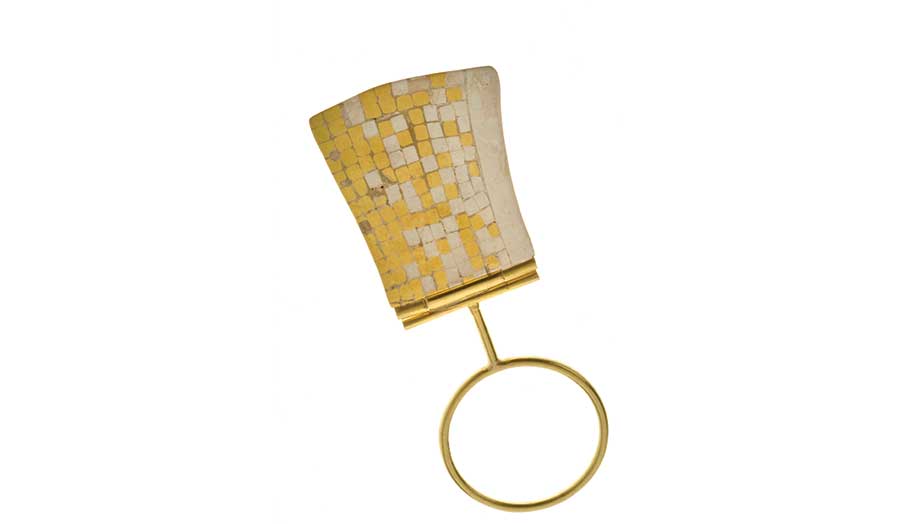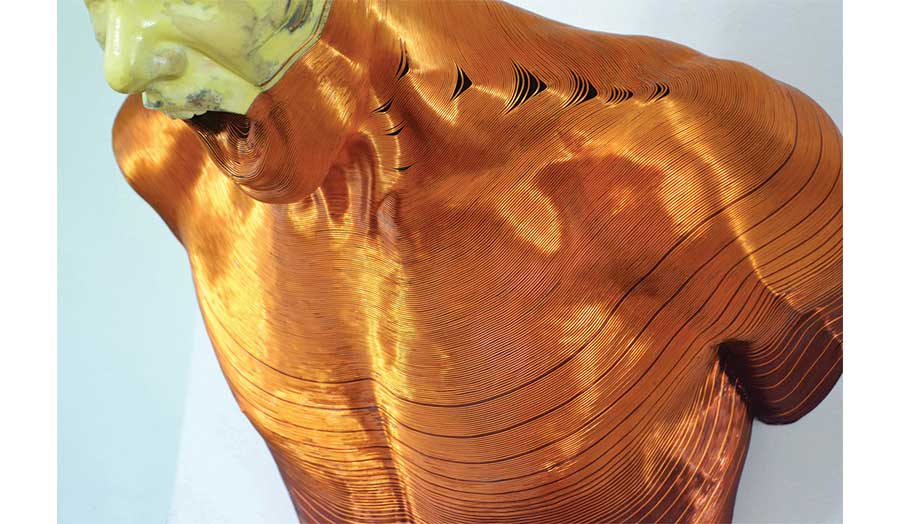 'Self Portrait' 2017, MA by Project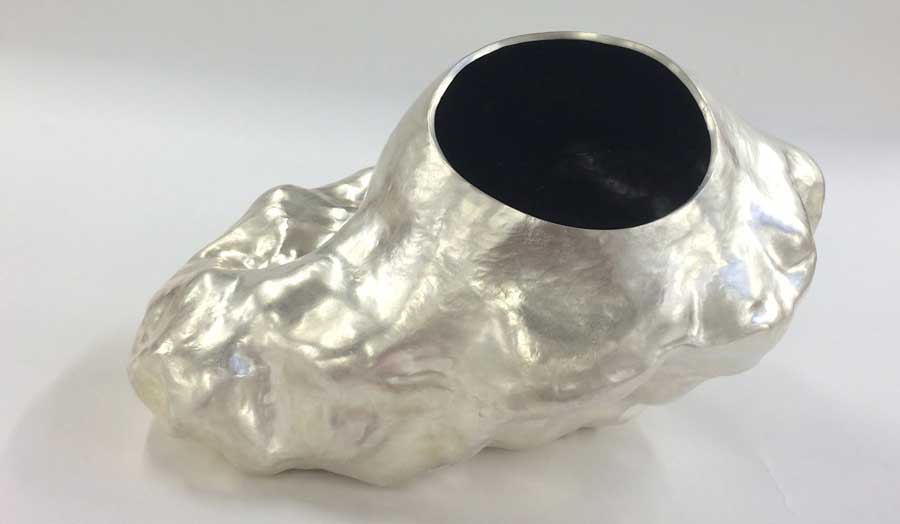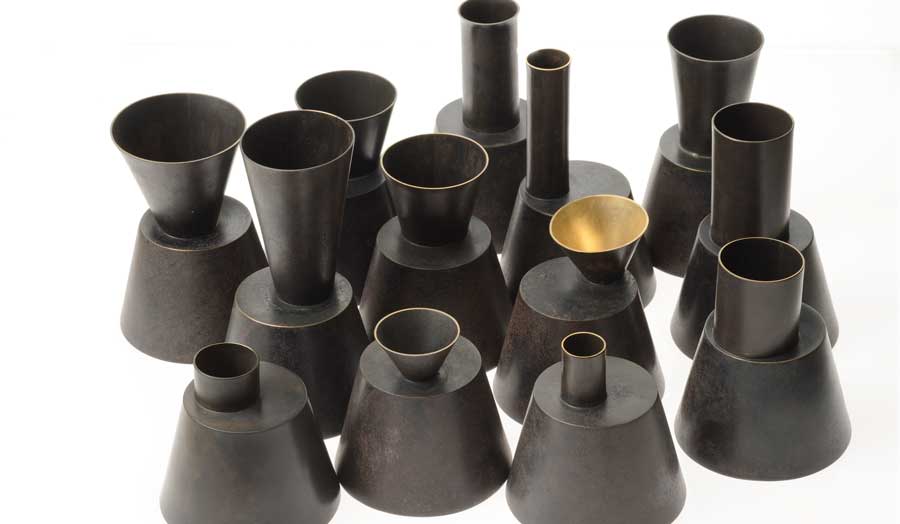 Collected forms, MA show work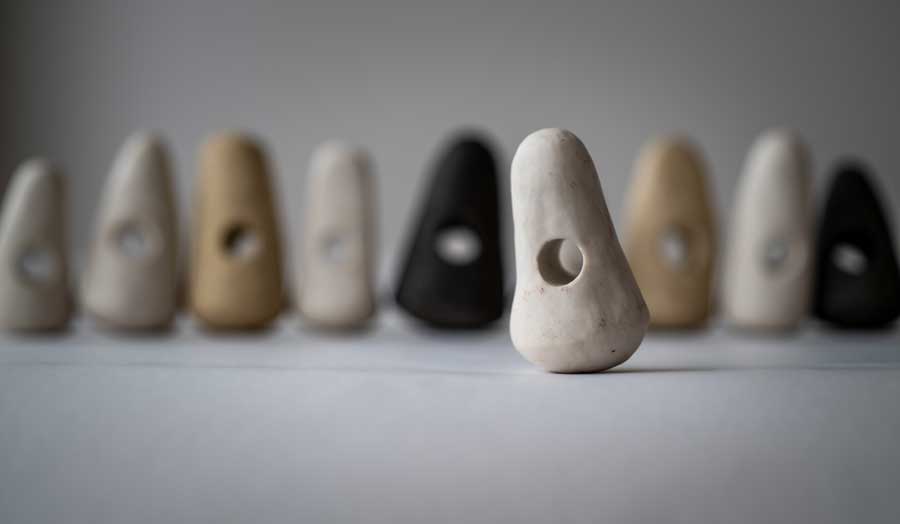 Collected forms, MA Show work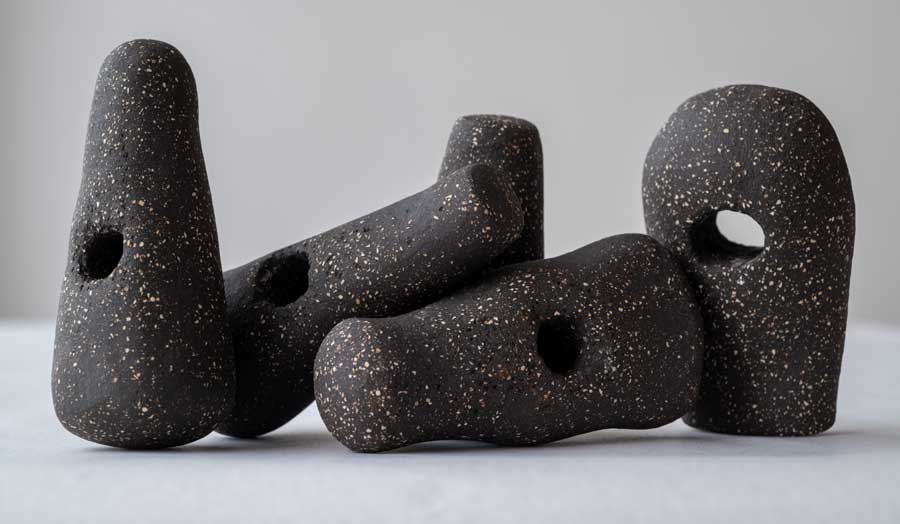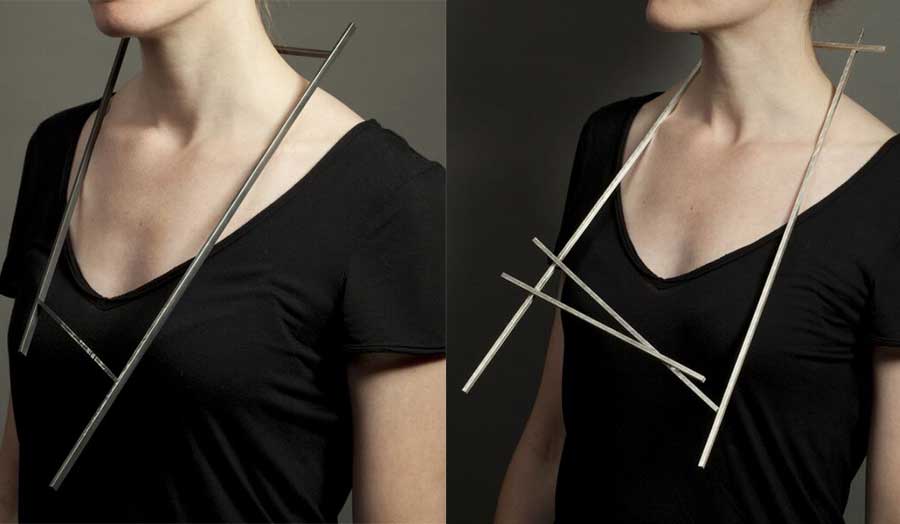 Rocking milk and cream carafes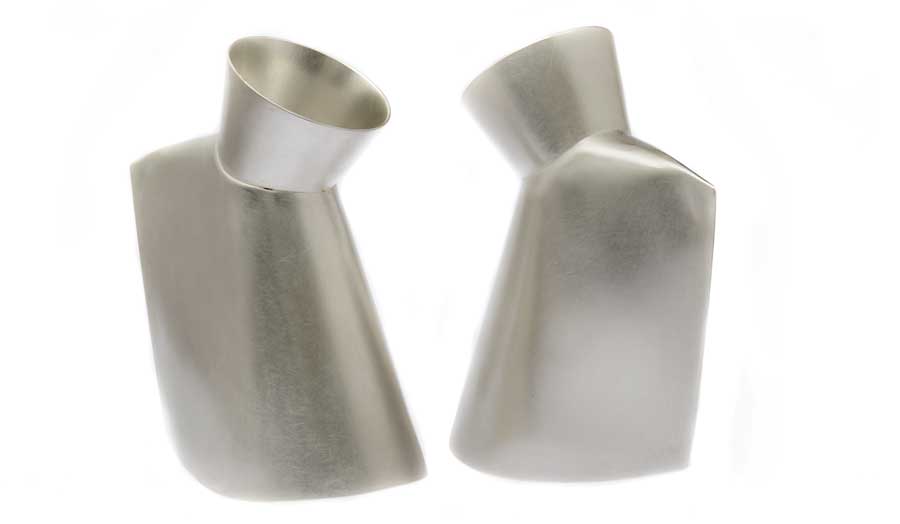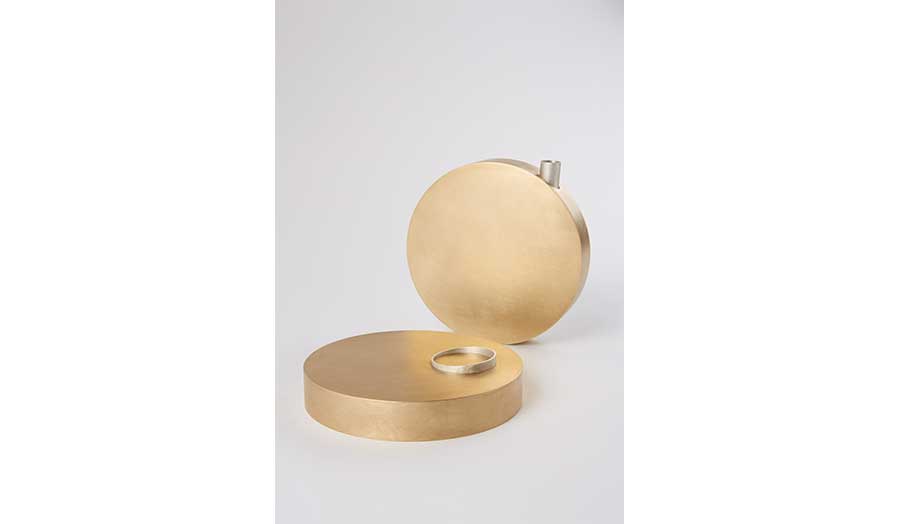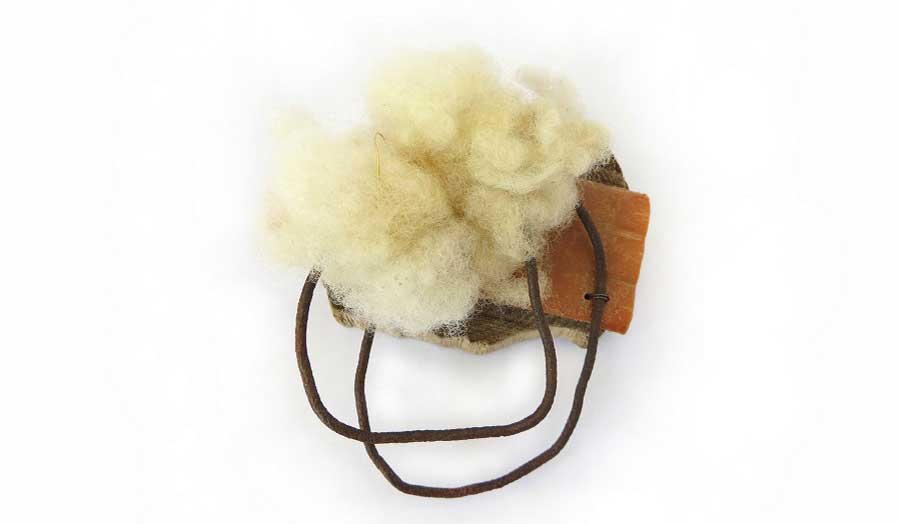 'Repeat', a series of 31 rings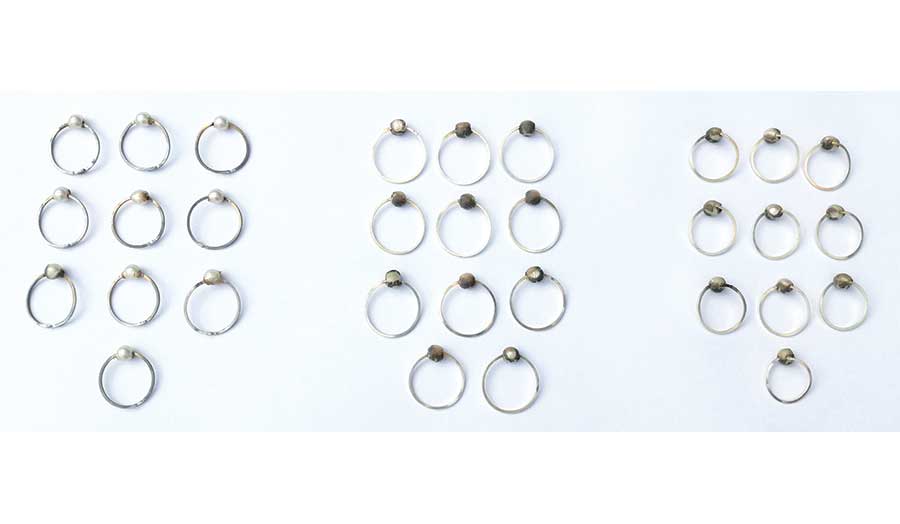 'Contrapunto' and 'Voyage'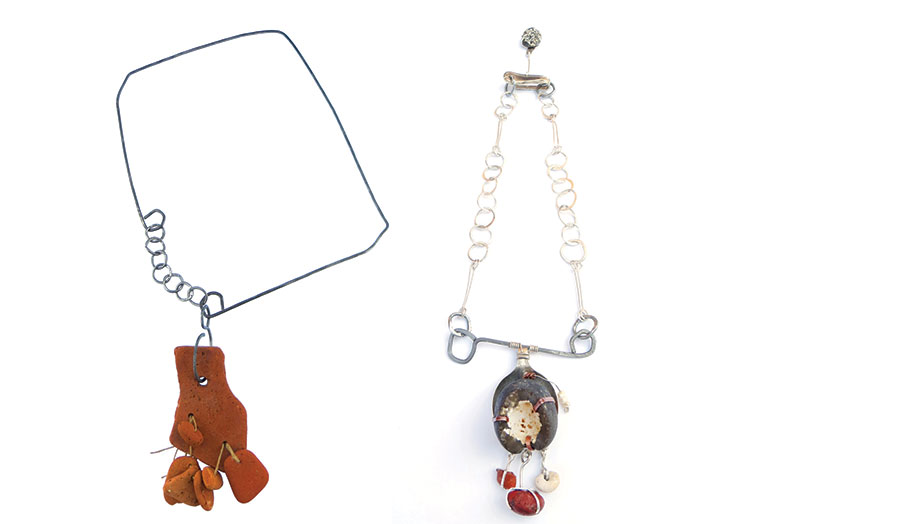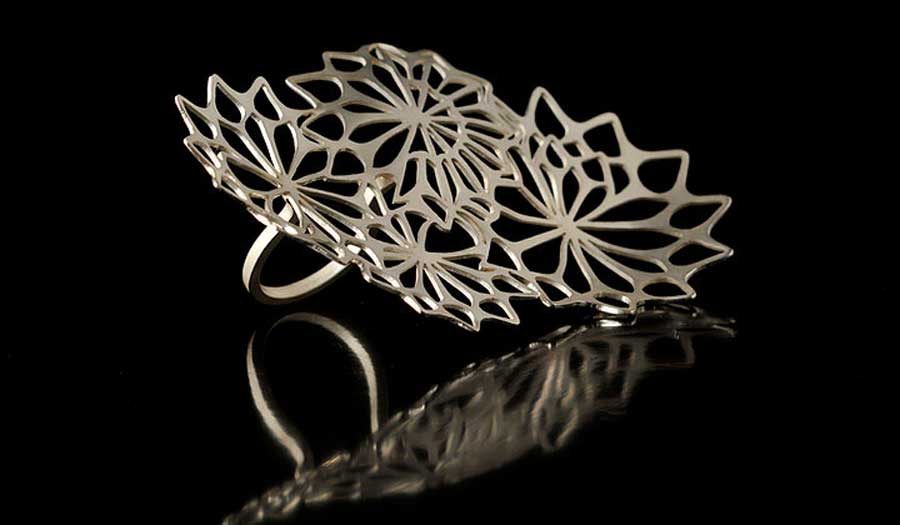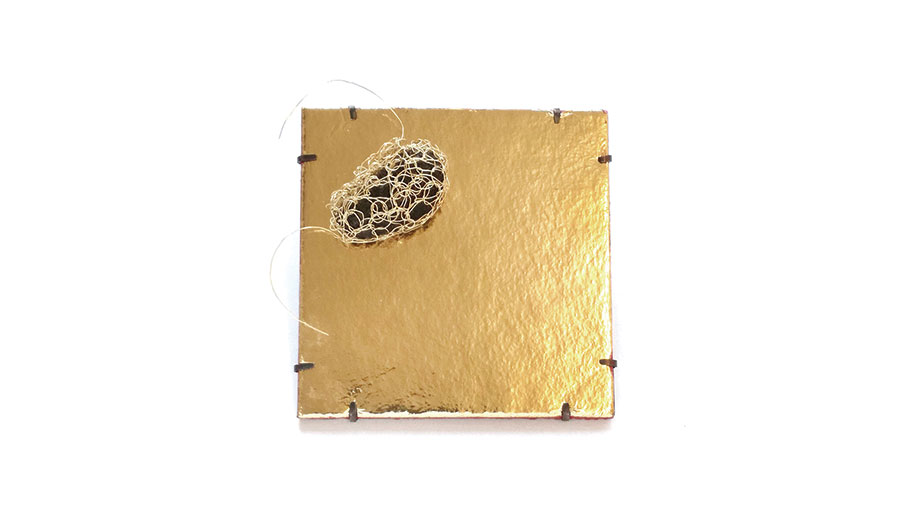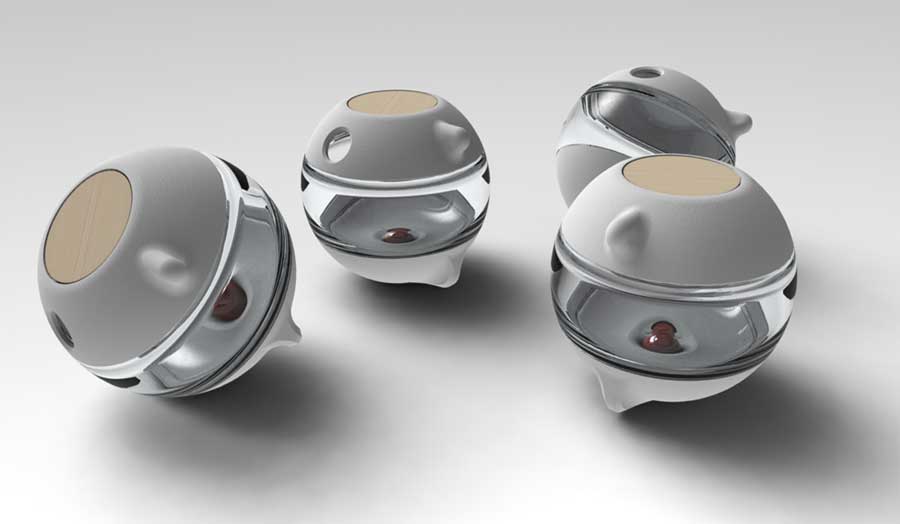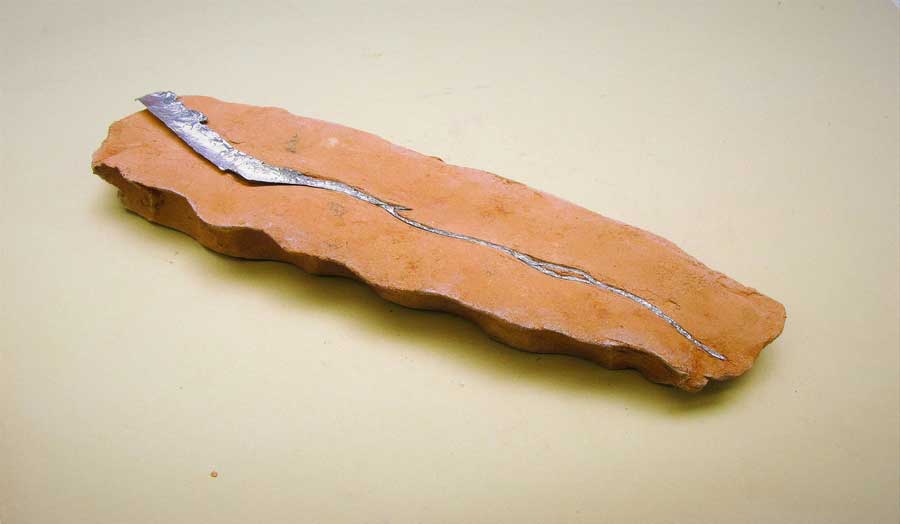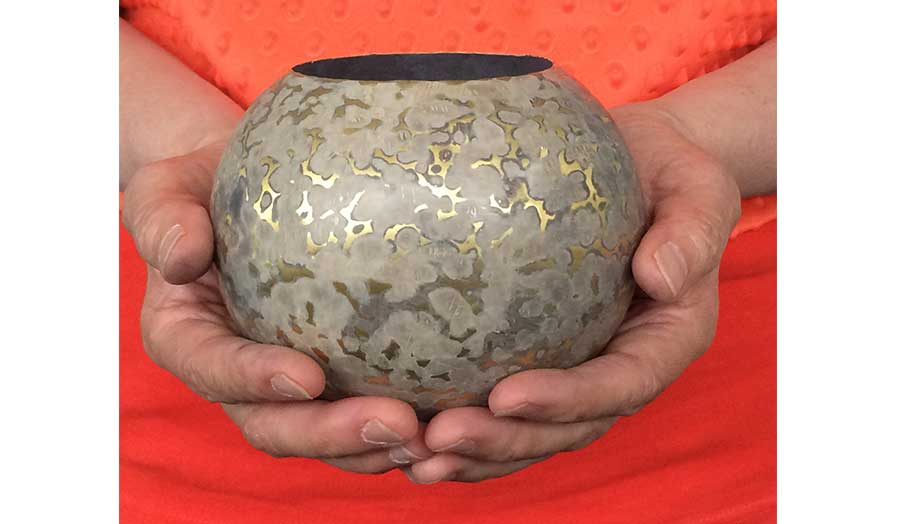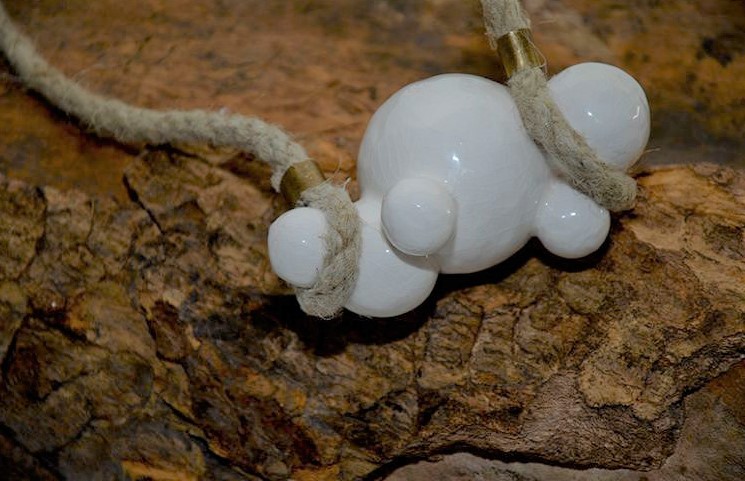 More about this course
Within our challenging and supportive framework this Jewellery and Silversmithing master's course is both specialised and flexible in the creative license it offers. This course will see you:
enable design innovation through the application of research and conceptual analysis
question the function and meaning within your work
hone your making skills with access to a wide range of equipment and professional staff, whatever your preferred material
develop your distinct creative voice and learn to communicate this unique offer to clients
work on interdisciplinary live projects with real clients and established studios, recognising both the power and the responsibility of being a creative thinker
engage your understanding of present and future contexts in relation to your practice
leave the course ready to launch into a career which follows your ambitions as a designer
join a community of designers spearheading the culture of sustainable practice as you take your knowledge and skills to the wider commercial arena
Benefitting from a teaching and learning strategy centered around set projects, you'll learn experientially through active learning principles. In order to gain the most out of the course you'll be encouraged to situate your practice in a global professional context whilst also being challenged and guided by academic tutors to develop your own distinct style as a designer and maker. Discourse about the nature, practice and problems of design will mean you reflect on your own process and engage with industry as well as the research community of jewellery and silversmithing.
The course focuses closely on developing practice in relation to what is required for commercial success, whilst also framing this in the broader context of positive social impact. You'll graduate a flexible and resilient jeweller or silversmith (or a designer in a similar field), ready to define your unique place in the industry. You'll also be supported to apply your skills across broader design arenas.
Studying with a core team of academic teaching staff who have strong links to industry, along with high-profile visiting lecturers who are active at the forefront of their practice, you'll grow your understanding of professionalism in your sphere. Motivated by 'real-world' projects, there are opportunities to rehearse design processes and strategies for client briefs provided by our partners. Ideas will develop through feedback from leading industry practitioners. Studio practice is supported by formal delivery of supporting theory and research methods in dedicated modules which serve to enrich and add depth to your work.
As a student of our School of Art, Architecture and Design, you'll become a member of a vibrant community that nurtures intellectual and creative skills. At the heart of the School's open culture is its embracing of cross-disciplinary ways of thinking and working. The course runs from London Met's Aldgate campus, situated in a true hub of London's creative community. Along with the University's own fantastic workshops and opportunities to learn from other disciplines, you'll discover culture and inspiration on your doorstep, with easy access to East London's many galleries, studios and its thriving design culture. Our facilities are excellent: with fine metals workshops and access to tools for larger scale metals, wood, ceramics and textiles, you'll have every opportunity at your fingertips.
Your master's course will culminate in an exhibition and further opportunities to promote your work.
Assessment
You'll be assessed through portfolios of written, research, visual and physical project work, all directly related to the requirements of practice in the field.
This MA will conclude with a major project in which you'll frame an area of study, formulate your own argument or theoretical position and produce an independent body of work. The project challenges you to investigate a topic that interests you and which will test your creative ambition. This work will be exhibited at the MA graduation show in our central London location.
Entry requirements
You'll be required to have:
a first class or good upper second class honours degree in a relevant field (eg jewellery, silversmithing, metalwork, accessories, 3D, design craft, etc), or an equivalent EU/ international qualification.
Applicants will also be expected to present a portfolio and provide a statement demonstrating their ambition for the subject area and for studying at postgraduate level.
Accreditation of Prior Learning
Any university-level qualifications or relevant experience you gain prior to starting university could count towards your course at London Met. Find out more about applying for Accreditation of Prior Learning (APL).
English language requirements
To study a degree at London Met, you must be able to demonstrate proficiency in the English language. If you require a Student visa you may need to provide the results of a Secure English Language Test (SELT) such as Academic IELTS. This course requires you to meet our standard requirements
If you need (or wish) to improve your English before starting your degree, the University offers a Pre-sessional Academic English course to help you build your confidence and reach the level of English you require.
Modular structure
The School maintains a portfolio of alternative core MA (level 7) 20 credit modules, two of which will be core to this course. Prior to the start of the course each September, the course team will decide which of the alternative core modules will be the core 20 credit modules for the following academic cycle. This decision is based on the range of project opportunities arising and the balance of students across the portfolio of MA design courses. Please note, students do not choose which of the alternative core modules to take themselves. See the modular structure section below for more details.
Design Research for Practice
Design Project Development
Charismatic Objects
Design for Change
Project as Professional Practice: Jewellery and Silversmithing
What our students say
"[I] was hungry for something else and an evening course introduced me to working with metal. My initial training taught me how to work material, but in the research MA I undertook at [London Met's School of Art, Architecture and Design], I learned to bridge the analytical and creative. Looking back, that's something I'd been doing throughout my life, but making gave me access to a rich seam of physical knowledge that I could have only got through material. The interaction between the creative, the intellectual and material made me an artist: the method found me." Juliette Bigley, Silversmith and MA graduate from our School of Art, Architecture and Design
"By working in metals and the ability to control metal and bend it to my wishes flowing according to the beats of the hammer, opens before me a wonderful world of communicating emotions, perceptions and thoughts in a way that had not in any other artistic medium. I succeeded, for the first time, in expressing my inner self in the work and touching new places both in myself and others." Naama Haneman, Silversmith, an MA graduate from our School of Art, Architecture and Design
Where this course can take you
This postgraduate degree in Jewellery and Silversmithing could lead you onto a range of careers including:
jewellery designer
silversmith
designer-maker
educator
researcher
journalist
project manager
strategist
studio manager
Students and graduates from our design courses have worked for renowned brands such as Shaun Leane, Azza Fahmy, Alexander McQueen, Daphne Guiness, Harrods, Harvey Nichols, Selfridges and completed commissions for Amanda Colman, Uma Thurman, Kim Kardashian and Rita Ora.
We are delighted to see how our students flourish after graduating. Work from our alumni can be found in the V&A Museums Permanent Collection, Irish State Collection, Worshipful Company of Goldsmiths Collection, National Museum of Scotland and many others.
Important information about this course
We're committed to continuously improving our degree courses to ensure our students receive the best possible learning experience. Many of the courses in our School of Art, Architecture and Design are currently under review for 2023-24 entry. We encourage you to apply as outlined in the how to apply section of this page and if there are any changes to your course we will contact you. All universities review their courses regularly and this year we are strengthening our art, architecture and design courses to better reflect the needs of employers and ensure you're well-equipped for your future career.
Additional costs
Please note, in addition to the tuition fee there may be additional costs for things like equipment, materials, printing, textbooks, trips or professional body fees.
Additionally, there may be other activities that are not formally part of your course and not required to complete your course, but which you may find helpful (for example, optional field trips). The costs of these are additional to your tuition fee and the fees set out above and will be notified when the activity is being arranged.
Stay up to date
Follow our School of Art, Architecture and Design on Twitter, Facebook and Instagram to stay up to date with everything that's happening in our creative community.
For a taste of life in the jewellery and silversmithing workshop, you can also follow @jewellery_londonmetarts.
Important information for international applicants
Due to unprecedented demand for our courses for the autumn 2023 intake, international admissions are now closed for this postgraduate course. Please check back at a later date to view future available intakes.
How to apply
Use the apply button to begin your application.
If you require a Student visa and wish to study a postgraduate course on a part-time basis, please read our how to apply information for international students to ensure you have all the details you need about the application process.
When to apply
To find out when teaching for this degree will begin, as well as welcome week and any induction activities,

view our academic term dates

.

<!—LinoType Font Tracking Code—>