As a practicing metalworker, Simone ten Hompel has contributed to numerous group exhibitions around the world and presented her work in solo exhibitions in the UK and internationally.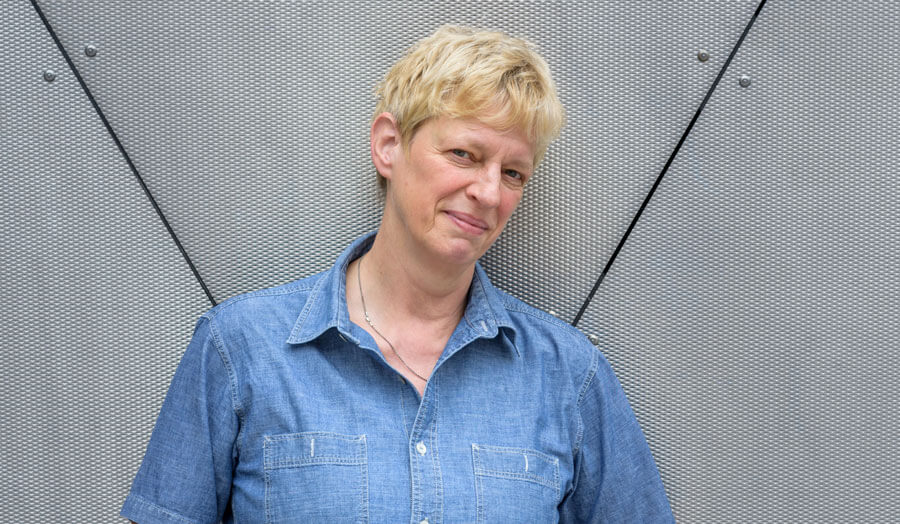 Simone ten Hompel
Simone ten Hompel has been working with metal for over 40 years. She's exhibited at the V&A, won the prestigious Jerwood Applied Arts Prize and earned herself a reputation as one of Britain's most critically acclaimed craftspeople.
For over 27 years she's been teaching at the School of Art, Architecture and Design, where she's a Reader and supervises students studying PhDs and our MA by Project degree.
Metal is particular to Simone ten Hompel, her chosen language, in that she not only use it to make objects for use but also as a way of exploring the different ways that objects define meaning for all of us in contemporary culture. Materiality, form and function construct meaning which is for front of her explore in her work. As a metalsmith and artist, Simone is interested in the processes of thinking and making that sit behind objects. Reading them and use that knowledge to explore how that making relates to our contemporary culture. Also, she's interested in how and what makes students tick and in the collaboration of learning wants to install ownership of their learning into them.
"I started working with metal really early on in my life. I did an apprenticeship as a blacksmith in Germany from the age of 13 to 19 while I was still going to school. Part of the reason for this interest is that I'm a really excellent dyslexic and I knew that school was going to be difficult. Early on I found jewellery interesting but I couldn't grasp the idea of adornment only. I went on to study metalwork at the Royal College of Art here in London. I really enjoyed getting into the zone of problem-solving that doesn't involve only the body but involves other functional problems. What is really important to me, and that comes possibly from my dyslexia, is that metal has become my first language. I feel most fluent and able to express myself through metal. I have a greater vocabulary – in the choices of materials, form and function – and it's an embodied understanding that I have with this material.
"The MA by Project is a prelude to the PhD. The PhD is an apprenticeship into research and the end result is new knowledge for the sector. For the MA you're gaining new knowledge for yourself. It's a research MA and we facilitate students so that if they then want to apply for a PhD – and we've had a number of students who have done that – they have the right kind of tools, techniques and methodologies. There are MA by Project students working in areas including fine art, woodwork and music technology, but I focus on students working in all aspects of metal, whether it's jewellery, silversmithing or metalwork.
"Practice counts for 70% of the degree so, although there is some writing, there's a real emphasis on learning by doing. There are a number of students who have done fantastic work. Juliette Bigley and Vladimir Bohm have done very good work in silversmithing and are now at the forefront of that sector. Students come and they discover their voice but they also use the MA by Project to set up their own business. We have students who make connections with particular outlets and students who come from psychology, from finance, from all sorts of areas, who make a career shift."
Courses
Fashion Accessories and Jewellery BA (Hons)
MA by Project
Research
"Metal is my first language and what do you do with language you talk with it? You talk with yourself and what you have experienced... It's an exploration of process. It's the 'what if?' Then the understanding that comes through making – that is my thinking as much as metal is my language. The act and the material is my thinking..."
Simone ten Hompel's framework often encompasses the questioning of functionality and invariably results in discovering something new. "I always need to frame something, give myself rules. There is nothing worse than total freedom."
Beyond this conversation with her material, making and 'thinking through making' she has been involved over the years in a series of collaborative projects and symposia. She is frequently invited to give talks about her work or on the subject of craft, making and the language or vocabulary of metal.
'A Field of Silver: Silver in a Field' 2002, was a collaboration that literally involved Silversmiths working in a field, bringing the thinking of the twenty-first century makers to the fore by their displacement from the convenience of the workshop. The resulting works where shown in a series of exhibitions and the entire body of work was bought by Birmingham Museum and Art Gallery. Other events and exhibitions range from 'the Everyday' 2006 and 'Completed – Uncompleted' with accompanying symposia. Most recently ten Hompel was the Convenor of 'Setting the Scene: The Symposium', on 29 November 2013 at the James Hockey Gallery.
How can the ephemeral notion of memory be grasped and presented in an artefact?

The ability to store and recall past sensations, thought and events rests with the mind. 'Memories are made by the changes in the collection of neurons and the connections or synapses between them.' All too often it takes a trigger for the memories to be unleashed. Depending on the neural circuits that are engaged at that particular moment the memory changes and the event or story presents itself in a transposed scenario. Working with geographical locations and interrelated landscapes, and with their inhabited narrative of site specific places, allows to create a succession of different or new memories or story telling as artefacts.
Expertise areas
Metalwork, silversmithing, jewellery, applied arts and crafts-related issues. Research methods appropriate to jewellery and metalwork. Collaborative and participative practice, and well-being.
PhD theses supervised by Simone ten Hompel
PhDs completed:
Orrapavadee Serewiwattana, The tin chok textile and weaving tradition of Mae Chaem, Thailand (2015)
Min Sun Kim, Jewellery and emotional attachment: an investigation through creative practice (2015)
PhDs in progress:
Won Jeong Choi, Beneficial contemporary Korean jewellery: an investigation through creative practice
Peta Bush, Therapeutic Jewellery: Designing people-centric devices for wellbeing
Gina Pierce, A Methodology for Working with Archives to Develop A Textile and Surface Design Collection, Using the Parker Knoll Textiles as a test case
Mary-Jane Opie, The study of the emotional inter-relationship between humans/dogs, how it is represented in art since 1800, and new ways in which it might be presented.
Art Council for Silver in the Field: a Field of Silver 2001
Glenmorangie commission 2019
St Johns College 2022
Recent exhibitions
2013: 'Setting the Scene: New Landscapes in Craft' Crafts Study Centre, UCA Farnham
2013: 'The Formative Logic: The Utility and Expression in Contemporary Crafts' Cheongju International Craft Biennale, Main Exhibition2, Cheongju, South Korea
2013: 'Mit der Zeit Gehen' Silberschmieden- Internationale Standpunkte, Gallerie Rosemarie Jäger, Hochheim [D]
2012: 'Meister der Moderne' 64 International Treat fair Munich [D]
2012: Gallery Marzee at IHM, Munich
2011: 'Collect' Crafts Council Art Fair, Saatchi Gallery, London
2011: 'Complete or Uncompleted', London Metropolitan University (a solo exhibition)
2010/11: 'Multiples', Gallery S O, London
2010: 'The Stuff of Memory' Contemporary Applied Arts, London (a solo exhibition)
Email: s.ten-hompel@londonmet.ac.uk
Postgraduate research supervision
Simone ten Hompel welcomes enquiries and applications for MPhil/PhD research in these areas of expertise:
metalwork
silversmithing
jewellery
applied arts
crafts-related issues.
research methods appropriate to metalwork and jewellery
collaborative and participative practice
design and making in relation to wellbeing
For general information about postgraduate research at London Metropolitan University, please visit our research section.
General enquiries about postgraduate research in the School of Art, Architecture and Design should be addressed to Lewis Jones at l.jones@londonmet.ac.uk.
Research portfolio