Ecological Dialogues: Perspectives on Art, Architecture and Design Education Declares
An AAD Session hosted by CUBE.
Stemming from our Ecological Dialogues series, we are hosting a talk to relaunch our Art, Architecture and Design Education Declares initiative. The event concludes this year's popular 'Sustainable Communities and the Question of Nature' public talks series.
This talk introduces the expansion of our Architecture Education Declares response, initiated in 2020, as a movement across the whole School of Art, Architecture and Design and opens with our new manifesto, read by the Head of School. We then hear from invited speakers driving change in each discipline - art, architecture and design – followed by a panel discussion led by student members of our Art, Architecture and Design Education Declares working group, and audience questions.
The event begins a dialogue with external experts in environmental issues surrounding art, architecture and design, in anticipation of a proposed series for Autumn 2022 on 'Driving Systemic Change in Education and Practice'.
Speakers
Anne Markey is a Head of the School of Art, Architecture and Design, a qualified architect and director of Phelan Architects, a practice she founded in 2009 with her late husband Brendan Phelan. She originally joined London Met to set up a consultancy unit, Projects, to undertake architectural consultancy and contract research, and provide support for academic staff and students on live projects. Anne is a non-executive board member and Design Champion of Catalyst Group, one of the leading housing associations within London and the South East, and a Liveryman of the Worshipful Company of Chartered Architects.
Nick Newman is a Director of Studio Bark and not-for-profit startup U-Build. His experience spans environmental architecture, climate activism, building performance evaluation and deep energy retrofits. He is a Passivhaus designer and has contributed to a number of journals and publications, including the Environmental Design Pocketbook and the Passivhaus Designer's Manual. He is co-author of a 2021 RIBA publication on architecture and the climate emergency and was named a 'Rising Sustainability Star' by Building magazine in 2014. Nick is an advocate for radical responses to the Climate Emergency and from 2019 onwards has been arrested for his involvement with numerous forms of 'protest architecture.'
Jacek Scarso is Reader in Art and Performance and Deputy Director of CREATURE (Research Centre in Creative Arts, Cultures and Engagement), and founder of Elastic Theatre. Internationally recognised for his work that stretches the concepts of theatricality and public art, his projects most recently have been presented in London, Hong Kong, and across Italy. He leads a master's course in Public Art & Performance at London Metropolitan University where he has held a University Teaching Fellowship. Honorary roles include that of Public Space Adviser for City Space Architecture, and collaborations with Anise Gallery in London and Fondazione Marta Czok in Rome.
Wendy Sloane is an Associate Professor in Journalism and a Principal Lecturer in the School of Computing and Digital Media at London Metropolitan University. A print journalist formerly based in New York, Moscow and Vienna, she currently writes regularly for the London Economic and the British Journalism Review. As course leader for the BA Journalism and BA Fashion Marketing and Journalism courses, she consistently encourages the concept of sustainability into the curriculum, with panels and debates on sustainable fashion, the concept of ethics in the fashion world, and what fashion brands can do to help save the planet.
Chair
Sian Moxon is a Senior Lecturer in sustainable design at London Metropolitan University's School of Art, Architecture and Design and the Environment lead for London Met Lab. Her research explores urban biodiversity within the Cities group at the university's Centre for Urban and Built Ecologies, and includes the Wild Ways behaviour-change study. She is an architect, author and founder of the award-winning Rewild My Street urban-rewilding campaign.
London Met Student panel
Emma Diana

Joanna Gaslowska

Alessandro Grossi

Gabrielle Zemsky

Image credit: Tree planting, London Metropolitan University/Stephen Blunt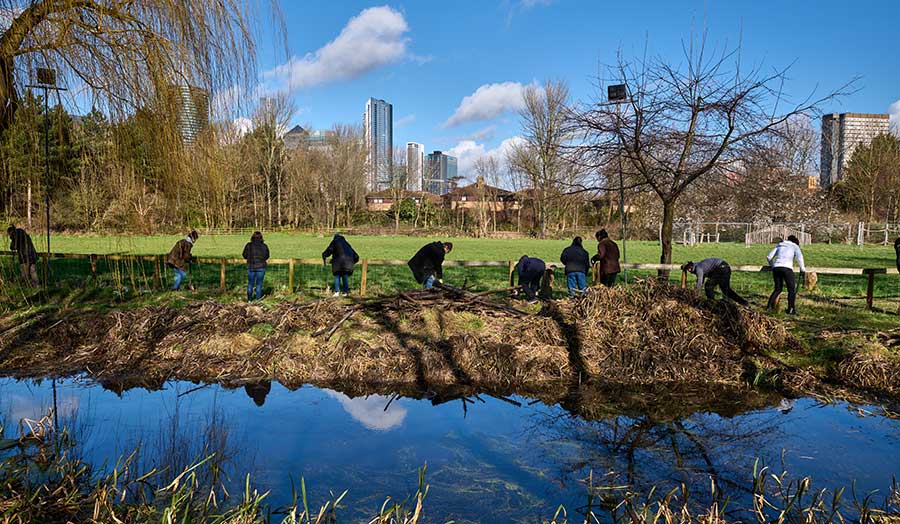 Details
| | |
| --- | --- |
| Date/time | Wednesday 11th May 2022, 5.30pm – 7pm |
| Book ticket | Registration closed |
| Follow on Twitter | @Research_LMArts |
Ecological Dialogues: Perspectives on Art, Architecture and Design Education Declares
This talk introduces the expansion of the Architecture Education Declares response, opened with the new manifesto by Head of School, Anne Markey.