Dr Jacek Ludwig Scarso is Reader in Art and Performance at the School of Art, Architecture and Design (AAD). He is a University Teaching Fellow and Course Leader on the Public Art and Performance MA. He is Deputy Director of CREATURE (The Centre for Creative Arts, Culture and Engagement), leading its Research Group Public-Face.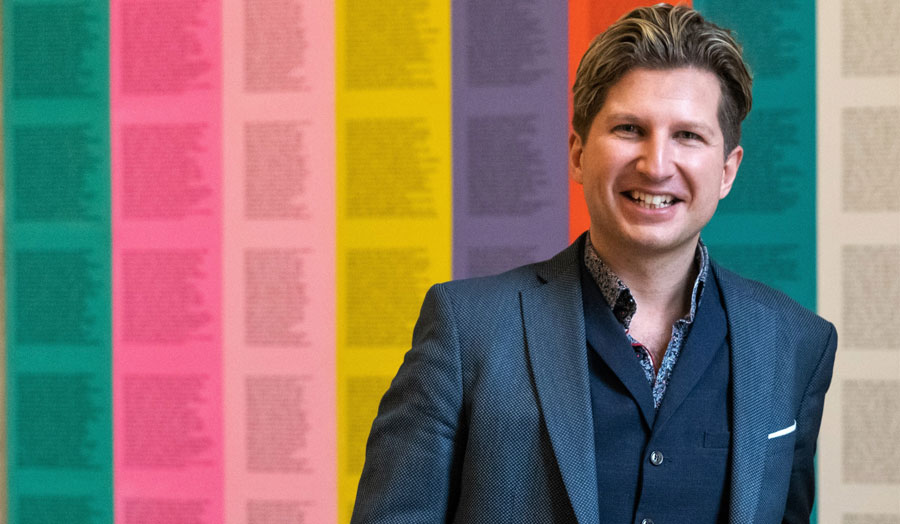 Jacek Ludwig Scarso
Biography
Dr Jacek Ludwig Scarso is recognised internationally for his work as an artist, theatre director, curator, voice practitioner and academic.
His projects stretch the concepts of theatricality and public art, across live performance, installation, vocal music, film and photography. His multimedia artworks have been exhibited worldwide, including recent shows and commissions at: Tate Exchange/Tate Modern, York Art Gallery, MACRO Museo di Arte Contemporanea and Palazzo Chigi di Ariccia (Rome), ArteSpazioTempo and Palazzo Ca' Zanardi (Venice), The Science Museum, GV Art Gallery and InTRANSIT (London), Fotofever at Carrousel du Louvre and Cutlog (Paris), BAW and The Living Theater (New York), MIA (Milan), Galleria Civica Cavour (Padua), Weissraum Gallery (Kyoto, Japan), The British Council in Hong Kong, CICA Museum (Gyeonggi-do, South Korea), Photo Docks (Lyon), Vkunst (Frankfurt), Kunstwerk Carlshütte (Budelsdorf) – where his video-works are included in the Nord Art Collection
Jacek is a collaborating artist with Anise Gallery in London and curator at Studio CS and Fondazione Marta Czok in Italy. Jacek has his own website where you can find out more on his current projects and exhibitions.
Alongside his work in public and interdisciplinary art, he has developed an extensive portfolio of theatre work through his performance company Elastic Theatre. Here he has created and directed all of its internationally acclaimed projects, in contexts and UK venues including the Riverside Studios, Southwark Playhouse, Greenwich and Docklands International Festival, Tête á Tête: The Opera Festival, St James's Piccadilly, Arcola Theatre, Spitalfields Music Festival. Venues outside the UK include; Theatre 145 (Grenoble), Pavé D'Orsay (Paris), Teatro Sala Uno and Teatro Abarico (Rome), RESEO (European Network of Opera and Dance Education), NOA Opera (Vilnius).
Elastic Theatre's public recognition includes the Fringe Report Award for Best Theatre Company, presented to Jacek at Leicester Square Theatre. It is also recognised by several major arts awards by funding bodies such as the Wellcome Trust and Jerwood Charitable Foundation, as well as a feature on the US publication Theatre Today, amongst the 300 most representative theatre companies across the globe, and numerous press reviews and features, including The Times, The Daily Telegraph and Time Out.
Jacek's work with Elastic Theatre was also the subject of the PhD awarded to him in 2014. Entitled "Making Theatre Elastic". It explores the company's body of work in relation to the panorama of post-dramatic theatre, with a particular focus on its eclectic combination of performance disciplines, its versatile approach to dramaturgy and its flexible responses to site.
As an academic, he has worked extensively since 2002 in a wide range of higher education institutions alongside London Met, including; the National Centre for Circus Arts, East 15 Acting School, Arts Educational, Bath Spa University and Teatro Integrato Internazionale in Rome. He was a lecturer in dance history and art theory at the London Contemporary Dance School, where he co-designed and delivered the Dance Arts Literature Ideas programme. In 2008, he became a senior lecturer at London Met, whilst continuing to be in high demand as guest lecturer and voice tutor, most recently with Royal Opera House Education. Jacek has published on the subjects of art, voice and performance. He is the London correspondent for Exibart international magazine and is a member of Tate Exchange Research Steering Committee at Tate Modern.
Watch a short documentary "Making Art Theatrical" recently made about Jacek's work.
Qualifications
BA Performing Arts (First Class Honours) University of North London

MA Voice Studies, Royal Central School of Speech and Drama

PhD in Practice-led Art and Performance Research, London Metropolitan University
Research interests
Jacek is Deputy Director of CREATURE - The Centre for Creative Arts, Culture & Engagement - where he leads the Public-Face Research Group.He is a member of the Tate Exchange Research Steering Group at Tate Modern.
Current research areas include:
art in the public sphere
public art curation
creative strategies in public engagement
theatricality and contemporary art
site-responsive art practices
contemporary museum practices
baroque aesthetics in contemporary art
interdisciplinary voice pedagogies
masculinities in voice and performance
contemporary opera and music theatre
depictions of gender and cultural identity in performance
Teaching
Jacek is the Reader in Art and Performance at the School of Art, Architecture and Design. He is the Course Leader for Public Art and Performance MA. He also lectures on the Theatre and Performance – BA (Hons) and Theatre and Film BA – (Hons), and is PhD Admissions Tutor (Art) .
Subjects taught include:
public art and performative practices
voice and performance installation
art critical theory and art theory
theatre production
performance devising
producing
site-responsive and multidisciplinary performance
post-dramatic theatre practices
art-based research
Publications
2020
Main Practice Projects
"In Limbo" as part of Future Now – Aesthetica Art Prize exhibition , York Art Gallery (multimedia exhibit based on live/VR installation at Tate Modern, in association with Tate Exchange)
Publications/Papers
"Re-cycling/Up-cycling", co-written chapter with Gian Carlo Rossi. Included in KEEFE, J. and ARNTZEN, K. (2020) Staging and Re-Cycling – Retrieving, Reflecting and Re-framing the Archive. London: Routledge
2019
Main Practice Projects
"The Pecking Order", Tate Exchange at Tate Modern in collaboration with AAD, Anise Gallery and AVR London (live/VR installation)

"Baroque Intrusions", Museo del Barocco presso Palazzo Chigi (Rome) in collaboration with Marta Czok

"Comparse Barocche / Baroque Extras", Studio CS (Castel Gandolfo, Rome) (video, digital art)
Group Shows
"Anima Mundi – Visions", Palazzo Ca' Zanardi and THE ROOM Contemporary Art Space, Venice. Curated by L. Curci during the 58th Venice Biennale (video)

"Urban Landscapes", exhibition at CICA Museum, Gyeonggi-do, South Korea (video)

"We all come from Somewhere", Tate Liverpool, curated by M. Moreno (workshop)

"Streetplayer", video art exhibition for Artwalk Wakefield 2019
Publications/Papers
Nature in the City and Voicescapes, workshops presented for Spark Festival in Hong Kong, in collaboration with the British Council
Theatricality and the museum, paper presented Curating the Future, Tai Kwun, Hong Kong
Singing in the Dark, paper presented at TaPRA 2019, University of Exeter
2018
Main Practice Projects
"In Limbo", Live/VR installation at Tate Modern, London in partnership with Tate Exchange. A collaboration with Felix Dodd and A-VR, Anise Gallery and AAD

"Kamo-gawa_Kamo-gawa", project at Weissraum Gallery, Kyoto, Japan. Curated by Takaya Fujii (video and mixed media installation)

"Precarious Balance/ Equilibrio Precario", Arte Spazio Tempo, Studio CS Rome, curated by B. Vincenzi (sculpture/installation)

"Metropolis", with Marta Czok at Magione Arts District in conjunction with Manifesta Palermo , curated by C. Biasini (sculpture, digital installation)
Group Shows
"Art and Location", exhibition at CICA Museum, Gyeonggi-do, South Korea (video)

London Art Fair: exhibition with Anise Gallery on the occasion of the 30th edition of the Fair, curated by J. Jubert (sculpture, mixed media)

"Venice Vending Machine", Tate Liverpool, curated by M. Moreno. (mixed media)

"Streetplayer 2018": selected for video exhibition curated by Chris Woodward with Axisweb
Publications/Papers
Interdisciplinary Voice, paper/workshop at Anglia Ruskin University
Perfoming Ikebana, paper presented at TaPRA 2018, University of Aberystwyth,
Swinging Swimmers, paper presented at Sport/Spectacle, Kings College London
2017
Main Practice Projects
"Precarious Balance/ Equilibrio Precario", Arte Spazio Tempo, Venice, during 57th Venice Biennale, curated by B. Vincenzi (sculpture, video, mixed media installations)
Group Shows
"Controlled Realities", Anise Gallery, London alongside Rachel Hara and Charles Harrop-Griffiths, curated by J. Jubert (sculpture, mixed media installations)

"Venice Vending Machine" at Palazzo Mora and Giardini della Marinaressa in Venice, during 57th Venice Biennale, curated by M. Moreno (mixed media)

"Love and Violence", Galleria Civica Cavour, Padua, curated by B. Cadogno and S. Prelz (mixed media and video)
Publications/Papers
The Vocal Exhibit,

paper presented at Collecting and Curating Sound, Tate Exchange at Tate Modern, TaPRA session, presenting The Vocal Exhibit

Vocal Embodiment, paper presented at ACLA Conference Utrecht University,
Reframing the (post)dramatic in Contemporary Art, paper presented at the Theatricality and the Arts Symposium at University of Lancaster
2016
Main Practice Projects
"This may self-destruct", Studio CS, Castel Gandolfo, Rome (installation and photo)

Science Museum Lates, exhibiting "L'Entraineur" and "Santino" (videos) and "Swinging Swimmers" (live installation), London
Group Shows
"Visions in the Nunnery", Bow Arts, London, curated by C. Cremona (video/live installation)

"Transmission Art", Athens – Karlsruhe curated by James Simburas and Ursula Schachenhofer (video)

"Venice Vending Machine" at Kunst Altonale Hamburg curated by Marina Moreno (installation)
2015
Main Practice Projects
"Little Man Saga", Romberg Arte Contemporanea Rome (video, photo, installation) curated by I. Bergantini and G. Conti

"Toxic Monks" for InTRANSIT London (performance) curated by O'Neill/Ross

"Imagined Cities" for Colourscape Music Festival London (performance) with composer A. Campkin

"Strata" music video direction for jazz composer Ivo Neame



Group shows
"MIA Milan" (photo) with Romberg Arte Contemporanea, curated by I. Bergantini

"Nord Art Budelsdorf" (video) Kunstwerk Carlshütte, curated by W. Gramm

"Vkunst Frankfurt" (video) curated by C. von Löw and A. Greulich

"Venice Vending Machine" (mixed media), Serra dei Giardini during 56th Venice Biennale, curated by M. Moreno
2014
Main Practice Projects
"Santino and other stories", MIA Milan Image Art with Romberg Arte Contemporanea (photo, video) curated by I. Bergantini

"Toxic Monks" for At Boiling Point London (performance) curated by Heritage Arts
Group shows
FotoFever, Carrousel du Louvre Paris with Romberg Arte Contemporanea (photo)

Docks Art Fair Lyon with Romberg Arte Contemporanea (photo)




2013
Main Practice Projects
"Icons & Idols", MACRO Museo Arte Contemporanea di Roma (La Pelanda) Rome, (video, installation, performance) curated by B. Codogno
Group shows
"Cutlog with Romberg Arte Contemporanea Paris" (video)

"Bosh Fest Republic of Macedonia" (video)

"The Ortus", Spitalfields Music Festival

"GV Art Gallery London" (video) curated by R. Devcic

"White Cloth Gallery Leeds" (video)
2012
Main Practice Projects
"Julius", as part of Theatre of the Mind GV Art Gallery London (video, performance) curated by R. Devcic

funded by Wellcome Trust and Jerwood Charitable Foundation (video and performance – with Elastic Theatre)
Publications
Julius – Art Catalogue, published by GV Art
2011
Main Practice Projects
"Baroque Box", site-specific at Old Royal Naval College, funded by Wellcome Trust (performance with Elastic Theatre) Greenwich + Docklands International Festival London (performance) curated by B. Hemmings
2010
Main Practice Projects
"Baroccata" (performance) at Tete a Tete Opera Festival at Riverside Studios (performance) curated by B. Bankes-Jones and at Islington Exhibits London (installation) curated by L. Richardson
2009
Main Practice Projects
"Medousa", Tete a Tete Opera Festival at Riverside Studios (performance) curated by B. Bankes-Jones and BAW Paris

"The Passiono f Sergius and Bacchus", Create at Arcola Theatre London (installation, performance
2008
Main Practice Projects
"The Magdalene Mysteries" (performance with Elastic Theatre) supported by The Facility, co-produced with Southwark Playhouse, St James's Piccadilly and Roma Teatro Festival
2007
Main Practice Projects
"Medea Made Medea" (performance with Elastic Theatre) supported by The Facility and Rencontres de Theatre Europeen Grenoble
2006
Main Practice Projects
"Ophelia's Song" (performance with Elastic Theatre) supported by The Facility and Teatro Integrato Internazionale Rome
Grants, funding and awards
Future Now, Aesthetic Prize Anthology selection (2020)

Research Award, AAD (2019)

University Honorary Teaching Fellowship, London Met (2018)

Research Award, AAD (2018)

Streetplayer Selection, Axisweb (2018)

Research Award, AAD (2017)

Professional Award, London Metropolitan University (2015)

Arts Award for Public Engagement, Wellcome Trust (2012-13)

Fringe Report Award (2012)

Arts Award, Jerwood Charitable Foundation (2012)

Arts Award for Public Engagement, Wellcome Trust (2010-2011)

Greenwich+Docklands International Festival Commission (2011)

Research Funding Award, London Metropolitan University (2010)

Research Funding Award, London Metropolitan University (2009)

The Facility: Performance as Research Grant (2009)

The Facility: Performance as Research Grant (2007)

The Facility: Performance as Research Grant (2006)

RomaEuropa/Enzimi Commission (2001)
Professional activities
Contact Jacek
Dr Jacek Ludwig Scarso
Reader in Art and Performance
The School of Art, Architecture and Design