Dr Jacek Ludwig Scarso is Reader in Art and Performance at the School of Art, Architecture and Design. He is also a university Teaching Fellow and course leader for the Public Art and Performance MA.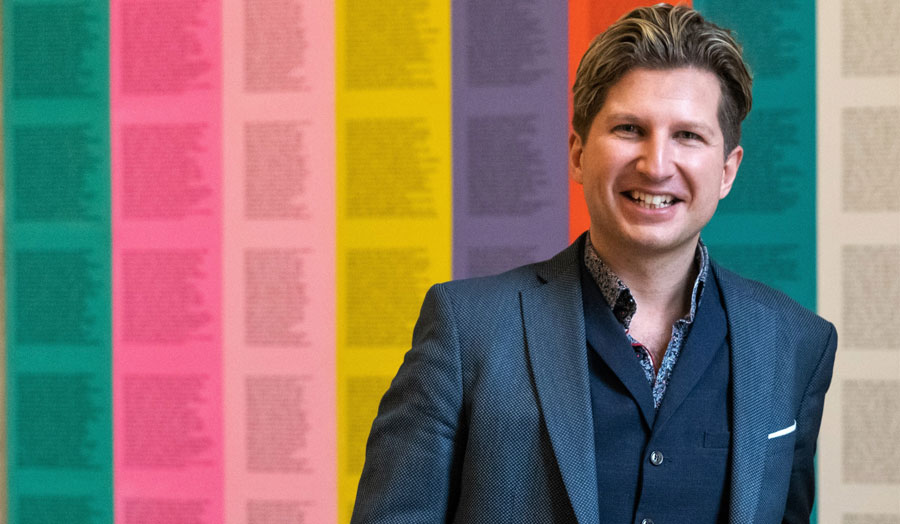 Jacek Ludwig Scarso
Biography
Dr Jacek Ludwig Scarso is recognised internationally for his work as an artist, theatre director, curator, voice practitioner and academic.
His projects stretch the concept of theatricality across live performance, installation, vocal music, film and photography. His multimedia artworks have been exhibited worldwide, including recent shows and commissions at:
Tate Exchange/Tate Modern
York Art Gallery
MACRO Museo di Arte Contemporanea and Palazzo Chigi di Ariccia (Rome)
ArteSpazioTempo and Palazzo Ca' Zanardi (Venice)
The Science Museum
GV Art Gallery and InTRANSIT (London)
Fotofever at Carrousel du Louvre and Cutlog (Paris)
BAW and The Living Theater (New York)
MIA (Milan), Galleria Civica Cavour (Padua)
Weissraum Gallery (Kyoto, Japan)
The British Council in Hong Kong
CICA Museum (Gyeonggi-do, South Korea)
Photo Docks (Lyon)
Vkunst (Frankfurt)
Kunstwerk Carlshütte (Budelsdorf) - where his video-works are included in the Nord Art Collection
Jacek is a collaborating artist with Anise Gallery in London and curator at Studio CS and Fondazione Marta Czok in Italy. For more details on his current exhibitions you can visit his website.
Alongside his work in public and interdisciplinary art, he has developed an extensive portfolio of theatre work through his performance company Elastic Theatre, for which he has created and directed all of its internationally acclaimed projects, in contexts and venues including the Riverside Studios, Southwark Playhouse, Greenwich and Docklands International Festival, Tête á Tête: The Opera Festival, St James's Piccadilly, Arcola Theatre, Spitalfields Music Festival; and, outside the UK, Theatre 145 (Grenoble), Pavé D'Orsay (Paris), Teatro Sala Uno and Teatro Abarico (Rome), RESEO (European Network of Opera and Dance Education), NOA Opera (Vilnius).
Elastic Theatre's public recognition includes the Fringe Report Award for Best Theatre Company, presented to Jacek at Leicester Square Theatre, several major arts awards by funding bodies such as the Wellcome Trust and Jerwood Charitable Foundation. As well as a feature on the US publication Theatre Today, amongst the 300 most representative theatre companies across the globe, and numerous press reviews and features, including The Times, The Daily Telegraph and Time Out.
Jacek's work with Elastic Theatre was also the subject of the PhD awarded to him in 2014. Entitled 'Making Theatre Elastic'. It explores the company's body of work in relation to the panorama of post-dramatic theatre, with a particular focus on its eclectic combination of performance disciplines, its versatile approach to dramaturgy and its flexible responses to site.
As an academic, he has worked extensively since 2002 in a wide range of higher education institutions, including, alongside London Met, the National Centre for Circus Arts, East 15 Acting School, Arts Educational, Bath Spa University and Teatro Integrato Internazionale in Rome. He was a lecturer in dance history and art theory at the London Contemporary Dance School, where he co-designed and delivered the Dance Arts Literature Ideas programme. In 2008, he became a senior lecturer at London Met, whilst continuing to be in high demand as guest lecturer and voice tutor, most recently with Royal Opera House Education. Jacek has published on the subjects of art, voice and performance. He is the London correspondent for Exibart international magazine and is a member of Tate Exchange Research Steering Committee at Tate Modern.
Watch a short documentary 'Making Art Theatrical' recently made about Jacek's work.
Qualifications
Qualifications
BA Performing Arts (First Class Honours) University of North London

MA Voice Studies, Royal Central School of Speech and Drama

PhD in Practice-led Art and Performance Research, London Metropolitan University
Teaching and interests
Jacek is the Reader in Art and Performance at the School of Art, Architecture and Design. He is the course leader for the Theatre and Film BA (Hons) and Public Art and Performance MA. He also lectures on the Theatre and Performance Practice BA (Hons). He is a also a university Teaching Fellow.
Current research areas include:
theatricality and contemporary art
staged nature in domestic and urban environments
baroque aesthetics in contemporary art
integrated voice pedagogy
public art site-responsive practices
contemporary opera and music theatre depictions of gender and cultural identity in performance
Subjects taught include:
public art and performative practices
voice and performance
installation art
critical theory and art theory
twentieth and twenty-first century theatre, art and film practices
performance devising
producing
site-responsive and multidisciplinary performance
post-dramatic theatre practices
art-based research
Contact Jacek
Dr Jacek Ludwig Scarso
Reader in Art and Performance
The School of Art, Architecture and Design