Siân Moxon teaches across the Architecture and Interior Design courses at both undergraduate and postgraduate level.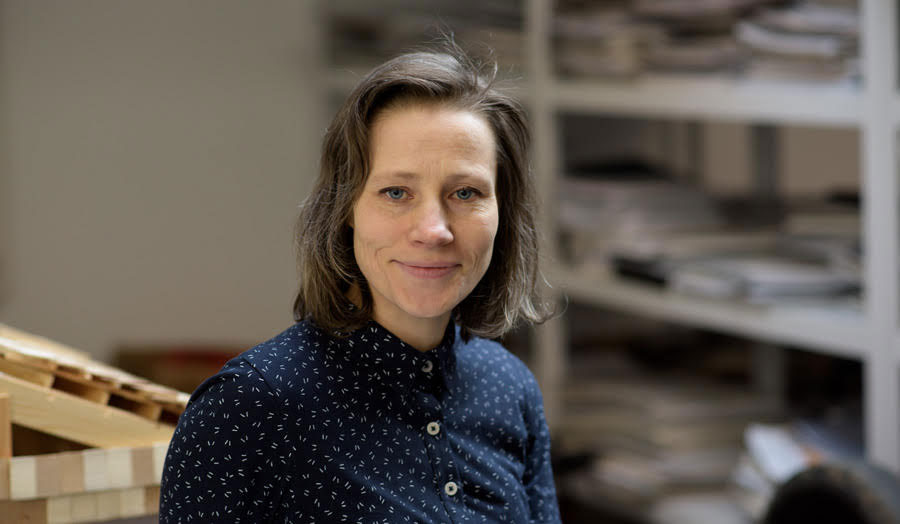 Siân Moxon
Biography
Siân Moxon is a Senior Lecturer and Sustainability Coordinator at the School of Art, Architecture and Design. She teaches across the Architecture and Interior Design courses at both undergraduate and postgraduate level.

As a BREEAM Accredited Professional, Siân is an expert in sustainable design and is leading the School's response to the climate and ecological emergency through Architecture Education Declares. She is also a qualified architect with many years of experience, covering conservation, housing and schools. She was an Associate at award-winning architecture and interiors practice Jestico + Whiles - working on projects ranging from a foyer for vulnerable young people in Barking to a prestigious restoration of Sir John Soane's country estate in Ealing.

Siân has published many articles and her book, Sustainability in Interior Design (Laurence King, 2012), is a global success. Her current research focus is biodiversity in architecture, and her Rewild My Street research project has won competitions and award nominations.

Siân is a Fellow of the Higher Education Authority, who has taught at the Royal College of Art, London South Bank University and University of the Creative Arts Canterbury as a visiting lecturer, and featured on expert conference panels.
She studied Architecture at Cardiff University, where she was awarded student prizes for her entrance grades and degree work, and a Commendation for her diploma work.
Siân is recognised as a role model for female architects, having been a finalist in the Inspire awards for women in construction, and included in the AJ's lists of influential women in architecture and women in sustainable architecture.
Teaching and research interests
Courses
Siân Moxon teaches sustainable design at the School of Art, Architecture and Design, on the Architecture; Interior Architecture and Design; Interior Design; and Interior Design and Decoration undergraduate courses; and the Professional Diploma in Architecture postgraduate course.
Research
Siân's research concerns biodiversity in the urban environment, exploring urban rewilding as a means to address biodiversity and greenspace decline, while promoting sustainable redevelopment of cities. Her research themes include city representation, generosity in architectural practice, the benefits of living with nature, and perceptions of wildness.
Siân's work combines her expertise in sustainable design; architectural practice experience in housing, building conservation and urban regeneration; and passion for wildlife. Her research is practice based, using design-research methodologies to develop and communicate visions for biodiverse cities - and incite community action to effect change.
Her Rewild My Street research project uses architectural drawings to inspire and empower residents to transform London's streets for wildlife. The drawings are shared in the rewildmystreet.org website, which forms a design toolkit, recommending products and activities to attract wildlife, and curating expert information on urban species and habitats. This design-led approach brings new insights to conservation guidance, including street-scale thinking, sensitive integration with an urban context and elegant product specification. Public engagement with the website and social media accounts provides quantitative and qualitative results.
The project was a winner of the London National Park City international design-ideas competition, and finalist of the Big Idea Challenge and Sustainable Cities awards. Its outputs have been widely disseminated through academic and professional conferences, public events, and social and mainstream media coverage.
Siân's book, Sustainability in Interior Design is published in five languages. Her research informs her teaching in sustainable design.
Research projects and funding, 2020–21
Dr Siân Moxon
Rescaling Fund, London Metropolitan University: £ 2,485 to fund collaboration between the School of Art, Architecture and Design and the School of Social Professions bringing the discipline of behavioural science together with architecture, public health, and environmental science, aiming to influence pro-environmental behaviours. With Dr Justin Webb
Publications
Moxon, Siân, Rewild my Street!, in Bumble, 3 (2019)

Moxon, Siân, Drawing on nature: a vision of an urban residential street adapted for biodiversity in architectural drawings, in City Territory and Architecture, 6 (2019) doi:10.1186/s40410-019-0105-0

Moxon, Siân, Designing for wild life: enabling city dwellers to cohabit with nature. Proceedings of Design Revolutions in International Association of Societies of Design Research (IASDR) Conference, (Manchester Metropolitan University, Manchester, UK, 2019)

Moxon, Siân, Rewild My Street: a model for biodiverse, community-led urban redevelopment. Proceedings of Generosity Conference (Cardiff University, Cardiff, UK, 2018)

Moxon, Siân and Jon, A wildlife vision for National Park Cities, in Wildlife Gardening Forum (2017)

Moxon, Siân, Sustainability in Interior Design (London: Laurence King Publishing, 2012)
Contact Siân