Why study this course?
This is a top-up version of our Fashion BA (Hons) degree. A top-up degree is the final year (Level 6) of an undergraduate degree course and is for those who have a foundation degree, Higher National Diploma or equivalent qualification, or those wishing to study the final year of their degree in London.
You'll be taught through tutorials, workshops and contextual studies by our dedicated academic team and visiting lecturers, who'll share their decades' worth of experience working with iconic fashion houses including Balmain, Givenchy, Louis Vuitton and Pringle.
This course received an overall student satifaction score of 93% according to the National Student Survey 2021.
We're fourth in the country for fashion and textiles according to the Guardian university league tables 2022.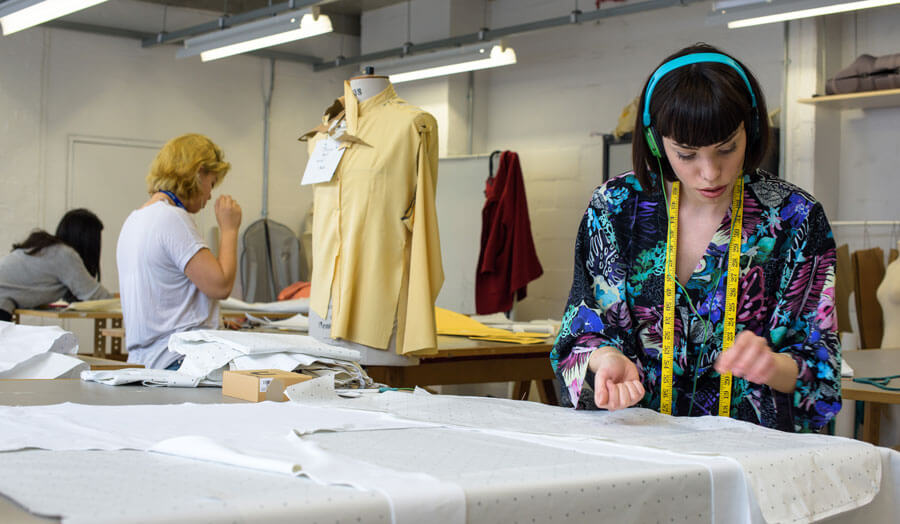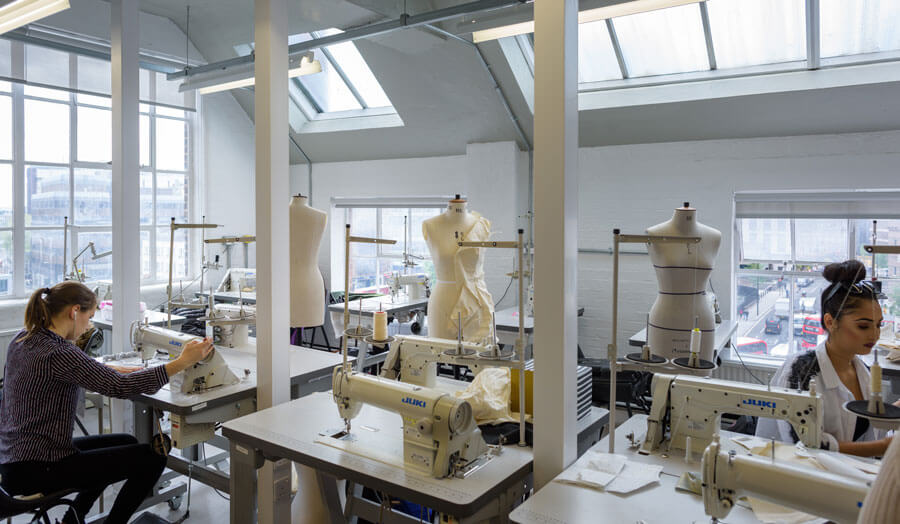 More about this course
We'll invite major brands to share their knowledge with you. These invaluable networking opportunities will help you secure future internship roles and employment with industry leaders.
Throughout the year, you'll study at the School of Art, Architecture and Design – our renowned art and design centre situated in the heart of London. Here, you'll experience a multi-disciplinary studio environment where fashion, textiles and jewellery work in close proximity. This not only recreates the dynamic environment of haute-couture fashion houses, it also exposes you to the broader industry and the inspiring influence of these related disciplines. You'll benefit from regular feedback through one-to-one and group tutorials, seminars and critiques.
There are opportunities to collaborate with fellow students as well as ongoing live projects, international industry competitions and the chance to visit and participate in industry fashion events.
As a final year student, you will have the opportunity to carry out an in-depth exploration of a topic of your choice in your dissertation. Our dissertation students all belong to a themed dissertation studio, which offers a supportive group context for planning and writing your dissertation, and specific academic tutoring about how to manage the project.
Assessment
You will be assessed via a portfolio of project work and written work. There are no examinations on the course.
Entry requirements
In addition to the University's standard entry requirements, you should have one of the following:
240 credits from a Higher National Diploma (HND), Foundation Degree (FdA/ FdSc) or equivalent international qualification in a relevant subject
240 credits from years 1 and 2 of an undergraduate degree (BA/BSc) in a relevant subject at a different institution
a portfolio interview
Suitable applicants living in the UK will be invited to a portfolio interview.
Applicants living outside the UK will be required to submit a portfolio of work via email.
We encourage applications from international/EU students with equivalent qualifications and also accept mature students with diverse backgrounds and experiences.
Portfolios and interviews
Your portfolio should be selective but have enough work to show the range of your interests and talents. We're interested in seeing how you develop a project from beginning to end, not only finished work.
Physical portfolio
If you are coming in person to your interview we strongly suggest bringing a physical portfolio of work.
Things to bring:
Sketchbooks – we love to see your sketchbooks with ideas and notes, even if they are messy
Examples of the development of a project from start to finish and the final outcome
Some work that you are really proud of and want to talk about
Some work that shows you experimenting with different processes
Digital Portfolio
If you are submitting an online application, please follow these guidelines.
Things to include:
Scans or photographs demonstrating items from the list above
Storyboarding for motion-based work
Scans of sketchbook pages showing development
Be sure to check the resolution and overall quality of your image to ensure submissions are not pixelated
Accreditation of Prior Learning
Any university-level qualifications or relevant experience you gain prior to starting university could count towards your course at London Met. Find out more about applying for Accreditation of Prior Learning (APL).
English language requirements
To study a degree at London Met, you must be able to demonstrate proficiency in the English language. If you require a Student visa you may need to provide the results of a Secure English Language Test (SELT) such as Academic IELTS. For more information about English qualifications please see our English language requirements.
If you need (or wish) to improve your English before starting your degree, the University offers a Pre-sessional Academic English course to help you build your confidence and reach the level of English you require.
Modular structure
The modules listed below are for the academic year 2021/22 and represent the course modules at this time. Modules and module details (including, but not limited to, location and time) are subject to change over time.
Year 3 modules include:
What our students say
"The difference between London Met and many other universities is that the focus is on post-graduation employment. There is a great focus on practical skills for the workplace and the importance of workshops and hands on experience. Art and design based modules run alongside business studies to help us up-and-coming designers understand the real working-world."
Kate Woodhead, fashion graduate
Where this course can take you
If you want a career in fashion or you're keen to undertake a Fashion MA, this is the perfect degree for you. Designed to help widen your opportunities and skill set and advance your career in fashion, the course focuses on the professional presentation of project ideas.
Following graduation, you could enter any number of roles ranging from working for a well-known brand at a junior level to becoming a freelance designer or even setting up your own label.
Other career paths include becoming a retail buyer, stylist, technologist, fashion writer or design journalist.
Additional costs
Please note, in addition to the tuition fee there may be additional costs for things like equipment, materials, printing, textbooks, trips or professional body fees.
Additionally, there may be other activities that are not formally part of your course and not required to complete your course, but which you may find helpful (for example, optional field trips). The costs of these are additional to your tuition fee and the fees set out above and will be notified when the activity is being arranged.
Discover Uni – key statistics about this course
Discover Uni is an official source of information about university and college courses across the UK. The widget below draws data from the corresponding course on the Discover Uni website, which is compiled from national surveys and data collected from universities and colleges. If a course is taught both full-time and part-time, information for each mode of study will be displayed here.
If you're a UK applicant wanting to study full-time starting in September, you must apply via UCAS unless otherwise specified. If you're an international applicant wanting to study full-time, you can choose to apply via UCAS or directly to the University.
If you're applying for part-time study, you should apply directly to the University. If you require a Student visa, please be aware that you will not be able to study as a part-time student at undergraduate level.
When to apply
The University and Colleges Admissions Service (UCAS) accepts applications for full-time courses starting in September from one year before the start of the course. Our UCAS institution code is L68.
If you will be applying direct to the University you are advised to apply as early as possible as we will only be able to consider your application if there are places available on the course.
To find out when teaching for this degree will begin, as well as welcome week and any induction activities,
view our academic term dates
.
Meet the team: Fashion BA (Hons) Top-up