This course is full and no longer taking applications for the autumn and spring 2022/23 intake. However, you can still apply to start in September 2023.
Why study this course?
This degree focuses on food analysis and food microbiology as well as product development and quality control. You'll be taught by members of staff who are active within the Institute of Food Science and Technology, and are regularly involved in the food industry as expert consultants. You'll also learn from our food business development colleagues to gain experience in the industry through work placements.
London Met's state-of-the-art Superlab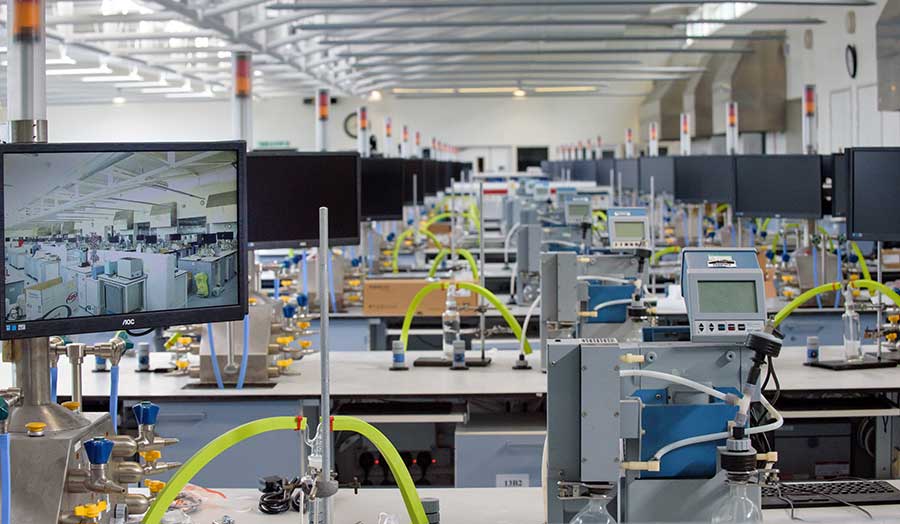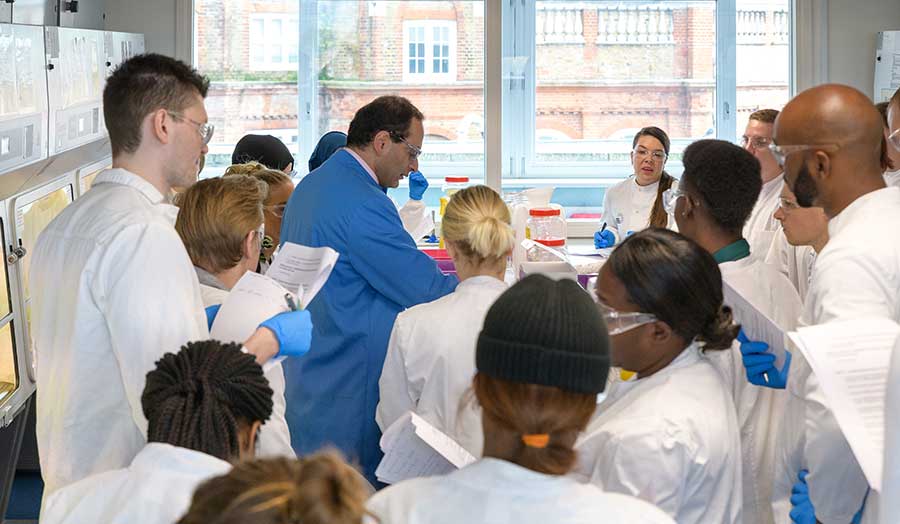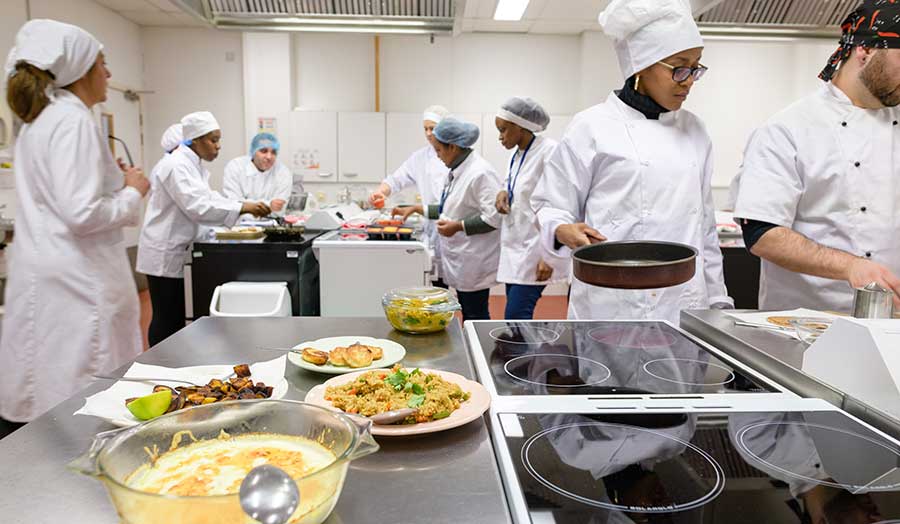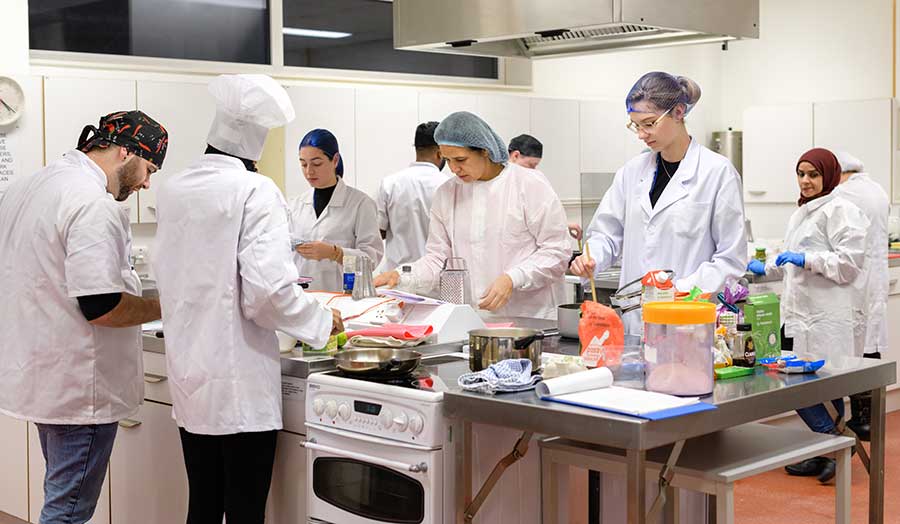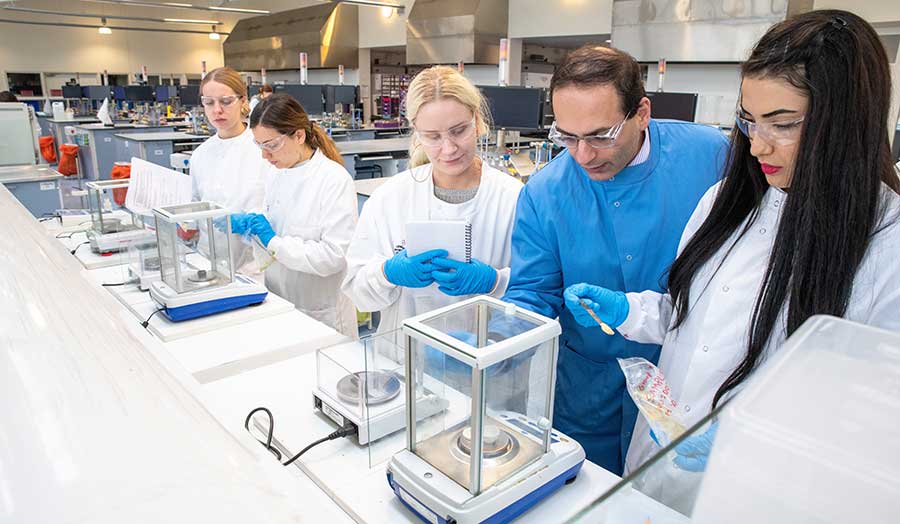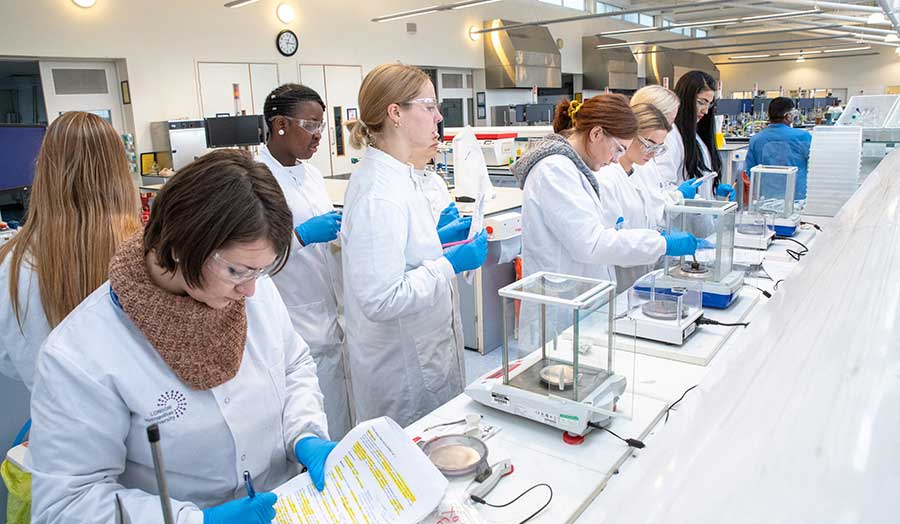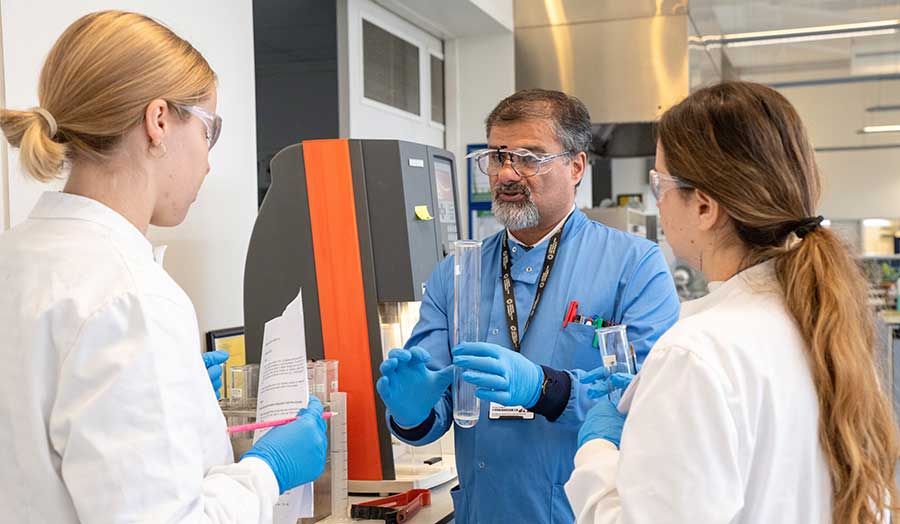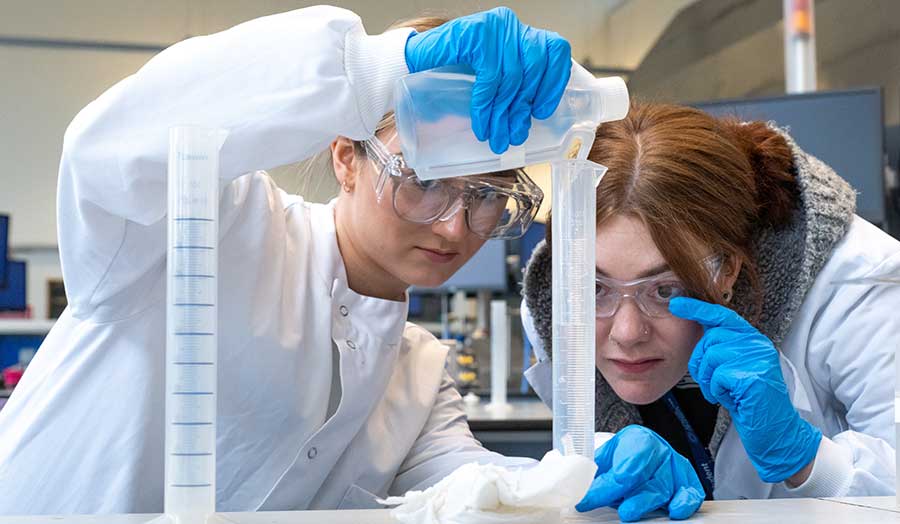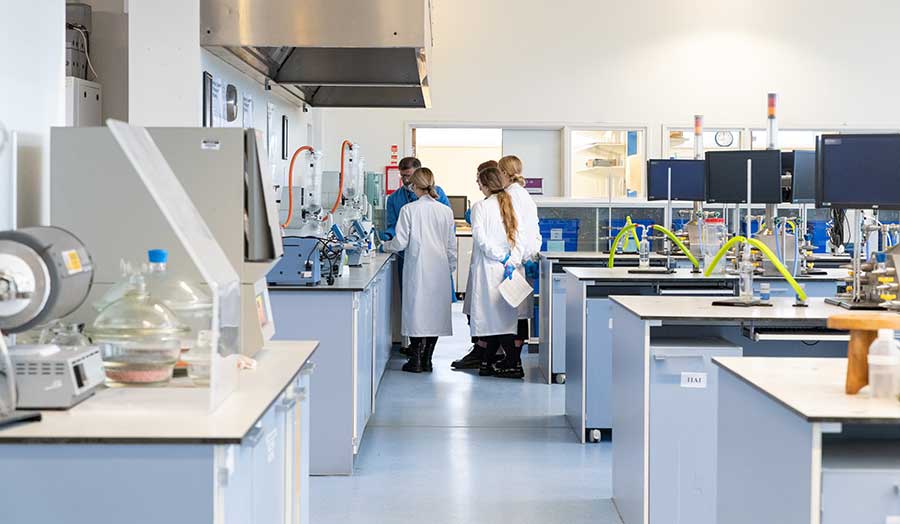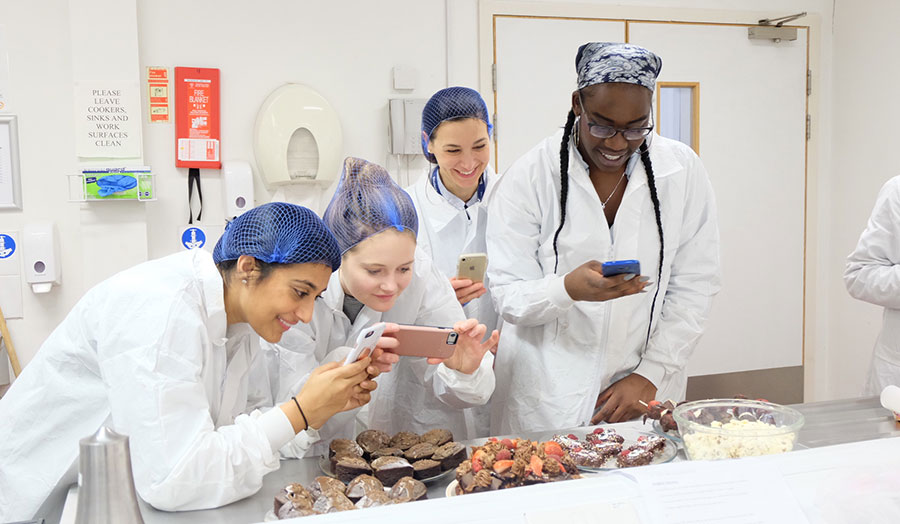 More about this course
This food science degree provides advanced study opportunities that build on your previous experience in an appropriate first degree course enabling the upgrade of existing qualifications, while also developing knowledge and skills.
The course team has particular expertise in food analysis, food microbiology and including food safety, spoilage and fermentations, product development and quality control, as well as an excellent understanding of food sustainability, food policy and nutrition.
This expertise is reflected in the range of modules offered in the MSc with analytical facilities available for study and research, and opportunities to be involved in food analysis, food product development and food manufacturing projects.
The Microbiology Research Unit team provides vital support and research topics for the dissertation element of the course and other staff members are involved in food manufacturing consultancy. London Metropolitan University has an excellent research profile, with food science staff publishing in highly rated journals and supervising PhD students appearing on radio and television as experts.
The structure of the course gives you the essential knowledge and skills for your future career. You can choose to emphasise laboratory-based subjects such as food microbiology and food analysis or areas such as quality assurance or food production and development including sensory analysis. The course develops your knowledge of food manufacturing and processing, analysis and testing packaging, storage, distribution, legal aspects, sustainability and food security.
You'll ultimately become an independent researcher or potential manager, with the ability to critically evaluate food science and apply it to new situations, following either an academic or an industrial related career path.
Assessment
The assessment strategy for this course not only assesses your knowledge, understanding and abilities but provides a wide range of experience particularly in key skill areas to prepare you for your future career in different areas of the food industry.
You'll gain experience in critical analysis, literature searches, poster presentations, data handling, and analysis and practical skills. Assessments comprise of written assignments, laboratory logs and poster presentations, and there are two exams. Students undertake a research project and submit a final dissertation that is defended in an oral exam.
Professional accreditation
The course is fully accredited by the Institute of Food Science and Technology (IFST). Students are encouraged to join the IFST as associate members and to attend meetings or industrial visits that the Institute organises. They may transfer to full membership after graduation and a period of professional experience. Membership of IFST allows access to specialist publications, meetings and an international network of food scientists and technologists.
Entry requirements
You will be required to have:
a lower second honours degree (or equivalent) in food science or a related subject such as microbiology, biochemistry, nutrition or agricultural sciences
Mature students with lesser qualifications but extensive appropriate experience will be considered on an individual basis.
Accelerated study
You have the opportunity to apply for credits based on previous experience gained in the food industry through Accreditation of Prior Experiential Learning (APEL).
Accreditation of Prior Learning
Any university-level qualifications or relevant experience you gain prior to starting university could count towards your course at London Met. Find out more about applying for Accreditation of Prior Learning (APL).
English language requirements
To study a degree at London Met, you must be able to demonstrate proficiency in the English language. If you require a Student visa you may need to provide the results of a Secure English Language Test (SELT) such as Academic IELTS. This course requires you to meet our standard requirements
If you need (or wish) to improve your English before starting your degree, the University offers a Pre-sessional Academic English course to help you build your confidence and reach the level of English you require.
Modular structure
The modules listed below are for the academic year 2022/23 and represent the course modules at this time. Modules and module details (including, but not limited to, location and time) are subject to change over time.
Year 1 modules include:
This module currently runs:

autumn semester - Tuesday morning

This module aims to give students an overview of analytical methods used for foods and experience in using some of the more advanced methodologies together with an understanding of their scope and limitations. The module is assessed through coursework comprising a critical review on standard methods and a report of an analytical investigation.

This module currently runs:

spring semester - Wednesday morning

This module is designed to integrate theory and practice of food microbiology and microbial risk assessment. It covers the mechanisms and factors affecting the microbial growth, risk analysis with respect to microbial food safety, predictive microbiology, emerging pathogens, foodborne disease, microbiology from farm to fork, control of pathogens and introduction to molecular microbiology. Attendance for all practicals is essential. Assessment: On–line exam: Weekly quizzes (20%), Coursework 2 (40%) and Exam: Unseen exam (40%) [pass on aggregate]

This module currently runs:

autumn semester - Wednesday afternoon

This module is designed to merge two important and relevant elements of Food Science program together.
The first section integrate theory and practice through practical food product development, research and sensory evaluation. Techniques used in industry for commercial product development and creation of initial product concept to product launch involving aspects of packaging, labelling, pricing and marketing and issues of starting a new food business will be explored. Theory of sensory evaluation techniques are discussed and after practical training some of the techniques will be used and the results are analysed.
In the second part of the module, students will study the basic principles of food processing, theoretical aspects of processes, new technologies in food processing, fermented foods, functional foods, and reduction of waste with particular reference to organic foods. Attendance for all practicals is essential.
Assessment: Coursework 1 Poster & Oral Presentation (40%) + Coursework 2 Product development report and presentation (60%) [Pass on aggregate]

This module currently runs:

autumn semester - Wednesday morning

The module examines in detail the key aspects of the management of food safety through prerequisite programmes and HACCP as well as the role of supplier assurance and ingredient specifications in managing the quality of processed foods.
The concept of risk analysis and its three main components (risk assessment, risk management and risk communication) will be introduced. Students will study the application of Hazard Analysis Critical Control Points (HACCP) and the main causes of system failure. They will examine industrial case studies and identify best practice before writing a comprehensive HACCP plan. They will understand the importance of government inspection and sampling programmes as well as the growing reliance on third party auditing to agreed industrial standards (IFS, BRC, ISO and SALSA) in the safe and consistent production of food that complies with EU and global legislation. The use of consumers' purchasing power to drive up safety and quality standards will also be explored.
Assessment: Coursework 1 (60%) + Coursework 2 (40%) [Pass on aggregate]


This module currently runs:

autumn semester
summer studies
spring semester

Students undertake an extended research project that develops their abilities to plan and execute an advanced piece of research, analyse the results, present them in a dissertation that includes a review of previous research and sets their work in context with critically argued discussion. The research project is intended to build upon the taught modules of the award and is underpinned by the NF7053 Scientific Research Methodology module.

This module currently runs:

spring semester - Tuesday afternoon

The module is designed to provide students with an understanding of the graduate skills required for the planning, organisation and practice of food science research, and enhance students' employability skills for a career in food or related subject area. The module will also cover basic statistics, data analysis, literature evaluation, and consider the impact of scientific research on a variety of issues including ethics, health & safety, and data protection.

1. To review basic statistical tests commonly applied to quantitative data sets in food science.
2. Develop and enhance graduate-level research skills in food science, including research design & hypotheses testing, and presentation skills.
3. To provide students with the skills needed to analyse and evaluate published scientific research (relevant to a current or novel scientific topic) using appropriate databases and search techniques.
4. To consider the impact of scientific research on a variety of issues including ethics, health & safety, and data protection.

This module currently runs:

summer studies
spring semester
autumn semester

This module gives students the opportunity to undertake an assessed work placement in the food industry. The assessments are designed to encourage reflection of their experience and demonstrate learning at level 7.

This module currently runs:

spring semester - Tuesday morning

This module aims to develop a critical understanding of the rationale for and the formulation, implementation and limitations of food, nutrition and obesity policies, in local, national and international contexts. The content of this module will draw upon prior knowledge and practical experience in basic food and nutrition science.
This module will focus on the food and nutrition issues at the population level and how they relate to chronic disease prevention and wellbeing. It will draw upon the epidemiology of nutrition-related morbidity to examine how local, UK, European, international and global food, nutrition and obesity policies and strategies are formulated, implemented and evaluated. This will be approached within a context of the wider food and public health systems and policies and the political environment. Surveillance will be examined ranging from global to local systems, with special reference to the National Child Measurement Programme. The obesogenic environment (with particular reference to the role of the food industry) will be addressed. Health promotion theory, historical and current activities including Change4Life. Fiscal policies to address the obesity epidemic will be evaluated.
What our students say
"I am proud to have gone through London Metropolitan University and to have been taught by staff who were patient, knowledgeable, motivating and relentless in their support. Their insightful encouragement, infectious enthusiasm and zeal set the stage for me to obtain an MSc with Distinction in Food Science for which I am very pleased." Rudolf Fombum
Where this course can take you
The food industry is the UK's largest manufacturing sector and there is a massive demand for qualified professionals. The skills and knowledge developed in your MSc will enhance your career opportunities in food and related industries including manufacturing, product development, marketing, environmental health, consultancy, research or education. Graduates are also well prepared for research and for postgraduate study (PhD). Interview practice with industry support and CV development is also integrated into the course.
Our recent MSc graduates have gone on to join the following positions and companies:
food technologist – Haydens Bakery
technical legislation coordinator – United Biscuits
process development – Bakkavor
technical team member – Food Partners Group
quality control – Nestlé
nutritionist and quality analyst – Krush Global
business development manager – Kerry Group
consumer technologist – Wealmoor Ltd
microbiology technician – GlaxoSmithKline
confectionary development – Sainsbury's
technical team manager – Nature's Way Foods
lecturers and researchers – London Metropolitan University, Coventry University, Kyushu University, University of Trinidad and Tobago, University of Melbourne
Additional costs
Please note, in addition to the tuition fee there may be additional costs for things like equipment, materials, printing, textbooks, trips or professional body fees.
Additionally, there may be other activities that are not formally part of your course and not required to complete your course, but which you may find helpful (for example, optional field trips). The costs of these are additional to your tuition fee and the fees set out above and will be notified when the activity is being arranged.
Use the apply button to begin your application.
If you require a Student visa and wish to study a postgraduate course on a part-time basis, please read our how to apply information for international students to ensure you have all the details you need about the application process.
When to apply
You are advised to apply as early as possible as applications will only be considered if there are places available on the course.
To find out when teaching for this degree will begin, as well as welcome week and any induction activities,
view our academic term dates
.