Professor David McCarthy is a professor of nutrition and health with the School of Human Sciences.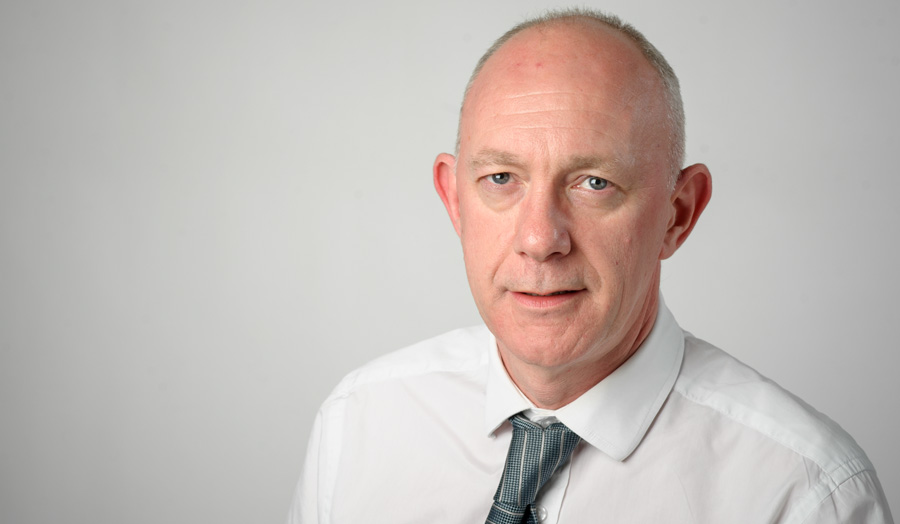 Professor David McCarthy
Biography
David McCarthy studied for a BSc in Nutrition at Queen Elizabeth College, University of London and then undertook a PhD in Biochemistry at the University of Manchester where his research focused upon the central regulation of appetite and energy balance in obesity. Following a short post-doctoral research post working on hypermetabolism with Professor Dame Nancy Rothwell in the Department of Physiology, David moved to the Department of Medicine, University of Liverpool as a post-doctoral research fellow and honorary lecturer. There his research focused on cancer-associated anorexia and cachexia, funded by the Cancer Research Campaign.

In 1992 he moved to the newly established Institute of Human Nutrition at the University of Southampton to take up a lectureship in metabolic nutrition, where his research began to focus on the early life origins of obesity. David then moved to the University of North London, the precursor to London Metropolitan University, in 1995 where he was asked to initiate nutrition research, including the training of PhD students. Alongside this role, he also established the BSc Human Nutrition in 1996, followed by the MSc Human Nutrition in 2001. Both courses are currently accredited by the Association for Nutrition. The MSc in Obesity and Weight Management followed later. Upon the formation of the Institute for Health Research and Policy at London Metropolitan University, David was made Reader in Human Nutrition and then Professor of Nutrition and Health in 2008.
David re-aligned his nutrition research from basic science to applied human studies when he moved to London Met. In the time he has been here, David has become a nationally recognised leader in the nutrition field for his work in developing national references for nutritional status in children. His pioneering growth charts are used both clinically and in public health settings across the UK and around the world. David now leads the Public Health Nutrition and Food Microbiology Research Group in the School of Human Sciences.

Outside of London Met, David's professional activities include his role on the Course Accreditation Committee and Professional Affairs Committee of the Association for Nutrition. He has also served as a member of Council of The Nutrition Society and has been an active member of the Association for the Study of Obesity for over 30 years. He has acted as external examiner for a number of BSc and MSc courses and PhD students across the UK as well as overseas. He has provided on screen and on-air expertise on a number of TV and radio programmes as well as being a regular contributor in the press.
Teaching and interests
Teaching
Metabolic nutrition
Nutritional assessment
Nutrition and food policy
Sports and exercise nutrition
Research methods

Research interests
Development of references, norms and growth charts in children and adolescents
Body composition assessment
South Asian ethnicity and metabolic risk
Abdominal adiposity and metabolic risk
Calorimetry
Weight management strategies
Obesity policy
Publications
Selected publications
Shah, M and McCarthy HD (2019). Waist circumference percentile curves for UK children and youths of South Asian origin. (Arch Dis Child, in press).
Sadeghimakki R and McCarthy HD (2019) Interactive effects of adiposity and insulin resistance on the impaired lung function in asthmatic adults: cross-sectional analysis of NHANES data. Ann Hum Biol 46: (1) 56-62.
Koohkan S, McCarthy HD, Berg A (2018). Benefits of Physical Activity in Weight Reduction - Therapeutic Approaches from a Metabolic and Energetic Point of View: A Systematic Review. Phys Med Rehabil Int. 5: (1): 1136.
Morrison S, Mahaffey R and McCarthy HD (2018). Associations between obesity and paediatric foot dimensions. J Amer Podiat Med Assoc, 108, 5, 383-389.
McCarthy HD (2017) Assessment of nutritional status in public health settings'. Nutrition Society textbook series – Public Health Nutrition, 2nd ed.
Berg A, McCarthy HD and Koohkan, S (2017). The effect of a soy-yoghurt-honey product on overweight, obesity and related health risk factors - a review. J Nutr Health and Food Sci 5: (2): 1-10.
Koohkan S, Golesorkhi M, Vitolins MZ, McCarthy HD, Deibert P, König D and Berg A (2016) The Influence of a Meal Replacement Formula on Leptin Regulation in Obese Adults. J Nutr Health and Food Sci 4 (4): 1-5.
McCarthy HD (2014). Measuring growth and obesity across childhood and adolescence, Proc Nutr Soc 73, 210-217.
Koohkan S, Golsorkhi M, Schaffner D, Konig D, Deibert P, McCarthy HD and Berg A (2014). Effect of Different Isoenergetic Breakfast Compositions on Blood Glucose Regulation, Energy Allocation and Satiety. J Nutritional Health and Food Science 2, (4) (open access journal).
McCarthy HD, Jebb SA and Prentice AM (2014). Skeletal muscle mass reference curves for children and adolescents. Ped Obesity 9, 249-259.
Navti L, Samani-Radia D and McCarthy HD (2014) Children's body fatness and prevalence of obesity in relation to height for age. Ann Human Biol. 41, 84-90.
Poh BK, Jannah AN, Chong LK, Ruzita AT, Ismail MN and McCarthy HD (2011). Waist circumference percentile curves for Malaysian children aged 6-16y. Int J Ped Obesity 6, 229-35.
Viner RM, Fry T, Gupta S, Kinra S, McCarthy D, Saxena S, Taylor S, Wells JC, Whincup P, Zaman MJ. (2010). Insufficient evidence to support separate BMI definitions for obesity in children and adolescents from south Asian ethnic groups in the UK. Int J Obesity 34, 656-658.
Pliakas, T and McCarthy HD (2010). Relative leg length and total and regional body fatness in children. Annals of Human Biol, 37, 10-22.
Samani-Radia, D and McCarthy HD (2010). Socioeconomic status and body fatness in children: role of height growth limitation. Int J Obesity, 35,128-33.
McCarthy HD (2006). Body fat measurements in children as predictors for the metabolic syndrome: focus on waist circumference. Proc Nutr Soc 65, 385-392.
McCarthy HD and Ashwell M (2006). A study of central fatness using waist:height ratios in UK children and adolescents over two decades supports the simple message – 'keep your waist circumference to less than half your height'. Int J Obesity 30, 988-992.
McCarthy HD, Jebb, S, Prentice A et al. (2006). Body fat reference curves for children. Int J Obesity 30, 598-602.
McCarthy HD, Jarrett, KV et al. (2005). Increasing waist circumferences in young British children - a comparative study. Int J Obesity 29, 157-162.
Collins, AL, McCarthy, HD et al. (2004). Inter-laboratory variation in body composition measurement by air displacement plethysmography. Int J Obesity 28, 80-90.
McCarthy, HD, Ellis, SM and Cole, TJ (2003). Waist circumference in British children aged 11-16 years 1977-1997: dramatic increases in central overweight and obesity. Brit Med J. 326, 624-628.
Collins, AL and McCarthy, HD (2003). Evaluation of factors determining the precision of body composition measurements by air displacement plethysmography. Eur J Clin Nutr 57, 770-776.
McCarthy, HD, Crawley, HF and Jarrett, KV. (2001) Development of waist circumference percentiles in British children aged 5.0-16.0 years. Eur J Clin Nutr 55, 902-907.
Contact Professor McCarthy