Student success at Mayor's Entrepreneur competition
Three enterprise projects from the University have made it to the semi-final of this year's competition, and are in the running for a £20,000 start-up grant.
Date: 18 May 2021
Several London Met students have made it to the semi-final of this year's Mayor's Entrepreneur competition, which carries the chance of winning a £20,000 start-up grant, along with expert mentoring from staff at City Hall to get their idea to market.
The competition has asked London's students to come up with viable, sustainable business ideas since its inception in 2012.
The programme aims to create growth that makes London cleaner, greener and ready for the future; and, to ensure students see entrepreneurship as a viable career path and get the skills they need to succeed.
From London Met, the students in the running for one of the five awards are Devere Mahbeir, Innocent Lubangakene, and a team of Food Scientists comprising Harry Fountain, Vaidehi Apte, Georgina Olley and Marjolijn Pausma.
Innocent, who studies Electronics and Computing Engineering BEng at the University, is developing a digital advertisement company called LID XR. It creates immersive and interactive mixed-reality campaigns for hospitality businesses around London.
He said, "My business goal is to help hospitality businesses bridge the connectivity gap between customers and the final services they intend to purchase. It is amazing how this could improve customer experience in relation to the business brands they interact with.
"It does feel rewarding knowing that the business idea I conceptualised in my mind is now being validated out in the world and credited. It also gives me confidence that my persistence, hard work and planning turned ideas into something feasible.
"My Electronics and Engineering degree inspired my love for using technology in a constructive way. The coding, design and creation skills were cultivated during my academic studies and I believe these skills were transferable when I decided to venture into starting up LID XR."
Business Management and Marketing BA student Devere came up with Rent-all cycles, a bicycle, scooter and skate rental service, which is focused on providing; short and long term rentals of cycles and other related equipment for commuting or recreational purposes.
He said, "I am absolutely thrilled to have made it this far in the competition. The news that; I had made it to the next stage gave me a major boost of confidence, self-belief and belief in the potential of rent-all cycles.
"The study of a degree in Business Management and Marketing has played a pivotal role in shaping the way I go about my endeavours. The wealth of information I have acquired through my studies have empowered me to become, not just more critically aware of the business environment as a whole, but also to be more critical of my own actions in becoming the best version of myself.
"Access to the University's Accelerator program has also been a huge help in the refining and scaling of my idea. I look forward to learning and growing as a student, an entrepreneur and an active member of my community."
Food Science MSc student Harry Fountain and his team developed BUG Burgers, a sustainable, highly nutritious alternative to meat burgers, made from lentils, mushrooms, carrots and 8% cricket flour.
Harry explained that the unique ingredients "gives the burger a high protein value and the essential amino acids that other plant-based burgers do not have. Red meat is extremely unsustainable so this burger was created to combat the negative environmental effects of red meat."
He continued, "It feels great to reach the semi-final and it has given us all more confidence in the idea! We really feel that this can be a successful business.
"The course has definitely helped with our ability to develop and produce new exciting products, and has allowed us to launch this business."
The competition taps into the perspectives and creativity of London's students to find solutions that will improve their city. The programme is delivered in house by GLA staff and funded through support from the Citi Foundation. The winners will be announced in early June.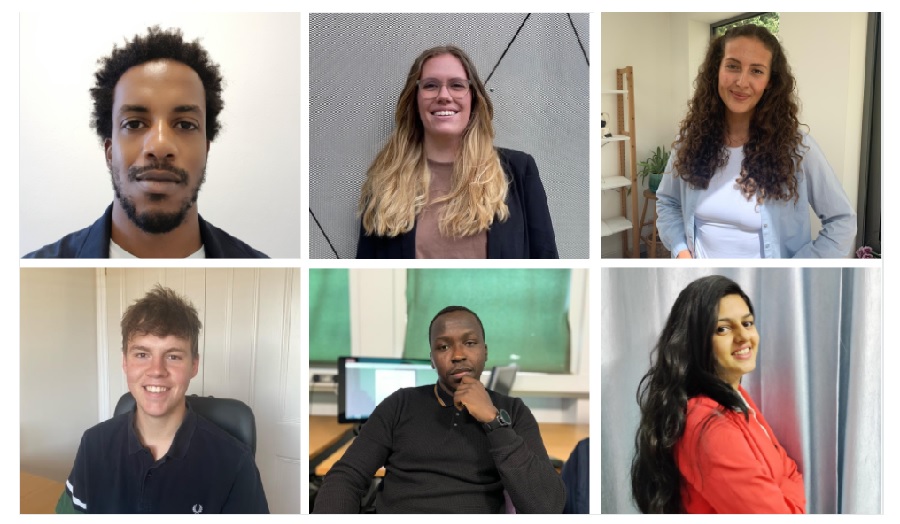 Clockwise from top left: Devere, Marjolijn, Georgina, Vaidehi, Innocent, Harry.