Sunny Singh is Professor of Creative Writing and Inclusion in the Arts. A globally acclaimed, critically renowned novelist and internationally reputed academic of the arts and social sciences, her output transcends academia and extends into public discourse and advocacy. Recognised as pre-eminent decolonial public intellectual, she is today one of the UK's leading champions for inclusion across all aspects of society.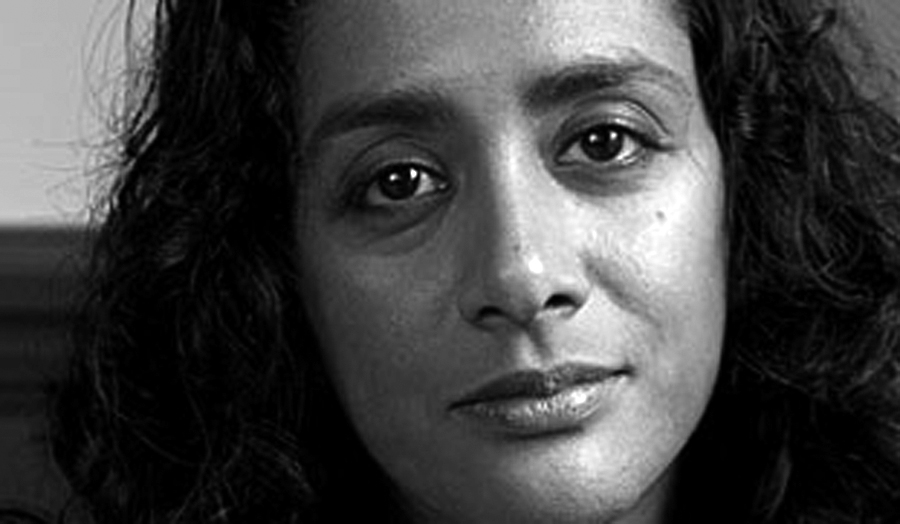 Sunny Singh
Biography
Born in India, and raised as a global citizen, Sunny holds degrees from Brandeis University (USA), Jawaharlal Nehru University (India), and University of Barcelona (Spain). Prior to joining academia, she worked in the private sector in Mexico, Chile, India, and South Africa.
Her debut novel, Nani's Book Of Suicides was described as a "first novel of rare scope and power." Her second novel, With Krishna's Eyes, was commended for its "profound insight" and described as "memorable". Published to rave reviews, the Independent described her latest novel, Hotel Arcadia, as "powerful and absorbing".
Her first non-fiction book, Single In The City: The Independent Woman's Handbook, is a path breaking exploration of single women in contemporary India while her latest monograph is the first of its kind study of the Indian film superstar, Amitabh Bachchan, exploring not only cinematic and cultural but also political, sociological and technological aspects of the star and his stardom.
She is also the founder of the game changing Jhalak Prize for Book of the Year by a Writer of Colour as well as the Jhalak Art Residency for Artists of Colour.
Research interests
Sunny's research interests include decolonisation, social justice, equality and representation(s). She is particularly interested in multi-disciplinary research projects that consider the above from an intersectional lens.
Teaching
Sunny has nearly 20 years of experience of teaching in higher education in transcultural, global environments. While she currently teaches Creative Writing and English Literature at undergraduate and postgraduate levels, she has also taught modules in Film Studies, Theatre, Scriptwriting, Journalism and Cultural Studies. Her particular interest is in Ethics of Creative Practice and has been course leader for Creative Writing and English Literature.
Publications
Single Authored Books:
Singh, S. A Tango Bar and Other War Stories (forthcoming)

Singh, S. Re-visioning Bollywood: Towards Culturally Relevant Theoretical Frameworks (forthcoming)

Singh, S. (2017) Amitabh Bachchan, BFI/Bloomsbury

Singh, S. (2015) Hotel Arcadia, Quartet Books (translations: Dutch, French, Turkish)

Singh, S. (2006) With Krishna's Eyes, Rupa Publishers (translations: Spanish, French, Italian, Serbian)

Singh, S. (2001) Single in the City: The Independent Woman's Handbook, Penguin

Singh, S. (2000) Nani's Book of Suicides, Harper Collins Publishers (translation: Spanish)
Short stories:
Singh, S. (forthcoming). 'Tulips'

Singh, S. (forthcoming). 'The Refuge'

Singh, S. (2018). 'A Tango Bar in Buenos Aires,' The Good Journal

Singh, S. (2016). 'In the Vauxhall Pleasure Gardens.' An Unreliable Guide to London, Influx Press

Singh, S. (2011). 'The Wait.' The Ellery Queen's Mystery Magazine (Japanese translation, Hawakaya's Mystery Magazine, March 2012)

Singh, S. (2010). 'Faded Serge and Yellowed Lace.' World Literature Today: A Bimonthly Magazine of International Literature and Culture

Singh, S. (2009). 'A Cup Full of Jasmine Oil.' The Drawbridge; reprints: Orientalia Suecana; Out! Stories from the New Queer India, Queer Ink; Aesthetica Creative Writing Annual, 2018

Singh, S. 2008. 'Diplomatic Immunity Fatigue.' The Drawbridge

Singh, S. (2008). 'Tomorrow the Tigress Will Hunt' The Drawbridge

Singh, S. (2002). 'Bungalow Number Nine.' Days of Innocence: Stories for Ruskin Bond, Roli Books
Select Nonfiction:
Singh, S. (2018). 'The Gait of the Elephant.' Pree Lit

Singh, S. (2017). 'A Very British Blindness.' Goodbye, Europe, Orion Books. Reprint Postcards to Europe, Orion Books

Singh, S. (2017). 'Why the lack of Indian and African Faces in Dunkirk Matters.' The Guardian

Singh, S. (2017). 'The end of necro-capitalism (but not necessarily capitalism).' Media Diversified Academic Space

Singh, S. (2014). 'My Body is Not Your Images: Diversity, Aesthetics and Popular Culture.' Complicit No More

Singh, S. (2013. 'Towards an Inclusive, Fluid Construction of Gender and Sexual in Commercial Indian Cinema(s).'The Other in South Asian Religion, Literature and Film: Perspectives on Otherism and Otherness, Routledge

Singh, S. (2011). 'Evolving Modernities: Formation of the Urban Imagination in Hindi Cinema.'Billy Wilder, Movie Maker: Critical Essays on the Films, McFarland

Singh, S. (2010). 'From Kurukshetra to Ramarajya: A comparative analysis of the star personas of Amitabh Bachchan and Shah Rukh Khan.' Religion in Literature and Film in South Asia, Palgrave Macmillan

Singh, S. (2009). 'In Praise of the Delinquent Hero or How Hollywood Creates Terrorists.' How They See Us: Meditations on America, Atlas Books

Singh, S. (2009). 'Sobre Santas y Guerreras.'Context: Asia Pacific, the PEN International Magazine

Singh, S. (2008). 'The Road to Rāmarājya: Analysing Shah Rukh Khan's Parallel Text in Commercial Cinema.' BELLS: Barcelona English Language and Literature Studies

Singh, S. (2008). 'Writing Against History: Seizing Subjecthood for the Aborigine Narrative.' New Zealand & Australia: Narrative, History, Representation, Kakapo Books

Singh, S. (2008). 'Defining the Self, Not the Other: Development of a Non-Pakistan-centric Post-Globalization National Identity in Hindi Cinema 1996-2006.' Filming the Line of Control: The India-Pakistan Connection in Hindi Films, Routledge

Singh, S. (2006). 'Writing in My Own Foreign Language: Dilemmas of an Indian Writer in English.' Translating Identity and the Identity of Translation, Cambridge Scholars Press

Singh, S. (2006). 'Fear of Meeting Mr. Right.' Single Woman of a Certain Age: Romantic Escapades, Shifting Shapes, and Serene Independence, Inner Ocean Publishing

Singh, S. (2005). 'Mi Cine – El Bollywood: Rasas y Maya, conceptos milenarios en la actualidad.' Papeles de la India

Singh, S. (2005). 'La Industria Cultural en la India Actual.' D-CIDOB
Professional activities
Founder and director of the Jhalak Prize and the Jhalak Art Residency. Former chairperson of the Authors' Club. Trustee, Pop-Up Projects CIC; Advisor, Pathways into Children's Publishing.
Esteem factors
Sunny appears regularly in British and international radio, televesion and print media.
Contact Sunny