Read below for Sahil's story.
Graduate stories: Sahil Vohra
Sahil moved to London from Mumbai to pursue his dream of an aviation career.
Date: 1 August 2018
Hundreds of London Met students gathered at the Barbican, London, for their graduation ceremonies. In our Graduate Stories series, we share a selection of their, often inspirational, stories and what they plan to do next.
Childhood wonderment is what ultimately inspired Sahil Vohra to study Aviation. Watching aeroplanes move effortlessly across the sky he wanted to know 'how do they do that?', and going on holiday, getting to the airport seeing the airport staff and cabin-crew in their uniforms inspired him to dream, dream that one day he too would be one of those people in uniform at the airport; and so, Sahil decided that he would study Aviation.

Originally from Mumbai, India, Sahil, now works as an Operational Passenger Officer at Terminal 4, Heathrow Airport. Graduating as part of the Class of 2018 after successfully completing his course in Aviation here at London Met, his journey didn't start here. In 2003, at age 21, Sahil moved to the UK only knowing a few words of English.
Settling in Newcastle, where he lived for 10 years, Sahil exclaimed being alone in a city where you do not know anyone, with a language and an accent you do not speak or understand so everything goes over your head and a culture so different from your own is a mammoth challenge. But six months later, through sheer determination, Sahil learnt to speak enough English which would allow him to communicate more confidently, get a part-time job and make new friends.

Growing up in Mumbai, Sahil had drive and a sense of purpose. He worked to financially support his family but there was a big dream in his heart and when he arrived here in the UK he set about following it. Embarking upon a Travel and Tourism course at Northumbria University in Newcastle, Sahil saw this as the first step in the direction of his dream but after one year he decided to leave because it wasn't the right course for him, and on top of that he also decided to move cities.
At first, he second-guessed his decision to make the move but after completing two years of study here at London Met under the tutorage of Nick Coleman, Course Leader, Aviation Management, Sahil says: "From the bottom of my heart, it has been the best time of my life."

He goes on to share his favourite memory of his time here: "During our aviation trips to Toulouse, USA and UAE with my classmates and professors there was such a sense of friendship and togetherness. We studied so hard for our exams, all of us helping each other revise."

"What have I learnt about myself from studying here? That I'm confident and can take and apply constructive feedback, all of which has helped with my leadership skills."

When asked how have your studies prepared you for your job at Heathrow? He said: "There are many things which helped me to prepare for my job at Heathrow. First and foremost, my course! This course is so well-structured and the modules are so relevant to the current aviation issues and the challenges including regulations. However, the assessment including practical activities, presentations and the assignments helped me in many ways. I had to go through an extensive and in-depth amount of research to complete my assessments. I have gained so much knowledge that's required to work in the aviation sector. All of which I will never forget for the rest of my life. Plus, the careers support and advice team were so helpful. They helped me to build my CV, taught me how to write a cover letter and how to search for relevant roles in the aviation industry. My tutors helped a lot in many ways on how to prepare myself for the workplace."

Sharing his thoughts on recommendations of the Aviation course here at London Met, Sahil said: "London Met is itself a teaching institute where so many people are working together to make it a better place. None of us are perfect and I see London Met trying very hard to improve every year to enhance the student experience and their performance. However, I would suggest allocating more financial resources for the aviation course. [Of course! Laughs]
Nick Coleman, Course Leader, Aviation Management said: "Sahil has addressed many challenges and succeeded in obtaining a First class degree pass because he engaged with his studies and worked hard to achieve success! We are always delighted when students have such a positive experience of their studies with us and believe this is our mission for all our students. We look forward to keeping in touch as he progresses in the aviation world."
After spending a month searching for the right course modules and other activities such as field trips, Sahil knew he had found what he was looking for when discovered his course at London Met.

"I took a big decision to move to London from Newcastle. And I am so happy with my decision. This is the best course in Aviation and I met some wonderful people through my time studying here."

Sahil Vohra followed his dream across continents. Will you follow yours? Find the right course for you, here at London Met.
Sahil graduated on Monday 30 July with First Class honours degree in Airline, Airport and Aviation Management BSc.
Join the conversation and share your story #LondonMetGrad18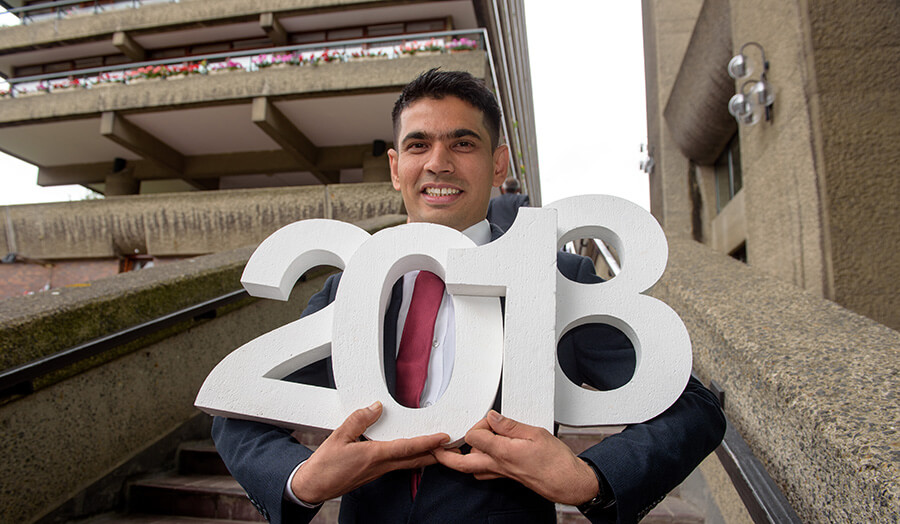 Read some of our inspirational 2018 Graduate Stories: