Graduate stories: Sarai Bibby
Sarai joined London Met as a mature student to study textiles and found herself along the way.
Date: 7 August 2018
Hundreds of London Met students gathered at the Barbican, London, for their graduation ceremonies. In our Graduate Stories series, we share a selection of their, often inspirational, stories and what they plan to do next.
I was working as a teaching assistant when I decided I wanted to do something different with my life. As a single parent who grew up in foster care, my life hasn't always been easy. I was always interested in art but I was unsure which route I wanted to go down.
I began at London Met as a mature student in 2014 and did the Extended Degree in Art and Design. This was a fantastic chance to explore a broad range of art topics and gave me an idea of what I wanted to do for my undergraduate course.
In 2015 I decided to embark on a three year course studying textile design and this July I will be graduating with a first class honours degree.
My work over the past three years has been an exploration of mental health. Designing work which looks at both my family, friends, relationships and myself.
My work has been a sort-of therapy. A chance for me to find myself.
When I did my work experience in my second year at London Met, I spent time with a child with ADHD providing one to one art therapy sessions with him. This was an incredibly valuable experience and one I won't forget.
This summer my work was chosen to take part in the New Designers 2018 trade show. This was a two week exhibition showcasing students work to thousands of industry specialists. I was even offered a hefty sum for one of my pieces!
My time at London Met has been such a wonderful opportunity to explore everything and everyone around me, including exploring my own thoughts and feelings.
London Met is like a huge family network. Teachers really care about you and give you the opportunity to find your niche and not just stick to the status quo. I keep in touch with one of my tutors regularly and am actually going to be doing support sessions with them soon.
Join the conversation and share your story #LondonMetGrad18
All London Met graduate automatically become part of our Alumni Association. Why not get in touch today and tell us what you're up to?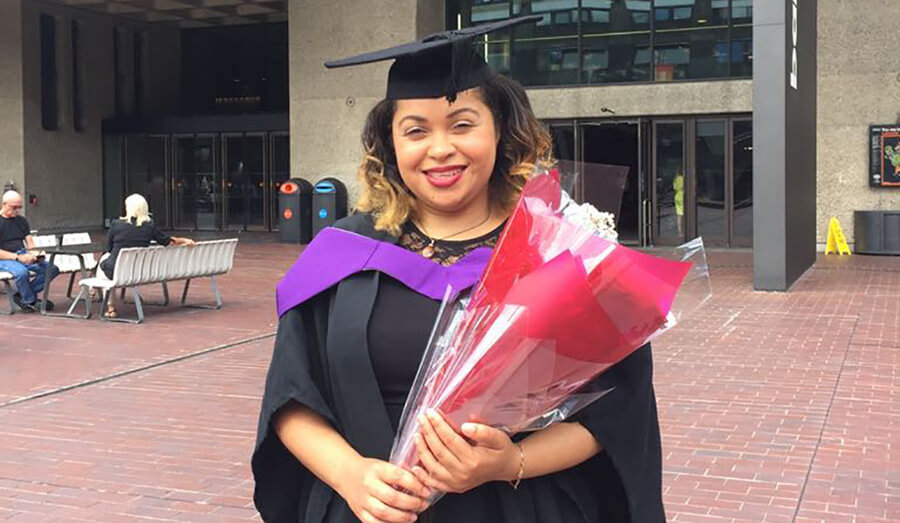 Read some of our inspirational 2018 Graduate Stories: