Studio 13: 'If I stay silent nothing will change': Identity, Politics, Social Change and Creative Culture(s)
Studio brief
'If I stay silent nothing will change': Identity, Politics, Social Change and Creative Culture(s)
This cross-disciplinary studio considers how power, culture, politics, identity, representation, activism, social media and mass culture theory intersect with a range of arts practices, including photography, architecture, design and fine art, film studies, fashion and music, sound, pop art and theatre. Artistic practices intersect, transgress and connect with social and political change in both local and global political landscapes, creating new meanings through the circulation of mass media, image, text and public performance, by politicians, artists, designers, performers and audiences.
Social media is now core to our understanding of the world, as well as the events and practices which shape our identities. Many artists, designers and musicians use social media platforms to empower, educate and to powerfully perform the self. Social media functions as a primary way of forming the self and of interacting with larger societal and political issues in a direct and visual way. The conjunction arts with social media enables new forms of art to be made, with a worldwide reach, revealing the current political climate as one of elite power, racism and sexism. In this way, artists', performers' and designers' outputs can powerfully reflect and respond to issues of identity politics and social change.
This studio enables a wide variety of exciting studies to be undertaken: it considers how various political and cultural perspectives have shaped creativity and performance, historically and contemporaneously, and examines our responses to those, often through artistic activism. Issues of race, class and politics are examined as stereotypical representational lenses. As recent examples, we see female architects attempting to break through the glass ceiling of their profession; female rappers in Afghanistan protesting against child marriage; Kanye West and Donald Trump as products of, and creators within, a predominant, often racist media culture; fashion designers such as Coco Chanel revolutionising clothes for working women; the intellectual and legal ownership of album art and design. Artists such as Santiago Sierra, Nan Goldin, groups like Public Enemy, and singers like Nina Simone and Fela Kuti emblematise or, through their artistic practice, represent the struggle of marginalised people against societal oppression.
Teaching is through lectures, seminars and tutorials. Key concepts in cultural studies, historical studies and media studies will aid your exploration of your chosen topic. You will examine with your Studio Leader a range of research methods, cultural theories and approaches, and consider the politics of creative practice and critical thinking. This studio is suitable for students from a wide range of backgrounds, across the whole range of Cass courses.
Image: Anonymous stencil of a quotation from a letter from Leopold 1 of Belgium to his niece, Queen Victoria. Available: Beware of Artists & Things You Want to be True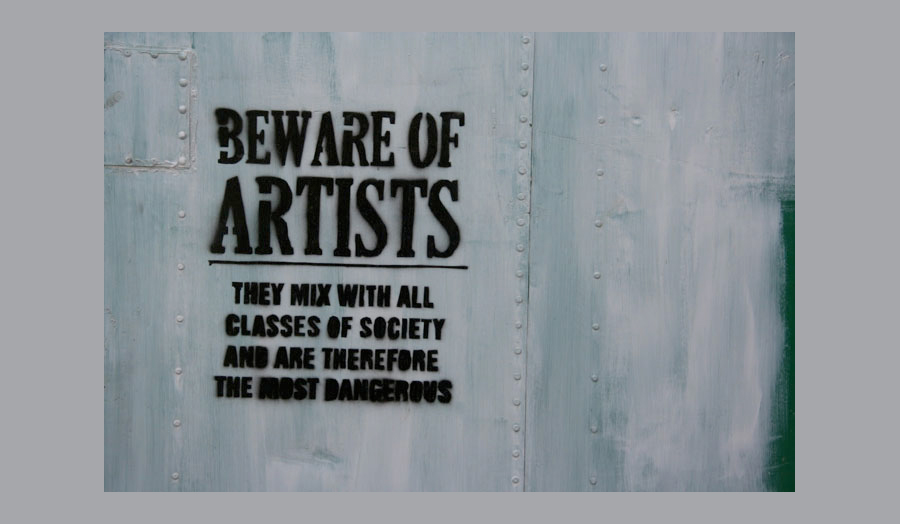 Cass Studios archive by year