Introduction to Letterpress with Robert Hetherington
A hands-on workshop exploring the beautiful process of letterpress printing.
Join us at The Cass School of Art, Architecture and Design in the heart of East London for a hands-on workshop exploring the beautiful process of letterpress printing.
Using our excellent presses and collection of wood and metal type, you will have the opportunity to try out the letterpress printing process from start to finish.
After getting to know the basics during the morning session, you will then compose and print your own set of postcards to take home in the afternoon.
The workshop is led by experienced letterpress practitioner Robert Hetherington and is designed for those with little or no experience.
Full materials will be supplied on the day. All we ask of you is to come prepared with a short sentence, lyric or quote that you would like to typeset and print during the workshop.
As we will be using ink, things could get a little messy! Aprons will be provided but please wear clothing that you don't mind getting dirty.
The workshop will begin promptly at 10am, in order for you to get the most out of your time, please arrive 15 mins early at the Old Castle Street reception desk.
Light refreshments will be provided at break time. Please bring your own lunch or visit one of the many local cafés.
While the workshop is on, The Cass is holding its annual Summer Show, which showcases students' talents from all levels across the school and disciplines. We invite you to take a look at the show during the lunch break.
Maximum of 8 spaces – don't delay, book your place today!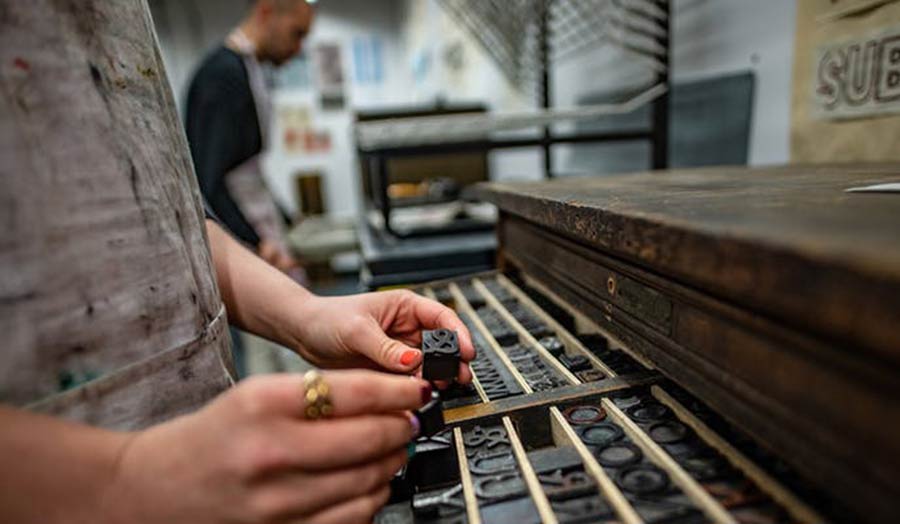 Date/times
Friday 21 June 2019, 10am to 5pm
Book now
Eventbrite
Location
The Sir John Cass School of Art, Architecture and Design (The Cass)
London Metropolitan University
Calcutta House
Old Castle Street
London E1 7NT
The Cass on Twitter
@TheCassArt
The Cass Hothouse Visual Communication talks