PG Architecture Unit 03: Folkestone Fun Palace
Unit brief
This year we are designing a contemporary museum and venue, inspired by Joan Littlewood and Cedric Price's theoretical designs for a "laboratory of fun" in the 1960's, to bring culture to a mass audience.
A flexible series of events or exhibitions – a machine for culture, within a permanent building that houses other functions that will form the spine of the building and extend to a masterplan for the town.
This builds on our unit last year, and on the work that we do as a practice at Nissen Richards Studio. We are interested in how culture permeates into the emotional landscape of a community and re-thinking what a museum might be – a lively engaged and relevant experience.
For the site we have chosen Folkestone in Kent, the site of the Folkestone Triennial exhibition that runs through the whole of the town every three years. A clash of art and 'real life' through the streets and landscape. The sites will be situated near where the
Pleasure Garden Theatre used to stand, that closed in 1964, we want to replace this with something more relevant to today.
We are interested in how the building sits within the town masterplan – and creates interesting juxtapositions and opportunities for change. A former industrial town, which has had a history of cultural investment that is well connected with the rest of the UK – Folkestone is a fascinating location for this project.
We will start in semester one with a small multi-purpose space connected to the Triennial – a new centre for the event that could locate exhibitions, events or a theatre. This will re-work the existing station that currently lies derelict and links a new garden route into town.
Our main project will be to design a building, or series of buildings that will be a cultural hub connected to the town and landscape. We will encourage our students to include the whole of the town as part of the experience. How you might approach and walk through the site. How the 'real life' of the city mixes with another narrative trail telling different stories through a presentation of objects from history, and art from today.
Nissen Richards Studio is a multi-disciplinary practice, working in the Arts. The unit is taught by four members of the studio, who are involved in major arts projects in the UK and internationally.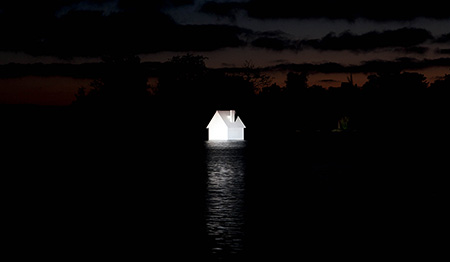 Image credit: Nissen Richards project for Aldeburgh Festival "The Way To The Sea", that took audiences through a whole village and landscape
Details
Course

Tutors
Pippa Nissen
Marie-Lise Oulmont
Andrea Hickey
Kate Coghlan
Where
Goulston Street
When
Monday and Thursday
Architecture Postgraduate Studios