PG Architecture Unit 06: Lines Through The City
Unit brief
"In considering how to recognize and envision the social dimensions of public space, design potentially engages with the formalized shapes and textures of place and with how local capacities are actively incorporated in the making and maintenance of public space." Suzanne Hall, 2014
"Never demolish. Transformation is the opportunity of doing more and better with what is already existing. The demolishing is a decision of easiness and short term. It is a waste of many things — a waste of energy, a waste of material, and a waste of history. Moreover, it has a very negative social impact. For us, it is an act of violence." Lacaton and Vassal, winners of Pritzker Prize, 2021
Students will assemble a piece of social infrastructure on sites at Loughborough Junction along a railway line which cuts through the city from Brixton to Peckham and beyond.
We will look at urban lines and change impenetrable boundaries into shared open borders making common civic ground.
You will be introduced to Unit 6's working methods during a Unit 6 field trip to the Centre for Alternative Technology, Wales. We will encourage you to find new ways of representing your ideas, foster cooperation between fellow students and provoke new ways of looking, imagining and representing.
Studies will be carried out with optimism, in the expectation that the creative interplay between the energy of the students and the residents' ongoing act of dwelling will generate a valuable and meaningful architectural discourse around engagement with the architectural opportunities and responsibilities available within civic topography.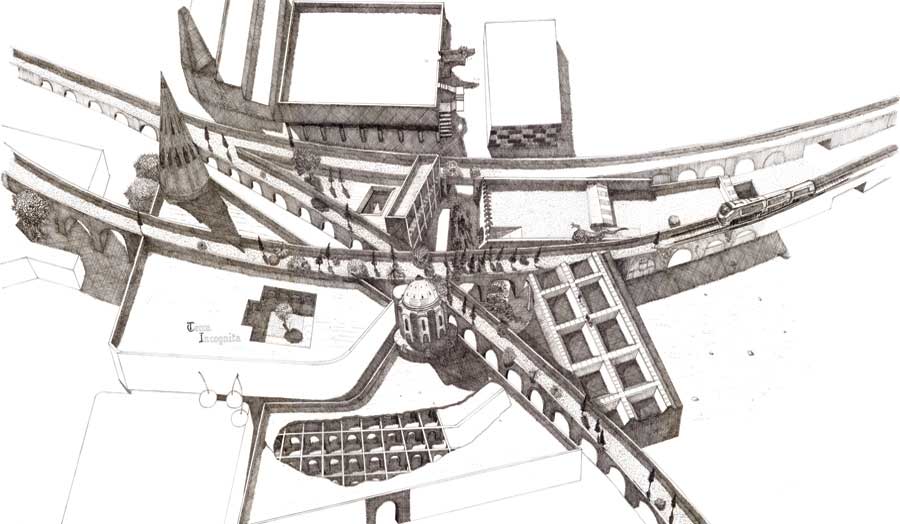 Image credit: Brixton, imagined adjacencies and tensions, Imran Sabur 2013
Details
Architecture Postgraduate Studios