PG Architecture Unit 08: Measurement – Arrangement – Intuition
Unit brief
Architecture's relationship with measurement has always been a contradictory one. Careful and precise studies and measurements of scale, proportion and ratio have often adapted to accommodate the backdrop of what exists around them; be it through dialogue with the nature of site, budget or impromptu decision making.
Building upon their research on doing almost nothing, this year Unit 8 will focus on this contradictory relation to investigate the importance of mastering a system of mathematical measurements and ultimately, of setting free from it. We will continue to work with existing built fabric, with limited budget, and using as few resources as possible.
Dwelling on the notion of enough already developed during the last academic year, we will challenge our fundamental tools as architects to observe, transform and re-use. Through repetition, adjustment, trial, and error, we will compose and compare architectural arrangements against the backdrop of what already exists. While studying and comparing precedents, which have considered notions of scale, arrangement, and measurement, we will encourage students to explore their own personal and intuitive decision-making processes. Through these, we will identify tensions and compromises between mathematical measure and the imperfect existing context and consider how the resulting forms affect the wider context.
We are interested to investigate how architects can participate collaboratively on fringe sites which will inexorably be engulfed by new developments. Our area of investigation sits just South of Hackney Wick, Fish Island, and the Olympic Park area along the River Lea – where this phenomenon is ongoing with alarming speed. We will begin the year by studying Bromley Hall and Library in Poplar, East London. Hand-drawn, careful, modelled and photographic surveys will lay the base of interventions on the existing fabric to radically rethink its relation its surrounding. From here, we will expand the range of action to the surrounding area, seeking potential and opportunities to produce invigorative projects of public generosity.
Our seminar programme will focus on works inspired by both mathematical measurements and intuition in architectural arrangement both historical and contemporary. We aim to look deeper than stylistic questions, to grasp the core relations in these works. Similarly, we will travel within a sustainable reach to visit architecture that have considered such matters from a variety of periods, learning to appreciate the existing and often neglected heritage at hand.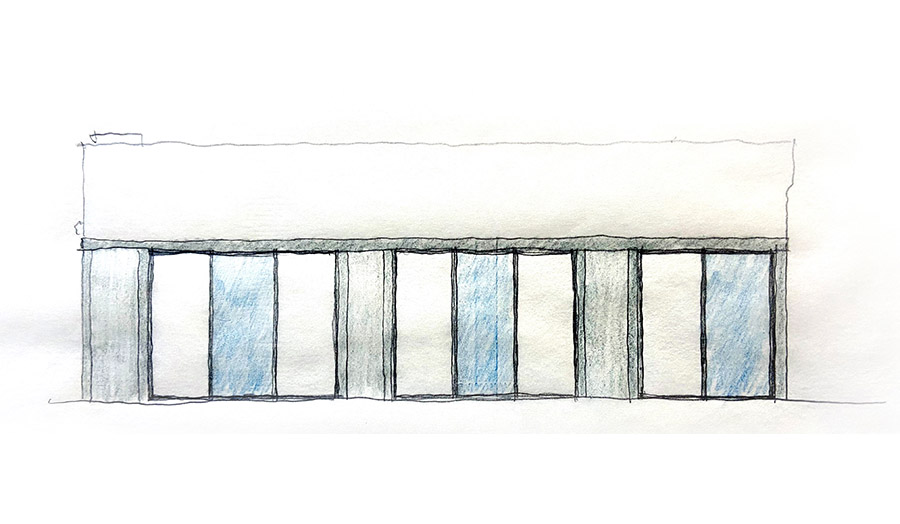 Image credit: Proportion and Composition Study, Takero Shimazaki, 2021 © Takero Shimazaki Architects
Details
Course
Tutors
Takero Shimazaki (t-sa)
Paolo Emilio Pisano
Karabo Turner
Where
Goulston Street
When
Monday and Thursday
Architecture Postgraduate Studios