Book launch: 'Non-binary Gender Identities - The Language of Becoming'
12 December 2022
On 12 December 2022, the School of Social Sciences and Social Professions and Global Diversities and Inequalities Research Centre at London Metropolitan University hosted a hybrid event celebrating the launch of Dr Sebastian Cordoba's most recent book, Non-binary Gender Identities, which was published in October 2022 by Routledge.
Dr Sebastian Cordoba (he/him) is a Senior Lecturer in Psychology at London Metropolitan University in the UK. Sebastian is a social and LGBTQ+ psychologist. His research interests include gender, sexuality, and language; new materialist approaches to research; and corpus linguistics. He is also a member of the Global Diversities and Inequalities Research Centre.
The launch featured a presentation on the book's key themes by Sebastian, followed by guest speakers Dr Zowie Davy (she/her, Associate Professor at the Centre for LGBTQ Research, De Montfort University, UK) and Dr Kat Gupta (they/them, Honorary Fellow at the University of Roehampton in London, UK). This event was chaired by Dr Lakis Zervoulis (he/him, Senior Lecturer in Social Psychology, London Metropolitan University, UK)
Non-Binary Gender Identities examines how non-binary people discover, adopt, and negotiate language in a variety of social settings, both offline and online. It considers how language, in the form of gender-neutral pronouns, names, and labels, is a central aspect of identity for many and has been the subject of much debate in recent years. This book is part of Routledge's Gender and Sexualities in Psychology book series, which showcases scholarly work over a wide range of areas within gender and sexualities in psychology, and the intersection of gender, feminism, sexualities and LGBTIQ psychology with other areas of the discipline.
During the event, Sebastian addressed his positionality as a trans-affirming, queer researcher; what led him to study non-binary people's language and identity; as well as the need to create spaces (such as this event) where trans and non-binary identities – and their mere existence – are not the subject of debate and their existence as men, women, and non-binary people are affirmed. Sebastian argued for the urgent need to examine the plurality of lived experience, including the need to understand both language and gender as complex processes, possibilities, and as becoming rather than being.
Sebastian then outlined the aims of his research, which examined the psychological, social, and linguistic experiences of non-binary people. He illustrated the multiple, complex, and evolving ways in which non-binary people use language to express their gender identities, bodies, authenticity, and navigate social interactions – especially those where their identities are not affirmed. He provided a number of key findings which shed light on the gender and linguistic becomings of non-binary people, a pioneering theoretical framework developed in the book, which reflects the dynamic realities of language, subjectivities, and the materiality of the body. His research also demonstrates the negative impacts of language-based discrimination on non-binary people. Lastly, Sebastian discussed the methodological and theoretical applications of his research, as well as the vital need to continue providing more representation of non-binary people's material and linguistic experiences, particularly within the field of psychology.
Dr Zowie Davy and Dr Kat Gupta provided support for Sebastian's important research and its theoretical and methodological applications and possibilities. Assemblage theory, which Sebastian employs in his research, was a central theme in their talks, as this approach proved to be a useful avenue to investigate the "the myriad ways in which gender identities are not only socially constructed, but how these identities are maintained, performed, indexed, and interpreted by others" (Cordoba, 2022, pp. 37).
The event concluded with short, but powerful Q&A session, where in-person and online attendees asked questions relating to the book's limitations, applications, and potential impact. There were questions about the power of gender-neutral language and its potential (ideal) direction(s), which were addressed by the speakers. All in-person attended enjoyed drinks and canapes provided by the School of Social Sciences and Professions, and Sebastian signed copies of his books and took pictures with guests, which included students, staff, and representatives from external organisations such as representatives from the Home Office.
The copy of book can be purchased via Routledge.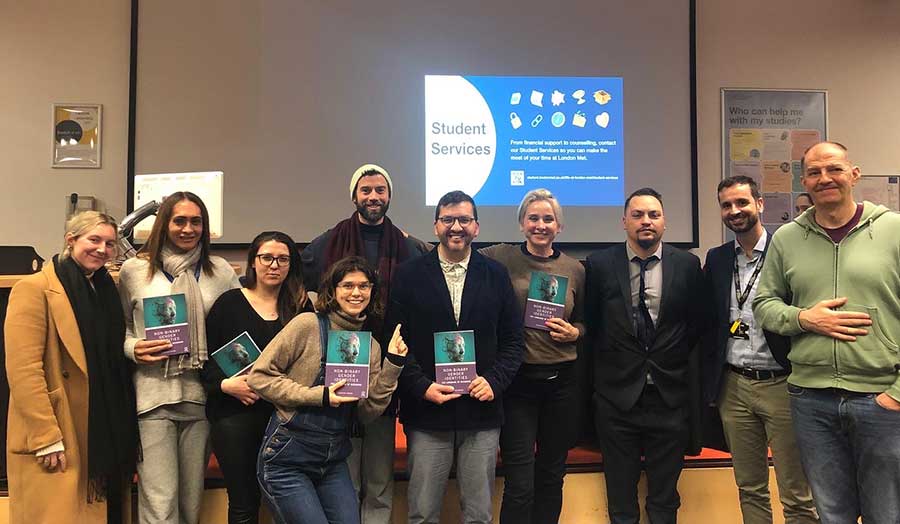 Book launch: 'Non-binary Gender Identities – The Language of Becoming'